Baan Khanitha (MICHELIN Plate) is not your average Thai restaurant. It's a Thai restaurant with heft. The original branch in Sukhumvit Soi 23 was an iconic institution, making its name as the very first Thai fine dining restaurant outside a hotel when it opened in 1993.
When it comes to an authentic Thai restaurant experience, owner Khanitha Akaranitikul pulls all the stops. Serving up classic Thai recipes that boast delicate and original flavours that remain true to Thai roots, her restaurants have drawn a legion of old and new fans from across the board who come for a true taste of Thai in a sophisticated setting.
In an exclusive interview for the MICHELIN Guide Thailand, we go behind the façade of the demure and determined lady.

Baan Khanitha (Sukhumvit 23)'s pleasant ambiance. Photo courtesy of Baan Khanitha.
Tell us about yourself and how you ended up in the F&B business?
I was born in Ratchaburi almost 70 years ago. My father was a builder and we moved to Bangkok when I was a teenager. I got married very young, therefore never had a chance to attend further education after school. When my children were young, I started a fashion business. While running my business, I often needed to entertain my clients from abroad. Back then, the only decent Thai restaurants were all in hotels. Most of my clients preferred to eat outside a hotel, and that was when I realised that there was indeed a gap in the market. I thought to myself, "If I have time, I must open a smart Thai restaurant." In the early 90s, my fashion business ran its course due to a global change in fashion trends. In the end, it became too challenging to be successful in this industry, so I made the decision to fold it. In 1993, I opened the first Baan Khanitha.

Chicken with massaman curry - a Thai classic. Photo courtesy of Baan Khanitha.
What is your philosophy in life?
I always see myself as a glass of water that is only half full. My vision is to always look for new things and gain fresh knowledge to fill up my glass. I believe once you decide to do something, always give it your best and never give up. That would be my advice to anyone who is thinking of starting a business.
What have you accomplished?
Well, I single-handedly started and ran a successful fashion business for almost two decades. I had eight boutiques in Bangkok selling dresses made from Thai silk. I was also exporting to seven countries in Europe and the USA. My fashion business was the first one in Thailand to export Thai silk clothing abroad. After opening the second Baan Khanitha on Soi Ruamrudee in 1999, I opened another Thai fusion restaurant next door called Curries and More. Baan Khanitha later moved to Sathorn Road, and Curries and More changed its name to Moonglass and became a bistro. It is now located on Sukhumvit Soi 53. I am planning on turning Moonglass into a bistro that specialises in serving clean and healthy organic cuisine with fresh organic products from our farm in Khao Yai.
Bann Khanitha also has a dining cruise – it's on a converted rice barge and it departs from Asiatique every evening. For the cruise, we offer a set menu which changes from time to time.

Juicy Ayutthaya prawns with green curry sauce. Photo courtesy of Baan Khanitha.
What is the differences between running a fashion business and a restaurant business?
The Main difference between running a fashion business and a restaurant business is the stress level. Fashion business is an extremely stressful business due to precision of timing. A year ahead, I had to make sure all the designs and delivery dates were in good order for the following year's seasons. For me I don't feel the stress at all when running a restaurant business, I love everything to do with it, it is my passion to delivery good quality food to my customers.
How do you deal with problems?
In business, we encounter difficulties all the time, so instead of feeling sad and angry, I like to face the problems and fight to overcome them. I am a trouble-shooter. I never see anything as an obstacle or a disaster, I just get on with things and choose to face my problems, and I like to come out a winner.
As part of your job, what do you do on a daily basis?
I do pretty much everything with the day-to-day operations of my restaurants. I do the accounting, marketing and quality control. I like to offer my diners the best quality raw ingredients, therefore I keep a close eye on our own farm in Khao Yai which produces all the organic vegetables for our restaurants. I also make sure the cooking oil we use at the restaurants is used once only for deep-frying. I go to the main branch of Baan Khanita on Sathorn every afternoon except at weekends. It is close to my office, so I will go there and stay until late whenever I can. At the end of the day, I'm happiest when customers compliment me on their experience at my restaurants.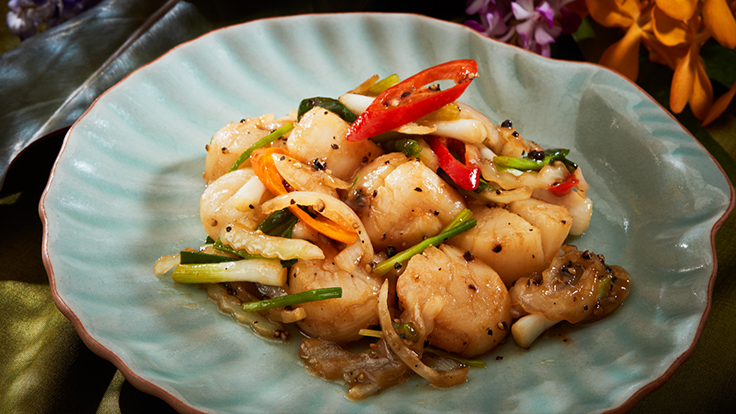 Scallops stir--fried in black pepper. Photo courtesy of Baan Khanitha.
Who do you attribute your success to?
My younger sister and my children have helped me a great deal. They're always there for me whenever I need help and support.
What is your perception of the evolution of the F&B scene in Bangkok?
The F&B scene in Bangkok has had a great leap forward in the last few years. We are now developing in line with other major international cities. The young people of this generation are keener to become restaurateurs and chefs. It actually has become a lot more competitive, therefore more time consuming and more challenging to make it successful.

What is the key of your success?
I think the key to my success is being honest with myself. I treat everyone like I treat myself. I give my clients and customers the best quality I can offer and I always try to be kind to my staff and everyone else in my life.
Elegant Thai dining at Baan Khanitha. Photo courtesy of Baan Khanitha.
Here's What Our Inspectors Said About Baan Khanitha (MICHELIN Plate)
The years have been kind to Baan Khanitha, and the restaurant has been serving refined Thai classics for more than two decades. In Thai, baan translates as "home" and the comforting Thai staples on the menu, the traditional decor, and local families filling the dining room make this a cosy place for dinner. Recommended dishes include lobster green curry and Phad Thai with fresh tiger prawns. Don't miss a selection of soups, like Tom Yum, and the homemade curries here shine.