The culinary world does not always limit itself with defined terms and traditions. From teriyaki creations in the United States that would frankly confuse the average Japanese diner to Cajun dishes that are more New Jersey than New Orleans, the world's menus are full of misattributions, misappropriations, and plain old misuse. However, deviations from tradition can also be reinterpretations, reinventions, and innovations.

In her 1974 cookbook, An Invitation to Indian Cookery, Madhur Jaffrey – India's almost undisputed culinary ambassador to the world – took a clear and provocative stance: "To me, the word 'curry' is as degrading to India's great cuisine as the term 'chop suey' was to China's." This makes a certain sense, and if one looks at the most popular dishes on Indian menus in the West such as tikka masala, korma, murgh makhani (a.k.a. butter chicken), the word "curry" does not appear. Yet while this line is often quoted defiantly by purists, especially in the ongoing culture wars, she tempers her bold statement just a few lines later, "It seems to mean different things to different people."

Thai red curry paste. (© Shutterstock)
And that attitude seems clear when we consider the number of places beyond India where things-called-curry have spread. A salaryman in Sapporo would find a bowl of udon noodles cooked with Japanese kare to be perfectly homey and familiar, and a line worker at a Volkswagen plant in Germany is likely to lunch on the auto company's famous currywurst sausages (which often have better annual sales numbers than their cars!). This is before even talking about the dizzying variety of indigenous "curries" in Thailand, Myanmar, Indonesia, and elsewhere. It might be best to start with the origins.

Everyone seems to agree that the English word "curry" is a derivation of the Tamil word "kari". This refers to a small tree, Murraya koenigii, with shiny, pungent leaves that feature prominently in Indian cuisine. As for how this herb, relatively obscure outside India, came to apply to a whole class of dishes (not just in English, but in Japanese, Mandarin, Malay, Vietnamese), that remains something of a mystery. However, by the 18th century, British traders were exporting what they called "curry powder" wide and far, spreading it wherever the British Empire went. Curry powder eventually found a home in the cha chaan teng cafes of Hong Kong, in the Western-style yōshoku restaurants popping up in the newly opened ports of Meiji-era Japan, in Escoffier's codified version of sauce indienne in France, and in deviled eggs at American picnic lunches.




Japanese beef curry. (© Shutterstock)
In a similar vein, as many soupy Indian dishes, from Kashmiri rogan josh to Goan pork vindaloo, became described as curries, the term became applied to spicy and soupy things from Asia. Things like Thailand's traditional gaeng and Myanmar's hin and sibyan became translated as "curries" in the Western imagination. And after that, less soupy dishes that seemed to share commonalities with the things-called-curries, like Indonesian rendang and Thai khua kling, became referred to as "dry curries" in the annals of food writing.

So perhaps, in search of a definition, the experts should be consulted.

At the MICHELIN Plate Indus, they take their culinary history seriously. Seriously enough to have their own professor. Seeking to radically improve their repertoire, they brought in Doctor Pushpesh Pant, a renowned scholar of Indian gastronomy and an author of India: The Cookbook, for in-depth lessons about the myriad cooking traditions in the Indian subcontinent.

It therefore seems logical that when asked what is curry, owner Sid Sehgal's response was to start with history and geography, pointing out that each empire that came to India – the Mughals, the Portuguese, the British – all left distinct marks on the country's cuisine. Furthermore, in a country the size of India, with such diverse landscapes and populations, influences from region to region were much like influences from country to country in Europe, with each area having radically distinctive cuisine.

Daal bukhara and laal maas. (© Indus)
While Indus' food is largely Punjabi – a nod to Sehgal's Punjabi heritage – the menu spans the subcontinent. Side-by-side, the Punjabi butter chicken, with its familiar, creamy, foreigner-friendly palate; Rajasthani laal maas, a tangy, spicy, almost Mexican-tasting red curry; the Keralan Malabar prawn curry featuring funky, sweet undertones courtesy of kokum, a wild mangosteen native to the southernmost regions of India; and the Tamil chicken Chettinad (named for the city of its origin), with a flavour profile heavy on black pepper and Christmas-y spices, couldn't be more different.

When asked what unites these disparate cuisines, Sehgal points to five ubiquitous ingredients: turmeric, coriander, cumin, ginger, and chilli. But does this rubric apply to non-Indian dishes described as curries?

Sehgal answers not with a definition, but more with a historical narrative. "As far back as we've studied, [curry] started off with the curry trees in India, and with all this trade, they said you know what, let's try making our own. Everything else, as far as I know, is just based on what is available."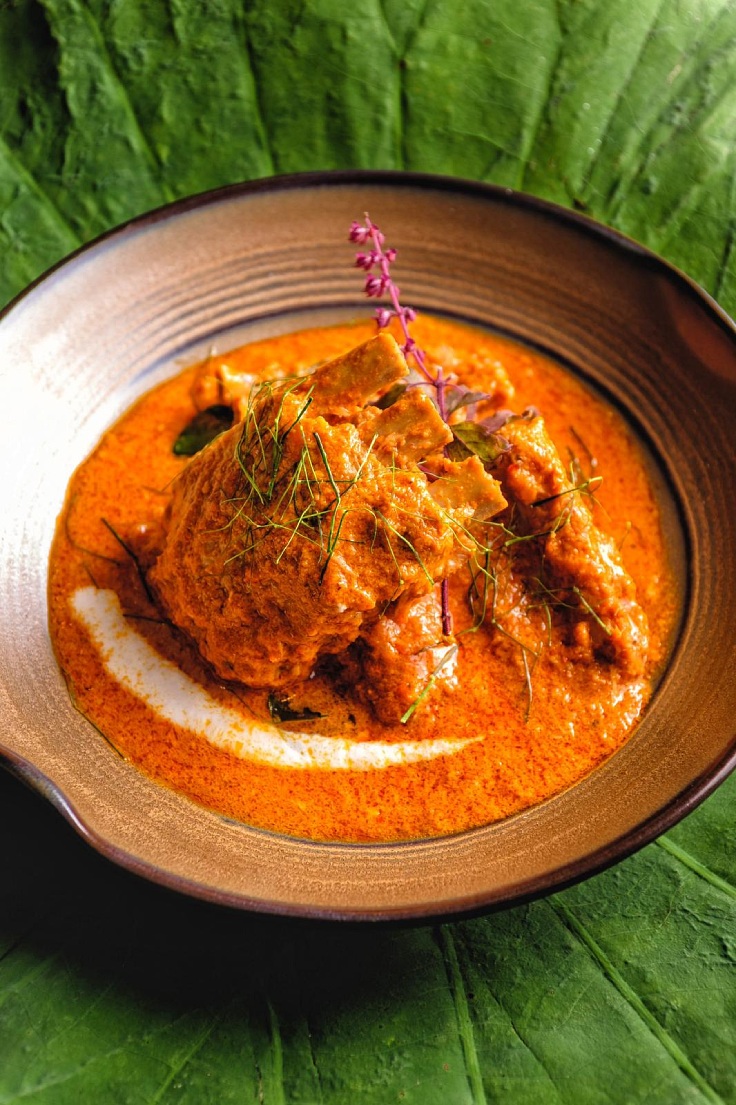 Pork ribs phanaeng by Bib Gourmand awarded The Local. (© The Local)
As the idea of curry has spread around the world, it would also be a good idea to look at another perspective from one of the world's other great curry traditions: that of Thailand.

Tanaporn Markawat, the general manager, owner and sometime-chef of MICHELIN Bib Gourmand laureate The Local knows a thing or two about Thai curries. Coming from a family of restaurateurs, he opened The Local seven years ago to bring Thai flavours ranging from the familiar to the forgotten to Sukhumvit Soi 23.

At The Local, every curry has a story. As an example, Markawat points to gaeng ranchuan, an old-fashioned beef curry bursting with the bold flavours of bird's eye chillis and shrimp paste, the name of which translates, poetically, to "lovesick curry". "Don't eat too fast," Markawat warns, given how spicy and strongly flavoured it is. "You need to eat a little bit, eat it hot, and then you see the stars."

The curry tree (Murraya koenigii) or curry leaf tree. (© Shutterstock)
In conversation, Markawat is something of an evangelist for Thai culinary knowledge, constantly elaborating on techniques, ingredients, history, geography, and gardening. It naturally follows that he has made that passion into one of his restaurant's missions. He eschews fusion tendencies in his cuisine. "You come here, you won't see salmon with green curry," he says with a laugh. That being said, his evangelism is of the gentler kind. "Authentic means my authenticity. Maybe your authenticity is different... Just learn something new from here," he says.

When asked how he defines curry, he responds with a story rather than a definition. "It comes from culture," he said with an animated expression and proceeded to quote Rama II's poem on massaman curry. When pressed further as to a more precise definition, he continues rather judiciously."It's the paste." He pauses, looking up at the ceiling. "I think."

And that is a logical answer. After all, all Thai curries are built around pastes with specific ingredients. Dried chillis give their kick and their colour to phanaeng curry paste, and dried spices from the Malay archipelago – cinnamon, cloves, cumin, and nutmeg, especially – flavour massaman curry paste.

Fish gaeng khua with citrus leaves and gaeng phed with grilled beef and cowa leaves. (© The Local)
However, he then quickly contradicts that answer. "Korean jjigae, they use a hotpot, they make it thick. Is that a curry? I don't know." He laughs. "Or nam phrik," referring to the chilli paste commonly served with vegetables as an appetizer or light snack. "Is that also a curry?"

Perhaps definition is not as important as context. After all, both Sehgal and Markawat, when asked what is curry, responded with narratives about history and culture rather than strict definitions (contrast that with something like Neapolitan pizza, where there is an official set of rules and a governing body determining what is and what is not Neapolitan pizza).

So instead of looking for a prescriptive, systematic way of defining curry, it might be best to just listen to those stories and go out and explore, and of course taste. Because some of the most rewarding research comes at the end of a spoon.