Whether you are visiting Nakhon Ratchasima aka Korat for its fresh air, winter breeze, extreme sport adventures, wine tasting sesh at a vineyard, or to get in touch with nature at Khao Yai National Park, the gateway to Isan of Thailand has something for everyone.

There's not only a wide range of superb hotels only a 2-hours drive from Bangkok that will make your mountainside stay even more special, but also an ever-growing food and beverage scene.

Here are 9 delectable and affordable restaurants in Nakhon Ratchasima that our MICHELIN Inspectors recommend!



The Laosian style spicy mushroom soup at Penlaos is a must. (© Michelin)
Penlaos (Bib Gourmand, MICHELIN Guide Thailand 2023)
Penlaos started over a decade ago as a street stall. Today, it's an altogether different operation offering a quality menu in a building with high ceilings surrounded by lush gardens and views of the mountains. They serve Isan food using homemade condiments – the spicy catfish salad is a must. The Laosian style spicy mushroom soup is made with Tiliacora juice, seasonal mushrooms and gourd which adds a natural sweetness. The Thai coconut milk custard rounds off your meal nicely.

Address: 56 Mu 17 Thanaratch Road, Mu Si, Pak Chong, Nakhon Ratchasima. Tel. +66 8 3461 3666

The classic Thai recipes packed with intense flavours at Krua Kampan Khao Yai. (© Michelin)
Krua Kampan Khao Yai (Bib Gourmand, MICHELIN Guide Thailand 2023)
The kampan (Thai for sailing ship) is an antique boat at the heart of the restaurant that has been transferred from Ayutthaya. The menu, designed by the owner, uses classic Thai recipes packed with intense flavours. The minced pork spare ribs with betel leaf is a signature dish; every meaty mouthful contains crispy cartilage in a spicy curry. Meanwhile, the red curry rice field snail with coconut milk is brought to life by the enlivening aroma of the betel leaf.

Address: Route no. 3052, Mu Si, Pak Chong, Nakhon Ratchasima. +66 9 3514 1599

Don't miss out on the flavourful fried fish at Baan Pang Hom. (© Michelin)
Baan Pang Hom (Bib Gourmand, MICHELIN Guide Thailand 2023)
Named after the owner's mother, Ban Pang Hom has served Thai dishes with intense flavours for two decades. The open-air structure, wooden interior and greenery give it a rustic feel. Choose the snakehead or sea bass and they'll cook your fish in two halves. We recommend the deep-fried seabass with crunchy roasted peanuts. With half spicy sauce and half miang kham sauce, enjoy fiery Thai sensations before cooling off with a refreshing herbal Isan taste.

Address: 185 Mittraphap Road, Ban Mai, Mueang Nakhon Ratchasima, Nakhon Ratchasima. Tel. +66 8 9949 1168

Drop by Krua Suwimol for some stunning grubs when in the area. (© Michelin)
Krua Suwimol (Bib Gourmand, MICHELIN Guide Thailand 2023)
This simple, open-air restaurant serves Thai-Chinese fare. The food is distinctive for its simple cooking techniques yet quality dishes with extra-fresh ingredients and intense flavours. They offer a fantastic range, including several seafood and made-to-order options. The stir-fried crab with curry paste is a must for the succulently sweet crab meat. The spicy salad with mimosa is great too – the water mimosa are carefully selected, steamed and topped with a salad rich in Thai herbs.

Address: 1229 9 Mittraphap Road, Nai Mueang, Mueang Nakhon Ratchasima, Nakhon Ratchasima. Tel. +66 4 4353 576



Khanom Jeen Pradok Ban Kru Yod in Nakhon Ratchasima aka Korat. (© Michelin)
Khanom Jeen Pradok Ban Kru Yod (Bib Gourmand, MICHELIN Guide Thailand 2023)
The former music teacher is an artist of many stripes. Artisanal souvenirs and musical instruments are on display at the entrance of this newly renovated shop. Their signature is a khanom chin set with a choice of a range of curries. Chicken wing lovers should definitely order the deep-fried wings marinated in fish sauce and served with curry. If Kru Yod has time away from the kitchen, you may be treated to a rendition on one of his homemade instruments.

Address: 628/8 Mittraphap Road, Nai Mueang, Mueang Nakhon Ratchasima, Nakhon Ratchasima. Tel. +66 8 1999 9443

Locals' favourite spot for noodles. (© Michelin)
Piya Radna (Bib Gourmand, MICHELIN Guide Thailand 2023)
For over 20 years, this simple outlet has been popular with locals. It serves high-quality phad see iw and rat na with either fresh or deep-fried noodles. The delicious rat na is the signature, served with a homemade gelatinous gravy and tender pork slices.

Address: 994 Mukkamontri Road, Nai Mueang, Mueang Nakhon Ratchasima, Nakhon Ratchasima. Tel. +66 8 4496 4368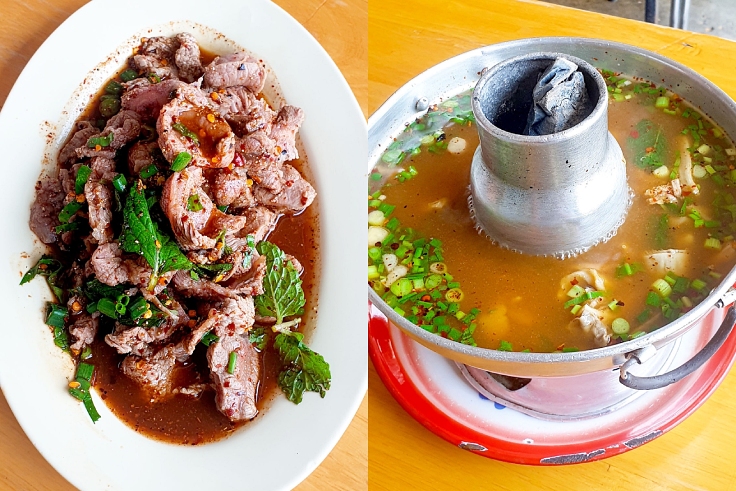 The bold flavours of Granny Somphit's Isan food recipes. (© Michelin)
Lab Somphit (Bib Gourmand, MICHELIN Guide Thailand 2023)
Granny Somphit has prepared her food from scratch every day for more than five decades. This is flavourful Isan food at its best – a lovely balance of intense local spices and Thai herbs. The carefully selected offal cuts are particularly fresh. The signature Isan spicy calf beef salad is delightful; tender meaty slices that are beautifully seasoned with a smoky aroma of rice powder that adds a crispy texture. The homemade beef sausage, fermented beef and pork are also good.

Address: 169 Jant Road, Mueang Nakhon Ratchasima, Nakhon Ratchasima. Tel. +66 44 245 026

Khanom Ochin's deep fried golden buns. (© Michelin)
Khanom Ochin (Bib Gourmand, MICHELIN Guide Thailand 2023)
Ochin is named after the owner's favourite Japanese film. This second-generation stall only serves takeaway – a range of homemade deep-fried buns presented on a trolley at the front. Their signature is the crispy bun which contains glass noodles, tasty seasoning and vegetables.

Address: 91 Jomsurangyard Road, Nai Mueang, Mueang Nakhon Ratchasima, Nakhon Ratchasima. Tel. +66 6 2684 2484

In the mood for some fresh-off-the-grill chicken with sticky rice? (© Michelin)
Kai Yang Saeng Thai (Bib Gourmand, MICHELIN Guide Thailand 2023)
Since opening in 1967, they've marinated the rotisserie chicken with a peppery, herbal recipe. The farmed option is juicy and comes with a light crispy skin; the domestic-raised chicken has succulent tenderness. Enjoy it with the sweet chilli dipping sauces.

Address: 126 Rajadamnern Road, Mueang Nakhon Ratchasima, Nakhon Ratchasima. Tel. +66 4 4241 240