All true food enthusiasts know that it's not always about set menus and wine pairings. Occasionally, we just want to head out without a fuss, throw on a pair of jeans for old town's beef broths, overorder on bowls of guay jub noodles, or take visiting friends for Jay Fai's decadent crab omelette.

It's often the hearty, casual meals that bring out the true taste of Thai. For this 'anytime, anywhere' occasion, we've gathered our favourite places for Bangkok's top street food stalls. We'll see you at the nearest noodle stand!


The now iconic Jay Fai with her signature oversized cooking goggles and meaty helpings of crab omelette barely needs an introduction. Despite the wait time (which can go on for 3 hours during peak time), there's no sign of slowing her down. Often a staple for Bangkok street food, the restaurant itself has no frills, simply using reputation and inducing scents of Thai food to woo in locals and tourists alike.
Jay Fai is not all about crab omelettes. Other signature must-haves include homemade prawn cake, crab stir-fried with aromatic yellow curry, and of course, drunken noodles (stir-fried noodles with seafood)-which you really should be sober for in order to appreciate.
Address: 327 Maha Chai Rd, Khwaeng Samran Rat, Phra Nakhon district, Bangkok 10200
Tel: 092 724 9633
The no-frills street food experience at Jay Fai's. Photo source: Jay Fai's Instagram.
A mainstay for Sukhumvit homeowners and literally anyone who passes by the area.
Guay Tiew Mu Rung Rueang
sits in an old shophouse in one of Bangkok's most expensive districts, serving only simple ground pork noodles with fish balls. Noodle enthusiasts can choose between dry bowls of pork noodles or with soup, simplicity at its finest, and equally delicious. Choose between the different types of noodles, but a large bowl of
'sen lek moo'
usually does the trick.
There are two food stalls with the exact same name, serving the exact same menu. But we'll leave you to ponder the backstory of that one yourself. Either way, you can't go wrong here. The increasing number of tourists lining up for lunch would be inclined to agree.
Address: 10 3 Sukhumvit 26 Alley, Khwaeng Khlong Tan, Khlong Toei district, Bangkok 10110
Tel: 02 258 6746
Pig out on noodles at Guay Tiew Mu Rung Rueang. Photo courtesy of Guay Tiew Mu Rung Rueang.
Ah, what can go wrong with a simple dish of chicken stew on rice? The menu that brings back everybody's tastes of childhood, and arguably one of Thailand's key comfort food dishes. Generous chunks of chicken are laden with soft stew, served over cooked rice and topped with a fried egg and a side of Chinese sausage
(goon chieng)
, just the way your grandmother used to make them.
Started by the current owners' grandfather about 80 years prior, the updated décor takes nothing away from the traditional tastes of a simple dish done well.
Address: 112 Thanon Mahannop, Khet Phra Nakhon district, Bangkok 10200
Tel: 061 994 7171
Chicken stew on rice or khao na gai at Sae Phun.
There aren't many places that do
Guay Jub
as good as Mr. Joe does. Tucked away in Jan Road, Mr. Joe is known for its rich broth with sprinkled pepper, with wide and thick rice noodles, and usually topped with an egg and slices of tender crispy pork. It's crunchy, it's filling and it really does hit all the right spots.
The crispy pork can also be enjoyed as a side dish if you're particularly famished. We say you should order a combo – a bowl of noodles and a side of pork to match. If you intend to go full-out that day, you can always indulge in some
dim sum
as well.
Address: 313/7 Soi Chan 42-44, Wat Phraya Krai, Bang Kho Laem, Bangkok 10120
Tel: 02-213-3007
Enjoying crispy pork with guay jub is arguably every Thai foodies' best-kept secret.
A visit here is highly unadvised for anyone on a diet, because you simply won't be able to control yourself. Charoen Saeng has been serving up soft, stewed pork legs for almost sixty years. Nestled in Silom, one of Bangkok's busiest office districts, expect to find swarming crowds of hungry office workers during the week, catching up over plates of steaming hot pork legs over rice.
The restaurant is tucked away in an alley with rows of tables lined up outside where the crowds will brave the heat just for the signature pork dishes. Choose between the braised pork over rice, or just give in and order the entire leg.
Address: 492/6 Charoen Krung 49 Si Lom, Suriya Wong, Bang Rak district, Bangkok 10500
Tel: 02 234 8036
Order pork legs at Charoen Saeng Silom now and go on a diet tomorrow.
The giant melting pot of tenderly stewed beef in front of the shophouse gives it all away. A signature for the Ekkamai neighbourhood, Wattanapanit's beef saturated in its own juice can surely strike up an appetite any time of day. The shophouse itself is dark and is usually bustling with locals and nearby office workers at lunchtime, so be patient–they do take their time here.
All is usually forgiven once you slurp and savour chunks of stewed beef soaking in the aromatic soup with your choice of noodles. The seats are clunky, the smell is classic
eau de
shophouse, and it reminds you why old Bangkok stalls are so full of character.
Address: 336, 338 Ekamai Rd, Sukhumvit 63 Khwaeng Khlong Tan Nuea, Khet Watthana, Bangkok 10110
Tel: 02 391 7264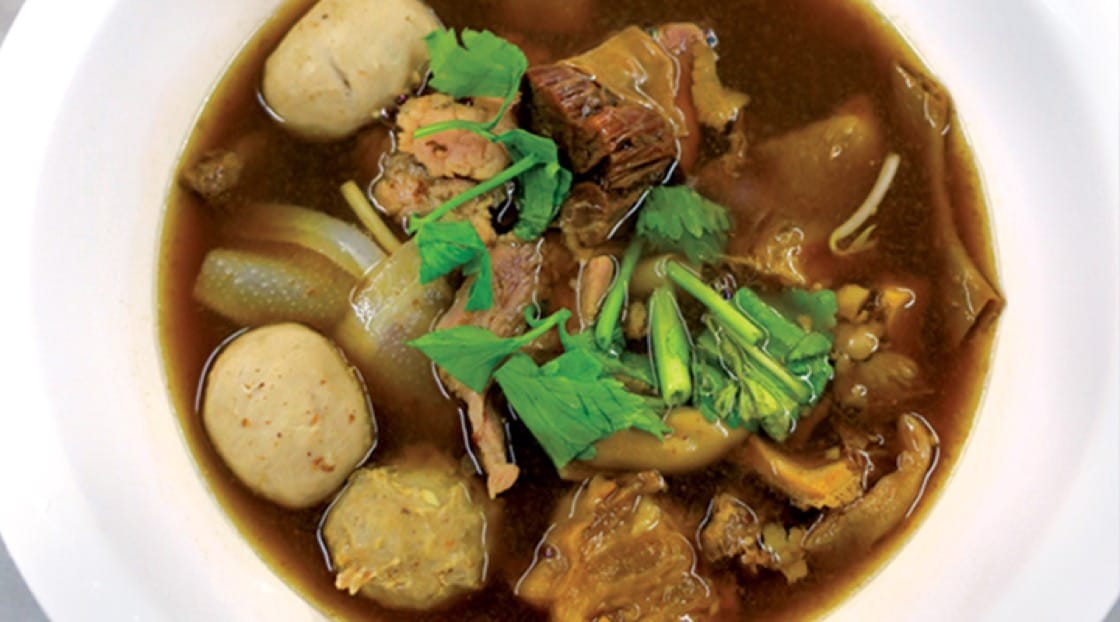 Wattanapanit (Ekkamai)'s aromatic stewed beef with noodles.
This place is only open between 4pm to 11pm, so instead of going for a soothing, early morning breakfast, you'll just have to settle for a late night feast. When it's this good, you should be willing to compromise. Jok Khlong San is known for its
mhoo deng
, or literally translated as bouncing pork (minced pork balls). People who come here stick to the late night basics, aromatic, thick, warm bowls of rice porridge with pork, and an assortment of eggs to choose from your everyday eggs, salted eggs to century eggs.
Address: Suk San Village 6, Soi Kanchanaphisek 5/1, Kanchanaphisek Road, Bangkok 10160
Tel: 092 652 4056
Jok Khlong San's signature dish can be enjoyed from 4pm-11pm.
A well-prepared bowl of fried noodles and eggy goodness is what makes this place so difficult to forget. Follow the tempting aroma of noodles being cooked in a traditional large
wok
heated over a charcoal fire and you'll soon arrive at the gates to chicken noodle heaven.
Diners get an option of ordering the crispy-on-the-outside, soft-on-the-inside noodles with fried or runny eggs. We say get both as they're equally divine. Ann Guay Tiew Kua Gai keeps it classic with chicken pieces cooked with the noodles to ensure the flavours are well-balanced throughout. Some garlic and a good dose of spring onions are then added for good measure. This place closes at midnight and it's definitely worth coming with a group of friends as the last pit stop before heading home.
Address: 419 Luang Rd, Khwaeng Wat Thepsirin, Khet Pom Prap Sattru Phai, Bangkok 10100
Tel: 02 621 5199
A chicken noodle lunch you won't regret at Ann Guay Tiew Kua Gai.
Chakki doesn't have a menu, and it's been operated by the same family for over 30 years now and it works, so just go with the house rules.
Come here for their renowned fried noodles and slices of beef or pork cooked in thick, brown gravy, topped with generous pieces of vegetables. The sauce is an appealing contrast of salty and sweet. Enjoy the dish with a side of crispy, fried wontons as a side dish to share. Insider tip: Come early, the shop closes as soon as they sell out. Official hours are from 11am to 3pm.
Address: 1/35 Ratchawithi Rd, Khwaeng Thanon Phaya Thai, Khet Ratchathewi, Bangkok 10400
Tel: 02 245 0849
Fried noodles or lad naa is what diners at Chakki queue up for.
Elvis Suki (Soi Yotse) (Bib Gourmand)
What foodie can resist having a name like that on their bucket list? Arguably almost as legendary as its namesake, Elvis Suki serves up, well, impressive, steaming plates of Suki noodles that will get you "all shook up". Options run wide so pick and choose between chicken, pork, vegetarian or seafood, dry or with soup. Suki isn't the only dish worth ordering here. Leave room for their grilled scallops on the side. Part of enjoying a meal at Elvis Suki is the lively, no-frills experience, so just go off the beaten path to find the chefs working their magic in front of the restaurant and settle down for a great, simple meal made with "a big hunk o' love".

Address: 200/37 Soi Yotse, Phlapphla Chai Road, Bangkok 10100
Tel: 02 223 4979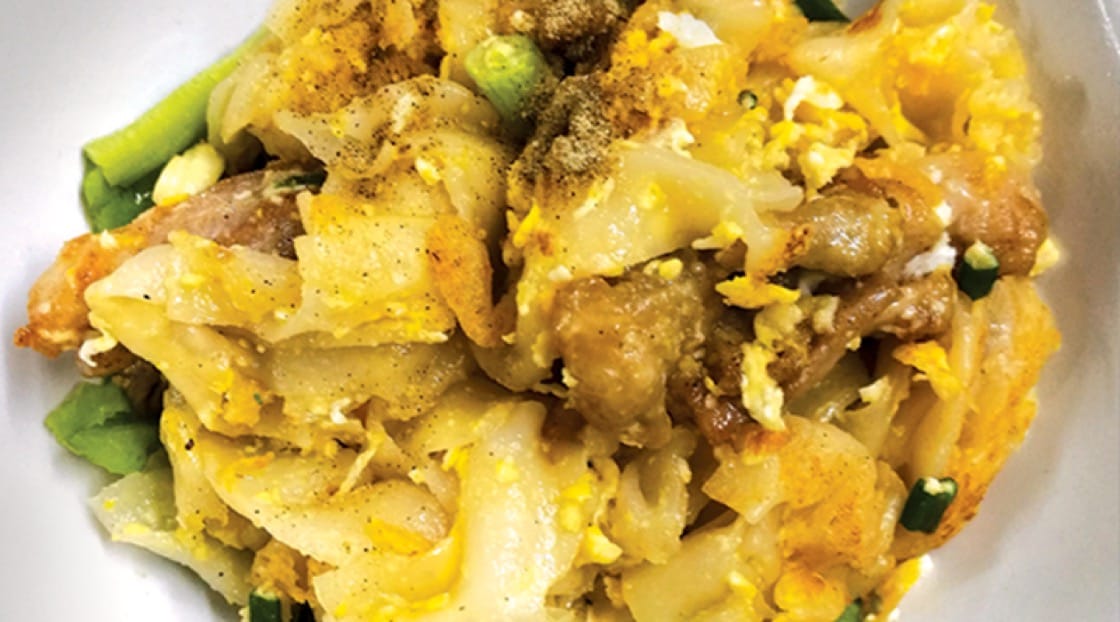 Elvis Suki serves up simple but satisfyingly good suki noodles.