If someone asks a Phuket local where is best to explore the island's food, the answer will undoubtedly be Old Town. Along the historic district's Thep Krasatti Road, you can find many choices for Phuket-style Thai cuisine. Case in point is One Chun. This Bib Gourmand eatery stands out as a dining spot to fill your stomach with authentically Phuket food as you soak in the distinct retro feel under the roof of this 19th-century building.

A signature spot of One Chun in downtown Phuket. (© Chahatchai Limsuparerk/ MICHELIN Guide Thailand)
The vintage vibes are an expression of owner Napapat "Prang" Chessadawan's love of art and antiquities. "While diners enjoy the tastes of One Chun's recipes that were handed down from my dear grandmother, I would like them to also appreciate the decorations that pay homage to my grandmother's precious memory," Chessadawan said while showing us a beautiful wall adorned with old clocks, transistor radios, and black-and-white television sets.

Kicking off with spiciness
Chessadawan starts us on our tasting of family recipes passed down over three generations with a bold and spicy Nam Prik Goong Siab.

This spicy yet refreshing dish features shrimp paste with deep-fried dried shrimp. The deep-fried dried shrimp is a must-have ingredient for its savoury crunchiness, and the accompanying fresh local vegetables help ease the spiciness while perfectly balancing the mixture's saltiness and sourness.



Flavours meet a cozy touch at One Chun. (© Chahatchai Limsuparerk/ MICHELIN Guide Thailand)
A combo that never fails to impress
"When guests cannot make up their minds which dish they want for a main, I always recommend the classic duo. They hardly disappoint," Chessadawan explained the choice of Mu Hong (slow-cooked pork belly stew) and Gaeng Som Pla Mong (spicy and sour curry with chopped kingfish) with rice for us. "I think it's like a little heaven in your mouth when you have a little of each on top of rice. Also, the Mu Hong can help slow the burn from curry."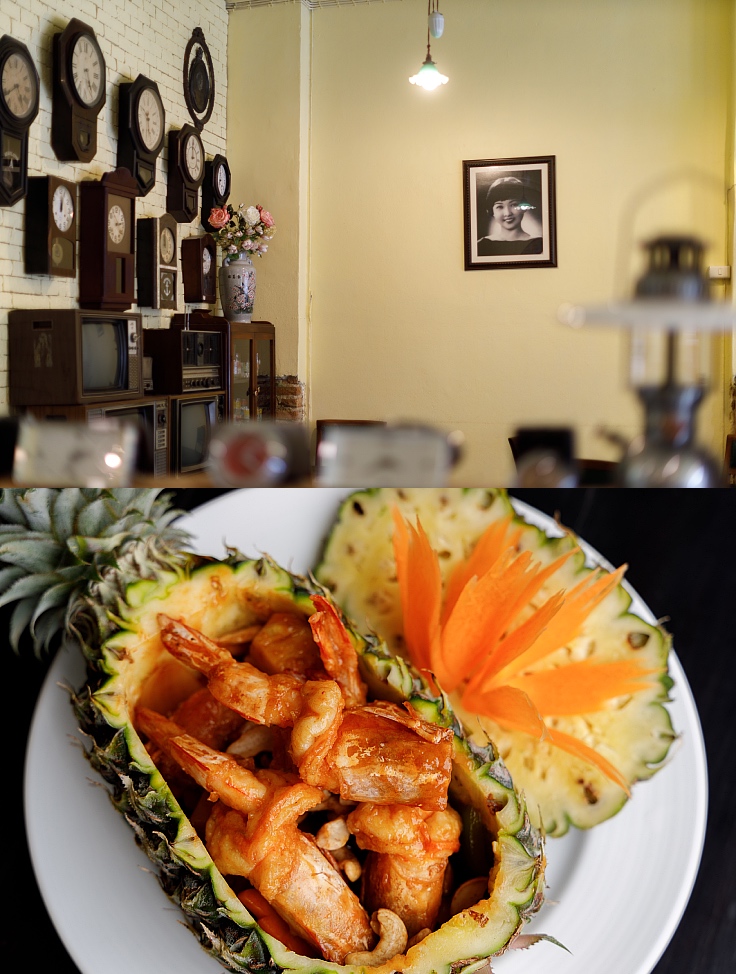 Gung Makham using freshly caught Phuker prawns. (© Chahatchai Limsuparerk/ MICHELIN Guide Thailand)
Thais consider kaeng som the ultimate in southern Thai comfort food. This combination of sour and spicy in a bowl is mostly served with local fish or prawn in Southern Thai restaurants. But at One Chun, if you're lucky, you will get to try this piquant curry with pla mong, jackfish, which is seasonal and rarely swims in any other seas but the Andaman. One Chun lets diners choose what vegetables they want in their curry. For Gaeng Som Pla Mong, the owner prefers young coconut shoots.

Mu Hong and Crab Curry, two of the must-try dishes of the Andaman Pearl. (© Chahatchai Limsuparerk/ MICHELIN Guide Thailand)
The best catch from the ocean
There's nothing wrong in adding one extra dish, especially since the waitress announced the recent arrival of a catch of big sea prawns. "They couldn't be more fresh," she said before pointing to the chalkboard listing the day's specials. Among the choices is Gung Makham, deep-fried prawns in tamarind sauce. One Chun served this prawn dish with exceptional flair. If a pineapple stuffed with fried rice impresses at touristy Thai restaurants, they kick things up a notch at One Chun by filling the pineapple full of mouthwatering fried prawns.



Bib Gourmand • Inspectors' favourites for good value
48/1 Thep Krasatti Road, Talad Yai, Phuket