Once known as a modern Australian restaurant, Whitegrass at CHIJMES shuttered in December 2018 and reopened in May 2019 with a refreshed culinary concept and a new head chef.
In the MICHELIN Guide Singapore 2021, Whitegrass received its first MICHELIN Star for its French-Japanese cuisine and was praised by Michelin inspectors for its small dishes that are loaded with natural flavours; from the black sesame brioche to the petit fours, nothing is to be missed.

Located in a historic convent-turned-complex, Whitegrass boasts bright and elegant interiors and serves a tasting menu that changes according to the seasons.
At the helm of Whitegrass's kitchen is 34-year-old head chef Takuya Yamashita. A native of the Nara prefecture in Japan, Yamashita's resume spans a reputable line-up of experiences in MICHELIN restaurants in France such as 1 Star Étude and MICHELIN-listed restaurant Les Enfants Rouges. However, it was at the now-defunct one-MICHELIN-starred Ciel et Sol in Tokyo, Japan, where Yamashita was given the opportunity to come to Singapore and lead the Whitegrass kitchen.


"My job as head chef at Ciel et Sol in Tokyo, Japan, was extremely rewarding," shares Yamashita. "However, I was confident that the opportunity at
Whitegrass
would help me expand my career path further. I am very grateful to
Whitegrass
's owner, Datin Karen H'ng, who came all the way to Tokyo to try my food and invite me to join
Whitegrass
, even when she knew I couldn't speak English at all during that time."
A native of the Nara prefecture in Japan, Yamashita draws on nature for his culinary inspiration.
Simple Days in Nara

Growing up, Yamashita describes his days spent in Nara to be very simple and laid-back, but also very happy because of the lush abundance of nature. "I thought I was going to live in Nara my whole life, but I have been to Tokyo and Paris, and I am surprised that I am in Singapore now!" he laughs.
Because of the impact nature had on him at such a young age, Yamashita, initially, had plans to study forestry, however, those plans gave way to a greater love for the culinary arts when he discovered the link between science, nature, and food.
"My passion for cooking is inspired by my mother," Yamashita shares. "She, too, loves cooking and making sweets. She always cooked lovely dishes for me and my family whenever she came home from work, and my fondest childhood memories also come from the food that my mother and grandmother made for me," he reminisces. Yamashita also shares that his favourite childhood dishes and snacks always had eggs in them, and that he still enjoys cooking with eggs to this day.
"I have always looked up to French chef Auguste Escoffier because of his contribution and impact to the culinary world. During that time, when I decided to cook professionally, there were only a handful of French restaurants in Nara and Osaka, and I went to Osaka for culinary school," he shares. "I wanted to focus on French cuisine because Japanese chefs have been studying it for over a hundred years. A lot of Japanese restaurants also try to be innovative and add Japanese elements into the dishes, while retaining their respect for France. I also moved to Tokyo to learn more about and to practice French cooking, because during that time, a lot of the famous French restaurants were there," says Yamashita.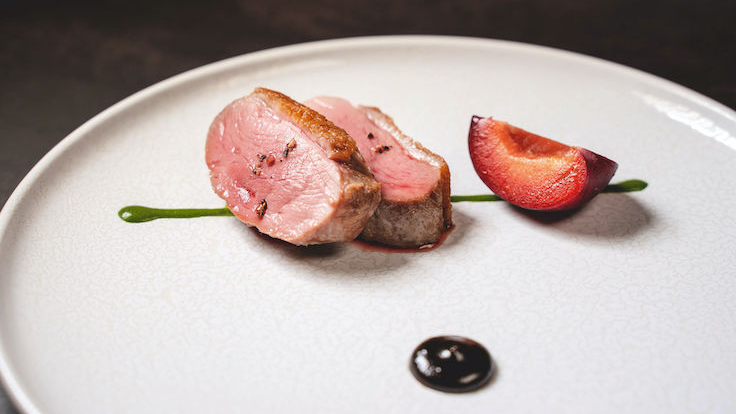 Whitegrass's menu pays respect for nature and producers, and showcases them in dishes such as the maple leaf duck with Hatcho miso and plum.
Inspired by Nara's Nature

While the cuisine at Whitegrass is described to be classic French fare with a Japanese touch, Yamashita aims to represent the environment he grew up with through his personal culinary style that he describes as nature-inspired. As he was born and raised in nature-rich Nara, which is lined with an abundance of forests and mountains, Yamashita continues to look at nature as his biggest inspiration, as the prefecture has instilled in him an unwavering respect for nature's bounty.

"Without nature, there will be no food; hence, nature has always played a very important role in my culinary journey."
According to Yamashita: "The concept in Whitegrass is French-Japanese. Our food is based on classic French cuisine, and we use fresh Japanese ingredients that vary depending on the four seasons. Through the use of fresh seasonal produce, we also want to communicate the importance of nature and sustainability to our guests."

Yamashita is proud to carve his own mark to the restaurant by weaving in stories of ingredients from his home region of Nara, and its producers, farmers, and fishermen, to the dishes that he serves at Whitegrass. Such an example is a special green tea that one can only find in Nara. This hand-picked green tea comes specifically from family-run Tea Farm Inokura, which has been operating for more than 250 years. For a green tea, it is a clear brew that is sweet in flavour — a unique quality that comes from the mountain mist surrounding the farm. Yamashita shares that he serves this rare tea not only in the restaurant, but also in his home.

"Through food, we celebrate and respect seasonality and the hard work of our farmers and producers," he shares. "Singapore is also a country with an everlasting summer, and I want to invite local diners to feel and enjoy the four seasons from the nature of Japan."
At Whitegrass, Yamashita also hopes to communicate his passion for nature to the restaurant's guests.
The Language of Food

In the MICHELIN Guide Singapore 2021 Star Revelation's awarding ceremony, Yamashita confesses that he only learned to speak English when he moved to Singapore in 2019, and that this quality has actually drawn him closer to his team. "It has been two and a half years since I came to Singapore, and although I have yet to fully grasp the English language, I have been able to enjoy speaking it with the team and our guests. I am really so appreciative of my team who speaks to me patiently, knowing that I could not speak fluent English yet. I am learning everyday," he shares.


For Yamashita, Singapore has indeed become a home away from home because of his team, which already feels like family. "From my supportive staff, the restaurant's owner, to our dear guests and friends who are all so warm and friendly, I could say that it is through the connections that I have made here in Singapore that have made it feel like home to me."
At
Whitegrass
, Yamashita also hopes to communicate that same warmth to the restaurant's guests, along with his passion for nature. "As a chef, it goes without saying that our top priority is to serve delicious food and that our guests are able to enjoy the food and dine comfortably. Our service staff also play an important role to support the guests' dining experience. Hence, we have to cooperate with each other, from the kitchen team to the service team, in order to achieve this. As we are a French-Japanese restaurant, I always draw a balance between the two different cuisines and present them to the guests through dishes that are harmoniously blended with the techniques and tastes," he says.
"Lastly, we also want the guests to share our passion and reverence for nature by understanding our food stories, the produce, and the producers as well. We want to make it extra memorable and meaningful for our guests when they dine with us."
Tell us about your first encounter with the MICHELIN Guide.
The MICHELIN Guide Tokyo was published for the first time in 2007, which also happened to be the year I started my culinary career. It became a clear goal for me to achieve a MICHELIN Star in the future, even though it seemed so far for me at that time.

What did you feel when Whitegrass was awarded its first MICHELIN star under your leadership?
Other than feeling extremely happy and glad, I also felt so grateful for my team, my family, and the restaurant's regular guests who have been a huge part of this journey.

How did you celebrate?
Sadly, due to the pandemic, we were not able celebrate to on a large scale, but we had a small toast as a team.

Is there anyone that you would like to dedicate this milestone to?
Whitegrass's owner, Datin Karen H'ng, who offered me this opportunity to work in Singapore, and who always watches over me like family.

What do you love most about your job?
I love it whenever I get the opportunity to make connections with people — customers, colleagues, suppliers, and other great chefs — through food. There is no boundary when it comes to food, just like art and music. Food brings people together, and a good meal brings good memories and happiness. I am honoured to be able to do that.

What is your philosophy when it comes to eating?
Try to sample everything whenever you get the chance to. Do not forget to be grateful for the food.

What does a day in your life look like?
I have more fun and exciting times at work than outside of it because I always enjoy cooking. On the weekends, I find my happiness in spending quality time with my wife and one-year-old daughter. We also like to spend time with our friends during the weekends.

What has been the biggest challenge so far in your career?
COVID-19 has really impacted the F&B industry, and we can all feel the pinch. When I first started working in Singapore, it was not something that I expected. But I am grateful to have a supportive team and regular guests who helped sustain the business in this challenging time. I believe our restaurant's performance is getting better now.

What gives you hope these days?
It was encouraging to see the success of my fellow chefs from the same generation as I am in Paris, Japan, Hong Kong, and Taiwan.

Any advice to younger chefs?
There is no end to learning. Appreciate your efforts. Never lose sight of what you enjoy and what makes you happy.

Having lived in Singapore for a few years now, is there any local Singaporean dish that you like?
I have tried a lot of the local food in Singapore, and I would say that I especially like Nyonya cuisine.

What are five must-have Japanese ingredients in your home's kitchen?
Katsuobushi (dried bonito), soy sauce, natto, Japanese eggs, and miso.

Is there a particular dish that you love to make at home?
I don't cook so much at home because I love my wife's cooking.

What is your favourite Japanese dish?
It would have to be a tie between sushi and soba (buckwheat noodles).

Any guilty pleasures?
Coffee. I am addicted to coffee and will happily drink five cups a day.

What do you think is the future of fine-dining in Singapore?
I think the fine-dining scene in Singapore will become more active. I can tell. There are a lot of talented chefs, both local and from overseas, offering unique and exciting creations.

What's next for you?
I love Singapore, and I will continue to stay and explore new things, like using other new ingredients for my dishes. Hopefully, the pandemic will be over soon, and I will want to travel to other parts of Asia, perhaps to have a collaboration with other great chefs to exchange ideas and draw inspiration from them.

All photos, except the one of Nara, are from Whitegrass.

Whitegrass is located at 30 Victoria Street, #01-26/27 Chijmes, Singapore 1879962. Make a restaurant booking here, or follow the restaurant on Facebook and on Instagram for updates.