Modern Singaporean cuisine or Mod Sin burst into the dining scene in the early 2000s when Willin Low opened the now-iconic
Wild Rocket
that popularised the fusion of familiar local flavours in Italian or French dishes. Since then, the definition of Singaporean gastronomy — beyond the confines of hawker fare and ethnic cuisines — has continued to evolve and diverge.
There's
Han Liguang
, championing local farmers and producers with his new expression of Singaporean cuisine at one-Michelin-starred
Labyrinth
; in contrast is
Justin Quek
, embracing luxury ingredients from around the world and incorporating it into his own take on modern Singaporean fare. Elsewhere, a new generation of young Singaporean chefs like
Woo Wai Leong
are finding their voice, supported by industry veterans like
Tan Ken Loon
.
These chefs are at the frontier of new Singaporean cuisine, contributing to the dynamism of the local culinary scene and shaping the conversation on what it means to have a cuisine that is uniquely Singaporean.
Labyrinth's Ah Hua Kelong Lala Clams (Credit: Daphotography)
Han Liguang, Labyrinth
Chef-owner Han Liguang of one-Michelin-starred Labyrinth has always been at the forefront in the exploration of Singaporean cuisine. His latest iteration of contemporary Singaporean cuisine sees him close a chapter on the modernist, molecular take on familiar local dishes.
"I'm drawing inspiration from my food memories, age-old recipes and my childhood in Singapore, yet not subscribing to any dichotomies of 'hawker' or 'fine dining', nor the constraints of Singaporean food," says Han. What he's done instead, is gone all out and sourced 80% of his ingredients locally: plump little clams from a local kelong feature in a crisp wonton tart shell with homemade XO sauce, the main star of a satay-inspired dish is locally farmed quail, while goat's milk from Hay Dairy is fermented into a yoghurt to go with a made-from-scratch soya bean curd.
The new direction is an unabashed celebration of local produce elevated by sound, clever techniques and a good dose of storytelling, woven into a refined degustation menu.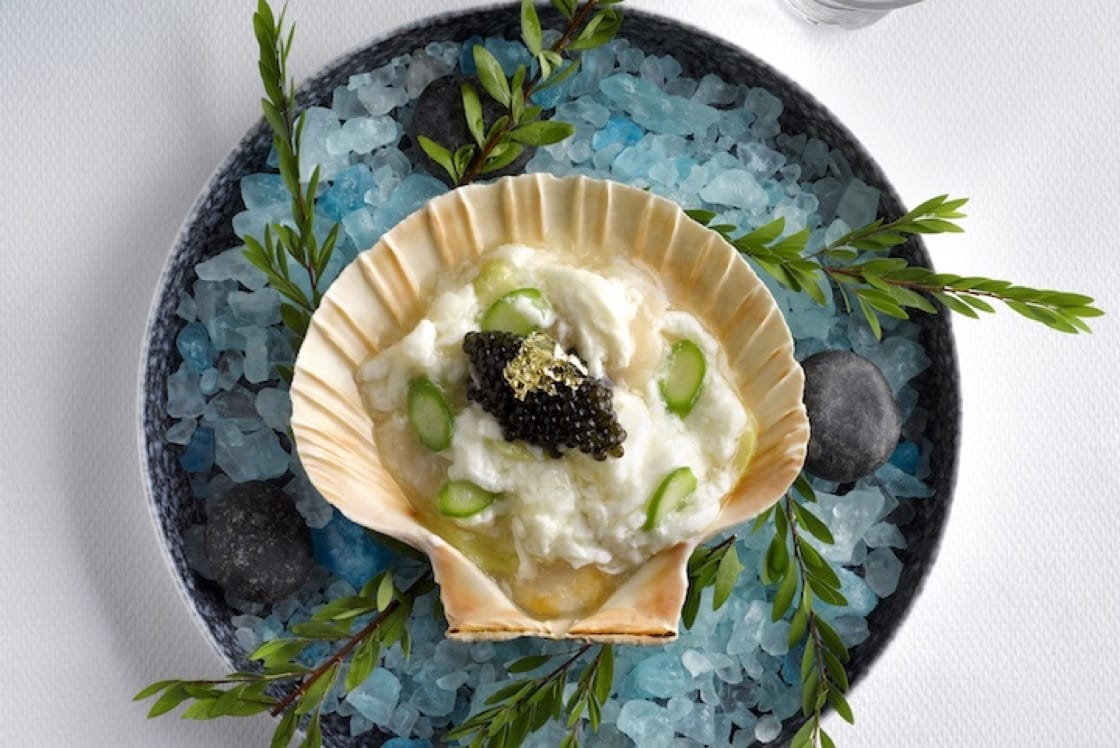 Chinoiserie's Scallop Har Gow Appetiser. (Credit: Chinoiserie)
Justin Quek, JustIN Flavours of Asia and Chinoiserie
Singapore's fine dining scene was revolutionised with the opening of Les Amis in 1994 where Justin Quek proved that home-grown chefs could cook at the highest level, inspiring an entire generation of young chefs in the process. Now he has come full circle with his recent double openings at Marina Bay Sands which reflect his roots as a Singaporean Chinese and French haute cuisine perspective.
JustIN Flavours of Asia is an all-day casual restaurant serving up Singapore comfort food with premium ingredients and modern touches — think a goreng pisang "split" of salted gula Java and vanilla ice cream, or sweet and sour Iberico pork goo lou yok.

On the other hand, Chinoiserie is Quek's fine-dining expression of modern Asian cooking where he cooks typically European ingredients with Chinese cooking methods. For example, he takes a leaf from local yong tau foo dishes and pipes scallop mousse into pan-roasted amadai tilefish, stir-fries wild challan ducks from France in a wok and steams Japanese kinki fish Cantonese-style.
"Chefs should open their minds. Traditionally, people cooked with ingredients available near them. Now, we can fly in ingredients from all over the world. Japanese fish need not remain in sushi restaurants. Why can't we cook Japanese fish in a Chinese style?" he says. "When I was younger, I was trained by the French, but I understand my style of cooking better now. My techniques may be French but the flavours are Asian."
The interior of Magic Square (Credit: Magic Square)
Tan Ken Loon, Magic Square
Local restaurateur Tan Ken Loon is taking a different tack in advancing Singaporean cuisine by investing in the next generation of young local chefs at 田 Magic Square, a pop-up kitchen that will operate out of Portsdown Road till the middle of next year.
Tan puts the weight of his successful restaurant The Naked Finn behind three young chefs, Desmond Shen, Marcus Leow and Abel Su, as they explore the future of Singapore gastronomy. Monthly, each chef takes turn to present a nine-course menu that reflects their personal narratives and experiences. Not surprisingly, many of their creations thus far evoked flavours familiar to the Singaporean palate.
Reminiscent of fish porridge was a broth of steamed Indian threadfin and glutinous rice wrapped with potato leaves; a dish of turmeric with Japanese pumpkin somehow reminded diners of nasi padang, while many said they thought of char siew while tucking into a binchotan-grilled Salmon Creek Farms Natural pork collar basted with aged plum vinegar.

"We are unlocking the fundamental tools that most young chefs would otherwise have no access to: business experience, industry resources and, most importantly, a physical space to cultivate creativity. Ultimately, we aim to groom the next generation of Singaporean chefs who can and will direct the future of Singaporean restaurants beyond what's existing," says Tan.
Spring onion shao bing at Restaurant Ibid (Credit: Restaurant Ibid)
Woo Wai Leong, Restaurant Ibid
The winner of the first MasterChef Asia is part of the new generation of young local chefs exploring the notion of a new Singaporean cuisine with his maiden F&B venture Restaurant Ibid. His Asian heritage and Western outlook, so representative of young Singaporeans today, is reflected in his Nanyang-style contemporary Chinese cuisine.
Woo's inventive creations begin with a key Chinese ingredient, say Angelica root or tofu, or a traditional dish like tea egg, yusheng or cong you bing (scallion pancakes). From this foundation flavour, he develops creative and complex dishes that draw on memories, life experiences and relationships to reconnect with his Chinese heritage.

His is a chef-driven cuisine and one that is shaping the conversation of what Singaporean cuisine can be.