Assistant buyer Brenda Yeung of city'super, a gourmet supermarket in Hong Kong, sheds light on the popular chocolate ganache from Japan made with cacao and fresh cream.
What is nama chocolate?
Nama in Japanese means raw. Here it refers to pureness and freshness. Nama chocolate is a type of ganache, which is made from a mix of melted cacao and fresh cream. As the mixture solidifies, the block of chocolate is cut into pieces and sprinkled with cocoa powder on top.


Where did nama chocolate originate and how did it become so popular?

Nama chocolate comes from Japan. But there are many theories out there regarding who exactly created it. A widely circulated urban legend attributes authorship to pastry chef and chocolatier Masakazu Kobayashi. When he was the owner Sils Maria, a small pastry shop in Shonan, he invented nama chocolate and gave it the name. Kobayashi later joined sweet snack giant Meiji and brought Melty Kiss chocolate, a long-time hit across Asia, to reality. "Melty" represents how easy the chocolate melts. Some say when the product was first launched, it was only available in winter. Royce' began producing nama chocolate in 1996 and it has been going strong since.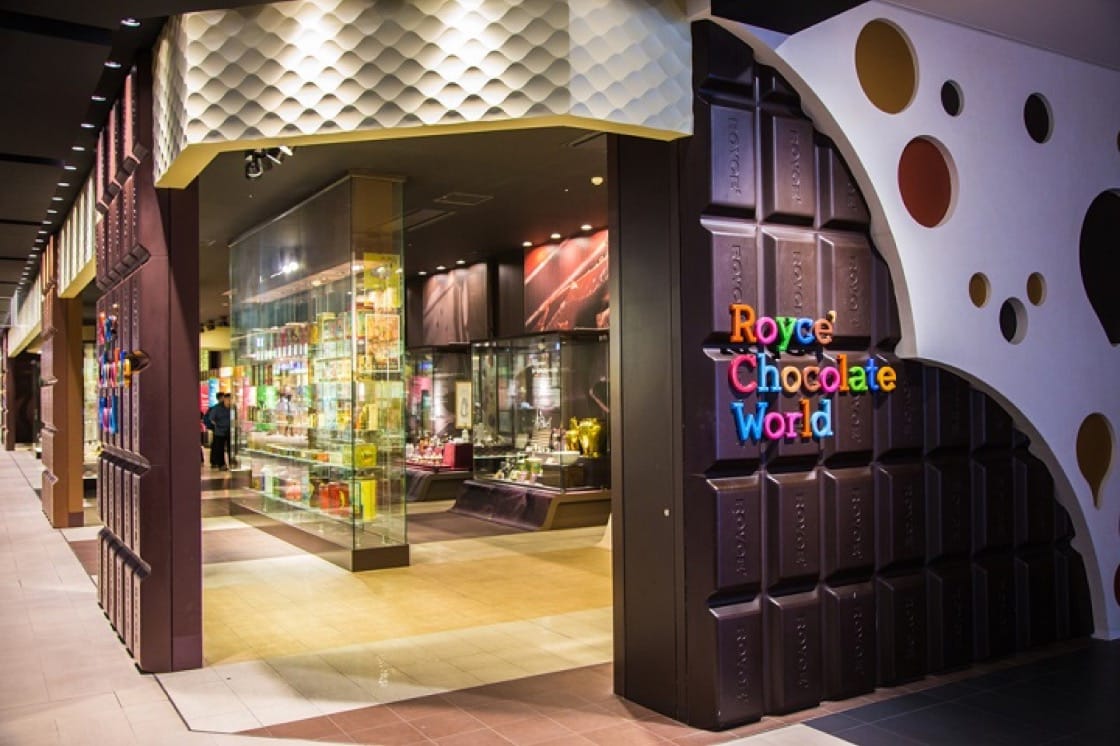 Hokkaido-based Royce' is the prominent label for nama chocolate. (Credit: Royce)
Any brand that is active in making nama chocolate?
Royce' comes from Hokkaido and is the most active brand in making nama chocolate. One of the main ingredients in its products is the fresh cream from local sources. It prepares many types of aromatic, smooth and melt-in-your-mouth chocolate by mixing cacao with uses fresh cream, tea and other types of alcohol. The brand currently offers original, champagne, matcha, bitter chocolate and white chocolate flavours. The ingredients range from fresh cream, matcha powder, champagne, brandy and other types of spirits.

The perfect recipe of nama chocolate has the level of moisture maintained at 17%, the optimal state to balance flavour and form. Once that percentage goes higher, the chocolate would not come into shape easily and cannot be preserved for a long time. On the contrary, its silky texture would be compromised as the product gets too dry.
What are the characteristics of nama chocolate? How is it different from regular ones?
To keep the product at low temperature, it's best for customers to keep them in thermal insulated bags. Make sure you are able to keep it cold if you are travelling with it. Otherwise, it could lose its form.
Nama chocolate stands out from regular chocolate in a few aspects. First, it expires more quickly. Every box is sold on the shelf for only one month, which is a much shorter time than the regular ones. In addition, the ideal temperature of storage for nama chocolate is between 4°C to 7° C, lower than traditional chocolate. To taste nama chocolate at its most delicious condition, it needs to be taken from the fridge and sit at room temperature for 10 minutes before serving. Since fresh cream is incorporated into it, it's recommended customers eat the nama chocolate directly instead of use it for cooking.


Homemade nama chocolate allows you to decide the flavour and texture.
Can you make nama chocolate at home?

It's not a difficult thing. There are a slew of recipes online. It's a tradition in Japan that girls send chocolate to the boys they like on Valentine's Day. Therefore, home-made chocolate recipes pop up very often in Japanese magazines in January and February, and a majority of these are about making nama chocolate. The procedure rarely deviates from melting cacao, mixing in cream and refrigerating. The million dollar question is the ideal proportion between the two ingredients. It varies from one person to another, as everyone has a different taste. It takes much experimentation to discover a working formula.
Is nama chocolate a unique product?
Nama chocolate isn't the only product of its kind. As early as in the 1930s, a close sibling Pave de Geneva was already born in Geneva, Switzerland. The Bien Être collection from La Maison du Chocolat also features a similar concept, adding fruit pulp and juice, honey, maple syrup, hazelnut oil and other ingredients to chocolate ganache.

---
This article was written by Clarence Chan and translated by Vincent Leung. Click here to read the original version of this story.