With farm-to-table dining becoming more prevalent and even trendy, the word "farm" has been popping up on menus. Besides sourcing for greens and produce from wet markets, more restaurants are turning to high-tech farms for greens and herbs. Besides urban farming, in which farming or gardening occurs within a city or an urban setting, vertical farming is also another buzzword.

Vertical farming involves cultivating produce in vertically-stacked layers, be it on shelves that are stacked directly on top of one another or on growing units that are suspended on walls or fences.

One of the main goals of vertical farming is to maximise the amount of food produced per square metre of land space. Vertical farming is gaining popularity in land-scarce Singapore, where World Bank data shows that less than 1% of its land is set aside for agricultural use. Although the Republic imports more than 90% of its food, its state of food security is still vulnerable to external factors such as climate change and natural disasters.

According to figures from the Agri-Food and Veterinary Authority, there were 26 indoor vertical farms in the first quarter of last year — about four times more than in 2016. These farms can be housed in farm greenhouses, shipping containers or repurposed warehouses.
For vertical farming, the produce are grown indoors all-year-around and are not susceptible to weather conditions. These eco-friendly farms also tap on technology and use lower resources such as water, space and soil. Vertical farms also reduce reliance on manpower, which is a boon given the constant rise of labour costs. Vertical farms also have a lower chance of getting affected by plants and diseases.
READ ALSO: 10 Tips On Eating The Sustainable Way

The most common produce in vertical farms include micro cress, which are used as garnishes in fine-dining restaurants. (Photo: VertiVegies)
Vertical farms that produce greens can be widely divided into two categories — hydroponic and aeroponics.

Hydroponics refers to the growing of plants without soil, but in nutrient-rich water. The plants are supported by boards made of clay pellets, perlite or peat moss. The roots of the plant are immersed in a nutrient solution, which is enriched with phosphorus, potassium and calcium for healthy plant growth. The solution is frequently circulated and closely monitored to ensure that the chemical composition is consistent.
The plants can also be held in plastic troughs with a nutrient solution running past the root with the aid of gravity and a nutrient pump beneath the troughs.
For aeroponics, the plants are grown without soil and very little water, and thrive on a mist that is enriched with nutrients that is sprayed in the indoor complex. In the systems, the plants are suspended in a way that exposes their roots in a moist and airy environment filled with nutrient-rich mist. Nutrient delivery is efficient in an aeroponics system as high levels of oxygen can be absorbed via the plants' roots.
Besides the usual assortment of micro-cress, vegetables and herbs, strawberries can also be cultivated in local vertical farms. On top of kale, arugula and basil, local vertical farming company Sustenir Agriculture produces about 600kg of strawberries a month, which are mainly sold online via Redmart.
Another vertical farm VertiVegies will partner Fujian Sanan Sino-Science Photobiotech to open a new 20,000-square-metre farm, which will be one of the largest indoor vertical farms in Singapore. It is slated to open next year. The chemical-free facility will use hydroponics to grow its crops in rooms that are powered by a technology that utilises 90% recycled water. The intuitive system automatically regulates temperature, water, humidity and input nutrients.
READ ALSO: What You Need To Know About Microgreens
The best of the MICHELIN Experience in your inbox
Stay on the top of the best restaurants, offers, lifestyle, and events recommended in our guide cities.
Subscribe
Watermelon Wild Honey Salad from Open Farm Community uses Thai basil from vertical farm Sustenir Agriculture. (Photo: Kenneth Goh)
Restaurants that use produce from vertical farms include Open Farm Community, which sources its arugula, kale and basil from Sustenir Agriculture. Dishes that use these produce include the Watermelon Wild Honey Salad with Thai basil, compressed local watermelon, aloe vera and frozen goat milk, the Thai Asparagus Salad, which has dried kale chips, homemade cashew ricotta, lime vinaigrette and a brown butter emulsion, and the the gluten-free Citrus Cured Mackerel, which has aguachile, ginger blossom and garden basil.

One-Michelin-starred Labyrinth stocks an assortment of micro-vegetables and herbs such as ice plant, fennel flowers, purple basil mustard, marigold cress and red sorrel.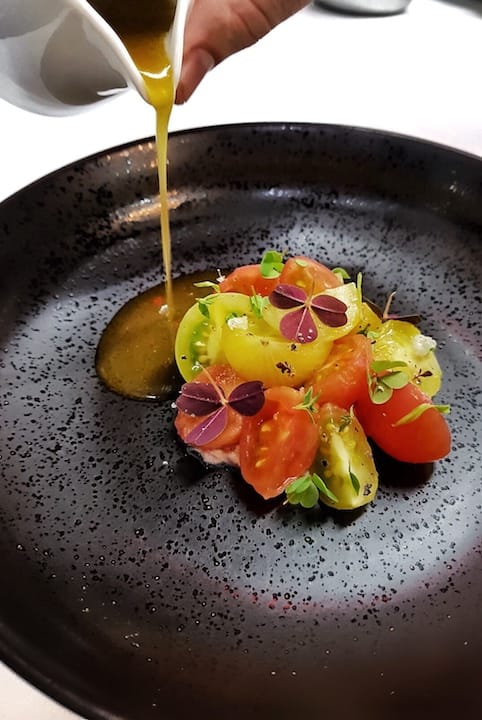 Another one-starred restaurant,
Saint Pierre
uses an assortment of micro cress. For example, Red oxalis (right) is used to garnish snacks and canapés. Chef-owner Emmanuel Stroobant says: "The colour and shape of the Red oxalis are nice but its slightly sour flavour lifts the taste from the first bite. Its flavour is subtle yet distinctive."
For the dish of Hokkaido Hairy Crab, Corn, Lemongrass, basil cress is used to adorn the dish. He adds: "While the visual aspect of the dish is important, the natural pairing of lemongrass and basil works very well with the sweet hairy crab meat." Another dish, Omi Beef, Black Truffle, Korean Chestnut features the Nasturtium leaf, which is grown to a specific size for the restaurant. Stroobant says: "The flavour of the Nasturtium leaf is somehow similar to the European watercress, which has a touch of acidity. It works very well on the Japanese beef as we needed a cress that cuts through the fat of the beef."