Going meat-free doesn't mean sticking to salads with more eateries in Singapore now offering vegetarian options. The Bib Gourmand rating recognises establishments that offer a good value meal for under S$45. We look at six Bib Gourmand establishments recommended by our Michelin inspectors which serve up hearty meatless dishes.
The biryani at Bismillah Biryani (Pic: MICHELIN Guide Singapore)
Bismillah Biryani
Bismillah Biryani on Dunlop Street is a local favourite, having been around for more than 15 years. The highlight here is of course its biryani, prepared meticulously so that the basmati rice is tender yet nicely separated and aromatic with heady spices. A vegetable biryani is available on the menu, served with an optional boiled egg and yogurt-based raita. Other vegetarian offerings include vegetable samosas, chana masala (chickpea curry) made with chickpeas, cilantro and garam masala, as well as a fresh cucumber salad with tomatoes, onions, cilantro and a dash of pure sea salt.
The Sambal King at Whole Earth (Pic: Whole Earth)
Whole Earth
"Vegetarian cuisine for non-vegetarians" is how this Thai-Peranakan restaurant is described by its owners. Established in 2003, the restaurant employs a keen understanding of textures and flavours in vegetables and mushrooms, and the clever use of soy products and tofu to achieve meaty flavours. A home-made vegetarian sambal features in signatures like the Sambal Kang Kong and Sambal King, a stir-fried dish of eggplant, lady's finger, long bean and petai. You won't miss the meat when tucking into the Nonya Curry, rich and chunky with shiitake mushrooms and potatoes, or the full-bodied mushroom-based Penang Rendang.
Chey Sua Carrot Cake (Pic: MICHELIN Guide Digital)
Chey Sua Carrot Cake
For ovo-vegetarians whose diets allow for the consumption of eggs, Chey Sua Carrot Cake at Toa Payoh Lorong 1 Food Centre dishes out one specialty: white chai tow kway. A mixture of white radish and rice flour is steamed and cut into small cubes which are then fried with eggs and savoury preserved radish to make a golden brown omelette of sorts. The radish cakes here are still made from scratch to retain the taste of tradition, while the hawker's skills on the wok gives the carrot cake a deliciously crisp brown crust.
The grilled haloumi salad at Bar-roque Grill (Pic: Bar-roque Grill)
Bar-Roque Grill
Alsace-born chef Stephane Istel has just launched a new cheese programme at Bar-roque Grill, where he will be ageing several imported cheeses in-house and handcrafting eight to 12 types of cheeses with fresh cow's milk from a local farm. Diners will get a taste of these cheeses in salads like the grilled haloumi salad incorporating home-made haloumi and Provencal herbed goat's cheese with falafel, eggplant caviar, hummus and pomegranate dressing, the spinach salad with goat's cheese and heirloom tomato salad with burrata cream. The Ravioli Royan makes for a hearty vegetarian main with roasted wild mushrooms, garlic cream and Gruyere cheese.
Crispy Ladies' Fingers at Muthu's Curry (Pic: Muthu's Curry)
Muthu's Curry
Muthu's Curry is an Indian dining stalwart, having been around since 1969. "Muthu" means pearl in Tamil, befitting this gem with three other branches serving traditional South Indian cuisine from the Chettinad region. Although its most iconic dish is the Fish Head Curry, the menu also has a plethora of vegetarian dishes like Gobi Manchurian (fried marinated cauliflower), Paalak Daal (spinach and mixed lentil curry) and Butter Paneer, a vegetarian take on its signature Butter Chicken dish with cottage cheese cubes instead.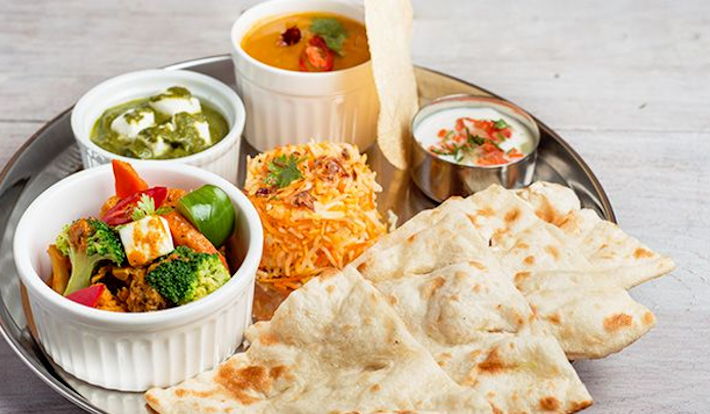 The vegetarian naan set at Zaffron Kitchen (Pic: Zaffron Kitchen)
Zaffron Kitchen
Start off your vegetarian meal at Zaffron Kitchen with Dahi Puri, a street snack from Mumbai consisting of crispy Puri shells filled with sweet and spicy chutney, then tuck into the Zaffron Salad, which comes in a vegetarian version with paneer tikka and chopped greens. Order up a serving of naan freshly baked in the tandoor to go along with a wide selection of vegetarian curries like Aloo Gobi Masala and Malai Kofta, vegetarian dumplings simmered in a mildly spicy gravy. The menu also features a vegetarian burger and naan wrap: the Masala Burger boasts a spiced vegetable patty served with chat masala fries, while the wrap is stuffed with cottage cheese slices and bell peppers.