Abalone, sea cucumber, fish maw, roast pork, prawn, scallop, dried oysters — all manner of luxurious delicacies served in a brimming pot. Pen cai, or poon choy in Cantonese, often take centrestage on dining tables during the Chinese New Year festive season when families gather for their reunion dinner.

There are as many myths attached to the origins of this dish as there are ingredients but the most widely accepted account tells of the young Song Dynasty emperor and his army who were fleeing from Mongolian invaders and ended up in the area around Guangdong Province and Hong Kong. Local villagers gathered their best ingredients to serve the emperor, but having run out of serving containers, placed the food in large wooden washbasins instead.

Today, pen cai is a popular festive dish in both Hong Kong and Singapore, a Chinese New Year menu mainstay in Cantonese restaurants everywhere. "Pen cai is customarily eaten during the Lunar New Year as the dish is filled with layers of premium seafood and meat, symbolising prosperity and abundance," says Chinese executive chef Cheung Siu Kong of one-MICHELIN-starred Summer Pavilion,

"It's a delicious dish that has something for everyone: meat, seafood, vegetables," adds master chef Chan Hwan Kee of MICHELIN Plate restaurant Min Jiang in Singapore's Goodwood Park Hotel. "Plus, this Chinese New Year classic is typically not spicy, so it can be enjoyed by both the young and old. It is a communal dish that families can gather together to enjoy and share."
What should a great pen cai contain?

CSK: For vegetables, you should have daikon (white radish) which symbolises good luck (好彩头), for meats I will have goose web because that represents a windfall (横财就手). Prawn and fish symbolize abundance (年年有余), while more premium seafood like abalone and fish Maw are delicacies for the festive season. We also add black moss (fa cai) that sounds like the Chinese words for prosperity.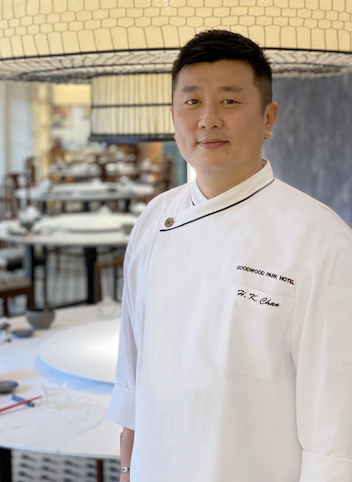 CHK (pictured left): The pot should be big enough to serve six to eight persons, featuring at least 10 varieties of ingredients with all their flavours well infused together. A minimum of three layers is ideal, with each layer and ingredient cooked till just right. The choice of ingredients for each layer is important as well to hold the structure of the dish as well as for presentation.

There should be a substantial amount of gravy, especially if the pen cai is offered for takeaway, as customers may want to reheat the dish just before serving it, and doing so will reduce the gravy. Each ingredient should be cooked in a different stock or braising sauce to bring out its individual flavour, while a thick, rich stock made from pork trotters, old hen, pork meat and chicken feet would form a tasty and collagen-rich gravy as the base.


How long does it take the restaurant to prepare a pen cai from start to finish?

CSK: Many different cooking techniques are involved in putting this one dish together, like double-boiling, braising, deep frying, barbecue and stir-frying, because each component needs to be cooked separately. It takes two days to prepare all the individual components and the sauce.

CHK: It can take up to two weeks to prepare a pen cai, from cleaning, rehydrating, and cooking all the individual ingredients. Some ingredients require at least half a day to a day to cook, while other ingredients are braised anywhere from 30 minutes to four hours. It takes about five to six hours to prepare the sauce and let the flavours develop. A team of chefs in our kitchen are usually needed to prep and cook this dish.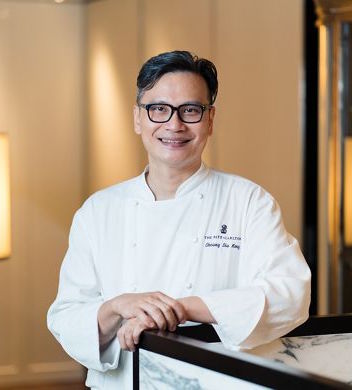 How do you layer the ingredients in the pot?

CSK (pictured right): Vegetables usually form the bottom layer so that they absorb the jus and taste of all the other ingredients as they cook and flow down. Meats would make the middle layer while premium seafood should be laid on top to highlight the delicacies in the dish.

CHK: The order of layering is important as the cooking time and textures of the ingredients vary, and the structure and presentation of the dish have to also be considered for a well-executed pen cai.

Ingredients arranged at the top are often the more premium ingredients that usually bear auspicious significance like prosperity and abundance, as it is the first to be visually appreciated when the dish is unveiled. These ingredients tend to be delicate and cook the fastest as well, so they should be placed last and at the top; for example, fresh scallops and prawns, abalone and black moss. The bottom layer consists of ingredients such as pork belly, cabbage and taro that are able to withstand the long cooking time and absorb the most flavours, while the middle layer can include other ingredients like sea cucumber, fish maw and mushrooms.

What goes into the sauce that ties a pen cai together?

CSK: Abalone jus, oyster sauce, seasoning, and the natural jus from all the premium ingredients.

CHK: Generally, the sauce is seasoned with light soy sauce, dark soy sauce and rock sugar to round up the combined flavours from the different ingredients. Then depending on the family's preference, it can be further enhanced with the addition of spices like cinnamon sticks, star anise, black cardamon and Sichuan peppercorns.


Summer Pavilion's Signature Pen Cai is served in a claypot (Photo: The Ritz Carlton, Millenia Singapore)
Does the vessel matter?

CSK: Yes. I prefer a claypot because it is porous and allows heat and moisture to circulate evenly during the cooking process, to ensure that the meat and seafood are juicy and tender. The claypot also keeps the temperature of the food warm for longer.

CHK: Traditionally, a wooden or stainless-steel pot is used. However, these days, the former is mostly chosen for a nostalgic presentation and not for cooking. At Min Jiang, we serve one of our pen cai dishes in an improvised version that includes a stainless-steel pot which fits nicely into the wooden pot. This can be considered a modern adaptation as the steel pot makes it easy for customers to remove and reheat the dish by steaming only; placing it directly over the stove may cause the base and ingredients in the bottom layer to burn.

What should you never do when making pen cai?

CSK: You should never leave fish bones in the dish. Always take care to remove them.

CHK: Inauspicious ingredients such as preserved vegetables like mei cai and bitter gourd should never be included. Other ingredients that should be avoided are ones with overwhelming strong flavours that can potentially mar the taste of the 'pen cai'. Lastly, you should avoid overcooking the ingredients. It is important to be mindful of the doneness of each individual component as all the ingredients will have to be further cooked by combining them together to be steamed or braised for the flavours to fully infuse.
Banner image courtesy of Min Jiang restaurant.