Always had a burning question but not sure who to ask? In our regular Ask The Expert section, we do all the work so you don't have to. In this edition, executive chef Eric Neo of InterContinental Singapore shares his top tricks for a hearty steamboat meal at home.

---
Chinese New Year is a great time for steamboat for many reasons. As many markets traditionally closed over the first few days of the Lunar New Year, ingredients for a steamboat can be easily prepared and frozen ahead for use, leaving little or no prep work required when a slew of visitors come and go during the festive period.
For families, Chinese New Year is the time for reunions over long meals, and cooking your own food in a communal hotpot creates a languid atmosphere for conversation.
"Steamboat was something I grew up with," shares Eric Neo, executive chef of the MICHELIN-listed InterContinental Singapore hotel.

"When I was young, we always had steamboat for reunion dinner on the eve of Chinese New Year. Usually we'd have two pots on the table because we're a big family. My grandmother would cook a pork rib stock and my grandfather would go and buy fresh seafood and handmade fish balls from a particular market. As kids, we would finish the first round of our dinner and go and watch TV and then come back to the steamboat again — because we all knew that the flavour of the soup at the end is always the best."

It was this memory that inspired him to launch a premium steamboat menu at the hotel's MICHELIN-Plate Chinese restaurant Man Fu Yuan in 2012, then a novel concept in Singapore as hotpot restaurants were usually associated with cheap all-you-can-eat buffets in street-side eateries. Still popular today, the S$180-per-person experience comes complete with full table service. Luxury ingredients from abalone and live lobster to handmade meat balls and dumplings are cooked and served course by course.

Here, the chef shares his top tips to give your home-cooked hotpot a professional upgrade this year.


Some of the premium ingredients and handmade dishes for Man Fu Yuan's steamboat. (Pic: InterContinental Singapore)
Dear Eric, what's the best way to prepare a steamboat for the Chinese New Year season?

Chinese New Year is about tuan yuan (reunion) and steamboat is perfect for the occasion. Steamboat takes time to cook, so you have the time to really engage with your loved ones while waiting for the food to cook. All the ingredients are fresh and raw, so it doesn't take a lot of preparation time, and the leftover uncooked ingredients can be eaten again in the days after. There's less wastage, and it allows for people to eat what they want as they come and go during house visits.

In the weeks leading up to Chinese New Year, you can buy, clean and freeze the seafood and meats in small portions of about 500-800g ahead of time, so that you can take out and use them over the whole festive period, when the markets are closed or if you are too busy entertaining to go shopping. Sliced meat and shellfish like lobster can be frozen. Fresh whole prawns should definitely be frozen if you cannot finish them because their heads will turn black in the fridge. You can thaw the smaller portions of food only when you want to eat them. And when you're tired of steamboat, leftover ingredients can be stir-fried in other dishes the next day.

What are the elements of a good steamboat?

The foundation of a good steamboat is a good stock, which can be a seafood, vegetable or meat stock. My preference is a mixture of meat and seafood stock because a good stock needs both body and freshness. If you just use seafood, you need boil a lot of bones and shells for a long time to create body for the stock. It's hard to do that at home, so mixing it with meat stock will lend body. I know it's very popular these days, but I find that heavy, spicy soup bases like mala (chilli and Sichuan peppercorn) and tom yum can be cloying on the tastebuds after a while.

The next element of a good steamboat is fresh ingredients. Fresh seafood like squid and prawns, handmade fish balls and meat balls are must-haves. I prefer not to marinate my ingredients because you want all these to go into the broth and add to its freshness and body. And then you can have condiments and dips on the side for flavour.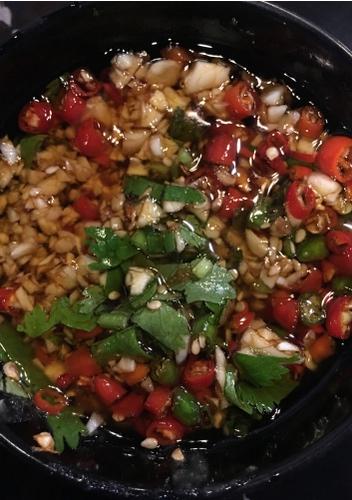 Finally, you want some good dips and condiments on the side. You can play around with all kinds of bottled sauces like shacha sauce (a savoury, spicy Chinese sauce made from soybean oil, garlic, shallots, chill and dried shrimp) or Lao Gan Ma (a popular brand of chilli sauce from China), but soya sauce and chilli is a staple.

I have my own special recipe for preparing a soya sauce dip: First, you get a good light soya sauce and warm it up with a bit of water. Dissolve some sugar in it to taste, stir in some Maggi seasoning and leave to cool. At this point, it is similar to the sauce restaurants use for steamed fish, actually. To finish, add coriander, chopped raw garlic and chilli padi (bird's eye chilli).


What's the best way to cook steamboat?

Some people like to cook the ingredients one at a time as they eat them, but I like to cook mine in batches so you can have a bit of everything at one go when they are cooked. Moreover, this lowers the chance that you will take something from the pot when there is still uncooked meat in it.

The important thing is to add in fresh stock a little at a time throughout the whole meal as adding too much stock at once will dilute the soup. I find adding fresh or frozen raw scallops into the steamboat will help to sweeten the soup. You don't need expensive Hokkaido scallops to do that, frozen Australian scallops will add a lot of flavour into the soup.

Leafy vegetables can be added at the end because they only take a short while to cook, and they absorb the oil from the surface like a light glaze. Lastly, always come back for the soup at the end. The flavourful broth at the end can be used for cooking pao fan (poached rice) or noodles. Congee-like pao fan is a comforting way to end the meal. Simply add cooked rice and beaten egg to the broth and top with puffed rice for texture.

What precautions should I take when having steamboat?

Don't be kan cheong (impatient or hasty) — people get upset stomachs because they are too excited to tuck into it the moment they see the soup stock come to a small boil. If you're adding raw meat in, make sure the pot comes back up to a proper boil before eating anything else in it. Finish what you have in the pot before adding more stock and more ingredients. Don't add in things halfway through and don't keep the soup for another day because if you don't strain it properly, it will turn sour. If you do it right, your guests will devour every last drop!