Tenjimon is a small but leisurely space where you can forget the fast-paced daily life of Seoul. The six-seater restaurant opened towards the end of 2019, and it presents a Japanese-style kaiseki menu imbued with Korean seasonal ingredients.

Chef Kim Dae-chun of 1-MICHELIN Star restaurant Seventh Door and Toc Toc, and chef Zaiyu Hasegawa of Tokyo's 2-star restaurant Den are the two collaborators behind this pioneering modern Japanese kaiseki restaurant in Seoul, which they dubbed Tenjimon. The restaurant's name means "opening the door of fine food with ingredients of heaven and earth," and employs seasonality as its main focus. We meet up with chef Kim, who diligently divides his time between Tenjimon and Seventh Door.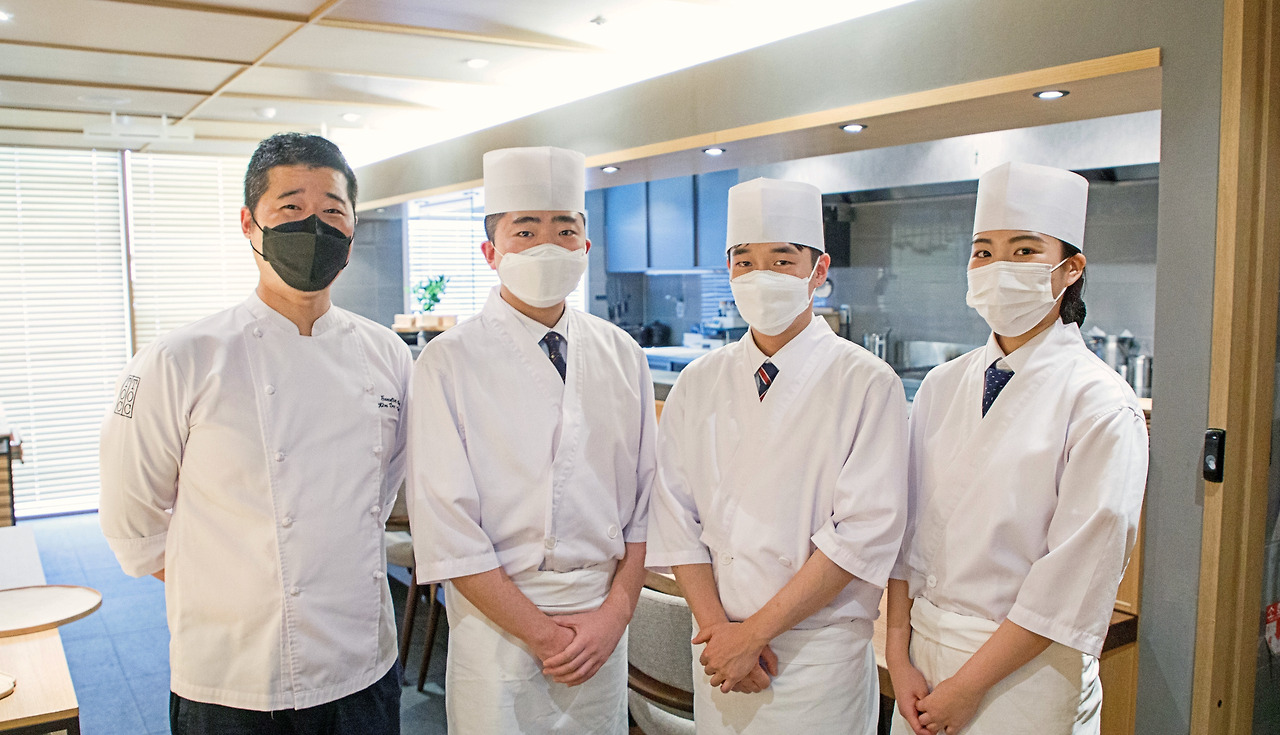 Chef Kim Daechun (left) and team members (Pic: Kim Jun Yong)
The cuisine that Tenjimon pursues is...
Following kaiseki's composition, we are trying to present a witty Japanese menu that is interpreted in a modern way. Since seasonality is the core of kaiseki, we are focusing on sourcing essential seasonal ingredients that showcase the nature and produce of Korea.

The best kaiseki restaurants in Japan focus entirely on ingredients. In many Western cuisines, recipes are prioritized over each ingredient, but kaiseki's charm is that the method of cooking varies greatly depending on the ingredients of the day. And I think the customized menu which depends on the guests is really important. So, we ask our guests whether they have something special in mind that they want to eat, and prepare the food accordingly.

Our team is working hard to follow the kaiseki spirit as much as possible. A Korean-Japanese couple has been visiting our restaurant every week for the past few months; so I try to change the menu whenever they visit, so that they won't get tired of similar dishes every time. It's a big challenge to change menus every week, but this process makes us progress. We think more carefully about weather, season and even mood of the day. Of course, the new dishes are not always successful, so I feel this limitation of ingredients and new recipes, but there are also improved dishes overall. I think the beauty of kaiseki cuisine is that customers, seasons and kitchens change and flow together.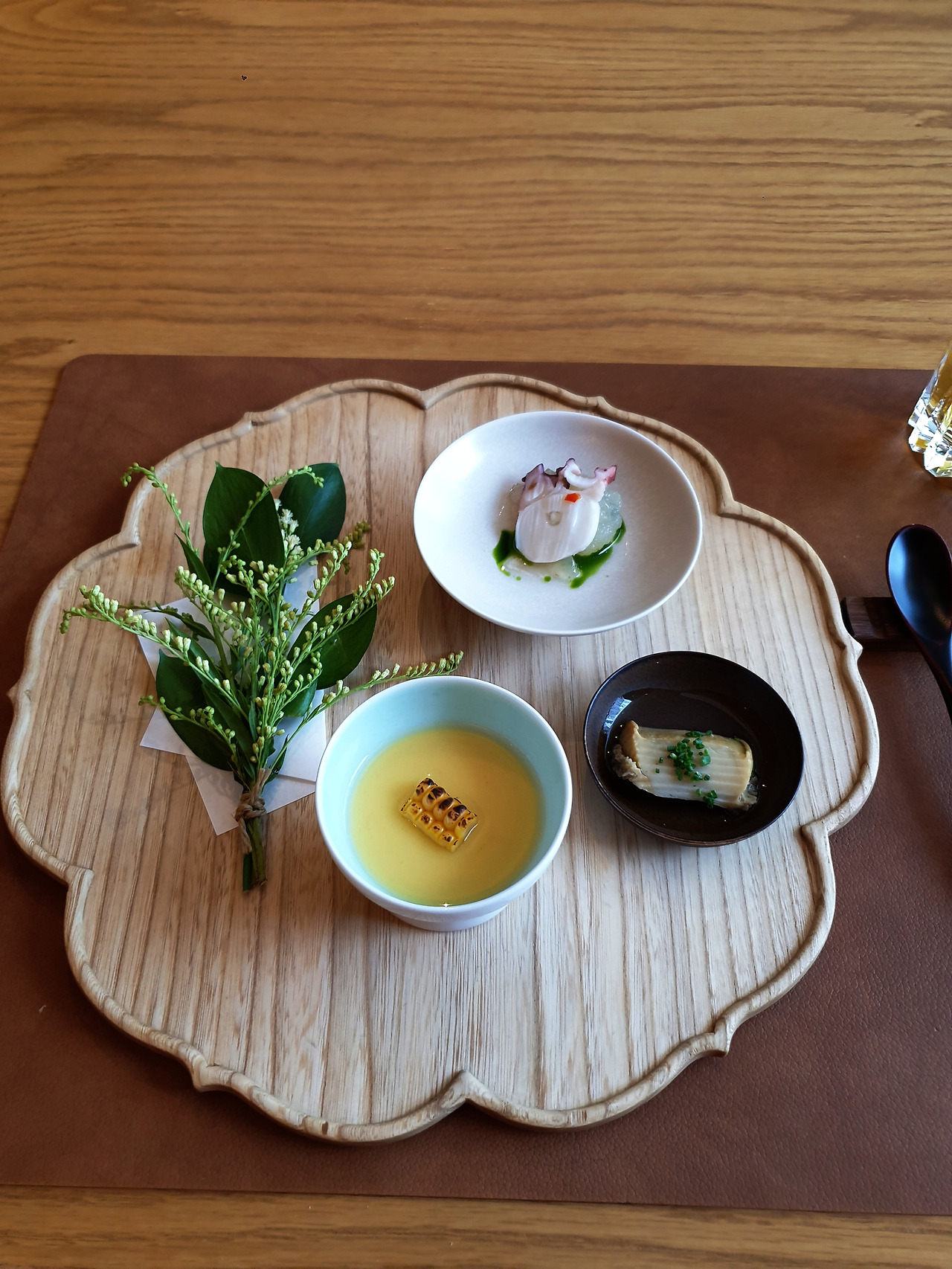 How is modern kaiseki different from classic kaiseki?
These days, I think the distinction between classic and modern kaiseki is not significant. However, modern kaiseki adapts various international recipes and ingredients with a more open mind. For example, one of our dishes is tomato noodles which is inspired by Italian cuisine. We use basil and buffalo mozzarella cheese, which is a classic combination in Italian food, but reinterpret it in our own way by adding katsuobushi-flavored vinegar jelly. These dishes are already pioneered in our partner Tokyo restaurant Den, and the trend continues in Tenjimon, Seoul.


In what ways do you collaborate with Den in Tokyo?
Tenjimon is a restaurant created collaboratively with Den in Tokyo. So, we operate in the same way as Den. The chef determines many things according to the ingredients of the day and finalizes the menu on a daily basis. Before the Covid-19 epidemic, chef Zaiyu Hasegawa of Den would visit more than once a quarter to share recipes and discuss menus, but now we communicate online. The new dishes are also shared through messaging apps after taking a cooking video. It's always good to create a menu face to face, but there are also pros of developing menus via video conferences, sharing videos and collaborating like this. We have more time to focus on the details of the food.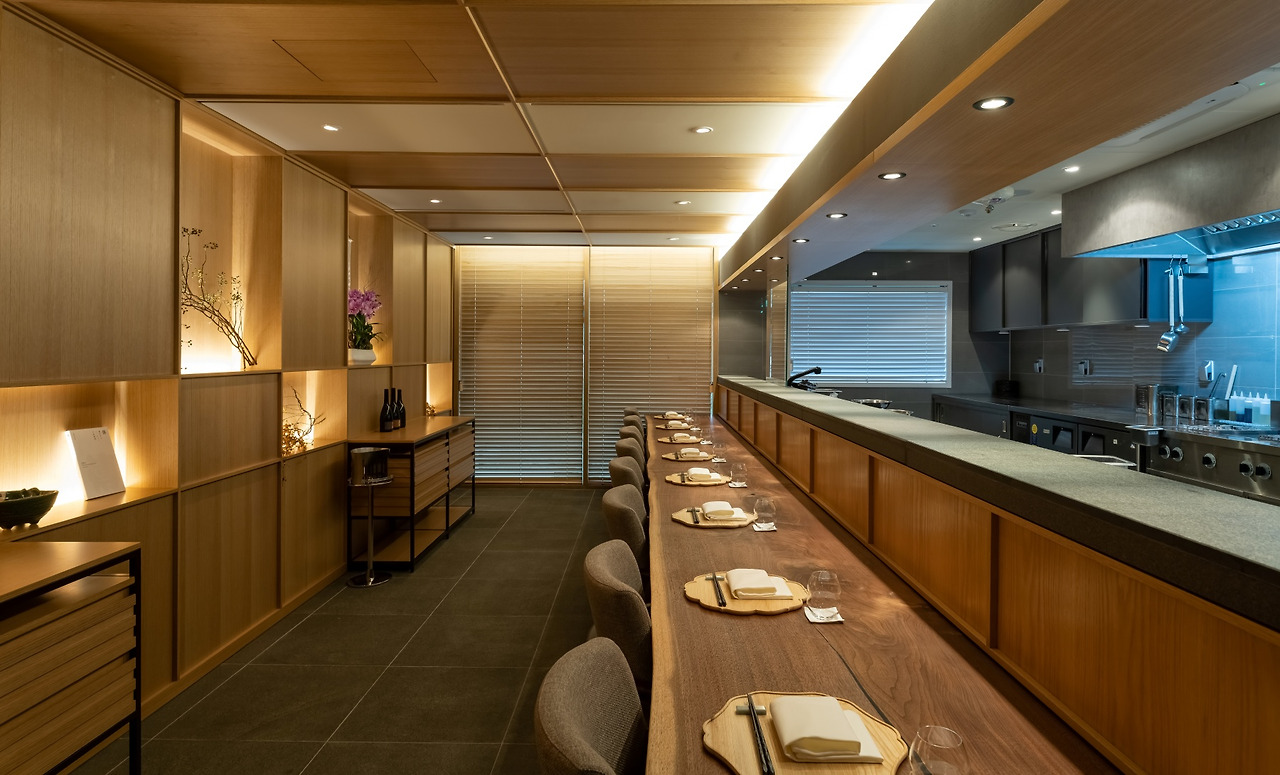 Tenjimon's dining hall (Pic: Tenjimon)
How do you balance Korean and Japanese ingredients?
We use various ingredients that reflect the season of Korea as much as possible. Kaiseki's core is the seasonality, or Shun. Most of what we use are Korean native ingredients, but some items such as katsuobushi or wasabi, which form the frame of Japanese authenticity, are sourced directly from Japan. That way, you can definitely make it taste like a Japanese dish and add Korean colors through seasonal local ingredients.

Signature Dish: Tenjimon's Salad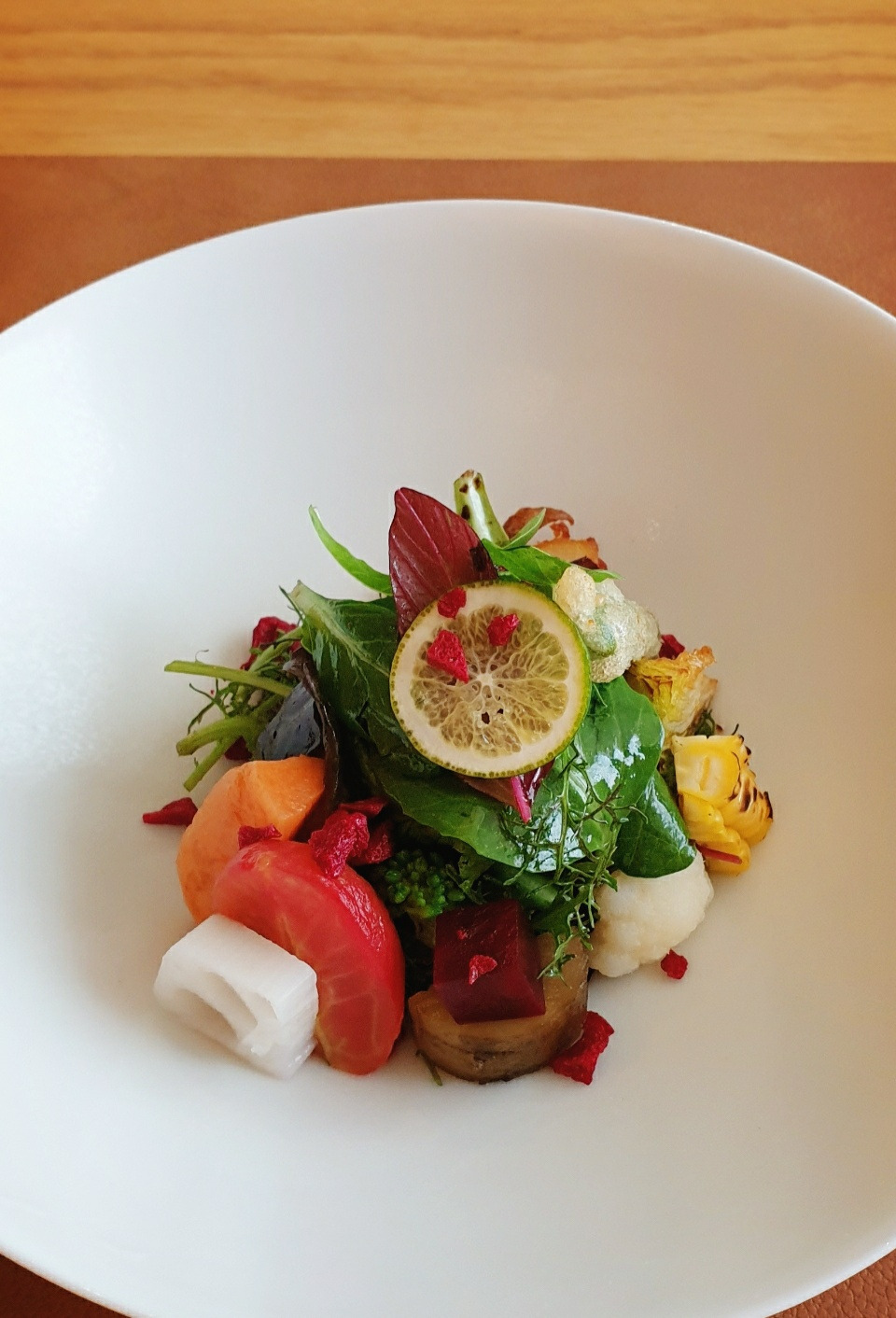 Our signature dish is Tenjimon's Salad. We prepare more than 14 varieties of vegetables for each rendition, each prepared in different ways. Six years ago, when I first visited Tokyo's Michelin 2-star restaurant Den, I was very surprised to taste its signature dish, salad. Since then I had a dream of introducing this dish to Korea, and now my dream came true through Tenjimon! Many guests choose the salad as their favorite dish.

Each ingredient is cooked in a different way. Some are pickled for crisp, sour sensations, others are mixed lightly in oil. We cook root vegetables gently at low temperatures in oil, and choose to fry others to give a crispy texture.


The combination of more than 14 different vegetables will make your mouth water with different temperatures and textures. I was obsessed with vegetable ingredients at my other restaurant Toc Toc that I ran for a long time; I grow organic vegetables myself just for my restaurants and this is also completely celebrated in this dish. It is more attractive because it is a dish that diners can feel the nature as well as the flow of the four seasons. It is simple but full of the beauty and purity of nature.

Which is your favorite ingredient and why?
Water. It's so familiar that it's easy to overlook its importance, but without water, you can't cook anything, and the taste can vary slightly depending on what water you use.

Broth is mostly water. When you think of cold anchovy noodles and dongchimi (fermented radish) noodles, you often focus more on anchovies and radish, but mostly it comprises water. So the high or low mineral content influences the taste of the broth much more than expected, and it changes the overall impression of the food. I use bottled water produced in the volcanic area of France to make the above dish. On the other hand, I use purified water for making ichiban dashi with the katsuobushi and kelp, the basic broth for boiling. As such, we use different water depending on the characteristics of the dish.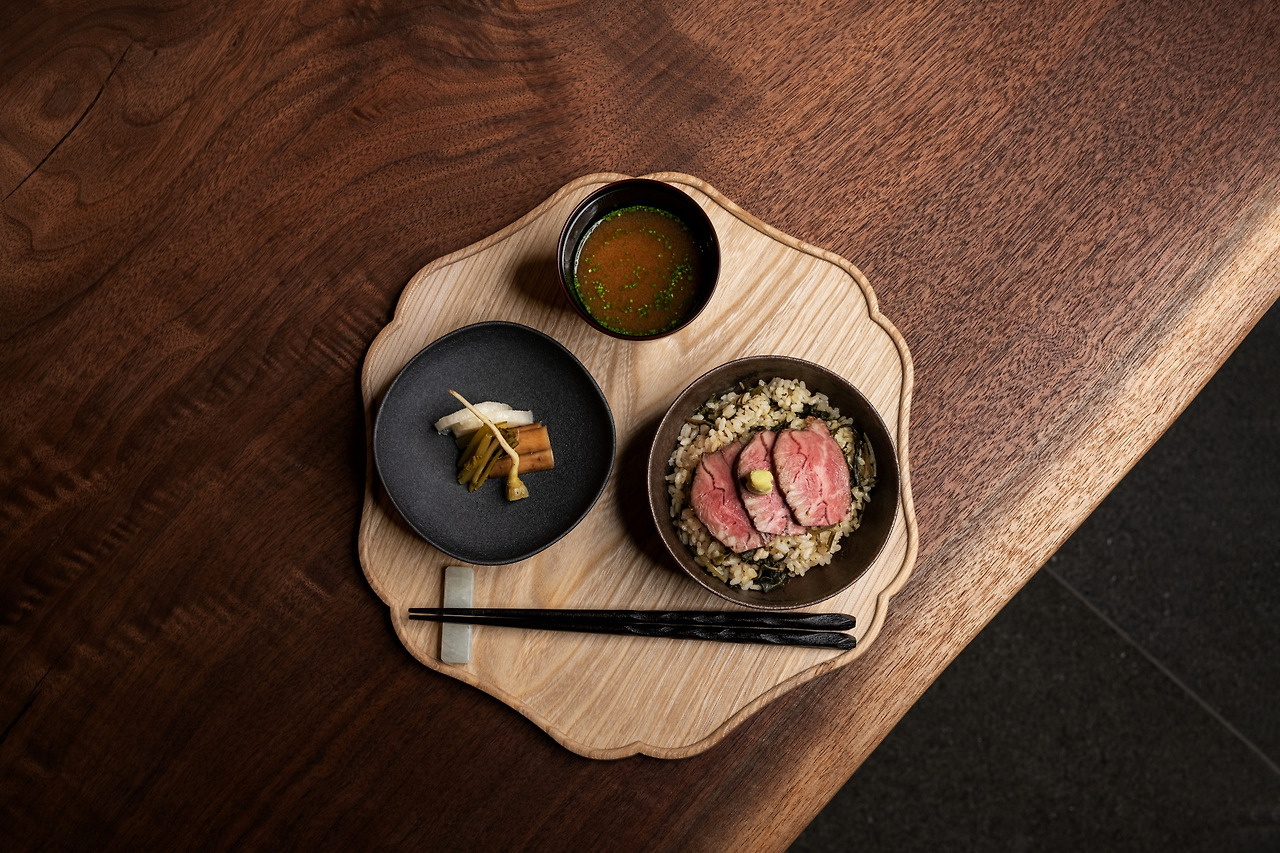 What is the significance of cooking to you?
To me, cooking is work and life itself. It's also a medium that reinterprets my memories. It's a process of showing the memories and presenting events I've experienced in the dish on the plate, and empathizing with customers. It's really good as a chef to feel alive while cooking, but on the other hand I am concerned I don't spend enough time with my family because of the long working hours.

I want to make a dish that is familiar but impressive. For example, a bowl of rice is a familiar food that any Korean has eaten daily for hundreds of years. Still, it's a food that's experienced in a slightly different way depending on families and situations, right? I'd like to show you a comfortable and memorable twist of taste through the medium of this familiar and simple dish. We aim for modern kaiseki, which is made from Korean food ingredients, especially warm-hearted dishes that are close to home food.

Making a living as a chef is not always fun, but I feel really happy when I see a sincere smile on our guests' faces when they're truly satisfied. Even if they don't tell me that they ate well, this feeling is conveyed to me. Such a smile is the energy of every day that makes my work meaningful.

This article is written in Korean and in English by Julia Lee and sub-edited in English by June Lee.