Having worked in a number of luminous kitchens, talented chef Andy Beynon struck out on his own in 2020 – and chose his own neighbourhood of London Fields in Hackney for the location of his striking restaurant, Behind, where the horseshoe counter allows guests to see 'behind' the scenes. The surprise seasonal menu focuses on fish and the 10 or so courses are delicate, balanced, skilful creations that make for a memorable dining experience.

At what age did you decide that you wanted to become a chef and who or what inspired you?

Aged 14 I saw my mum cooking traditional Italian dishes and I wanted to learn and understand more. She had a large cookbook collection which I started to read and from there my interest in food really grew. It has taken over most of my life since!

I got my first restaurant job not long after, and with every job I took, I wanted to learn as much as I could. Every holiday I go on, I seek out new restaurants to eat in – and perhaps even 'stage' in – just so I can learn more about local cuisines.

Who's the best chef you have worked for and which other chefs do you admire?

The best chef I've worked for is Matt Weedon. He's the first Michelin-Starred chef I worked under, and he trusted me enough to let me be creative and learn. I always felt he believed in me and I have stayed friends with him since.

The other chefs I admire most are Michael Wignall for his creativity in the development of dishes; Phil Howard for his simplicity and respect for produce; and Phillip Foss of EL Ideas in Chicago – for really pushing boundaries in the food scene and proving to me that I could bring my own personality into a Michelin restaurant.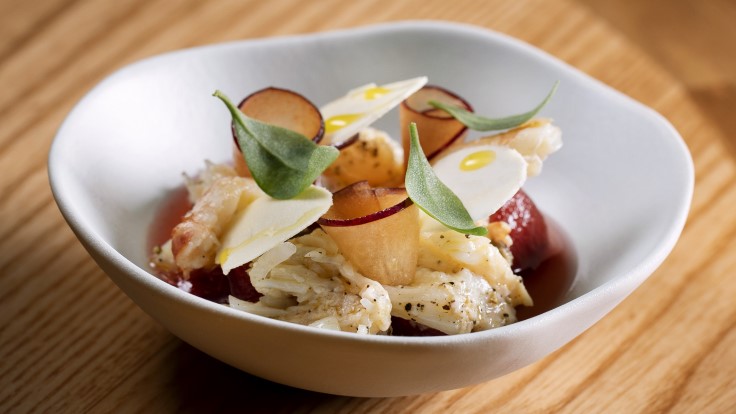 What's your favourite worldwide restaurant and why?

Eleven Madison Park in New York for its incredible food and service – absolutely nothing could be faulted. Every dish had a story that we can still remember years after dining there and the complicated dishes were made to look so effortless.

I also love Elkano in Getaria, Spain, where they have managed to keep local traditions alive, with the upmost respect to the produce.

And finally, Red Cabbage Café in Puerto Vallarta, Mexico, where they serve the most authentic, simple Mexican food, in a family restaurant. You're greeted at the door by one of their children and then served the best margheritas and mole.

What's the best meal you've ever had?

Christopher Coutanceau in La Rochelle, France – this was the first Three Michelin Star restaurant we took my son to, when he was 8 months old. We were made to feel so welcome in traditional European style, and the food surprised me on so many levels, with some of the best desserts I've ever had.

What's your favourite local ingredient?

The Secret Smokehouse, which is based just across the road from Behind, makes the most incredible trout smoked over oak. They also smoke our own butter for 8 hours for us to serve in Behind.

And your favourite global ingredient?
Finger limes – lots of different varieties, with a really acidic kick. They have the balance to be used throughout the menu, from first courses to desserts.

Where do you get your influences from?

From all over – I love eating in different restaurants, from authentic local curry houses in Whitechapel, to Three Michelin Star restaurants. I'm really interested in seasonality and only work with seasonal produce – this really guides me to matching flavours and helps me to see what works best.

Is there a dish you could never take off the menu at Behind?
The 'Behind bun' – we give everyone breakfast for the next day to take away at the end of their meal. It's our signature laminated filled pastry.

What's the best thing about being a chef?

I think it's the best job in the world – you get to eat a lot! You're creative every single day, and you get to meet the most amazing people throughout the hospitality and food industries – from farmers to wine suppliers.

And finally, which are your favourite restaurants in the Michelin Guide UK & Ireland?

El Pastor, Southwark, London
Gunpowder, Spitalfields, London
Feathered Nest, Nether Westcote, Gloucestershire
Bibendum, Kensington & Chelsea, London
The Sportsman, Seasalter, Kent
Moor Hall, Aughton, Lancashire

Behind was one of 17 restaurants newly awarded One Michelin Star in the Michelin Guide Great Britain & Ireland 2021. See the full list of awards here.

Want the best hotels and restaurants in the world at your fingertips? Download the free MICHELIN Guide app on iOS or Android.