With summer in full swing, and dining restrictions slowly being lifted, Hong Kong's restaurant scene is keeping the momentum going with exciting new openings and pop-ups backed by chefs and restaurateurs behind MICHELIN-starred restaurants.
From limited-edition onigiri by MICHELIN-starred chefs, to Hansik Goo's new address and upgrades, here are the hottest happenings in town.

Clockwise from top left: Onigiri from 8½ Otto e Mezzo, Ando, Mono, and Tate (Photo: The Landmark Mandarin Oriental)
Onigiri for love
An charity initiative spearheaded by two-MICHELIN-starred Narisawa's Yoshiro Narisawa and Wagyumafia's Hisato Hamada in Tokyo, #OnigiriForLove centres around the Japanese rice ball of onigiri to spread kindness and positivity.
The charitable movement has caught the attention of chefs around the world, including chef Richard Ekkebus of two-MICHELIN-starred Amber. Along with Yardbird chef Matt Abergel and Sake Central's Elliot Faber and chef Vincent Ladislao, Ekkebus has joined hands with the likes of 8½ Otto e Mezzo, Tate, Écriture, The Chairman, Ando, Mono and VEA to bring the initiative to Hong Kong.
Running until August 1, #OnigiriForLove is popping up at Landmark's Belowground, featuring 13 different styles of onigiri—each stuffed with ingredients distinctive to the restaurant it's from. Expect risotto rice, parmesan cheese and black truffle in Umberto Bombana's onigiri, smoked char siu in The Chairman's version, and jicama in Ricardo Chaneton's rice balls.
Priced at HK$68 each, a rotating selection of five onigiri flavours is made available from 11am to 8pm. 100 percent of the profits from the two-week event will be donated to Feeding Hong Kong and Impact Hong Kong, two local charities dedicated to combating hunger and food waste.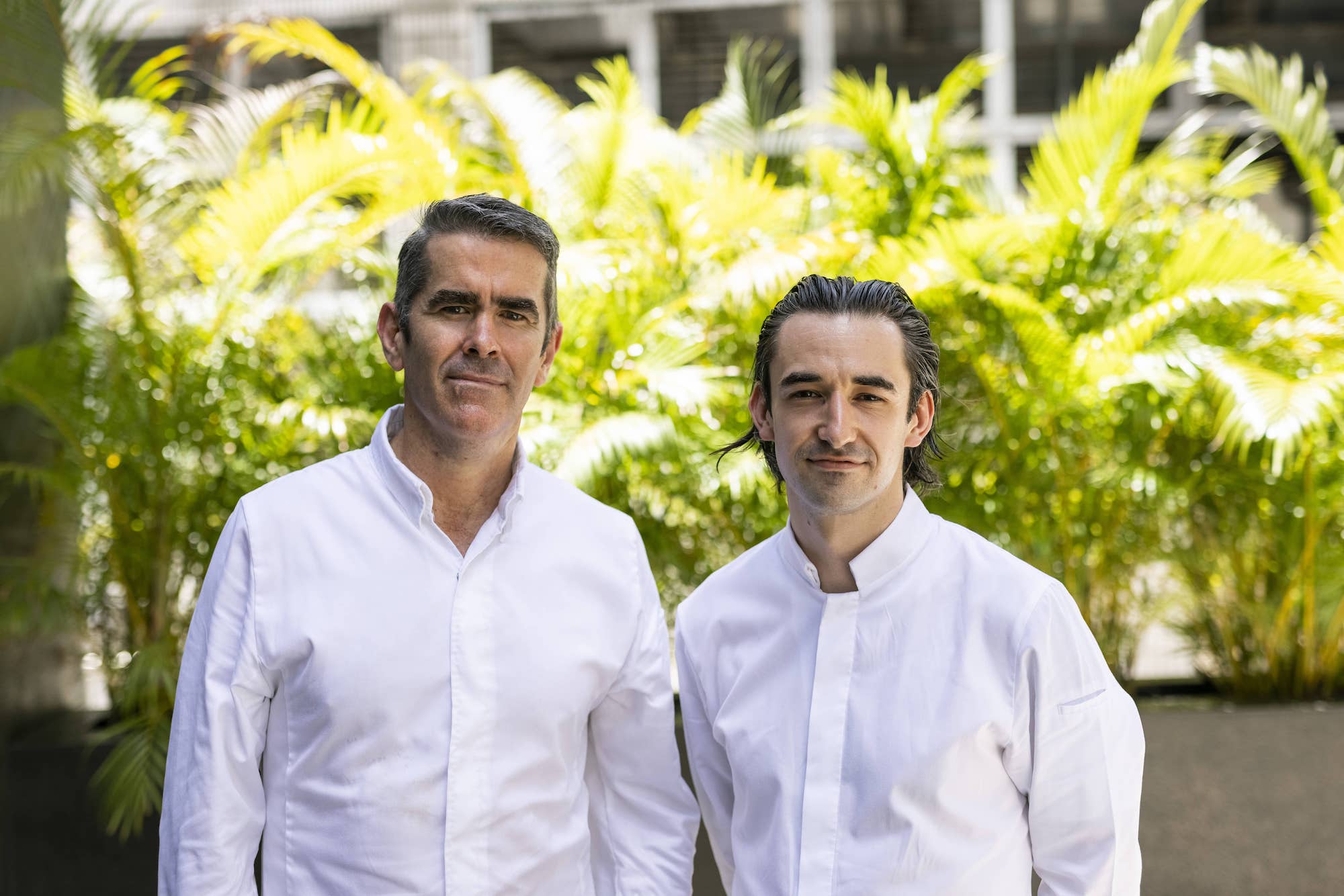 Shane Osborn (left) and Michael Smith (right) (Photo: The Arcane Collective)
Shane Osborn's third restaurant opens
One of the hottest restaurant openings this year, Shane Osborn's restaurant group, The Arcane Collective, will welcome its third concept, Moxie, in Landmark this August.
Joining sister restaurants Arcane and Cornerstone, Moxie is a casual, all-day dining restaurant with conscious cuisine and sustainability at its core. True to The Arcane Collective's philosophy of serving unpretentious, ingredient-driven cuisine, working with local farms and regional suppliers and nurturing the next generation of culinary talent, Moxie will encourage diners to reevaluate their relationship with food from the perspective of health and the environment.
One-MICHELIN-starred Arcane's chef de cuisine Michael Smith will be in charge of the food programme at Moxie, which will be available for breakfast, lunch and dinner.
"Here in Hong Kong, people want to eat healthier and sustainably—and enjoy themselves while doing so. With that in mind, we wanted to take a soft-touch approach to mindful eating, with a vegetable-centric menu that includes sustainably sourced seafood that caters to everyone," says Smith.

Königsberger Klopse from Margo's chef Mario Paecke (Photo: Margo)
Margo opens on Ice House Street
A new venture by hospitality group Leading Nation, Margo is a brasserie-style modern European dining concept with a specialty American martini bar, Kyle & Bain, tucked away on the mezzanine level.
Helmed by chef de cuisine Mario Paecke, former sous chef of two-MICHELIN-starred Amber, Margo offers contemporary European cuisine with German influences inspired by his native origins. Highlights include the chef's own twists on häppchen ("snacks' in German) such as popular Berlin street food, currywurst, and a traditional meatball dish from northern Germany, Königsberger Klopse.
A Chef's Counter experience with an interactive tasting menu will be introduced during the latter stages of the opening. The counter, which comfortably seats four guests at a time, will invite guests to get up close and personal to the culinary action.

Hansik Goo relocates to The Wellington
In June 2020, Mingle's chef Kang Mingoo opened his first overseas venture, Hansik Goo, against all odds amidst a global pandemic. Within less than a year, it was recognised as a MICHELIN Plate restaurant in the MICHELIN Guide Hong Kong Macau 2021.
This August marks a new chapter for Hansik Goo, which will be given a facelift at its new location on the first floor of The Wellington. The new dining space, designed by Korean interior design studio Area Plus, will incorporate elements of bu-eok, or the traditional Korean kitchen and hearth, to highlight a strong sense of Korean heritage.
On the cuisine, chef Kang Mingoo emphasises that the dishes will be "one level above" from Hansik Goo's original mission to spotlight traditional Korean cuisine. Hansik Goo 2.0 will provide "a more refined dining experience" with creative touches, thanks to an upgraded kitchen and new hires of young Korean culinary talents.
RELEVANT: Chef Kang Mingoo Takes Korean Food Global With Hansik Goo In Hong Kong

One-MICHELIN-starred Ando turns one
Ando turns one
When Ando opened in July 2020, it got off to a rocky start. From day one, Ando, like other restaurants in Hong Kong, was restricted to operate at 50 percent seating capacity, with two diners per table, and dine-in service banned after 6pm—not to mention the 24-hour complete ban on dine-in services just two weeks after its opening.
But with challenge comes opportunity. Led by chef-owner Agustin Balbi, the kitchen team at Ando remain resilient throughout the pandemic, seizing every opportunity to deliver excellence whenever the door is open for guests.
"Despite all, we feel a strong sense of camaraderie and friendship within our industry. It is inspiring to see and pushes us to keep on sharing our love for cooking through delicious food," says Balbi.
Amongst its signature dishes, Ando's Sin Lola, a caldoso rice dish inspired by Balbi's grandma, impressed MICHELIN inspectors, who bestowed a MICHELIN Star on the establishment in the MICHELIN Guide Hong Kong Macau 2021, just six months after its opening.
Happy first anniversary, Ando!
Interior of RadicalChic (Photo: RadicalChic)
RadicalChic opens
The name may not strike to you as Italian, but it couldn't be more apt to describe the restaurant's interior, which includes radical light fixtures and an aesthetic that resembles that of a museum art gallery.
With an ambition to present authentic Italian flavours in the form of contemporary art on the plate, executive chef Andrea Tarini, whose previous stints include spending 13 years working alongside Mauro Uliassi as the sous chef of three-MICHELIN-starred Uliassi in Italy, plans to debut a "refined and radical" take on Italian fare.
Perched on the 101st floor of the International Commerce Centre (ICC), RadicalChic will offer an a la carte menu as well as a 10-course chef's degustation menu highlighting fresh, seasonal ingredients flown in directly from Italy.