After the anticipation and then the joy of elegant dining, savour your memories in a comfortable guestroom.
MICHELIN Guide Ceremony
The list features a total of 196 budget-friendly eateries in Thailand, with 32 New Entries, consisting of 28 brand new additions to the Guide, and 4 moving from the MICHELIN selected category.
The popular belief about the MICHELIN Guide is that it's all about the stars, but don't forget about Bib Gourmand too! Bib Gourmand awarded restaurants are adored by their many diners, because these restaurants offer meals that are even more satisfying than the price. Today, we present a list of nine restaurants that will be joining our Tokyo Selection.
Restaurant Harutaka is newly awarded Three MICHELIN Stars. One restaurant newly receives Two MICHELIN Stars, and 16 restaurants are recognised with One MICHELIN Star. The MICHELIN Green Star highlights the sustainable commitment of one new establishment. Two Special Awards are presented: the MICHELIN Mentor Chef and the MICHELIN Service Award.
Dining Out
Year round, MICHELIN Guide inspectors sample an endless procession of dishes. Once in a while, a dish lands on their tables that is simply unforgettable.
In Hong Kong, autumn is the most anticipated season of the year, for both its cool weather and delicious seasonal crab dishes.
Many would consider a visit to three-MICHELIN-Starred Forum in Hong Kong incomplete without having its famed Ah Yat braised abalone, but with so much more to offer from dim sum to classic Cantonese cuisine at affordable prices, the full menu is worth exploring indeed.
Features
From a Star Ferry-themed boutique to hotels that teleport you to Paris and London, here are 10 of the coolest design hotels in Hong Kong and Macau.
Here's why Macanese cuisine is more than just a mix of Portuguese and Cantonese food.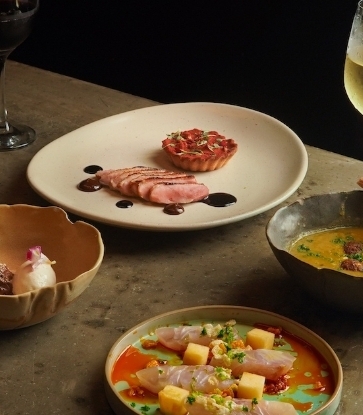 What kind of story unfolds when eating becomes work? An anonymous MICHELIN Guide inspector in Asia lets us in behind the curtain to find out more about the day-to-day tasks that the coveted job entails.
People
Embracing the pride that comes with being a chef, Ken Chong always considers ways on how to integrate traditional dishes with innovative techniques.
Meet Jacky Luk, sommelier of three-MICHELIN-star Forum and winner of the inaugural MICHELIN Guide Hong Kong & Macau Sommelier Award, presented by Perrier-Jouët. Luk took over Forum's wine program and brought the 46-year-old institution's wine list to greater heights, all while bringing in a fresh perspective to pairing wine with Chinese cuisine.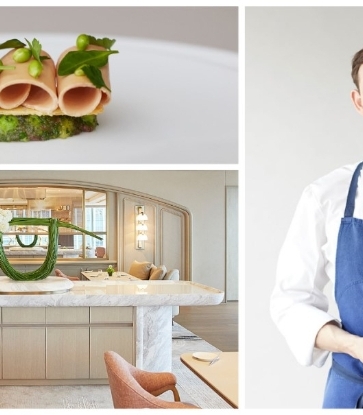 Daniel Calvert is Executive Chef of SÉZANNE, which was promoted to Two MICHELIN Stars in the MICHELIN Guide Tokyo 2023. Before moving to Tokyo in 2021, he lived and worked in London, Paris, New York and Hong Kong. We asked him about Japan, his experiences around the world and what he would say to young chefs.
Dining In
Black sesame cakes, put chai ko, red bean cakes… for many Hongkongers, these street snacks evoke sweet memories of their childhood.
Many MICHELIN-starred Cantonese eateries and hotel restaurants have launched Chinese New Year puddings to ring in the Year of the Rabbit.
For many Hong Kongers, claypot rice is the best thing about autumn.
Travel
After the anticipation and then the joy of elegant dining, savour your memories in a comfortable guestroom.
The MICHELIN Guide has expanded its website and app so you can find places to stay around the world with colorful introductions, trusted reviews, and instant reservations. Listed hotels also have food recommendations by the MICHELIN Guide Taipei, Taichung, Tainan & Kaohsiung, allowing travelers to enjoy a double amount of fun during their trip.
From admiring sea views from one of the tallest, glitziest hotels in the world, to a colonial heritage hotel that has showcased the skyline to guests for nearly a century, here are 10 hotels in Hong Kong that offer incredible views of the Victoria Harbour.
News & Views
The eighth edition of the MICHELIN Guide Shanghai was unveiled, recommending 148 restaurants, including 23 restaurants debuting on the list.
The fifth MICHELIN Guide Beijing selection is revealed. This selection rewards 105 restaurants, including 16 new establishments, and represents over 30 culinary styles. 1 new restaurant is awarded Three MICHELIN Stars, and 3 new restaurants receive One MICHELIN Star.
In the spirit of the MICHELIN Star, the MICHELIN Key recognizes the most exceptional hotels throughout the world.
Sustainable Gastronomy
Winner of the MICHELIN Green Star at the MICHELIN Guide Hong Kong & Macau 2023, Mora has built its modern French-Chinese menu around the humble soybean, transforming its various expressions into an array of exciting dishes, while integrating sustainability into its cultural expression. Chef-owner Vicky Lau shares her sustainability ethos and provides inspiration for the wider F&B industry.
Wellness
The refreshing combination of raw fish cured in citrus juices makes for a delicious summertime treat.
Just because you're going low carb doesn't mean you have to sacrifice this staple.