In 2016, chef Kai Ho created
the first restaurant
to call his own. At the young age of 32, he was more certain about his identity as a chef than most of his peers. In this project named
Taïrroir
, he was the decision maker of the restaurant style, kitchen equipment and other small details such as name card design. Some critics tried to put his food in a box, categorising it as creative Italian-French. He begs to differ, because he's simply cooking what he likes to cook.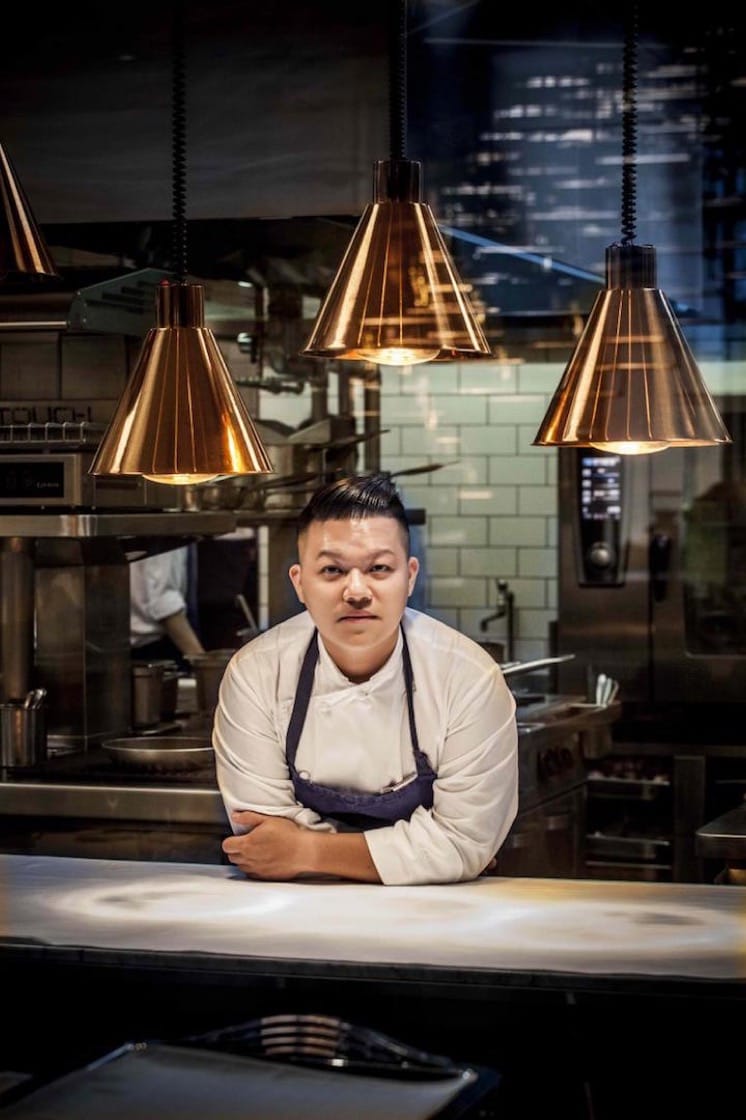 "That's not French, Chinese or Taiwanese food. That's the food of Kai Ho," said the rising chef. Even with the music that is played in the restaurant, he chose Chinese pop songs that he enjoys listening to. "Who says there's no place for pop songs in a fine dining restaurant?"

Self-assurance is an attribute that Ho has come to appreciate after seven years aboard. Learning to interact with himself and recognising his position and value are paramount for him to get to where he is now.

"Who am I? What do I need? It's up to me to validate my worth."
As a chef, Ho's signature style is to deconstruct a classic dish, presenting it in a new way while preserving its original spirit. For instance, Taïrroir's most sought after item 65°C silkie egg, taro "en Purée et Kueh", Yilan "Ya Shang", sakura shrimp can be seen as a homage to Shanghai-style Eight Treasure Duck and Cantonese mashed taro duck. It features pieces of "Ya Shang" – air-dried and smoke duck meat – from Yilan, Taiwan and sakura shrimp served on a plate, to be added to the bowl of hot taro mash and low temperature egg before eating.

Ever-changing Dishes

The dishes at Taïrroir change every day, but there's a method behind it. Ho finetunes his creations to make sure they always taste the best according to the specific conditions of the day.

"If the weather turns colder tomorrow, I'd make the soup a bit thicker, a bit saltier. The eggs are cooked at 60°C today, and I'd switch to 62°C tomorrow, to see if the texture works better. If the sweet potato is done pan-fried today, let me roast it tomorrow. Perhaps the aroma and crispiness would be stronger?"
65°C silkie egg, taro "en Purée et Kueh", Yilan "Ya Shang", sakura shrimp at Taïrroir. (Photo: Taïrroir)
No Rules, Only Principles

Some chefs have very strict specifications on the presentation of dishes. But in Ho's restaurant, the beef doesn't have to be placed at the three o'clock position. The same dishes could show up slightly differently when they are served on the same table, as long as the composition and proportion make sense.

"Naturalness and confidence are the keys to beauty. It's not going to be beautiful if every dish looks exactly the same like it comes out from a textbook," Ho says. He thinks the principle of a chef is to pursue excellence, not setting up rules and standardising the food. "Only when you take off these restrictions that your team feels involved in what you do. When I'm off, my team has the right to decide how to interpret the dishes in the best way. There's no instruction on how many grams of salt, or how many drops of sauce to add."
The restaurant space. (Photo: Taïrroir)
We invite chef Ho to reflect on his restaurant's Michelin-starred journey.
When was your first encounter with the MICHELIN Guide?

I first went to a Michelin-starred restaurant in 2010, at
Jean-Georges
in New York. It was really awesome. Everything was new to me, and the restaurant looked so beautiful. The chef Jean-Georges Vongerichten prepared some dishes specially for us after knowing we came all the way from Taiwan. I was thinking, "Wow! It's this grace and thoughtfulness that tells me who Jean-Georges is, and what a Michelin-starred restaurant should be."
What was running through your mind when you first heard Taïrroir won the stars?
I cursed out loud when I got the invitation email to receive the award. And then I cried so hard in the embrace of my pastry chef. I was glad that I didn't disappoint my team. I was thankful to them for believing in me. It was great to lead them to this culinary sanctuary.
How did you celebrate?
After getting the award, I returned to the restaurant. All my partners from the team poured water and threw flour at me, making me look like a Michelin Man. Then we celebrated with champagne.
How will the stars influence your career?

I don't know what influence it will have. All I want to do is to continue to provide a good working environment for my team, and help them to go further in this food and dining industry.
Do you have any advice for young chefs aiming for Michelin stars?

I'm not the secret critic of the Michelin Guide, and I don't know their rating standards, so I can't give much recommendation in this regard. I only know that a good restaurant in my heart has to reach high standards on attitude, food and service.
---
This story was originally written by Chen Jingyi and translated by Vincent Leung. Click here to read the original version of this story.