Traveling has always been a big part of Julien Royer's life and career. Born and raised in the small town of Auvergne in France, he moved to Singapore more than a decade ago in 2008, returning to France once or twice a year for leisure and to visit his family with his wife. And as the chef-owner of three MICHELIN star restaurant Odette, Royer would make several more trips in a year for international culinary events, festivals and collaborations with overseas restaurants. But all that has come to a temporary halt with global travel restrictions surrounding the Covid-19 pandemic.

"I miss the feeling of being in a new, foreign environment, knowing there's so much to see and taste and discover," he shares. "And I definitely miss my family and the countryside—the simplicity of living closely with nature, and my mom's cooking." Luckily, Singapore's vibrant food scene with its diverse cuisines and global food cultures allows the chef to still have a taste of home without leaving the country.

Rediscover Singapore as Royer takes host and intrepid adventurer Huang Ming Tan on a tour of his favourite places for a taste of France in Singapore and the local food establishments that made him fall in love with the city. Watch the video below:


1/5: A French fromagerie in the heart of Serangoon Gardens

La Petite Boutique
4 Kensington Park Road

The day's tour begins in the bustling neighbourhood of Serangoon Gardens, popularly known as Little France in Singapore because of the cosy French community and a smattering of French restaurants, bakeries and grocery stores that have sprung up in the area over the years because of its proximity to the French School of Singapore.

Tucked away in a row of shophouses just off the main roundabout is La Petite Boutique, a hole-in-the-wall grocery store carrying more than 70 varieties of cheese, charcuterie and other products from France. "It really reminds me of walking along the streets in France and popping into any of the small fromageries and you are hit by that pleasant, musty smell of cheese," says Royer. "And starting the day with a piece of Fourme d'Ambert and Saint Nectaire makes me think of breakfasts with my grandad who would start his day with cheese, bread, charcuterie, saucisson, and a small glass of red wine."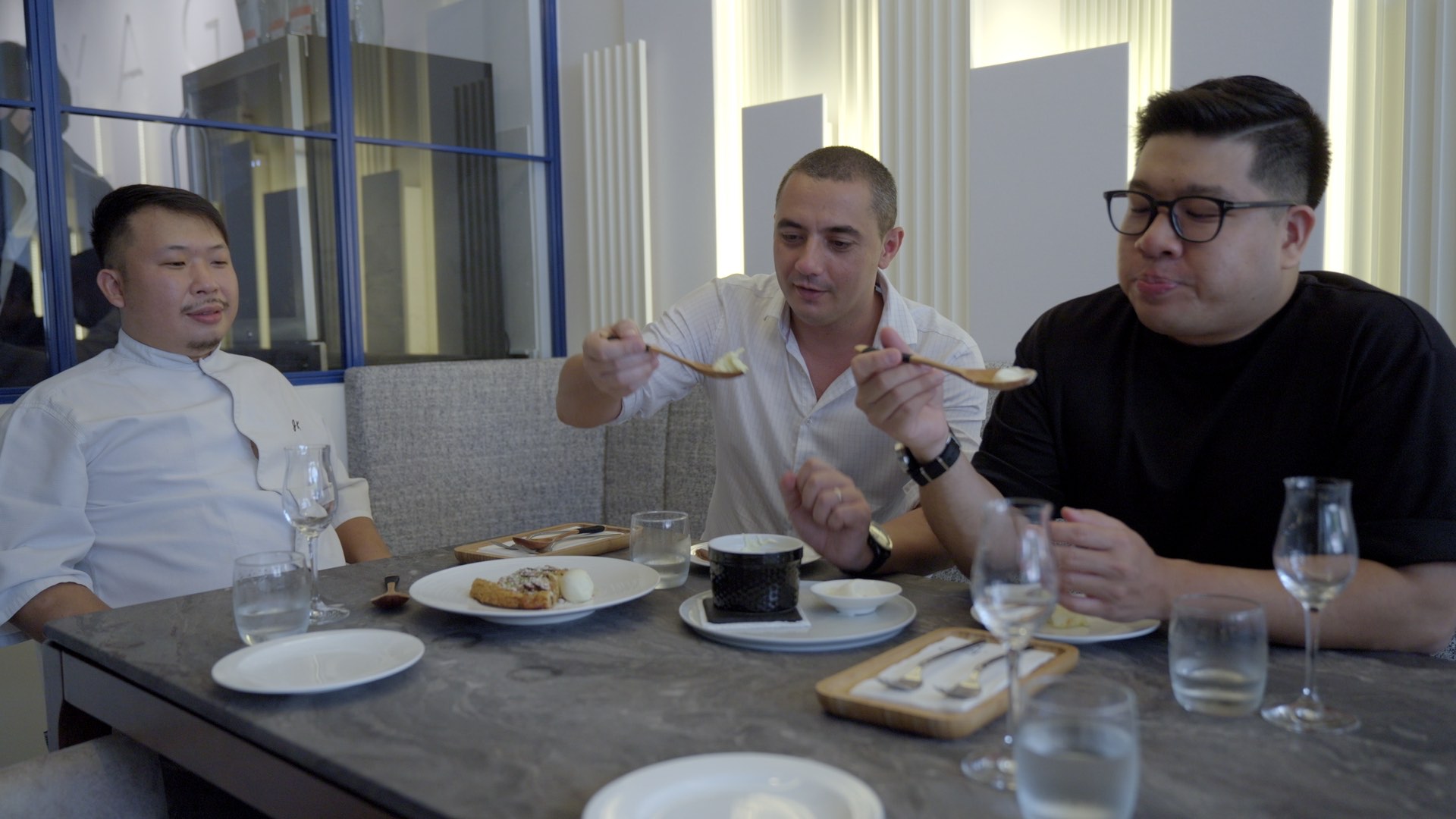 2/5: French sharing plates and delicious desserts by a Singaporean chef

Voyage
249 Outram Road

The recently transformed space reflects chef-owner Jonathan Koh's return to his restaurant roots following a demand for his savoury dishes, but his deft touch with pastries and desserts still leaves an indelible mark. Voyage now serves French Provencal cuisine, sharing plates-style rounding off with the classic French desserts that the chef has come to be known for.

"I've known Jonathan for many years since his days at Olivia Cassivelaun Fancourt in The Arts House," says Royer. His food and deserts are extremely well-executed and he puts a strong focus on taste and produce."

Tucking into a cloud-like soufflé and apple galette, Royer reminisces about his childhood memories of freshly baked pie. "It's like when you open the oven door and the smell of the cassonade (French brown sugar) and freshly baked apple—ah! It's like paradise!"


3/5: Bib Gourmand restaurant for rustic French Alsatian cooking

Bar-Roque Grill
165 Tanjong Pagar Road

This MICHELIN Bib Gourmand restaurant is where Royer goes to eat when he misses home—a convivial, welcoming setting for chef Stephane Istel's wholesome, made-from-scratch French cooking. Here, terrines and pâté are made in-house and beef is dry-aged in customized fridges; saucisson, salami and chorizo are hung to dry while salmon is cured in an outdoor smoker. These house-cured meats then crown the restaurant's signature Choucroute Royale platter, featuring a generous mound of refreshing fermented sauerkraut.

"Where I came from, we lived off the land and ate in accordance with the season – simple straightforward cooking that brings out the best of the produce, delicious food cooked from the heart," he says. Stephane's cooking is very authentic and generous in bringing a real taste of Alsace to Singapore."
4/5: A melting pot of cuisines and cultures

Maxwell Food Centre
1 Kadayanallur Street

"I have lived in Singapore for nearly 12 years and I can say that Singapore is home for me now," says the chef candidly. "And what I find really amazing and fascinating is this melting pot of different influences, nationalities, religions that makes Singapore very special. And when it comes to food and cuisine it's even more special because we have so much to try and so much to discover."

The chef recalls that the first hawker dish he ever ate when he arrived in Singapore was Hainanese chicken rice, and that he was blown away by how tender the chicken was. One of his favourite chicken rice places remains Ah Tai Hainanese Chicken Rice at the bustling Maxwell Food Centre.


5/5: A seafood shack dedicated to sourcing and simplicity

Naked Finn
39 Malan Road

Singaporeans love their seafood, and one of the amazing things about the city's gastronomic scene is its sheer diversity, notes Royer. In Singapore, having a seafood experience can range from sambal stingray at a hawker centre or chilli crab at a zichar joint, to a seafood specialist restaurant like the Naked Finn.

Headed by local restaurateur Tan Ken Loon, the restaurant takes a pared back approach to its seafood offerings, placing the emphasis squarely on sourcing the best produce and cooking it right with an almost obsessive precision. Two of Royer's favourite dishes to have here include the wild-caught baby Indian squid, charred on a cast iron grill and served with no seasoning, as well as the samegarei, a fillet of roasted roughskin sole from Hokkaido, simply grilled and topped with shavings of its own cured roe.