Plant-based meat substitutes are the latest buzzword on menus these days. No fewer than 15 restaurants in Singapore, from fast-food joints and cafes to a Michelin-starred restaurant, are venturing into dishes that are made with alternative sources of proteins.
These lab-grown or synthetic products may taste and feel like meat, but they do not contain any traces of actual meat. Instead, the list of ingredients mainly comprises plant-based proteins from peas, soya beans and potato, coconut and seed-based oil, and yeast. These plant-based meat substitutes are used in many cuisines, including Cantonese, Indian, Sichuan, Peranakan and Vietnamese.
Plant-based meat brands have been in the Singapore market for a few years now. United Kingdom-based
Quorn
, a meat-free product of mycoprotein produced by fermenting a naturally occurring fungus, launched here in late 2017. Mezza9 in Grand Hyatt Singapore started serving burgers made with Los Angeles label
Beyond Meat
last August. However, the real buzz started in the past six months, when major food technology firms began muscling their way onto the meat-free dining scene.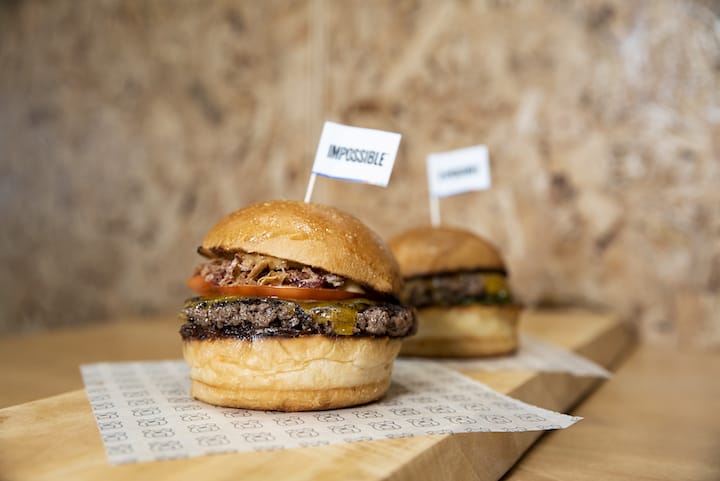 The Impossible Dream Burger by burger restaurant, Three Buns. (Photo: Three Buns)
Drawing the most excitement in this burgeoning market is Impossible Foods from California's Silicon Valley, which is famed for its plant-based meat that "bleeds". Cut open a freshly grilled patty and a plush dark red interior is revealed — looking exactly like meat that has been cooked to medium-rare or medium doneness. Its stand-out ingredient is heme, an iron-containing molecule, which gives off "a meaty flavour". Heme is found in genetically-engineered or fermented protein soy leghemoglobin, which originates from soy roots.

In January, eight-year-old Impossible Foods rolled out a second version that replaces wheat protein with soy protein to yield a thicker and more adhesive texture. Impossible Foods also reduces the amount of coconut oil while adding sunflower oil. In March, it debuted in Singapore, with eight restaurants offering dishes made with Impossible Foods, which is only available in minced form here.
READ ALSO: 6 Popular Plant-Based Meat Alternatives from Around the World
Minced Quorn is used in a vegetarian mapo tofu dish. (Photo: Quorn)
The Synthetic Meat Movement

The synthetic meat movement is gaining steam here as the plant-based meat has an almost similar taste, aroma, texture and appearance to the real McCoy. Eateries have also jumped on the bandwagon of cooking with "meat" from Impossible Foods.
Michelin-Plate Indian restaurant Rang Mahal launched an "Impossible version" of Kheema bao (minced masala-spiced meat with buns) last month, while American burger chain Fatburger's Impossible Burger was introduced two weeks ago. Globally, more than 7,000 restaurants use "meat patties" from Impossible Foods. On June 1, Violet Oon Singapore will roll out Sate Lilit (minced meat satay) that is made with Impossible Foods at its Jewel Changi Airport outlet.

Earlier this week, Impossible Foods announced that it has raised US$300 million (S$411 million) in its latest round of funding for a possible initial public offering. This news comes hot on the heels of Beyond Meat making its highly anticipated debut on the New York Stock Exchange earlier this month. According to research firm Markets and Markets, the global meat substitutes market was estimated at £3.5 billion (S$6.2 billion) last year and is estimated to increase by 1.4 times by 2023.
READ ALSO: 10 Tips On Eating The Sustainable Way
The Impossible Slider at one-Michelin-starred CUT By Wolfgang Puck. (Photo: Marina Bay Sands)
One of the early birds to use Impossible Foods in Singapore is one-Michelin-starred steak restaurant CUT by Wolfgang Puck in Marina Bay Sands. The restaurant's signature Mini Kobe beef sliders can be replaced with the Impossible "meat patty" slathered with smoked shallot jalapeno marmalade, garlic aioli and ketchup, and sandwiched between two mini brioche buns.

CUT By Wolfgang Puck's executive chef Joshua Brown was initially skeptical about serving a plant-based meat substitute in a steak restaurant. However, he gave the product a go as he was looking for alternative meat-free burger fillings, on top of mushrooms and falafel, to cater to a considerable number of diners who, rather ironically, were looking for non-beef options in a steakhouse.

He was sold on the concept of synthetic meat after he tried cooking it. He says: "Unless you set out looking for the differences, you will not be able to find the differences. The Impossible burger patty cooks pretty similar to a beef patty with a 80:20 beef meat to fat ratio, and it does not shrink as much as real beef."

He adds: "I prefer to cook the Impossible patty till it reaches medium doneness at least, so that it becomes a little bit more meat-like and firm. Flavour-wise, it is a little more earthy and has some nuttiness. The Impossible "meat" tastes closer to grass-fed than grain-fed beef."
READ ALSO: 5 Sustainable Food Practices By MICHELIN-Listed Hotels & Restaurants In Singapore
Omnipork In Cantonese Cuisine

Beef is not the only meat that is undergoing a meatless makeover. One of the biggest pork substitutes at the moment is Omnipork by Right Treat, a venture under Hong Kong's Green Monday group.
Omnipork has seen its sales triple since it launched in Hong Kong slightly more than a year ago. The pork substitute is made with shiitake mushrooms, peas, soy and rice proteins. The product has since expanded to restaurants and grocers in Singapore, Taiwan and Macau.

Serving Omnipork in Singapore is Michelin-Plate Cantonese restaurant Jade in The Fullerton Hotel Singapore, which introduced a five-course Taste The Future menu last November. The menu features four dishes that are cooked with Omnipork.



The vegan meat is incorporated in its Cantonese dishes. It is stuffed with pickled apple and deep-fried with maltose sugar for a crisp caramelised finish. The Omnipork is also stuffed in wonton dumplings in an old cucumber soup. The mock pork is also used in an "omelette" that is made by boiling beancurd skin with cornstarch to give a silky smooth texture before soy milk is added to give a pudding-like volume.
Jade's executive chef Leong Chee Yeng shares that response to the Taste The Future menu is gradually picking up — with six to seven orders daily. He says: "Diners' response to alternative meat products has been mixed as they are not eating meat, but not quite too, and it doesn't help that some diners have an impression that mock meats are unhealthy. We need to explain this product to diners, who are looking for alternative ways of satisfying their craving for meat."
According to Leong, the key differences between cooking fresh minced pork and Omnipork are that the faux minced meat cooks faster, is less oily and clumps more closely together when cooked. He noticed that even juices ooze out from the cooked minced "meat".
He adds: "In terms of flavours and textures, Omnipork is about 70% similar to that of fresh minced pork. With pork being one of the quintessential ingredients in Cantonese cuisine, it was an easy choice for Omnipork to be incorporated into Jade's cuisine." The diverse flavours of the dishes are boosted with more than 30 types of fruit, vegetables and other ingredients. For the seafood wonton dumplings in the old cucumber soup, Leong adds seaweed in the Omnipork filling for a fresher, briny edge.
One of the biggest challenges that he faced in developing dishes with Omnipork is its lack of fat content. To mimic the soft gelatinous layer of fat, he has cooked the braised "meat" with peach gum, a collagen-rich resin from peach, which is often used in Chinese desserts.
To enhance the richness of the dish (right), the "pork" is cooked with mushrooms, eggplant and sesame soya sauce. Another challenge of using Omnipork is the high food costs — Omnipork, which is produced in Thailand, costs twice as much as fresh minced pork.
Despite the setbacks, Leong is optimistic that meat alternatives are more than a fad in the dining scene and he is game to craft more dishes with Omnipork. He says: "More diners, especially those in their late 30s and 40s, are becoming more health-conscious and are keen to discover more wholesome dishes, and looking for environmentally friendly food options remain relevant in today's world."

Going The Au Naturel Route

However, not all chefs, who offer vegetable-centric menus, are hot about using plant-based meat alternatives. Some of them prefer to put the spotlight on naturally beautiful produce and vegetables and think that mock meats have no place in restaurants except for being used to make sausages or burgers.
The Botanic's Charred Eggplant is one of the most popular dishes at The Botanic. (Photo: The Botanic)
Shannon Binnie, group executive chef of The Botanic, focuses on plant-based dishes that are vegan, vegetarian and gluten-free. Some of the signature dishes of the Australian chef, who is vegan, include the charred eggplant with tahini, chickpeas, chermoula and herbs, and The Botanic Plate, which is a baba ganoush-like dip studded with grilled vegetables such as kale and pumpkin.
Binnie says that plant-based meat alternatives do not go well with his culinary direction, and is more suitable for casual fast-food concepts or diners who are making the transition to a vegetarian diet.
He says: "I would not use these plant-based meat substitutes as they do not fit into the ethos of
The Botanic
. I prefer to use ingredients that are whole, natural and unprocessed as much as possible and work from scratch from raw ingredients. Through that way, the nutrients in ingredients are kept intact and you would know that nothing is hidden."
Aubergine with Furikake and Mushroom is one of the popular plant-based dishes in CURE. (Photo: CURE)
Andrew Walsh, chef-owner of
CURE
and
Butcher Boy
, is also adamant about using plant-based meat substitutes in his restaurants. He introduced a plant-based menu at CURE last November to highlight how all parts of a plant can be put to good and innovative uses and how potential food waste can be converted to unconventional elements on a plate. Dishes include Aubergine with Furikake and Mushrooms, and a White Asparagus, Burrata and Truffle, in which the peeled asparagus skins are used to create asparagus milk foam. About five to 10% of diners opt for the restaurant's plant-based menu.
He says: "I prefer to work with only the nature's best and highlighting quality ingredients and retaining their intrinsic flavours remain the heart of my craft. At the moment, we are pushing our own efforts on plant-based cuisine as there are plenty of beautiful, fresh and natural produce out there that can be used in so many different ways, instead of a 'meat' product that is made in the lab."
Whether diners love or hate faux meat, the plant-based meat substitute movement will continue to gain momentum as more players enter the market. Shiok Meats launched its cell-based Shiok Shrimp dumplings in March and it will continue rolling out more cell-based crustacean "meat" products. Another Singapore-based start-up, Karana, which makes alternative "meat" from organic-certified young jackfruit from Sri Lanka, will launch its product line in the next few months.
With the slew of plant-based meat substitute options making their mark in market, the faux meat movement looks set to stay for a while.
READ ALSO: What You Need To Know About Microgreens
Written By Kenneth Goh