As we step into the new year, let's see what the veterans of Hong Kong and Macau's food scene have to say about the direction the food industry is headed in in 2019.
Alvin Leung, chef-owner of three-Michelin-starred Bo Innovation
This provocative, straight-talking, self-proclaimed "demon chef" is most famous in Hong Kong for his three-Michelin-starred Bo Innovation and roast duck joint Forbidden Duck. He recently opened 15 Stamford By Alvin Leung in Singapore, serving up modern Asian cuisine.
"If I knew that answer I would be rich! But I have a feeling that 2019 will be a difficult year especially for fine dining, with innovative cuisine being most at risk in this climate. Instead, you might see more innovation in the mass and lower-end of the market. It's a time for restaurant owners to regroup and carefully plan for the next few years, rather than just one year.

The best thing to do now is go back to what is most comfortable, to return to nourishment and comfort, rather than innovation, which is a luxury. And to do it at prices which don't empty your bank account. An example is my newest restaurant, Stamford 15 in Singapore. I am going back to basics. My goal there is to offer Asian-inspired food that is slightly modern but with a focus on taste. That said, I will likely continue to open some fine-dining restaurants. They will be refined and luxurious cuisine because I do still think there is a place for them as a service that will be requested for in places like hotels."
SEE ALSO: Alvin Leung Opens New Singapore Restaurant 15 Stamford
Umberto Bombana, chef-owner of three-Michelin-starred 8 1/2 Otto e Mezzo Bombana
Hailing from Bergamo in Italy, Bombana is the proprietor of 8 1/2 Otto e Mezzo Bombana in Hong Kong, the first Italian restaurant outside of Italy to achieve three Michelin stars. His second restaurant Octavium has also just entered the MICHELIN Guide Hong Kong Macau 2019 with one star.



"I believe that the focus will return to the farmer and natural, organic growing. At 8 1/2 Otto e Mezzo Bombana and Octavium, we will continue working with the farmers and suppliers directly to get the best natural products from all over the world. Also having a balanced diet that incorporates more vegetables will be important; it's a direction that will stay for many years to come — after all, that's the basic: we all need healthy good food."
Luke Clayton, CEO Of Wa Creations
Wa Creations establishes and operates high-end Japanese restaurants, building them into Michelin superstars. These include one-starred Sushi Wakon in Kyoto, three-starred Sushi Shikon in Hong Kong and Sushi Shin in Niseko.
"I think famous chefs will continue to see their key disciples become independent and launch their own brands. This is partly driven by the insatiable appetite for quality Japanese dining experiences.
The attention on sake will continue to grow. There will be more balanced line-ups and increased staff education so they can guide customers better. There will be growth in more casual Japanese cuisine but using only the finest ingredients, with a broader menu that appeals to everyone but focuses on quality over quantity of choice, created by experienced chefs trained in Japan. I think more hotels will look into having world-class Japanese restaurants in-house because they're going to realise that the major differentiating factor is what restaurants they have under their roofs.

This year, Sushi Shikon will be moving to a new location and revamped. We are bringing Japan's greatest craftsmen to Hong Kong to build a new Shikon, with handmade bespoke tableware from famous artists. We will also have new partnerships with Japan's leading sake experts with a big focus on a line-up that is well thought out — not just the more popular or high-end labels. We'll also have a new counter section with a non-sushi menu at a lower price point but exceptional quality. We brought true high-end edomae sushi to Hong Kong in 2011 and now we are going to take the entire dining experience to the next level."
Guillaume Galliot, chef de cuisine of three-Michelin-starred Caprice
Hailing from France, this chef has worked his way through the best kitchens of New York, the Caribbean, Beijing and Macau and he was the youngest sous chef of the iconic Raffles Hotel in Singapore at 23. Last year, he joined Caprice and led it from two stars to three in the MICHELIN Guide Hong Kong Macau 2019.
"I have never been one to tailor my cuisine to the trends. For me, I will continue to style my cooking toward the fundamentals of French cuisine, always working with the ingredients in mind.
This way, vegetables taste like vegetables, and wild-caught sustainable fish remind you of what seafood is supposed to taste like. It is the way we have traditionally cooked in France for centuries and that is a tradition — and perhaps now a trend — that I like and respect.

In wine pairing, biodynamic and organic wines will continue to grow in demand. These are wines that our sommelier has been working with for a long time, so Caprice is a wonderful place to experience these wines that are being made at a very high level. In food, as well as wine, I predict there will be an increased awareness on global warming and climate change, influencing the choices we make daily with how we eat."
Chan Yan Tak, executive Chinese chef of Four Seasons Hotel Hong Kong
This Hong Kong native cut his teeth at Dai Sam Yuen, Hong Kong, before joining the Four Seasons in 2004, leading Lung King Heen to three-Michelin-starred glory in 2008, an achievement it continues to hold to today.
"There is an increased awareness of environmental and health issues, and guests are more interested in knowing where their food comes from. They care about nourishment and the environment, if the fish is sustainably caught or if the vegetables are grown without pesticides.
The essence of Cantonese cooking does not change: food served must be piping hot, ingredients cooked at the right temperature for the right texture and using the best ingredients. These things do not change. Now, we have a wellness menu that explains the benefits of the ingredients and all our dishes are reviewed by certified nutritionist and functional medicine practitioner Miles Price, ensuring it is a well-balanced meal and that the ingredients can always be traced back to their sources."


Syed Asim Hussain, co-founder of Black Sheep Restaurants
Hussain grew up in his father's Hong Kong restaurants during summers home from school in Pakistan and developed a love affair with the restaurant industry. Returning to Hong Kong in 2010, he met chef Christopher Mark and the two founded Black Sheep Restaurants in 2012, setting up restaurants like Belon and New Punjab Club, which have recently been awarded with Michelin stars in the MICHELIN Guide Hong Kong Macau 2019 selection.
"I think we will see a decline in big-bucket restaurant concepts and a move to more niche, thoughtful dining. People are traveling more, becoming savvier and increasingly looking for more authentic experiences. Over the last 18 months, we've been approached to create and develop restaurants by a number of hotel groups which have seen this shift coming, away from restaurants that try to be all things to all people. I think storytelling through food is here to stay. We've always viewed restaurants as an art form and a way of expressing our own memories, nostalgia and fantasies so this kind of focused storytelling is something we've tried to do since day one and it's something our guests have responded to."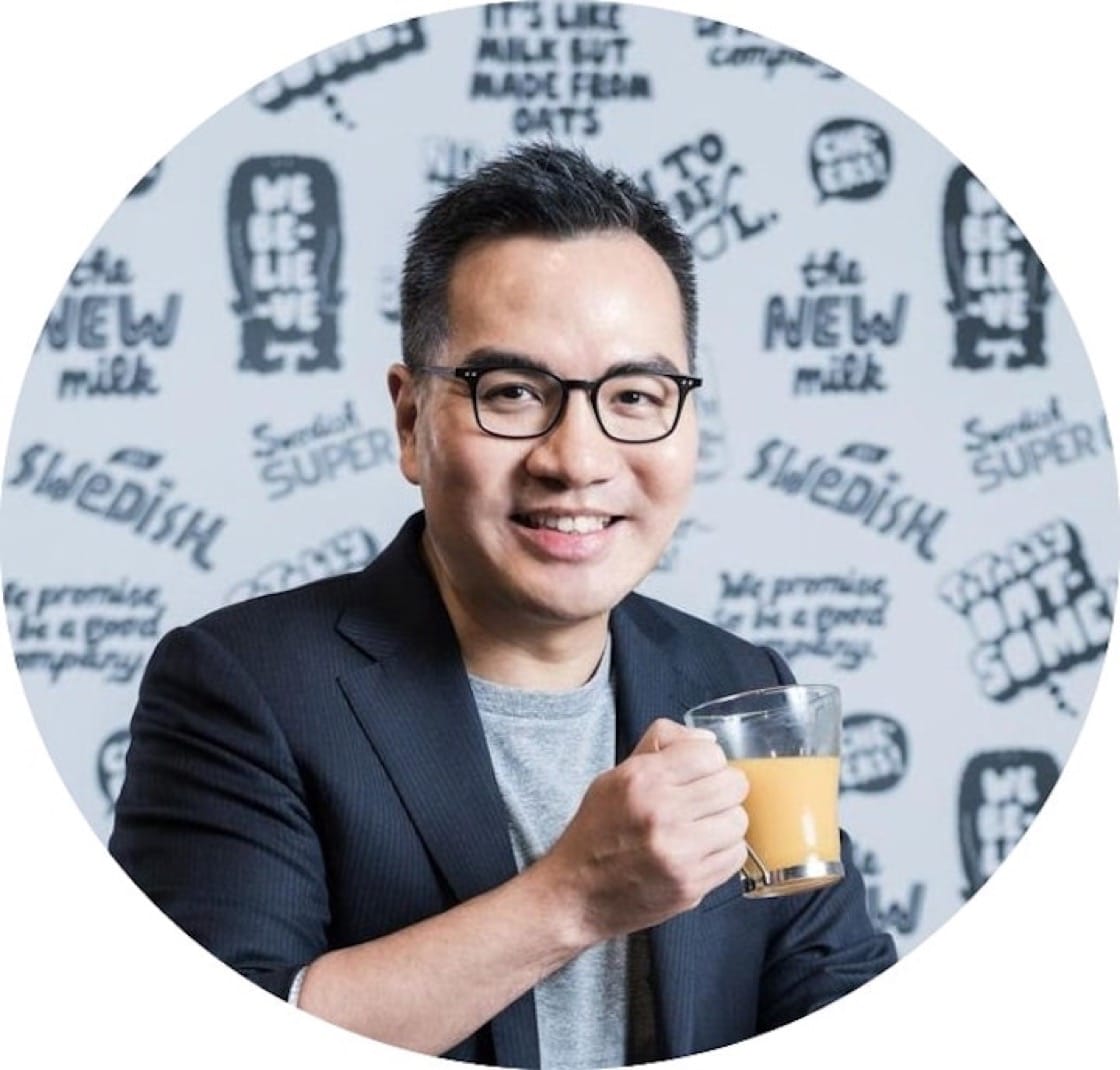 David Yeung, founder and CEO of Green Monday
Green Monday, a one-of-a-kind integrated platform for global sustainability, comprises a plant-based retail, dining and distribution network known as Green Common, as well as revolutionary food technology in Right Treat and Omnipork, a plant-based pork alternative. Yeung hopes to engage and empower millions towards green awareness, action and economy.
"Here in Asia, the rapid spreading of African Swine Fever is causing fear and leading to significant drop in hog supply. Therefore, either out of need or fear, people will gravitate towards a plant-based diet and Omnipork will become a well-timed solution. On a global level, the upcoming IPO of Beyond Meat will be an iconic moment for the green food revolution, as it will most definitely lead to more interest, innovation and investment in this space. Last but not least, the worsening situation on climate change will only become more and more of a reminder that a change in our diet and lifestyle is not an option but a must.

In 2019, not only do we expect more shop openings, but we also expect hotels, restaurants and supermarkets to significantly increase their plant-based offerings in Hong Kong and beyond. After our launch in Singapore and Macau at end of 2018, we are already planning the launch in Mainland China and Taiwan as well as other countries. We are looking at a new generation of consumers who are much more conscious about making responsible choices. Most importantly, there used to be a trade-off between healthy food and tasty food, as people go for what tastes good even though they feel guilty about it. If the new industry can blaze a new trail where tasty, healthy, nutritious, trendy, ethical, sustainable and humane can all co-exist, how can it not explode?"
Tammy Dan Wu, executive director of Lady M Hong Kong and Upper East Holdings
In 2015, Wu introduced New York's famed Lady M patisserie to Hong Kong, bringing the luxurious crepe cake to Hong Kong diners. Last year, she also brought in California's trendy candy boutique Sugarfina to Hong Kong shores.
"Last year, there were many international brands that made their foray into Hong Kong, from bubble tea that costs a couple of dollars to hundred-dollar Japanese fruit tarts, a testament to the dynamism of Asia's sweets and desserts market.
The consumers in Hong Kong are very open to new things and this gives the market a lot of room to grow. For example, when we brought Sugarfina into Hong Kong, it opened up the market for high-end confectionary for adults. I think 2019 will bring with it a proliferation of innovative concepts for sweets in Hong Kong.

Every time we bring an overseas brand into Hong Kong, we will encourage them to create something suitable for the local market or promote some seasonal products. For example, Lady M's Earl Grey Mille Crepes was specially created for Hong Kong, which keeps the brand fresh and its products at the top of our customers' minds every season. On another note, I think the government can invest more resources into training new chefs, especially pastry chefs to develop a wider pool of talent."
Bernard Chan, head sommelier of three-Michelin-starred Lung King Heen
Having been with the Four Seasons Hong Kong for over a decade, Chan has amassed a wealth of experience when it comes to wine selection and pairing for the diner's greatest enjoyment.
"I think in the coming year, people will tend to go to the two extremes, either wine with no sugar content or wine with very high level of sugar content. Champagne Brut Nature is a great example of very dry wine and Beerenauslese is an example of sweet wine that is very rich and full.
The dry wine trend has to do with the increasing awareness that dry blends are healthier for the heart. In Asia, we have higher humidity, hence sweeter wine works better with Chinese food pairing. In Lung King Heen, we try to strike a balance between very dry wine and very sweet wine. We progress from wine with low or very little sugar content to sweeter wine at the end of the meal. That way, it gives a more dynamic experience to the dining guest."

Antonio Lai, co-owner of Tastings Group
Hong Kong's top bartender co-owns Tastings Group which runs innovative joint Quinary and Hong Kong's first specialty gin bar OriGin, among other establishments. His latest project is Draft Land Hong Kong in collaboration with Taipei's renowned bartender Angus Zou.
"I think the next big thing from Taipei to Hong Kong and even London will be cocktails on tap. Famed bartenders Alex Kratena and Monica Berg have already announced that they are opening a bar that serves cocktails on tap alongside traditional offerings.
It is part of a general trend these days to have the ability to serve high quality drinks quickly and consistently. Above all, it is about being more egalitarian – where cocktails become more and more accessible to the aficionados and the curious alike.

We already have plans in motion for Draft Land Hong Kong. It is a collaborative effort with exceptional bartender Angus Zou from Taipei, where the original Draft Land was born. We will have more than 20 cocktails on tap for a super-fast cocktail culture where we do much of the hard work behind the scenes so we can spend the time hosting our guests. The modern-day consumer has changed their drinking habits to drink better and drink less. With the drinks scene becoming more and more saturated, we have to forge ahead to stand out from the competition and make a difference."


Lai Ching Kok, business executive officer for Nespresso Hong Kong and Macau
With 20 years of retailing experience with successful global premium brands, Lai joined Nespresso in 2016 to drive sustainable business growth in Asia through defined commercial and brand development strategies. The coffee-lover has a soft spot for Nespresso's Kazaar capsule for its blend of Robusta from Brazil and Guatemala, and Arabica from South America.



"Over the past decade, the coffee culture in Hong Kong and Asia has greatly blossomed, with local consumers becoming increasingly interested in discovering coffee's distinct, complex variations. Consumers are becoming increasingly sophisticated and discerning in terms of the taste, aroma and quality of the coffee they consume. Shoppers look for greater discovery journeys in coffee shops and retail stores offering immersive, innovative and memorable customer experiences. Convenience and ease of use will become ever more important for the modern-day consumer. Brands will continue to build and strengthen both e-commerce channels and physical retail shops to achieve seamless integration across all consumer touch points. Conscious consumption and sustainability will continue to be on the rise. Companies will need to act and do more to show their commitment for change, and in doing so, brand transparency is key to win consumer's trust.

At Nespresso, we are constantly creating new unique customer experiences. Last year, we had the Master Origin event which introduced a new coffee range in an immersive environment. This Chinese New Year, we will be launching a new yin-yang recipe in collaboration with BASAO Tea for our club members. Last year, we launched Asia's first in-mall retail concept in Hong Kong at the ifc Flagship Boutique, offering a seamless and immersive customer journey for deeper learning and coffee exploration. We continue to promote everyday coffee enjoyment in an environmentally responsible manner with the Nespresso AAA Sustainable Quality Program. Additionally, we are delighted to partner with Vicky Cheng, who is our Nespresso Hong Kong Chef Ambassador, to further communicate our sustainability messages."
---
This story is written by Mandy Li and translated by Rachel Tan. Click here to see the original article.