September has been called the January of fashion by legendary editor Candy Pratts Price and for good reason. A new season of ready-to-wear brings everything anew. So as the fashion set descends upon the four style capitals of the world—New York, London, Milan, and Paris—we wanted to provide a respite beyond the runways.
Each city offers a unique array of gastronomic and cultural experiences in their own right catering to the discerning palates and preferences of the traveling jet-set during this month and beyond.

So below, from the iconic to the avant-garde, here's a few of the MICHELIN-rated haunts where the fashion cognoscenti wine, dine, rest, and redefine luxury.

---
New York:
Lobby Bar at Hotel Chelsea—Steeped in artistic history, the Lobby Bar at Hotel Chelsea is a legendary enclave where fashion luminaries gather. Against a backdrop of vibrant and eclectic decor, fashionistas indulge in meticulously crafted artisanal cocktails like the pornstar martini that match the creativity buzzing in the air. Within the walls adorned with echoes of past conversations, they share stories, aspirations, and laughter, creating an atmosphere that's both historic and avant-garde.
Book Hotel Chelsea on the MICHELIN Guide →

The Ned Nomad—A multifaceted voyage awaits at The Ned Nomad, where fashion week enthusiasts embark on a delectable journey. This haven effortlessly intertwines accommodation, gastronomy, and nightlife with glamour, making it a serendipitous discovery for those in search of the ultimate fashion week experience. Amidst the sumptuous dishes, fashion insiders stumble upon exclusive soirées at the membership club's Magic Room, enveloping themselves in the vibrant spirit of the city that never sleeps.
The Ned NoMad
PUBLIC Hotels—The modern-day salon for editors during Fashion Week, this Lower East Side spot offers a sophisticated sanctuary just a short walk from Spring Studios. Within its walls, the lobby bar and coworking space resonate with the rhythmic clatter of keyboards as editors pen their show reviews, pausing to exchange ideas, camaraderie, and a glass of wine in between shows.
Book PUBLIC Hotel on the MICHELIN Guide →
The Standard Highline—A mainstay of fashion week is etched into its very architecture. The Standard's Boom (formerly known as Boom Boom Room) has witnessed iconic parties thrown by fashion designers to celebrate their latest collection that blur the lines between revelry and artistic expression. The Standard Grill, nestled below, becomes a refuge for famished fashionistas, offering a culinary symphony of flavors that dances harmoniously with the city's pulse.

Book The Standard Highline on the MICHELIN Guide →
The Odeon—In the heart of Tribeca, The Odeon is an emblem of the New York fashion scene throughout many generations. It's more than a restaurant; it's a treasured space where editors and showgoers gather to relish the ambiance and savor signature dishes. Here, culinary innovation meets timeless comfort, as patrons delight in delectable American fare while sharing moments that transcend the hustle of Fashion Week.
Inspector notes: "It's easy to see why The Odeon has been a part of the fabric of TriBeCa life for so long. Like watching a re-run of Seinfeld, it is reassuringly familiar, classically New York and, even when you know what's coming next, still eminently satisfying."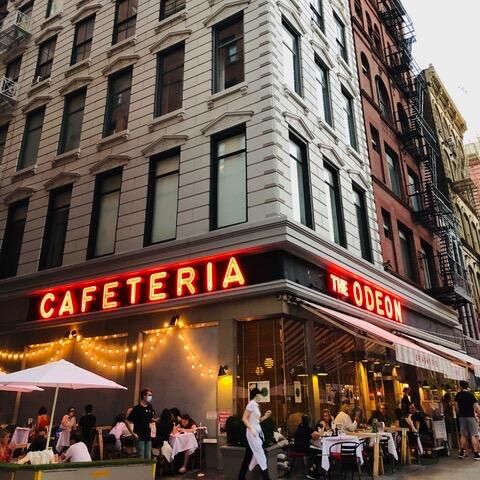 Photo: Courtesy of The Odeon
---
---
London:
George—The epitome of London's legacy and modern style, George radiates refinement and ingenuity. After a notable rejuvenation, George swung open its doors in June, an endeavor led by the visionary Richard Caring and guided by Patricia Caring. This establishment bestows upon its members a cherished home away from home, seamlessly intertwining creativity and culture within an ambiance of unparalleled contemporary elegance. The expansive terrace of the club stands as a sanctuary for dining al fresco and engaging in nocturnal conversations, where the gentle clinks of glasses create a symphony in sync with laughter under the enchanting moonlit sky.
Chiltern Firehouse—Chiltern Firehouse is more than a dining destination; it's a cultural touchstone for the fashion-forward crowd. The Balazs touch pervades its vintage inspirations and designer flourishes, creating an atmosphere of exclusivity within the repurposed fire station where, on occasion, you'll casually bump shoulders with top models and certain high-ranking editors. With its Gothic architecture, the Chiltern Firehouse stands as an emblem of London's evolving style narrative.
Inspector notes: "The menu focuses on North and South American dishes that are strong on flavor, with the grill used to good effect."
Shoreditch House—As the sun sets over London, Shoreditch House comes alive as a magnet for the city's young creative luminaries. The fiery zest of spicy margaritas and the allure of exceptional fries (definitely worth a try) blend seamlessly with the vibrant atmosphere, creating an environment that resonates with the signature Soho House allure. Here, models and creatives converge, mingling amidst the energy of Fashion Week.
Shoreditch House
---
---
Milan:
Portrait Milano—Against the backdrop of Milan's fashion week frenzy, the Portrait Milano stands as a haven of tranquility and sophistication. Backed by Ferragamo, its charm is inherently entwined with the city's sartorial spirit. Amidst the urban flurry, it beckons fashion insiders seeking a respite, offering a serene sanctuary that harmonizes with the rhythm of downtown life.
Book Portrait Milano on the MICHELIN Guide →
AALTO—Iyo Aalto emerges as a jewel in Milan's culinary crown, showcasing Japanese cuisine adorned with local ingredients. The architectural prowess of Maurizio Lai complements the gastronomic journey, inviting patrons to indulge in an intimate sushi counter experience. Natural hues and refined furnishings create an ambiance that resonates with both the artistic and the epicurean.
Inspector notes: "Chef Takeshi Iwai's cuisine is hard to define, combining Italian and Japanese flavours in fusion-style dishes that embrace influences from both countries. The best option here is to savor the different dishes served on the tasting menus."
Portrait Milano
Hotel Bulgari—In the heart of Milan, Hotel Bulgari stands as a sanctuary of luxury and design. Antonio Citterio's architectural prowess weaves elegance through its lush private garden, offering a cocoon of well-being amidst the city's vibrant chaos. This veritable palace becomes a favorite haven for fashion's elite, seeking respite and inspiration amidst the whirlwind of Fashion Week.
Book Hotel Bulgari on the MICHELIN Guide →
Ceresio 7—Atop Dsquared2's headquarters lies Ceresio 7, a testament to Milan's fusion of style and cuisine. This Dimore Studio-designed gem offers not just a restaurant but a multifaceted space that includes a gym and a pool. Here, Milan's beautiful citizens congregate, savoring both fine cuisine and the panoramic views that capture the city's essence.
Inspector notes: "The view of Milan (even better from the long outdoor terrace with its two swimming pools) completes the picture, while the cuisine reinterprets Italian classics with a contemporary twist."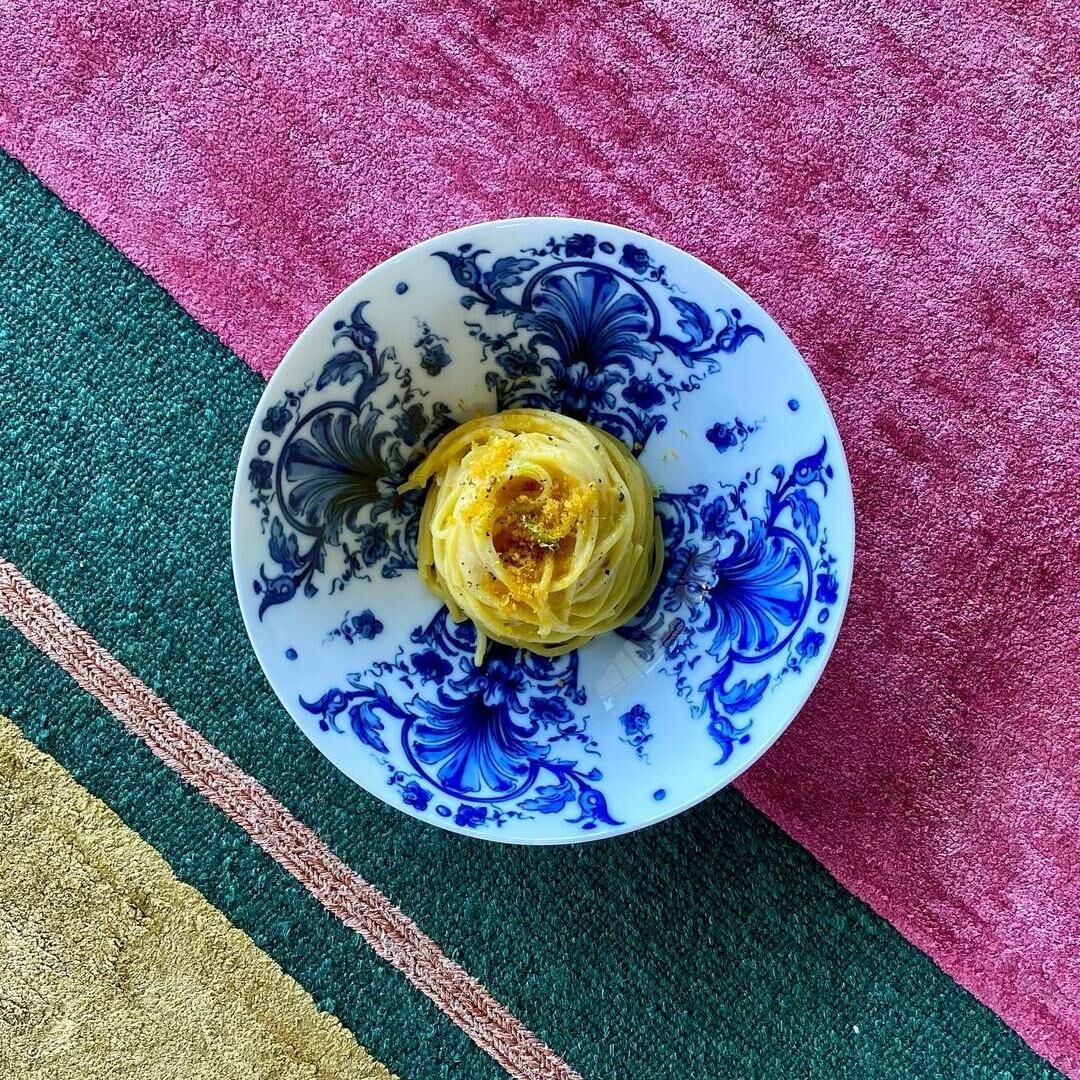 Photo: Courtesy of Ceresio 7
---
---
Paris:
Siena Paris—The new nexus of style and culinary innovation attracts a constellation of A-listers—runway and show regulars including Kaia Gerber, Gigi Hadid, Emily Ratajokski—along with numerous others and fashion-forward luminaries. The fusion of their famous cacio e pepe and langoustines pasta coupled with the secret speakeasy vibes and tantalizing cocktails (if you know where to find it) creates an ambiance that resonates with both tradition and modernity.
Hôtel de Crillon—Within one of Paris's most opulent spaces, guest rooms cocoon guests in luxury while the One MICHELIN Star L'Écrin elevates and marries haute cuisine with haute couture. Consider the Crillon a sanctuary embodying the art of living with a touch of elegance.
Book Hôtel de Crillon on the MICHELIN Guide →

Brasserie Lutetia—Amidst the cobblestone streets of Paris, Brasserie Lutetia beckons fashion insiders seeking a respite from the bustling Fashion Week scene. Its tranquil ambiance becomes a haven for influencers and editors alike, offering a peaceful escape where conversations flow as smoothly as the wine, and culinary delights from Wild sea bass tartare to sole meunière and Burgundy snails with parsley butter feeding the senses.
Inspector notes: "Tartar of wild sea bass, sole meunière, Burgundy snails with parsley butter: the famous Brasserie Lutetia is back in the limelight."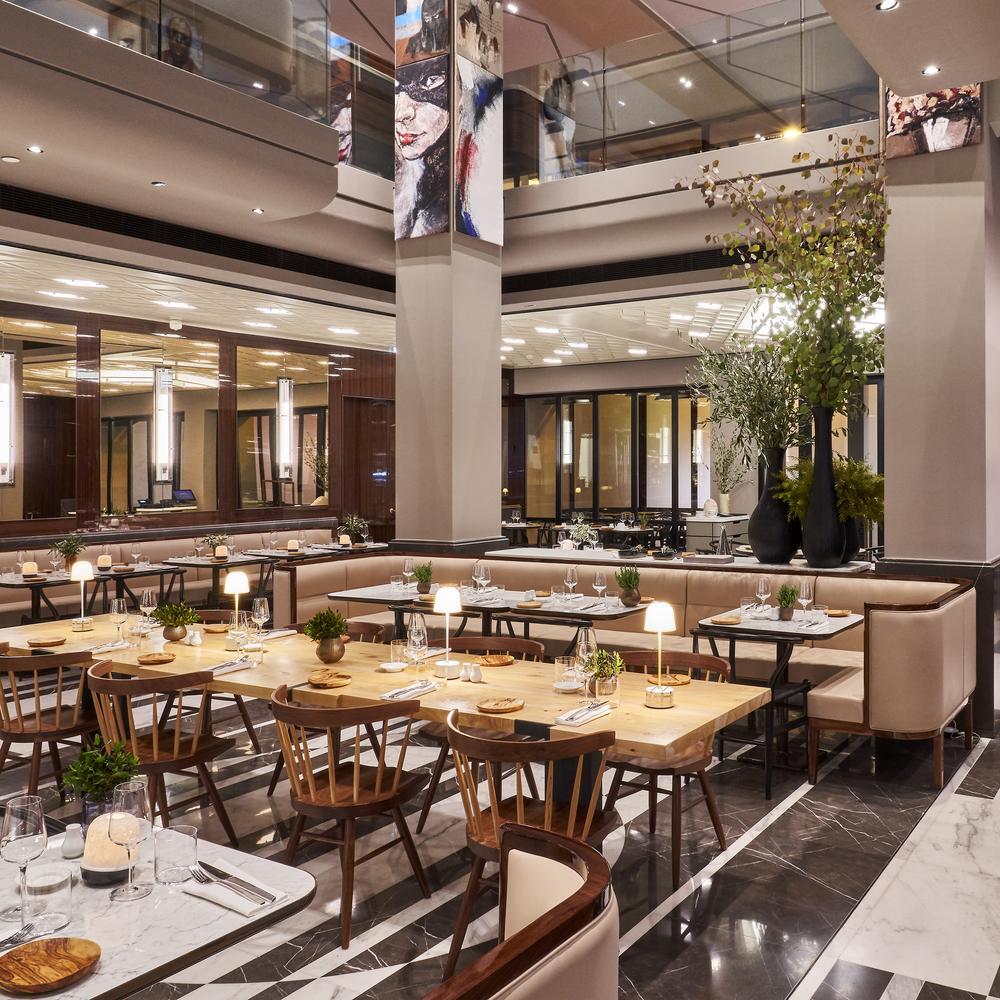 Richard Haughton/Brasserie Lutetia
Epicure—Le Bristol Paris—The allure of Le Bristol Paris is synonymous with opulence, drawing the likes of Rihanna. That's equally true of Three MICHELIN Star Epicure located within. Adorned with exquisite Louis XVI furniture, ornate mirrors, and grand French windows that unveil serene greenery, the restaurant's grandiose setting elevates the dining experience. A harmonious symphony of flavors hones in on the very essence of Parisian haute cuisine.
Inspector notes: "This premium hotel has chosen to name its restaurant after Epicurus: the Greek philosopher who believed in pleasure in temperance, a motto that suits chef Éric Frechon down to the ground: "My grandfather grew vegetables, my father sold them, I cook them." Superb ingredients, impeccable technique: he works wonders in an unapologetically traditional style, leaving nothing to chance."
Loulou—Loulou's terrace, situated in the Jardin des Tuileries, becomes an idyllic oasis during Fashion Week. As fashion insiders gather to savor exquisite fare, they become part of the city's rhythm, surrounded by the charm of Paris.

Inspector notes: "The Musée des Arts Décoratifs promises you an enchanted interlude opposite the gardens of the Louvre. In the kitchen, Benoît Dargère and Zouhair Bouhlal reinvent Mediterranean classics by means of a careful selection of produce. "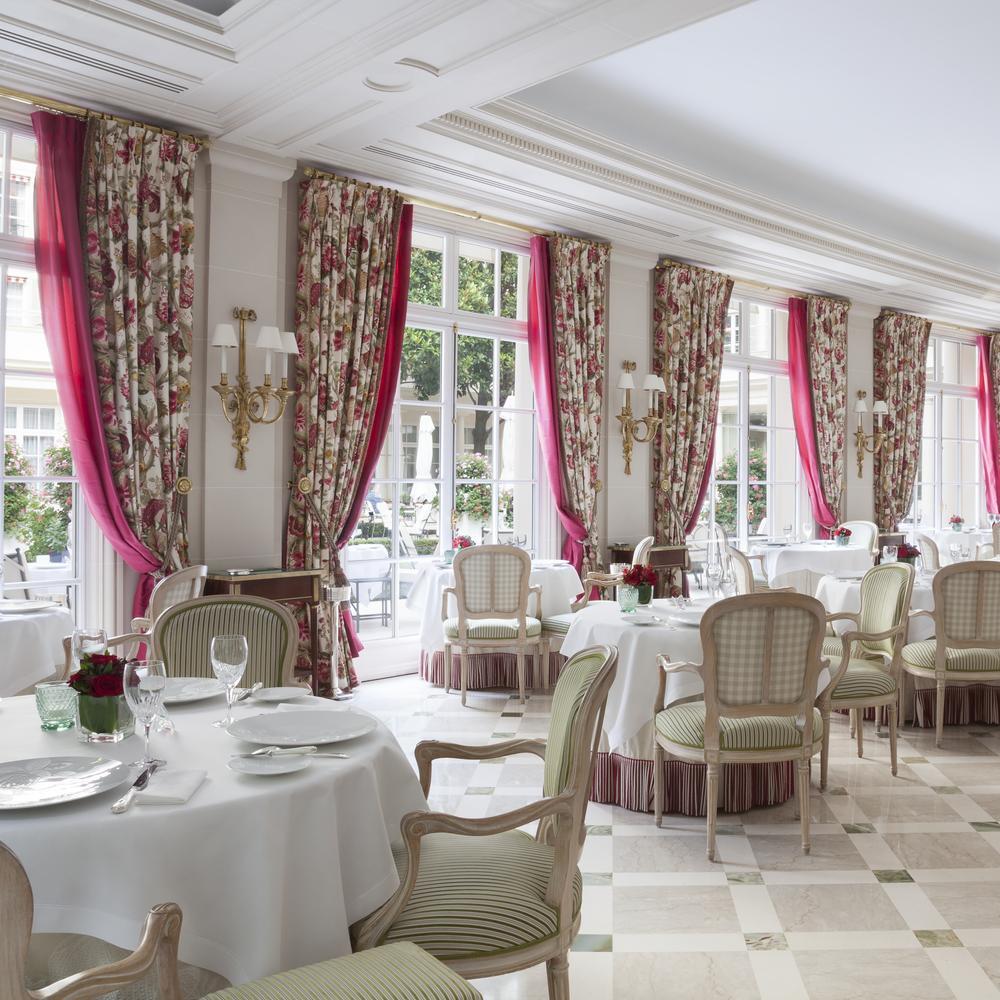 Claire Cocano/Épicure
---
Hero image: Crillon
---