"I have a roll of paper which is very comfortable to rip, throw away," chef Masayoshi Takayama says of how he creates his menu. Every morning, the lauded chef opens it up and begins drawing dishes, labeling them with descriptors and ingredients.

Born in the Tochigi Prefecture, slightly north of Tokyo—"which is the middle of nowhere, in the mountains and rivers"—the young Takayama spent days in nature picking mushrooms and vegetables. "That time I learned what the smell is, that a ripe tomato is juicy, that [a] tomato flavor is strong and sweet, that a cucumber is crunchy."

Photo courtesy of Masayoshi Takayama.
Decades later, Takayama would become arguably one of the world's greatest chefs specializing in Japanese cuisine. His eponymous restaurant in Manhattan's swanky Time Warner Center has held a three-Michelin-star status since the guide landed in New York in 2006.

Last fall, Takayama opened his much-anticipated new casual concept, Tetsu, in TriBeCa, specializing in robotayaki cuisine. "Robata means every house has a fire pit," he says, noting that robatayaki is commonplace in many Japanese homes. "On Sunday, my day off, at that time I want to eat just my favorite stuff which is simple, grilled fish," he continues. "I didn't see any in New York, so I thought I'm going to try, I'm going to open my own small restaurant, but not become big."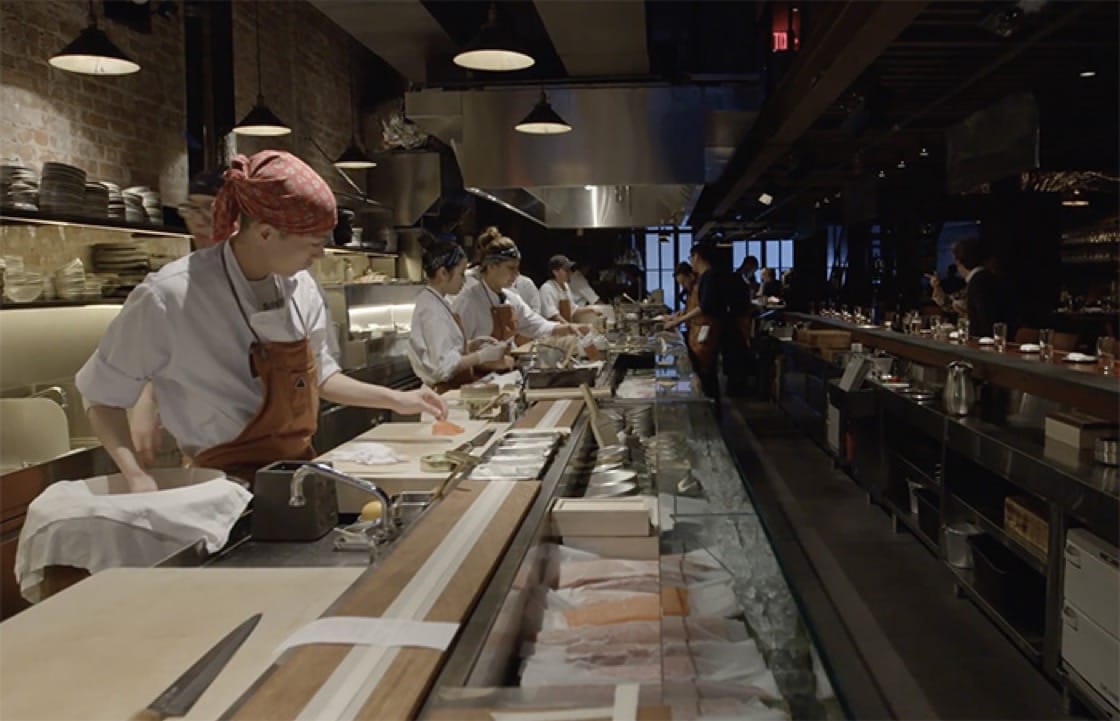 An open kitchen greets guests as they enter Tetsu.
Developing Tetsu was no easy feat: "I was looking for a long time—this is a six year project," he says. When he saw the space on Leonard Street, he was immediately attracted to the sleek and simple design. "Then the name came out—'Oh, how about tetsu?' It means iron, or steel."

Spending so much time at his restaurant uptown, Takayama wanted to keep things casual at his new restaurant. "My challenge is, my customers are coming here, they are looking for 'Masa equals sushi, right?,'" he says. "This is not sushi. It's a totally different version of Masa cooking. I can do more, different stuff. This is fun for me."

Tetsu is located on the ground floor, serving up various skewers like crispy pork belly and chicken yakitori, as well as salads, noodle dishes, and temaki and nigiri sushi. (The wildly popular burger is available during the lunch hour.) The aptly-named Basement, located downstairs, features a 10-seat, 22-foot-long Bubinga wood counter where guests can order a multi-course tasting menu focused on various proteins. "The cooking is very simple. Fresh ingredients, just slice it raw, or steam it."

One of the courses served at Basement: Ohmi beef tartare, caviar and truffles.
Though the project is still very new, Takayama's wheels are continually spinning: "Next project is . . . I'm thinking the burger concept. Maybe the end of this year."

"This is my passion, everything, anything, you know?," he continues. "Once I've finished one project, I'm done with that. But still I'm working."

Video and photos shot by Kathryn M. Sheldon, an award-winning producer, photographer and editor with a background in still photography and television production. Having produced food and beverage content for seven years at NBC, she is currently producing video content for the MICHELIN Guide.