Thanks to Dominique Crenn, San Franciscans won't have to leave town to taste the dishes of master French chefs. Her new restaurant Bar Crenn, opening to the public on March 13, features the classic masterpieces from a stellar collection of Gallic toques.

The chef behind two-Michelin-starred Atelier Crenn, who earned her chops under the legendary Jeremiah Tower at the venerable [now-closed] Stars in San Francisco, has never worked directly for any of these French chefs. "They are my friends, my mentors, and my colleagues," she says. "I got to know Guy Savoy and Éric Fréchon." But her definition of a mentor is simply someone who inspires you. "Gandhi is a mentor and I never met Gandhi," she says.

The potée de cochon and chocolate craquant is from chef Arnaud Lallement of L'Assiette Champenoise.
The idea struck her when she was guest cheffing at the Palais de l'Élysée with the palace chef Guillaume Gomez for French president Emmanuel Macron and some 200 chefs during the Bocuse d'Or culinary competition extravaganza in 2017. She was cooking alongside Yannick Alléno (of three-star Alléno, Paris), Guy Savoy (of 3-star Restaurant Guy Savoy, Paris) and pastry chef Claire Heitzler (Ladurée, Paris). She asked them for a recipe and started emailing other French chefs. "Hey, I'm going to ask them if they are willing to share. 'Yes, Dominique. No problem.' It didn't take long," she recalls. "I have 40 recipes from about 20 to 25 chefs. We have mutual respect for each other. I'm not like a stranger. They know who I am and that I represent French gastronomy in San Francisco." She explains that many of the recipes were sent with pictures but "when you know the classics they were not new to me. They were very familiar for me to adapt."

She plans to rotate dishes on the menu and collect more recipes along the way, always augmenting with her own dishes as well.

"It's about who I am, part of my culture and my heritage—I want to make sure people understand the classics," says the French-born chef who makes San Francisco her home. Her mission is to spread the gospel of French gastronomy, which is still considered the foundation upon which all gastronomy is built.

It goes without saying that the legendary, recently departed Paul Bocuse, whose L'Auberge du Pont de Collognes just outside Lyon won its third Michelin star in 1965 and kept it ever since, lives on in the opening menu with his most famous signature, soupe aux truffes, as well as his tarte Tatin. "My Mom used to make these recipes," she says, explaining that she grew up with these dishes. "I've known these recipes for the last 20 years from France and from books. They've been in my repertoire for a long, long time. Soupe aux truffes is one of my favorites of all time." The crock of truffle soup is topped with a golden brown pastry crust which is broken open to emit a glorious truffle scented steam. It's a fitting theatrical homage for the master who is credited with propelling the modern chef from the confines of the kitchen onto the international celebrity stage.

An ode to the late Paul Bocuse: truffle soup.
The opening menu also includes:

Tarte Flambée from Alain Ducasse
Oeufs au Thon et au Crabe from Éric Fréchon (Épicure, Le Bristol)
Cromesquis from Sylvestre Wahid (Sylvestre, Hôtel Thoumieux)
Ice-Poached Oyster from Guy Savoy (Restaurant Guy Savoy)
Les Pommes Moulées with Smoked Trout Roe from Guillaume Gomez (Palais de l'Élysée)
Oeuf Poché Dans d'Èlégance du Soupe de Poisson de Roche from Arnaud Donckele (La Vague D'Or)
Quenelles de Brochet, Sauce Nantua from Alain Ducasse
Salmon Soufflé and Terrine de Foie Gras d'oie Truffe from Marc Haberlin (Auberge de L'Ill)
Potée de Cochon and Chocolate Craquant from Arnaud Lallement (L'Assiette Champenoise)

Bar Crenn is adjacent to Atelier Crenn, with which it shares a courtyard. Atelier diners will be able to enjoy an aperitif or an after-dinner drink at the more casual Bar Crenn if they so desire.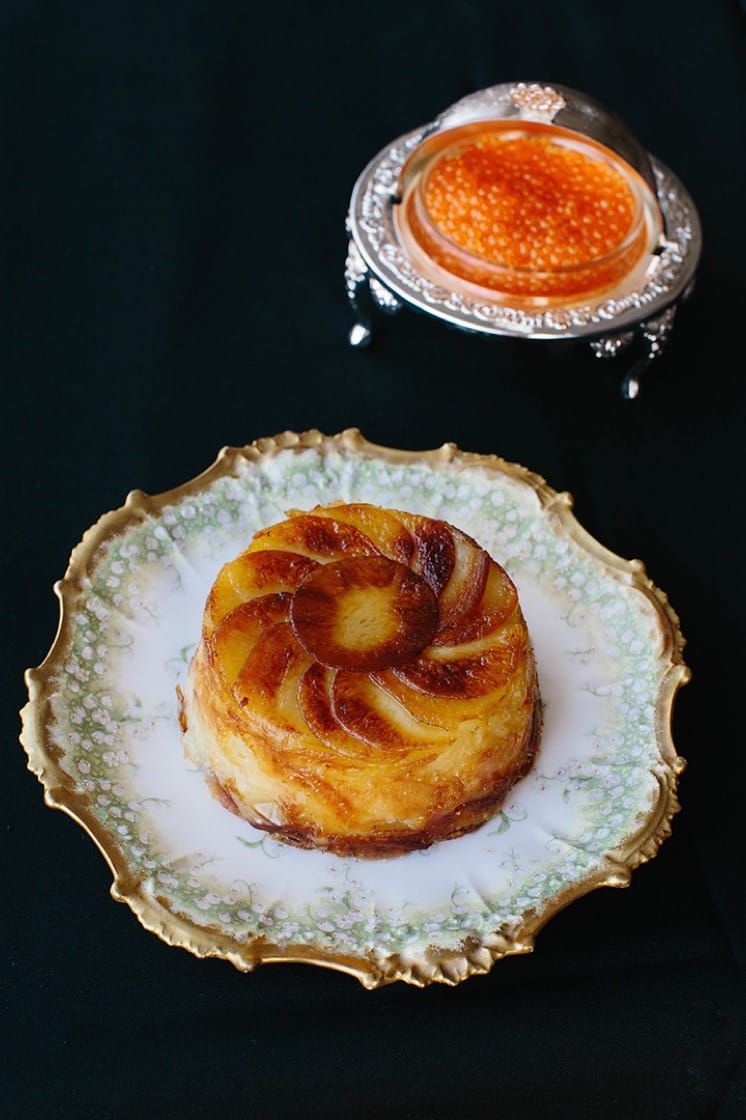 The beautiful pommes moulées with smoked trout roe.
French gastronomy is not Crenn's only mission. She has recently leased a space in the Salesforce Tower, the city's tallest building, where she will have a boutique, restaurant and patisserie entitled Boutique Crenn. She is also equally devoted to promoting equality for women in the kitchen. Crenn is set to launch a Women of Food dinner series on March 27 with such noted chefs as Nancy Silverton (Osteria Mozza, Los Angeles), April Bloomfield (The Spotted Pig, New York City) and Nina Compton (Compère Lapin, New Orleans). "It sold out in two minutes and there are 600 people on the waiting list," Crenn says of the $250 ticket sold through Resy.

Crenn is quick to emphasize she's not jumping on a bandwagon. "The idea came up over a year ago before everything blew up," she says, explaining that it takes that long to reach out to every chef and make sure every date works. "I'm just happy that the #metoo movement is happening. I've been putting women at the forefront for a long, long time and it's paying off right now." Ultimately, she hopes there will be no glass ceiling in the kitchen and no need to single out female chefs.

"Michelin needs to be at the forefront too," says one of only three female chefs in the United States with two stars.

All photos courtesy of Jordan Alexis Photography.