Warm atmosphere, a friendly and knowledgable staff, and a solid cocktail list—these three important criteria make up the best formula for the best bar. And with the number of cocktail enthusiasts and watering holes consistently growing, it's easy to land in a dark den that may miss the mark.

Here, we tapped into some of the city's movers and shakers in the beverage world for where they rendezvous after a shift. Here's where to go on your next night out:

"Most of the places I frequent are the late-night spots," says Mollie Bensen, co-beverage director at ANXO Cidery & Pintxos Bar. "My coworkers and I will often head to Truxton Inn, across the street from ANXO at 3rd and Florida, where I usually get an Adonis—Oloroso Sherry, sweet Vermouth and orange bitters. It's a classic cocktail and not too boozy, which is perfect after a long shift." At Truxton Inn, the drinks menu is broken down into two sections: Recommendations and Suggestions. The Suggestions list includes cocktails from various bars around the country, like the No Say, featuring Ilegal Mezcal, Aperol, Mahina Coco Liqueur, lemongrass syrup, lime and pineapple from Pam Wiznitzer at Seamstress in New York City.

"Another favorite is The Gibson on 14th and U, where the bartenders are exceptionally skilled and creative," Bensen continues. "Often I'll give a few descriptors of what I'm looking for in a drink at that moment and they will come up with something on the fly."

The upstairs bar at The Gibson. Photo by Dominique Fierro.
Adam Bernbach, bar director for 2 Birds 1 Stone, doi moi, Estadio and Proof, gives Maxwell Park in D.C.'s Shaw neighborhood a stamp of approval. "Owner Brent Kroll has been a brilliant sommelier around the city for years and the list definitely reflects it," he says of the new wine bar. Maxwell Park touts themselves as being "devoted to the adventurous imbiber," offering a consistent rotation of wines, dishes, guest chefs and visiting sommeliers.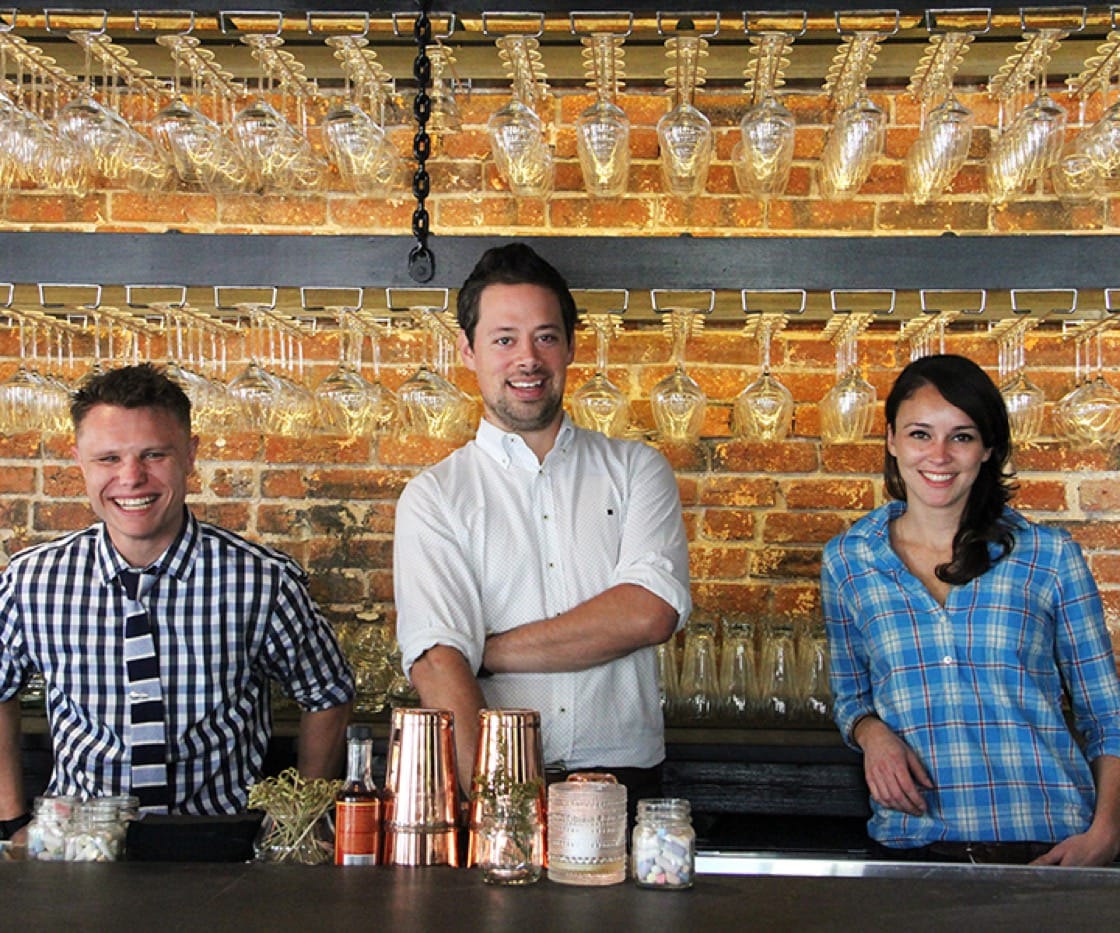 The team at Maxwell Park: Daniel Runnerstrom, Brent Kroll and Niki Lang. Photo by Marissa Bialecki.
Also on Bernbach's list: Garden District, Tad Curtz and David Rosner's Bavarian-inspired beer garden. "My favorite burger in D.C.," adds Bernbach, "but also probably 40% of my diet in general."

"My favorite bar right now doesn't even consider themselves a bar first and foremost," says Benny Hurwitz, head bartender of Jack Rose Dining Saloon and Dram & Grain. "It's called Suns Cinema in Mount Pleasant—it's actually a thematic movie theater where the movies and featured cocktails revolve around a theme every month. Suns has a small bar in the back of the theater that's open to walk-ins before and after ticketed movie showings." Bernbach also gives Suns a thumbs up: "It's a great place to grab a beer or whiskey or a can of sake!"

Greg Engert, beer director of Neighborhood Restaurant Group and partner at DC beer haven ChurchKey likes to kick it old school at The Tune Inn on Capitol Hill. "Just about every walk of life intermingles at this classic dive bar," says Engert. "There is zero pretense, and random conversations—with regulars and newbies alike—run rampant. It is small, often crowded, opens at 8 am, and does not offer a cocktail list. It is also a lot of fun. I drink pints of Guinness here. And shots of Powers."

Also on Engert's list is Service Bar on U Street. "The quirky, hidden gem showcases world class, affordable cocktails quickly—and passionately—stirred by a team of renowned D.C. bartenders," says Engert. "There is some seriously tasty fried chicken to accompany the cocktails, and one of the most singular private bar spaces in the city, The Snug." Next time you're at Service Bar, do as Engert does: "I put myself in the hands of the staff and drink whatever they're currently digging. And no visit is complete without sharing a super-sized bowl of a tiki drink with friends."

Finally, beer lovers rejoice—Engert's got your back. "The Public Option is the smallest, and probably coolest, brewery in the city," he adds. "They brew classic, soulful styles in tiny batches, and sell it exclusively at the bar's pub. It is the quintessential neighborhood bar, open only a few days a week, but always full. The brewers are typically serving the beers themselves, which is a bonus."

Curious what to order? "Anything dark, roasty and malty, especially the delicious Chuck Brown."

Noted.

Hero image of Benny Hurwitz courtesy of Dram & Grain.