Spring has sprung and with it fresh stalks of asparagus, eager to be consumed the world around.
Most are already intimately familiar with the bright green stalks, ranging from pencil thin to the thickness of a finger, but what about the less colorful variety? White asparagus is considered a rare delicacy in the culinary world, with a cachet rivaling that of ramps. In fact, the vegetable is so prized in parts of Europe that the harvest season spawns large-scale festivals. Spargelzeit in Germany, for example, lasts from April through June 24 (a Christian holiday celebrating Saint John the Baptist), during which the town of Nienburg crowns an asparagus princess each year.
Yet the question remains, what sets the springtime vegetable chefs flock to apart from its more colorful compatriot? The answer is the sun, or rather, the lack thereof. To achieve its milky complexion, white asparagus is grown in the dark, either submerged in dirt or covered by tarps. This process is called etiolation, which prevents the plant from undergoing photosynthesis and producing chlorophyll (the pigment responsible for the green color of plants). When it comes to taste, white asparagus tends to have a more mellow flavor compared to the green variety.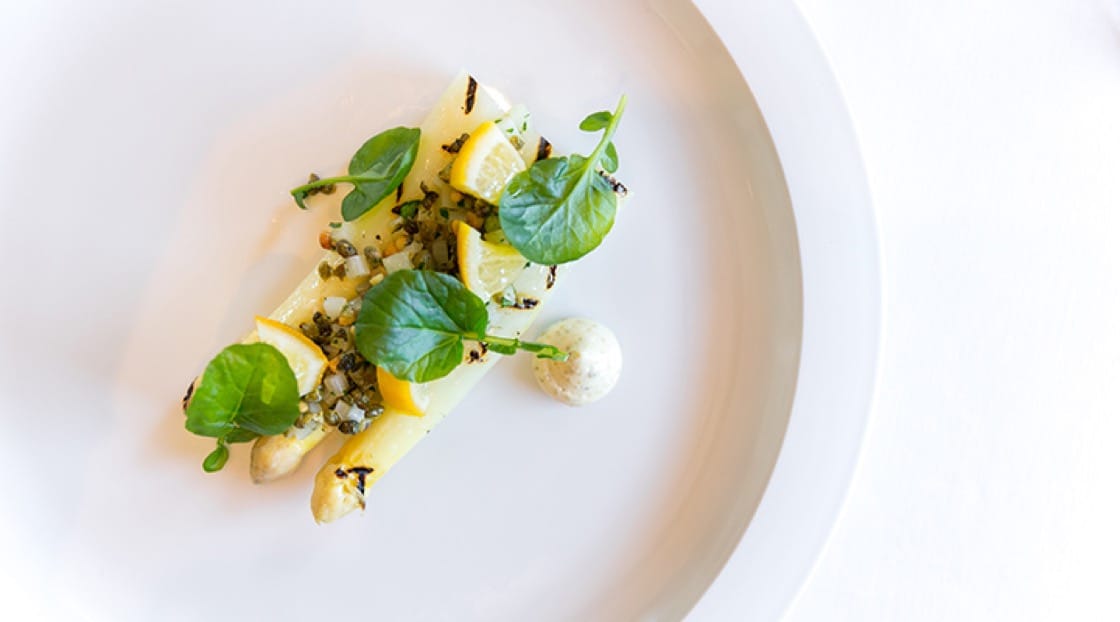 Grilled white asparagus with preserved meyer lemon, watercress and pine nut-caper relish from The French Laundry.
Another key characteristic of white asparagus is that it is generally thicker and more fibrous than the standard variety. As a result, you should always peel the bottom two-thirds of the stalks before cooking. While green asparagus can be thin enough to be eaten with some of its bite still intact, it's recommended that white asparagus is cooked all the way through.
Traditionally, the springtime delicacy is served simply blanched with butter or hollandaise for dipping. Currently, chefs across the country are finding more and more creative ways to showcase the vegetable, including grilled stalks with kaluga caviar at one-Michelin-starred Sons & Daughters in San Francisco; soup with Alaskan king crab and ginger at Chicago's two-Michelin-starred Sixteen; warmed spears with tarragon coulis, blood orange, almond and quail egg at Mirabelle in Washington, D.C.; and with leeks, truffle, and sauce gribiche at the newly-opened Frenchette in New York City.
Photos by City Foodsters/Flickr.