Even the most accomplished chefs in the world know that a chef is only as good as the team he leads.
Restaurant Ya Ge
at the
Mandarin Oriental
, Taipei's head chef Man Tse certainly understood this when he took over the reins of the restaurant. He first task was to rally his team together like solders on a mission, and through a concerted effort, led the restaurant to achieve its first MICHELIN star just one year after his appointment.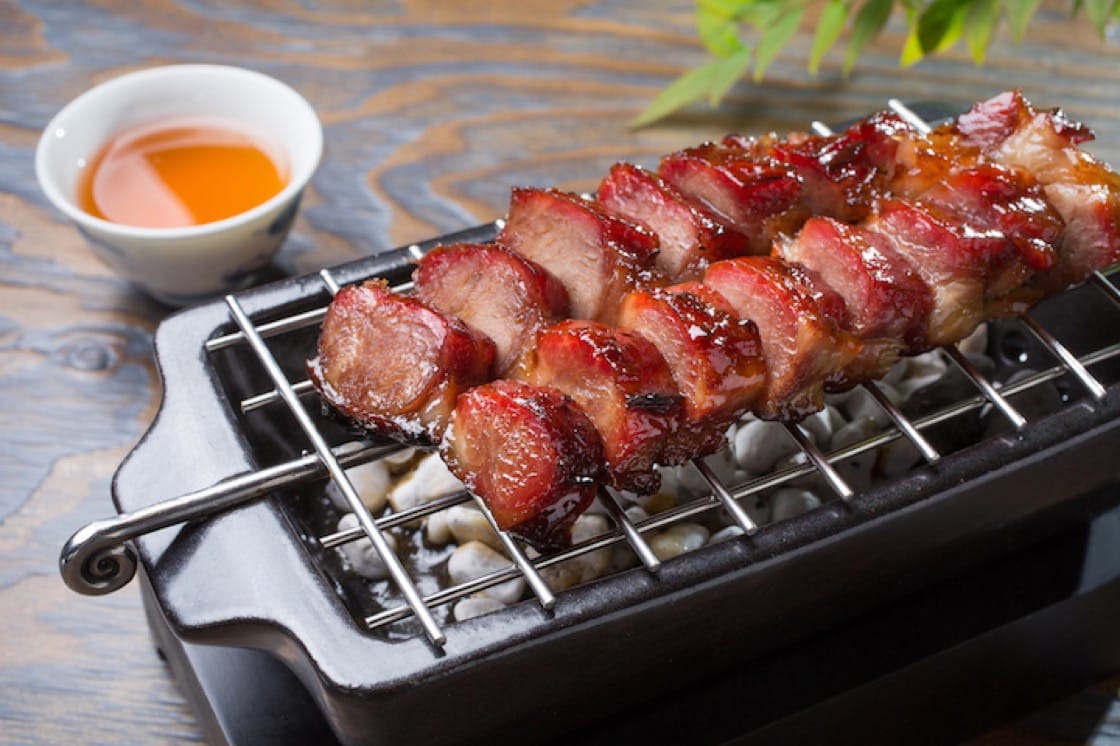 Barbecued honey-glazed Kagoshima black pork
Cooking with heart

While Tse's accomplishment at Ya Ge seems to come in a relatively short time, it is driven by a half a century of lessons. The industry veteran of 50 years earned his chops as he climbed through the ranks at Hong Kong's storied Fook Lam Moon restaurant, before he moved on to work in the Netherlands and China's Nanjing, Shanghai and Guangzhou. With each new move, he had to quickly assimilate within a new culture by learning the local dining habits and customer needs, while managing a team of tens or even hundreds of cooks.
Pushing for higher standards in the kitchen is not always about technical know-how. The key, says Tse is to "understand that there's a person behind every dish". If there's a discrepancy in the flavours, he will first show concern for his staff, rather than assign blame. "I will say things such as, 'You're more heavy-handed with the use of salt today. Is there anything that's troubling you recently?' or 'Your cooking is on point today. I can tell you're getting better,'" Tse shares. The words of encouragement help his team members feel like they are being valued and taken care of, and will motivate them to excel, he explains.
Over-baked crab meat with onion
Balancing the Five Tastes

Tse believes the most basic criteria of cooking is to strike a balance between the five basic tastes – sweetness, sourness, bitterness, spiciness and savouriness. "When one picks up an ingredient, he should think how to present its original flavour," he says.

In his book, sugar is the most "aggressive" condiment — even a sparing use of it can easily overwhelm the entire dish. For this reason, you will almost never see sugar being used across the menu at Ya Ge.

To draw out the natural sweetness in vegetables, he adds salt into stir-fries. "Chinese kale is the only exception. Salt makes it tough and bitter. Instead, blanching it in water with sugar helps to soften the stem and highlights its green colour," Tse explains. The same trick applies to dessert, he reveals: "A pinch of salt gives more dimensions to sweet soups."

These little wisdoms demonstrate the chef's perceptiveness to the ingredients' true nature and his mastery of the five tastes.

He shares with us his thoughts on gaining a MICHELIN star.
Ya Ge Crispy Chicken
When was your first encounter with the Michelin Guide?

It was in 2009 when the Michelin Guide first launched in Hong Kong. Some of my colleagues in the industry got the award. As a chef, I wanted the same happening to me too. But sometimes it's about being in the right place at the right time.

What was running through your mind when you first heard Ya Ge won the stars?

I wanted to make the dishes even better, and let more customers taste the good stuff.

How did you celebrate?

My wife and son came from Hong Kong to Taiwan celebrate with me. I also went to have hotpot with the staff after work.

How will the stars influence your career?

It gives me more pressure at work, and the diners have higher demands too. I only think about how to improve a little bit from yesterday. If I cook something that deserves 95 points out of 100, I can't be content with it. There's more to be done to get to 96, 97. I have to keep moving forward.

Do you have any advice for young chefs aiming for Michelin stars?

You have to love eating to be a chef, and practise immensely to perfect the basic cooking skills. Only if you love eating you'd analyse, eat, look and think. Maintain your standard. Be motivated to better yourself every day, even if it's just a small step ahead.
Photos courtesy of Mandarin Oriental, Taipei

RELATED: Click here to read more First Day I Got My Michelin Stars articles
---
This article was written by Chen Ching-yi and translated by Vincent Leung. Click here to read the original version of this story.