The Covid-19 pandemic has swept the world for more than two years now. Though hard-hit during this time, the hospitality industry in Taiwan, including many MICHELIN-listed hotels and restaurants, has responded quickly and creatively to promote domestic travel, and with that, finding the strength and opportunities to rise again.

The local life force

Taiwan's hotels and tourism industries experienced a sharp decline in the early days of the pandemic, when international travel ceased and when domestic travel all but came to a halt during the Level 3 Alert. With each surge of cases in the past two years, and as variants of the virus continued to emerge, the hospitality industry has had to respond quickly to the ups and downs of various stages.

The most pressing challenge is the sharp drop in international travel. According to the tourism statistics of the Ministry of Transportation, only 140,000 tourists entered Taiwan from January to December last year, a stunning 90% drop compared to the nearly 1.38 million tourists in 2020. To put things in perspective, 11.8 million tourists visited Taiwan in 2019 pre-pandemic.

Domestic travelers have become the life force of every hotel. After the Level 3 alert was lifted last year, Taiwanese travelers who could not go abroad thronged resort hotels outside the city. At the Silks Palace Taroko, occupancy rate and room rates are hitting new highs, shares Ellen Chang, executive director of Marketing & Communications at the Silks Hotel Group, which owns MICHELIN- recommended hotel Regent Taipei. Meanwhile, business is also picking up the group's hotels in other locales including Jiaoxi, Hualien, and Kaohsiung.


More than half of Hotel Dùa's guests used to be international travelers. (Photo: Hotel Dùa)
"A phenomenon I observed during the pandemic was the gap between city hotels and countryside resorts," shares Sam Su, general manager of MICHELIN-recommended Hotel Dùa in Kaohsiung, adding that more than half of the hotel's customer base used to be international travelers and business guests from Hong Kong, Macau, Japan, South Korea, Europe, and the United States. While business has taken a big hit in the past two years, he predicts that local guests will gradually return to city hotels after experiencing resort hotels.


Creativity with no bounds: Palais De Chine has constantly innovated throughout the pandemic. (Photo: Palais de Chine)
Unique and experiential programs keep guests coming back for more

The COVID-19 pandemic unfortunately has proven to be a long-term event. During these times, urban hotels must continue to attract the interest of domestic travelers. To do this, hotels have turned to creative and innovative programs that have kept guests coming back for more.


A special set menu launched by Palais De Chine during the pandemic featured the signature Cantonese-style crispy roast duck from the hotel's three-MICHELIN-starred restaurant, Le Palais. (Photo: Palais de Chine)
"During this time, we decided to put no limits on our creativity. We did not want to lose out on opportunities just because we were overthinking things," says David Ding, president of FDC International Hotels Corporations, which operates MICHELIN-listed hotel Palais De Chine. The group was highly supportive of its hotels' promotional initiatives, despite the uncharted territory. A plan was proposed for a package that allowed guests to enjoy unlimited orders of Canadian lobsters in-room. Although discussions ensued on whether profit margins could be met and other implementation issues, such as tracking the number of guests in each room, the promotion was launched to great success. About a dozen sets of the NT$9,000 menu were sold each day.

Among all the clever promotion packages dreamt up by hotels, these are three of the most popular strategies:

Reservations for one-MICHELIN-starred Impromptu by Paul Lee in Regent Taipei are highly sought-after. The hotel launched a successful dine and stay package that garnered a lot of interest. (Photo: Impromptu by Paul Lee)
First, dine-and-stay packages that combined accommodation with food and wine were hugely popular.

According to Chang, the Silks Hotel Group launched several such promotions. Its "Buy 6000, Get 6000" deal included dining credits of NT$6,000. Another package allowed two guests to enjoy six meals at its restaurants like Brasserie, Spice Market, and Just Italian within 30 hours. Similarly, the group's MICHELIN Star Tour program gave guests access to various MICHELIN-recommended dining establishments in its stable. Day one included dinner at MICHELIN-listed fine dining Chinese restaurant Silks House or elegant French cuisine by executive chef Xavier Boyer served in-room. The next day, customers could select a meal at MICHELIN-starred Impromptu by Paul Lee or at the new Coast, where chefs Richie Lin and Ian Kittichai of MICHELIN-recommended Mume and Bangkok's Issaya Siamese Club have a collaboration. "Promotions related to food are very well received," says Chang.

Ya Ge's Star Garoupa Fillet, Winter Melon, Chicken and Duck Jus (Photo: Ya Ge)
MICHELIN-recommended hotel Mandarin Oriental Taipei launched a Gourmet Getaway combining a staycation with an afternoon tea at The Jade Lounge and dinners at one-MICHELIN-starred Ya Ge and MICHELIN Plate restaurant Bencotto. Meanwhile, Palais de Chine offered a Gourmet Staycation package that included two meals: a surf and turf feast at La Rotisserie and a dinner at the hotel's three-MICHELIN-starred Le Palais or at MICHELIN-listed Artbrosia. These stay-and-dine packages fared very well, with more than a hundred reservations a day. Ding surmises that their popularity stemmed from people missing the fine dining experience during pandemic closures.

The Mandarin Oriental Taipei launched a Summer Family Escape in 2021. (Photo: Mandarin Oriental Taipei)
Second, hotels came up with unique, quality experiences packaged with convenience.

One-stop shopping packages have also been very popular during the pandemic. Director of marketing and communications at Mandarin Oriental Taipei, Luanne Li, observed that consumers who couldn't go abroad during the pandemic sought staycations that recreated the full travel experience. To that end, the Mandarin Oriental's grand buildings and European architecture proved advantageous. The hotel planned unique itineraries for domestic travelers that included handmade perfumery classes, private guided tours at the acclaimed Whitestone Gallery, and cooking classes where guests baked cookies with the hotel's executive pastry chef Kevin Chiu or made dim sum with MICHELIN-starred Ya Ge's chef de cuisine Cheung Kwok Pong.

All-in family staycation packages saw an uptick as well. The Mandarin Oriental Taipei's Summer Family Escape offered family-friendly activities such as cooking classes, science camp, and balloon-making, while the Regent Taipei launched four themed winter camps that integrated various parent-child activities such as immersive light shows, museum visits, and guided local culture tours.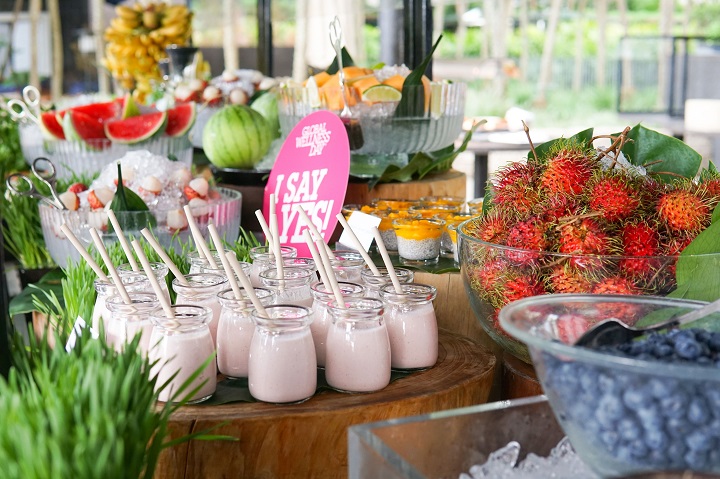 The Grand Hyatt Hong Kong celebrated Global Wellness Day with a healthy breakfast spread. (Photo: Grand Hyatt Hong Kong)
This trend is also true in Hong Kong where strict travel restrictions are still in place. Eva Kwok, director of marketing and communications at the Grand Hyatt Hong Kong, pointed out that before the pandemic more than 80% of their guests were foreign tourists, but now most of their guests are local residents.

"Initially, domestic travelers were attracted to the novelty of staying in a local hotel for the first time, hoping to try the different facilities and dining options in the hotel. But as time went by, we couldn't just have food and beverage packages; we had to actively launch other themed activities and experiences to bring freshness to returning guests," she explains.

Last year, the hotel launched its Australia Steakation package in collaboration with the Festival of Australia, offering a variety of Australian brands and products in the room — from bath bombs to kombucha — as well as virtual tours of Australia and an Aussie Wagyu steak dinner. Other themed packages included the French GourMay experience where guests got to enjoy an exquisite candlelit dinner in-room with a French cuisine menu, mini champagne, macarons, lavender bouquets, bath salts, and a door gift containing luxury French skin care products. In conjunction with Global Health Day in June, the hotel also launched a package that included a healthy breakfast spread and crystal singing bowl masterclasses, among other wellness programs.

Hotel Dùa highlights the charms of its locale. (Photo: Hotel Dùa)
Third, hotels played up the attractions of their locations.

In addition to the quality of the accommodations, consumers are also looking for the added value of a memorable experience, says the general manager of Hotel Dùa, Sam Su. He notes that the combination of a cultural and urban experience, although not a new concept, will become more and more important.. Before the pandemic, Hotel Dùa worked to spotlight the charms of its neighborhood, recommending local itineraries, supporting local arts and cultural groups, and promoting the highlights of Kaohsiung on its Facebook page. In the midst of the pandemic, the hotel doubled down on their efforts, collaborating with popular street food establishments to have famous eats like Xing Long Ju buns and milkfish soup delivered to hotel guests for breakfast. Being conveniently located in the city center with convenient transportation options also allowed the hotel to include a wide array of local concerts, fireworks displays, exhibitions, and musicals in its packages.

"Kaohsiung was not necessarily the first choice for tourists from other parts of Taiwan, but now that tourism in other destinations has become more saturated, Kaohsiung is benefiting from the spillover. In addition, Kaohsiung has actively developed large-scale events in recent years, such as concerts, so attendees naturally need to come to the city to stay for one or two nights. I think this is the reason why our occupancy improved significantly at the end of last year," says Su.

Regent Hotel's staycation package included an in-depth tour of Dadaocheng with a hotel butler. (Photo: Regent Taipei)
Several guided tours launched by Regent Taipei, in collaboration with local organizations, were also highly sought after. For example, its "Museum Without Walls" package had an arts and culture expert take guests on a tour to learn about the history of Dadaocheng, Chifeng Street, and the Chengbei Corridor. Another tour included a visit to the filming location of the Netflix series Light the Night, a tasting of protagonist Rose's (played by actress Ruby Lin) favorite whisky and finished with a bowl of Regent Square CBN champion beef noodles, a nod to the Japanese practice of enjoying ramen after a night out of drinking.

"The future of tourism will be two-pronged, the first being quality and luxury, the second being comprehensiveness — there must be entertainment, education, and food. Without entertainment, people will not stay for long; without the experience of history, culture, and storytelling...it will feel shallow; and without gastronomy, really, there will be no tourists. I think these three things complement each other," says Ding.


Regent Taipei's "Light the Night" package included a tour of the hit Netflix series' filming locations led by a Japanese butler, capturing the feel of the series. (Photo: Regent Taipei)
The changes and challenges of the pandemic

All the hotel operators we spoke to agreed that during the pandemic, in addition to the stringent health and hygiene measures, there were still brand values and service qualities to uphold — to even higher standards, in fact — in order to face the competition.

But hotel operations were starkly different from the past. Hospitality staff found themselves having to be more creative and flexible than ever before: front desk employees were roped in to do take-out deliveries; front line staff more accustomed to customer service had to learn how to take food photos for social media, or how to design a better online ordering interface. "The last two years have been a time of rediscovering what drives the hotel, and unearthing the true potential of the people working here," says Ding, sharing how he found out that a colleague doing wedding planning actually had a real knack for designing.

It was all hands on deck when Le Palais launched its very popular roast duck take-out promotion during Taiwan's COVID-19 Level 3 alert. (Photo: Le Palais)
Though the hospitality industry put on a brave front, the pressures of the pandemic are very real. Revenues have dropped and companies have had to streamline or put employees on unpaid leave. Hotels that have insisted on not letting staff go, or reducing wages, have tried their best to find work for their employees, deploying them across other departments. Many workers who could not adapt have left the industry, and hotels are facing a higher attrition rate than usual. These issues have caused a major manpower shortage in hospitality with the industry unable to attract new talent.

The pandemic will be a long drawn-out affair, and Su is worried that there will be fewer willing to invest in the industry in the future. "Hospitality requires very high investment and has a long amortization period before you see returns. You can work hard for 10 or 20 years, but lose everything in one fell swoop," he says. Even when international travel restrictions ease down the line, industry insiders are prepared for the possibility that tourism numbers will not return to pre-pandemic levels, with business tourism and large exhibitions still affected.

Taiwan's hospitality industry is in a long war with COVID-19. Now in the third year of battle, some hotels continue with take-outs and deliveries, while others increase investment, extend more training or diversify their portfolio with new openings and new restaurant concepts — all in an effort to fight another day. Silver linings in the last two years have included the cultivation of a community in the industry, the discovery of new opportunities, and the growth of the industry's people. New collaborations being forged between different industries also expand the opportunities for future developments.


This article was written by Hshieh Ming Ling and translated by Rachel Tan. The original article can be viewed here.
This post is brought to you in partnership with 交通部觀光局