When talking about the always-popular Northern Thailand destination of Chiang Mai, we have to talk about the region's food. Usually, local specialities like Khao Soi, Sai Oua, and Nam Phrik Num immediately come to mind.

But in actual fact, the city's history and heritage includes a convergence of influences from many ethnicities. This myriad blend is the foundation for Chiang Mai's amazingly diverse cuisine that is fascinating to explore. One of the best places to start a taste adventure is at a "kad", or market in the Northern dialect, where you can experience these unique cultures through food.

Every Friday morning, you may find Chef Phanuphol "Black" Bulsuwan of Blackitch Artisan Kitchen loading up on succulent supplies at Kad Haw. (© Jirawat Veerakul / MICHELIN Guide Thailand)
You won't want to miss these freshly made donuts. (© Jirawat Veerakul / MICHELIN Guide Thailand)
"The Chang Klan area, more commonly known as the Chiang Mai Night Bazaar, has been bustling with commerce for generations. And Kad Haw, also called Kad Ban Haw, has been an integral part of this neighbourhood for decades, located on Charoen Prathet Soi 1 by Charoen Klan Road. This is the home to a Chinese Hu (Yunnan Chinese) community, where they practice Islam. So, this market features food, ingredients, and products that resonate both cultures together. I grew up here, with my parents bringing me to Kad Haw ever since I was little."

Chef Bulsuwan shared the ties he has with Kad Haw, which is only open one day a week, on Fridays, and only in the morning. Even though the market has changed from when he was a child, going through expansions and rearrangements, the deep-rooted charms of this Yunnan Muslim market endure, drawing this devoted chef back to its stalls every week.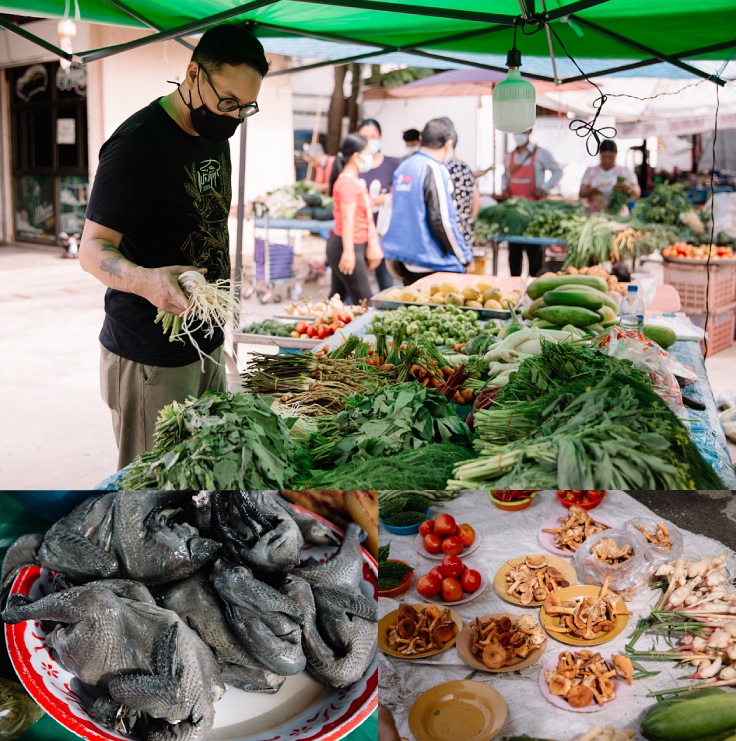 Halal meats and seasonal ingredients fresh from the mountains. (© Jirawat Veerakul / MICHELIN Guide Thailand)
"I really like this market. Every week I have to stop by to shop for ingredients. There is so much to choose from. Fresh halal meats like goat or duck. Seasonal ingredients that the Shan or other hill tribe people harvest and bring down from the mountains like ochun (a leafy vegetable favoured by Yunnan Chinese), garcinia, tangerines, herbs, seasonings, marinades, and pickles, as well as cold-climate fruits from the mountains that you can only find at this market."

And what tasty titbits should we try for a true Kad Haw experience?

Khao Puk Nga. (© Jirawat Veerakul / MICHELIN Guide Thailand)
"The best time to go to Kad Haw is around 8 or 9 in the morning. If you want to have some breakfast here, then you should come a little earlier," recommended Chef Bulsuwan, who adds that you should get there before 11 am, before the market starts closing down.

"Once you get to later in the morning, around 10, the prepared food will start running out, leaving just ingredients and produce to buy. The dishes you can get here include Yunnan and Shan specialities like khao ram fuen; black chicken noodle soup with garcinia, which is a dish that's hard to find; jok ram fuen; and khao fuen tod, as well as such sweets as khao puk nga, Muslim desserts made of corn, and khanom wong (Shan-style donuts)." If this Chiang Mai chef recommends a dish, you should definitely try it.



Have you tried sen piak (wet noodles) yet? (© Jirawat Veerakul / MICHELIN Guide Thailand)
He pointed to the charms of Chiang Mai's multicultural flavours. Even if you are visiting when Kad Haw isn't open, you can find so many different types of food to try, such as Indian-style curries, mu nam daeng (a Muslim-style cured meat), mu nam daeng fried with fermented beans, spicy pig chin salad, and much more.

"The atmosphere is much like what you'd find in Mae Sai or Chiang Rai. Near the market, there is also a Muslim khao soi restaurant with Indian-style noodles, khao muk, and samosas. Across from the market there's roti and tea, as well as a mosque, the old moat, and a museum nearby to visit too."

The delicious dishes from Kad Haw. (© Jirawat Veerakul / MICHELIN Guide Thailand)
This gourmand explains how Kad Haw is a shining example of Chiang Mai as a cultural melting pot. Here you can find a wonderful blend of Thai, Lanna, and Yunnan Chinese, as well as other hill tribe traditions. Everything comes together perfectly for an enchanting vibrancy that you cannot find in any other market.

It is of course understandable when Chef Bulsuwan admitted that Kad Haw inspired the menu he crafted for Blackitch Artisan Kitchen, located on Nimmanhaemin Road.



Kad Haw's vendors and merchants comprise a myriad of cultures and ethnicities. (© Jirawat Veerakul / MICHELIN Guide Thailand)
"My restaurant regularly uses ingredients from here. As I change the menu with the seasons, I prefer getting my raw materials from this market. Some stuff is only available for a month or no more than three. Basically, no matter when you visit Blackitch Artisan Kitchen, you will definitely find ingredients from Kad Haw," he said. "I want my cooking to tell the stories about Chiang Mai's changing seasons. Beyond the typical Northern dishes that people know, I want to showcase other facets, like seasonal produce from the plains or ingredients from the mountains, that offer different dining experiences."

He also mixes into his culinary creations the charms of his hometown he finds most appealing. "In Chiang Mai, people from different backgrounds live in harmony, blending into a delightful mosaic. I think this is a fascinating story that I want to tell through my food. This is a cultural treasure, a priceless part of our heritage."

Muslim corn snacks that the chef recommends you try. (© Jirawat Veerakul / MICHELIN Guide Thailand)
Being born and raised in a city full of excellent ingredients like Chiang Mai, where he got to know a culturally diverse market full of tasty food, definitely influenced and inspired Chef Bulsuwan's cooking.

If you're planning a trip to Chiang Mai, come be inspired by visiting the iconic Wat Phrathat Doi Suthep, climbing up Doi Inthanon, or taking pictures at Tha Phae Gate. If you've been to Chiang Mai Walking Street or Tha Pae Walking Street, don't forget to stop by Kad Haw for some deliciousness you don't want to miss.



Come for the delicious tastes and local multicultural charms at Kad Haw.(© Jirawat Veerakul / MICHELIN Guide Thailand)
Chef Bulsuwan reminded us that when visiting anywhere, always find an opportunity to walk through the local markets. This is because walking around markets and communities allows you to experience the local life more clearly than driving from one place to another. Walking also shows you that Thailand is more than tourist attractions. You can get a taste of authentic Siam revealed to you.

"I believe that 'street food' is a street of food that you have to walk. This way, not only do you get to eat delicious food, you can also experience the local life and spirit."

One of the many dishes that defies borders from the imaginative talent of Chef Bulsuwan. (© Jirawat Veerakul / MICHELIN Guide Thailand)
To ensure your trip is a safe and healthy one, it is recommended that you book accommodation or choose restaurants that have received the Amazing Thailand Safety and Health Administration (SHA) certification. This programme is a joint project involving the Tourism Authority of Thailand (TAT), Ministry of Tourism and Sports, with the Department of Disease Control, Department of Health, Department of Health Service Support, Ministry of Public Health, and others. SHA certification verifies the safety, hygiene, and sanitation quality of the products and services of Thai businesses. This is a joint effort to promote travel in Thailand while helping to reduce the risk and prevent the spread of COVID-19, as well as raising the standards of Thai tourism products and services.

For more information about the SHA project, please visit thailandsha.tourismthailand.org




This post is brought to you in partnership with Tourism Authority of Thailand