The recent announcement of the MICHELIN Guide 2020 for Bangkok, Chiang Mai, Phuket and Phang-nga came with quite a few surprises. One of the most exciting was the addition of Chef's Table, a new French restaurant to the 1-MICHELIN Star list. Although a fresh entry into the Bangkok dining scene—being only 7-months young—Chef's Table comes with a considerable pedigree. It's headed by Chef Vincent Thierry who was awarded 3-MICHELIN stars during his tenure at Caprice at the Four Seasons in Hong Kong. Those paying attention will also note that Chef's Table is located at Lebua at State Tower, a hotel that already houses the 2-MICHELIN starred Mezzaluna under its roof.

Chef Thierry speaks to MICHELIN at this year's revelations, "We are very proud to be the only one hotel in Bangkok to have two restaurants that are recognised by the MICHELIN guide. For us, it represents the hotel's ideals in terms of providing the highest standards."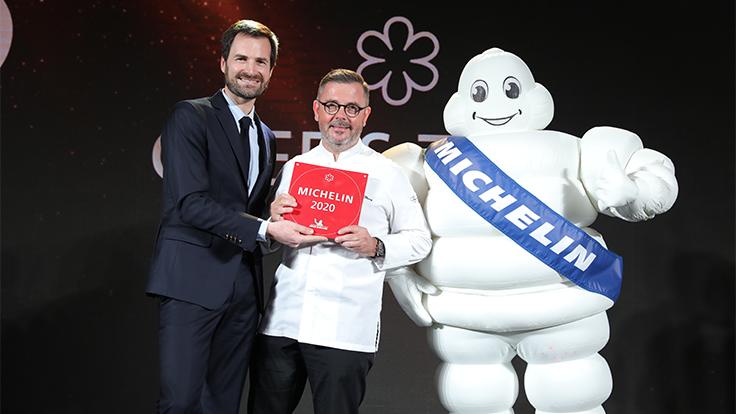 Chef Vincent Thierry poses with Gwendal Poullennec, International Director of the MICHELIN Guides, and Bibendum.
With two MICHELIN-starred restaurants under one roof, there is bound to be some competition, but Chef Thierry is happy for the company, "Between Chef Ryuki [of Mezzaluna] and I, there is a lot of mutual respect. We talk whenever we see one another, we are quite close. But we don't share much when it comes to cuisine. I think he has his own way, and I have my own way. We both have a bit of experience behind us, so our paths are separate. But we are always happy to see each other."

Born and raised in the Loire Valley, Chef Thierry has been a part of this industry for over 32 years. "I worked for over 25 years at different MICHELIN starred restaurants in France including the George V Hotel in Paris. Then, I moved to Four Seasons in Hong Kong in 2005 where I stayed for 8 years and was recognised by the guide with three MICHELIN Stars in 2009 for the edition of 2010. I was doing well in Hong Kong, business was good, and my family was very happy, but this new challenge came to me. I felt it was very interesting to start something new and do something different. This is why we came to Bangkok." says the Chef.
The one-of-a-kind kitchen where Chef Vincent Thierry unveils his cooking talent to craft some of the best creations in Thailand. Photo source: Chef's Table's Facebook page.
Finding success in both Bangkok and Hong Kong, we asked Chef Thierry about the differences he found in both cities. "First of all, Bangkok and Hong Kong are totally different cities. Overall, Hong Kong is a business place, and Bangkok is all about style and ease, it's a leisure place." Chef Thierry continues, "The major difference is that in Thailand, you have so much more agriculture. It's a big plus because we have local production in this country that we don't have in Hong Kong. It's definitely more pleasant for us to cook products that come from within an hour's drive as opposed to Hong Kong where products usually come from a 12-hour flight."

Freshness also plays a key role as the ingredients are central to his culinary style. "The philosophy of my cooking starts with the product and ingredients. I may pair three or four things together at once, but the key is to always respect the main ingredients."

At Chef's Table, you can watch Chef Vincent Thierry and his team in action whilst admiring the panoramic view. Photo source: Chef's Table's Facebook page.
Chef's Table does not attempt to be a 100% locavore restaurant as they aim to source the best-quality products like caviar and fish from all over the world. However, most of the produce is sourced locally from Thailand, including seasonal vegetables from Thai farms and cream from Khao Yai that Chef Thierry uses to create homemade butter.

"Consistency is difficult because you have the heat in Thailand," he explains, "and when it rains it rains a lot! This means it is quite difficult for the farmers to provide the same quality of produce all the time. On the bright side, it gives us a lot of different choices to cook with local ingredients."

"I feel people are really starting to understand and cook with native ingredients in Thailand. It is something that is happening all over the world, as consumers we understand that we need to eat less animal protein. We are seeing many more vegetarian restaurants, and I think vegetables are starting to take a bigger place in the menus of today's restaurants. You can definitely see that in Bangkok."
Culinary masterpieces at Chef's Table. Photo source: Chef's Table's Facebook page.
When it comes to Bangkok, we asked the chef if he had any favourite spots to recommend. "For Bangkok I love Thai restaurants and Thai cuisine, I have a few names in mind but you know what, I'm very lucky because the best restaurant for me is at home" Chef Thierry laughs, "I have my own Le Cordon Bleu at home with my wife's cooking."

Having won the MICHELIN Star so early into its lifespan, many eyes will be on Chef's Table at Lebua throughout the coming year. When asked how he plans to keep his star Chef Vincent Thierry was enthusiastic, replying, "We are going to work and be consistent over the next twelve months. It's just the beginning of a new adventure. I am sure there are plenty more good things to come in the future!"

n
MICHELIN Guide Thailand
French Contemporary
n
Two MICHELIN Stars: Excellent cooking, worth a detour!
1055 Si Lom Road, Si Lom, Bangkok