Ayutthaya, Thailand's ancient capital, is full of history and delicious legacy, attracting visitors from all over. One of the province's well-known desserts is 'roti sai mai', or Ayutthaya's cotton candy. What makes this colourful dessert an iconic legacy of the old capital? We will tell you all about it, plus show you cool spots for these amazing roti sai mai featured in our MICHELIN Guide Thailand 2023 edition.

'Roti sai mai' is a dessert Muslims in Thailand have passed down recipes for generations. It consists of aromatic soft roti wrapping silky strings of spun sugar. Its sweet taste that melts in your mouth makes it Ayutthaya's signature dessert. It is also ubiquitously available so that visitors cannot miss this delicious souvenir from the ancient city.



Ayutthaya as the ancient capital of Thailand. (© Shutterstock)
The Chronicle of 'Roti Sai Mai'
It is assumed that
roti sai mai
was brought to Thailand by immigrants from the Indian subcontinent. Originally, the
roti
was thicker. But Chinese descendants experimented by using thinner
roti
, and it became the version of
roti sai mai
people know and love.
According to
Ayutthaya
's records, the dessert was introduced to the province by Bang Pia, or Salem Saeng-Arun, a Muslim born in
Ayutthaya
. Bang Pia moved around the country and earned a living by making desserts such as crispy
roti
and sweet
roti
. It took him years before he mastered making long candy floss. Bang Pia moved back to his hometown and started selling
roti sai mai
. With his passion, he constantly improved his craft. Flavours and ingredients – milk, coconut milk, sesame, and grains – were added to the original recipe. His
roti sai mai
became a crowd favourite. He then invited his cousins to help expand the successful business. When people came to learn from him, he did not turn them away. Bang Pia's generosity helped popularise
roti sai mai
until today.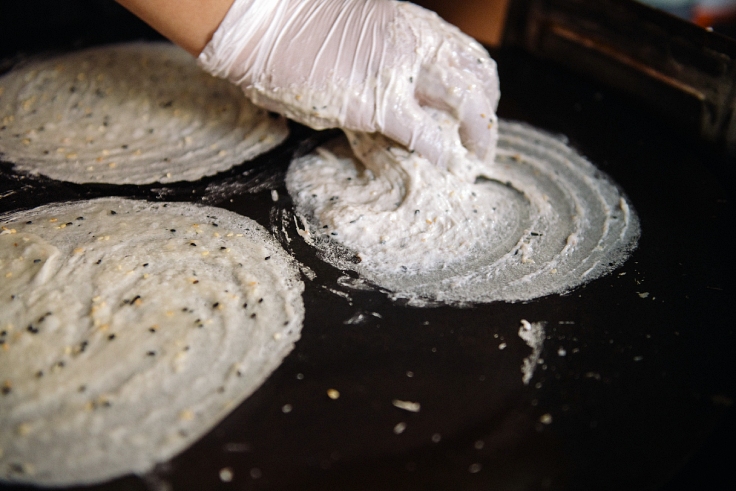 An important step of making roti sai mai. (© Anuwat Senivansa Na Ayudhya/ MICHELIN Guide Thailand)
Where to find these roti sai mai?
Roti sai mai
does not look complex. There is only the flour and the candy floss. However, the making processes are not that simple… It requires expertise and unique recipes developed by each vendor. The
roti
consists of wheat flour, salt, and tapioca flour mixed with water and oil. The dough is then spread on a pan before flipping out thin pieces from the surface. The secret to good
roti
includes making the dough light and the
roti
a perfectly round shape, pleasing both the palate and eyes. Some vendors add special ingredients such as coconut milk, milk, sesame, or grains. The proportions are usually kept secret.
The sweet, aromatic, and colourful candy floss is made by boiling sugar with some water, flour, and oil. Simmer them until thickened. Then, the sticky sugar is stretched until it becomes candy floss. The last part requires immense physical strength. The famous
Roti Sai Mai Mae Pom (Bib Gourmand, MICHELIN Guide Thailand 2023)
has been serving this precious dessert for 37 years. They say it is important to practise and build strength for the tasks.
It takes strength, practice, and experience to make silky and sweet candy floss. (© Anuwat Senivansa Na Ayudhya/ MICHELIN Guide Thailand)
"At Roti Sai Mai Mae Pom, we simmer, but do not stir. Instead, we shake the pan," Mae Pom shares her secret in the making of roti sai mai. "Let the sugar simmer until it becomes brown and aromatic. Cool it down. Mix it with another turmeric-coloured mixture consisting of oil and flour. Then, we start stretching. It requires practice and strength. We need to be calm whilst doing it. You cannot do it if you are being hot-headed. Because, if you are too hurried, the candy floss will be torn. When you do it in a good mood, the floss is silky and lengthy".

Roti Sai Mai Mae Pom is constantly sought after. It is not easy to get your hands on limited daily availability. (© Anuwat Senivansa Na Ayudhya/ MICHELIN Guide Thailand)
There are hundreds of roti sai mai vendors in Phra Nakhon Si Ayutthaya. Roti Sai Mai Mae Pom distinguishes itself by being meticulous in preparations, giving its dessert the delicious taste. Mae Pom and her husband experimented with different recipes until she found the most balanced one. And with their mastery from years of practice, you get the picture why Roti Sai Mai Mae Pom deserves its MICHELIN recognition.

Apart from Roti Sai Mai Mae Pom, there is another equally famous place – Roti Sai Mai Abeedeen-Pranom Sangaroon. The technique and taste have remained the same as the first day it opened more than 70 years ago. You can choose between plain and pandan rotis. They are distinguishable by their thin and tender texture. The flour does not become hardened. Wrap them around the fluffy caramel-scented floss, and you'd understand the charm of roti sai mai. Long lines are expected. But it is so good we do not want you to miss it when you visit the ancient city.

Roti Sai Mai Abeedeen-Pranom Sangaroon The famous with long lines. The place has been running for more than 70 years. (© MICHELIN)
Ayutthaya had been Siamese capital for 600 years. Currently, it is listed as a UNESCO World Heritage Site. There are historical and cultural places to visit. Food is another delicious legacy – traditional desserts, grilled river prawn and fish, Ayutthaya-style seasonal menus, and street food available at markets and floating markets. The old city is not too far from Bangkok, making it a perfect spot to plan a trip for social media photos and full belly.

Go on the eating spree at Gong Khong Market, well-known for desserts, local dishes, and retro. Vendors wear traditional Thai dresses to welcome visitors. Visit Hua Ro Market, where each food vendor has been opening for more than 40-50 years. Ayothaya Floating Market shows a glimpse of how people of past Ayutthaya buy and sell. Reminisce the old ways at Wat Tha Karong Floating Market. End the night at Ayutthaya Night Market, another place to check in when you come to the old city. It is brimming with street food and souvenirs.

Phra Nakhon Si Ayutthaya is a historic city and a World Heritage Site. Ayothaya Floating Market offers plenty of delicious goodies. (© Shutterstock)
Although restrictions are more relaxed, you should still be on guard. Wear a mask, rinse your hands, and look for a SHA certificate that guarantees tourism entrepreneur's compliance with sanitation measures. The certificate reassures every traveller's health and safety.

Explore more details on SHA at thailandsha.tourismthailand.org. For updates on travel destinations, contact TAT Call Center 1672, or Facebook TAT Contact Center.


Illustration image: © Shutterstock


This post is brought to you in partnership with Tourism Authority of Thailand