Phayao is a small province hidden among the mountains. Formerly known as Mueang Phu Kam Yao or Pha Yao, it is a peaceful province that lies in the Upper Northern region of Thailand. The locals of Phayao have their own unique dialect that differs from the other Northern languages. Its history can be traced back to the Lua Changkharat Dynasty of the Hiranyanakhon Ngoenyang Chiang Saen, Phayao is thus a satellite town to Chiang Rai. Located by the famous Kwan Phayao, it is a city full of abundant natural resources, as well as a long history that has given birth to the town's spectacular arts and culture as well as unique, mouth-watering dishes that promise to delight.

The first place that comes to mind at the mention of Phayao would be none other but Kwan Phayao. In the Northern dialect, kwan means a lake or a large swamp. True to its name, Kwan Phayao is the largest freshwater swamp in the Northern region of Thailand. Just as the provincial motto indicates, Kwan Phayao is the symbol and landmark of the province. One of the dining experiences not to be missed when visiting Phayao is eating by the lakeside of Kwan Phayao, and what better way to bask in the experience than enjoying the view with a local dish of Pla Nin Neung Nam Phrik Num, or steamed freshwater fish with young green chilli dip.

Kwan Phayao
Often made with Nile tilapia or Pla Nin, the dish features whole steamed Nile tilapia stuffed with sliced lemongrass, galangal and kaffir lime leaves. Like many Thai dishes, the fish is eaten with a side dish of Nam Phrik (chilli dip) - in this case, nam phrik num, a signature Northern chilli dip made with roasted young green chilli - with a side dish of blanched local vegetables; such as, cabbage, cauliflower, baby corn, sliced pumpkin, and cowpea. Though seemingly simple, the charm of this dish lies in the freshness of the fish, whose natural sweetness is perfectly balanced by the chilli dip's heat and accentuated by the aromatic herbal stuffing.


Aside from being the centre of Phayao and a source of freshwater fish, Kwan Phayao is also a centre of faith to the locals. In the middle of Kwan Phayao lies Wat Tilok Aram, also known as Wat Klang Nam Phayao or Wat Klang Kwan Phayao (the temple amidst Kwan Phayao). Serenely perched atop a small island in the middle of the swamp, Wat Tilok Aram houses Luangpho Sila, a 500-year-old stone Buddha statue in a sitting posture enshrined on a floating platform above the sunken temple. According to Thai tradition, a candlelit procession called Wian Thian is held every full moon of the 3rd, 6th and 8th lunar months, known respectively as Makha Bucha, Visakha Bucha, and Asalha Bucha Day - the three most important days in the Buddhist religion.

However, rather than the usual ritual of circling the temple three times, the Wian Thian procession in Kwan Phayao is much more unique. During the procession, which takes place at dusk, those attending make offerings of flowers, incense and candles on a boat that circles the temple three times to worship the Buddha image of Luangpho Sila. During the full moon, Kwan Phayao possesses an ethereal beauty that will capture the hearts of those who witness it with flickering candle lights reflected in the mirror-like surface of the lake set against the backdrop of deep navy where the full moon hangs. Those who wish to visit the temple may board the rowboat service, which is available between 8.30 a.m. - 5 p.m. for 30 Baht and includes a set of flowers, incense, and candles.

Another local dish to try at Phayao is the Lanna dish of Kaeng Som Tun or sour and spicy Tun curry soup. Made with the key ingredients of elephant-ear leaves, locally name Ton Kung or Ton Tun, the large, fibrous stalks of the giant elephant-ear leaves are used as a vegetable to make this sour and spicy dish. After being peeled and cut into pieces, the Tun stalks are mixed with salt and then squeezed to rinse and prevent sogginess before they are mixed with Phrik Kaeng or curry paste. Though curry paste is something found everywhere in Thailand, the flavours and the ingredients used will vary depending on the region one visits. For instance, Phrik Kaeng from the Southern region will include turmeric, which gives Southern curry its unique yellow hue. In the case of Phrik Kaeng for Kaeng Som Tun, fresh fish is ground along with the other ingredients for added protein, texture, and flavour. Some recipes may use grilled fish although dried shrimps or shrimp paste can also be used. Other ingredients include tomatoes and lemon basil or Bai Maenglak for tanginess and aroma. Similar to other Northern curries, Kaeng Som Tun is a fat-free dish that does not feature coconut milk and thus has a clearer, soup-like consistency.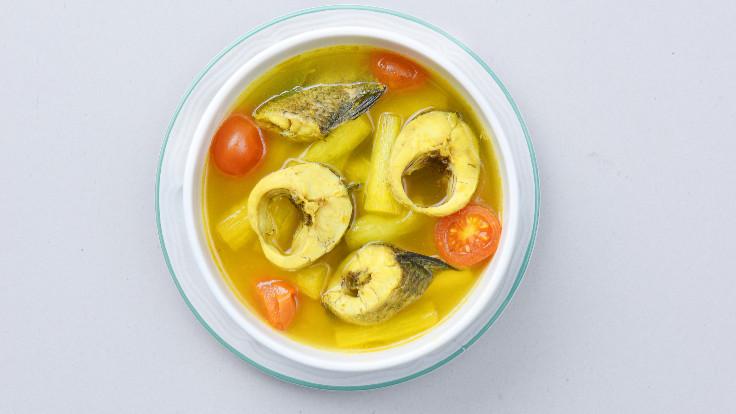 Kaeng Som Tun
From Kwan Phayao, a gleaming gold edifice can be seen atop a hill at dusk. The hill, Doi Bussarakam, is where the famous Wat Analayo Thippayaram is located. The tranquil premises of the temple are filled with invaluable antiquities, while the art and architecture of the temple boast a rich mixture of Lanna, Burmese and Thai Yai heritage. Besides the Sukhothai-style Buddha image, the temple also houses various Buddha images in different postures, including a Reclining Buddha, Walking Buddha, Naga Buddha and many more. Aside from Wat Analayo Thippayaram, visit the Bodhgaya-style pagoda, Ratana Chedi - a Chinese-style pavilion where the Kuan Im image is enshrined, the golden imitated Emerald Buddha Hall, Phra Bussarakam, Phra Ngoen (Silver Buddha), Phra Thong (Golden Buddha) and Phra Nak.

Wat Analayo Thippayaram
Similar to Chiang Rai, Phayao is also home to a rich Thai Yai heritage. Not just in the architecture and temples, but the influence can also be seen in its culinary offerings. Amongst this is Khao Ram Feun, a Thai Yai dish that is popular in Chiang Rai can also be found in Phayao. The key ingredients include rice flour mixed with water and lime water before boiling and leaving overnight to set, hence the name Ram Feun or Ram Keun, which means overnight. The rested dough is then cut into small, bite-sized pieces and served with pickled cabbage juice, sugar cane and a mixture of fermented soybean with pickled bean curd. Khao Ram Feun contains no meat making it another refreshing vegetarian option for those visiting Phayao. To add more flavours, Nam Phrik Khing paste can help spice up the dish, while ginger and roasted peanuts provide a crunchy texture. The dish is also eaten with blanched vegetables; such as, bean sprouts and cowpeas, as well as roasted chilli and garlic for those who prefer a more piquant taste. Among the many shops offering this dish, visit Raan Pa Ching restaurant, which has been serving the menu for over three generations (53 years).

Khao Ram Feun
Though lesser known to the other Lanna provinces; such as, Chiang Rai or Chiang Mai, a trip to Phayao will have you fall in love with its rich cultural heritage. Once done feasting the eyes with the province's natural and historical wonders, don't forget to treat the palate with the freshwater fish and other dishes the province has to offer.
Must-visit
1. Wat Si Khom Kham, Ho Watanatham Nithat
2. Wat Analayo Thippayaram, Doi Bussarakam
3. Boat trip to Wat Tilok Aram amid Kwan Phayao; Sunset at Kwan Phayao
4. Phrathat Chom Thong
5. Centre of Tai Lue culture (Wat Yuan), Chiang Kham district
6. Wat Nantaram, the whole teak wood temple with wooden carved artwork.
7. Freshwater fishing demonstration at Chum Chon Rim Kwan Phayao, San Klaep Dam Pier, Mueang district.
This post is brought to you in partnership with Tourism Authority of Thailand