Away from central Bangkok and sandwiched between a railway station and a pier, the area was a major trading point over a century ago and home to large numbers of Thai and Chinese residents, resulting in a culinary blend that still characterises many of the offerings in the neighborhood today.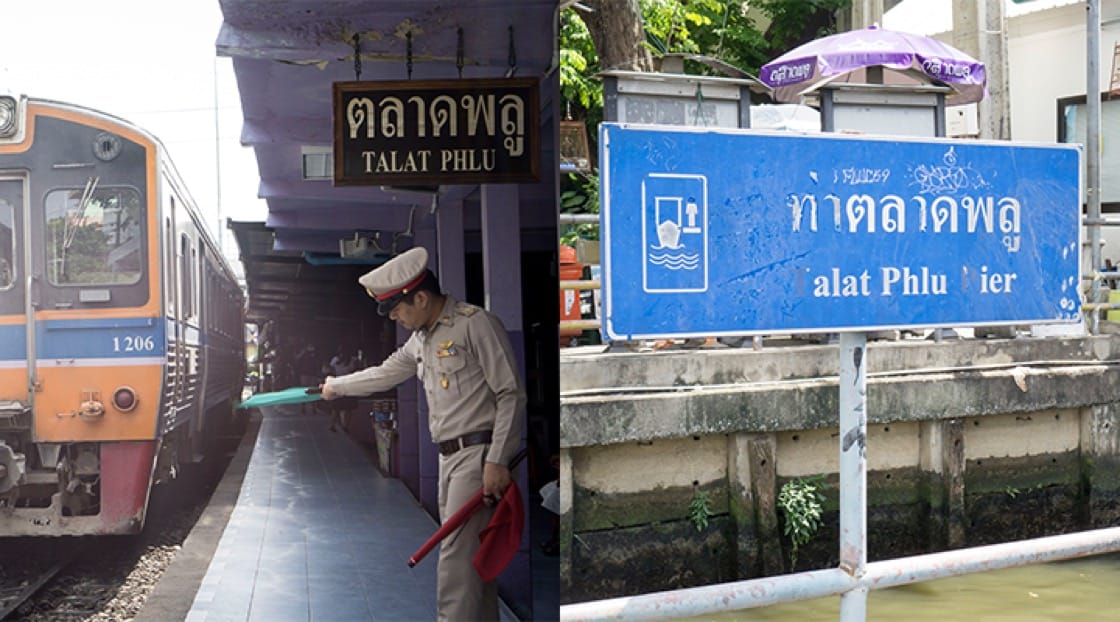 Talad Plu railway station and pier.
One famous example is the mee krob (crisp noodles) served at Tae Heng Mii Grob Jin Lee Samai Ror 5, which was opened by a Chinese immigrant during the reign of King Rama V and claims the king as an early customer. Using a recipe that has been passed down in the family for four generations, their version of the dish is unique thanks to its thinner and crispier noodles and the lack of artificial food colouring, which is commonly added by other restaurants.
Tae Heng Mii Grob Jin Lee Samai Ror 5.
"It has the 3 major flavours," says Suwanit Nitipornphisit of her great grandfather's recipe, explaining how the extreme sweetness of the sauce is balanced by the saltiness of the cooked egg and shrimp, enhanced with som saa (bitter orange) zest. "Our patrons go from generation to generation. Parents bring their kids and then those kids grow up, get married, and bring their own children," she adds with clear pride.

Mee Krob since the reign of King Rama V.
Ratri Wonglort says little about the area has changed since she first arrived as a child nearly five decades ago. While some have moved into new nearby condos thanks to the expansion of the BTS and Ratchaphruek Road, many of her customers belong to the Thai-Chinese families who have called the neighbourhood home for generations. For 28 years Took has fried bananas in the shade beside the train station platform, the track bordered by stalls and lunchtime crowds. The bright purple open-air Talad Plu station is still part of the Mahachai railway network, and the market continues to be the perfect place for passengers to grab snacks to munch on as they sit at the station's high-backed wooden benches and wait for their trains.

Talad Plu station.
Took serves up thinly sliced kluay nam waa bananas coated in rice flour and sesame seeds, typical of what you'd find at most stalls in Bangkok, along with a less common variation using the smaller and sweeter kluay khai banana. Wrapped in a sticky batter made with palm sugar, coconut, and khao mao (unripened rice flakes), the exterior caramelises in the heat of the oil while the banana inside becomes custard-like, creating a rich and creamy flavour that makes the kluay nam waa pale in comparison.

Around the corner, towards the intersection of Toed Thai 18 and the main road, you'll find even more tempting dessert options, for which the neighborhood is famous. From a stall tucked on the edge of the market, Supawan Tangakarathakul sells fried rice buns filled with mung bean paste, a dessert originating from Huikuan in the southernmost part of China near Laos. Her grandfather began selling the fried dessert after World War II, and she says many vendors also have inherited their stalls and recipes and continue to live in the neighbourhood. The chewiness of the glutinous rice, reminiscent of mochi, makes the buns an excellent snack as you wait for your ticket number to be called at the neighboring Thai Kanom desserts parlour.
Locals queue up for kanom buang at Talad Plu.
With lines that can take up to an hour, this neighborhood mainstay turns out a massive variety of traditional Thai sweets and is easy to spot because there's often a crowd outside, even before their noon opening. To stand waiting outside for up to an hour during the hottest part of the day is a special sort of dedication, and as my companion surveys the dessert options, reminiscing about childhood favourites and how nothing beats a good kanom buang (Thai crêpe), it's clear that these traditional sweets, and the comforting nostalgia they bring, are something worth waiting for.

Thai crêpes with a variety of toppings.
When they're finally called to the counter, most customers tend to stock up, so watch for whatever's going fast and try the favourites yourself. You can never go wrong with classics like fak tong sangkaya (pumpkin filled with custard).

Sweet-toothed patrons of Talad Plu.
Fak tong sangkaya (pumpkins filled with custard) to die for.
If you've got no time to wait, Kanom Mae Cheng is just around the corner and does brisk business serving up a range of traditional desserts. From foi thong (sugary egg yolk sweets) to various flavors of kanom chan (a layered and gelatinous pandan cake that hails from ancient times), the local-friendly prices make it hard to leave hungry.

Take a number and wait to be served at this famous desserts parlour.
Traditional Thai desserts that will make you go weak at the knee.