Bangkok's cocktail scene has been booming these past years. Trendy and upscale bars have been popping up everywhere. At the same time, Thai spirits have become internationally recognised and thus have inspired a myriad of innovative cocktails.

Thailand's leading bartenders tell us what they think about premium Thai spiced rum, or "The Spirit of Thailand", as well as how they draw inspiration to create their exquisite cocktails. They also offer some easy DIY tips for your awesome homemade drinks.

Nopadol Thamsongla and "Klin".
Nopadon Thamsongla
Owner & Bartender, POUR Bangkok

He says: "Quality and tastes of Thai spirits like Mekhong are unlike international ones. Its Thai heritage is unique. The flavour is intense, yet well-balanced. It has spiciness, sweetness, and fragrant aromas. Although complex, it's still accessible and easy to enjoy. I admire this local brand because we can create something so great that can compete internationally."

Favourite cocktail: "I created a cocktail called 'Klin' from Mekhong rum, adding chrysanthemum syrup, lemon juice, fresh watermelon juice, and dried fish. The drink is also smoked for a pleasing fragrance. The inspiration comes from a traditional Thai summer dish called tangmo pla haeng (watermelon topped with sweet dried fish)."

Tips: "Choose good ingredients, and you won't need any tips. However, it's best to understand them first in order to mix them well with other condiments. To make a superb cocktail, try putting your signature touch to it whilst adapting to others' preferences."



Saharat Kaewkong and "Kang", the award-winning cocktail from Mekhong The Spirit Competition 2020.
Saharat Kaewkong
Senior Bartender, #FindTheLockerRoom

He says: "Mekhong has long been regarded for its unique flavour and as a quality Thai spirit. Thailand's new generations now appreciate local products more and more. It's always exciting to create an accessible cocktail from the premium Thai spiced rum. When we present cocktails filled with creativity and modern ideas, we encourage them to embrace Thai spirits more."

Favourite cocktail: "'Kang' is the cocktail I created when I was competing in Mekhong The Spirit Competition 2020. It is inspired by a 'forgotten item', a fish bone. When I was conceptualising this cocktail, the zero food waste trend was gaining momentum. So, I thought this would be brilliant. I chose mackerel bone because Thai people are familiar with the fish. Also, I was thinking about gaeng kati sai bua pla too (Thai lotus stem with steamed mackerel in coconut soup). Bones are liquified for an umami flavour. Other ingredients are coconut milk and tamarind paste. There is also a touch of shrimp paste. Palm sugar adds sweetness to this cocktail's 'curry paste' before pouring some Mekhong rum, creating another dimension in the flavour profile. The result is a piña colada-like taste, but with aromas from the 'curry paste' and Mekhong's spiciness."

Tips: "I suggest making daiquiris with Mekhong. It's really easy. Just 45 ml of the rum, 45 ml of lemon juice, and 10 ml of syrup. Shake them with ice, and you now have a Thai daiquiri. You can put some twists by adding juice like pineapple or by adding aroma with basil leaves."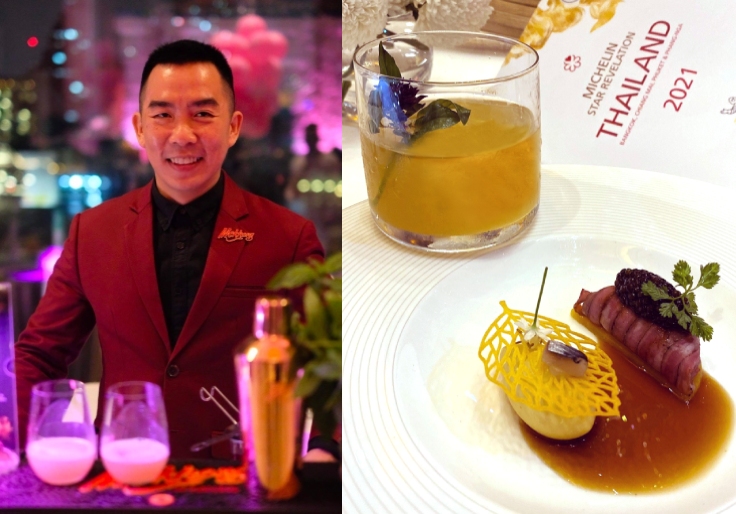 Kitiphum Karnmaitrejit and Mekhong Thai Sabai, a cocktail served at the MICHELIN Guide Thailand Star Revelation 2021.
Kitiphum Karnmaitrejit
Mekhong Mixologist

He says: "Mekhong is recognised on the world stage for its use of over 46 herbs and spices from around Thailand and Southeast Asia, which gives it a unique taste. The brand has perfected its secret distillation techniques for 80 years. The signature Mekhong taste starts with various spice profiles which are so fulfilling -- just like Thai food. Then comes a mellow aftertaste, comparable to the Thai spirit of humility that inspires Mekhong's slogan 'The Spirit of Thailand'."

Favourite cocktail: "I like 'Mekhong Thai Sabai', the signature Mekhong cocktail. It's easy to make: 5 parts Mekhong, 3 parts lemon juice, 2 parts syrup, and some basil leaves. Shake with ice. Then, pour into an ice-filled glass. Garnish with basil leaves."

Tips: "Something easy like mixing ice-cold coconut water with Mekhong. You'll get a sweet aroma and refreshing taste. It's that easy to enjoy."



Nateephat Ariyathananan of The Fool Bar.
Nateephat Ariyathananan
Owner & Bartender, The Fool Bar

He says: "Mekhong represents the Thai lifestyle well. To foreign customers, drinking Mekhong is a way to experience new tastes. Thai people may take Thai rum for granted because we are used to it. However, as a bartender, I find that the quality of this Thai spiced rum is on the same level as other internationally recognised brands. It depends on how you present it, so both Thais and foreign drinkers appreciate and embrace it their way."

Favourite cocktail: "I made 'Long River Story' to tell a story about the Thais living along the Mekong River Basin. Those in Chiang Rai, Loei, Nong Khai, Bueng Kan, Nakhon Phanom, Mukdahan, Amnat Charoen, and Ubon Ratchathani. I drew inspiration from each province's uniqueness to create this cocktail. For example, lychee from Chiang Rai, sweet tamarind from Mukdahan, with added honey to fuse the tastes. There's a touch of Northeastern food from galangal and dried chilli pepper, inspired by Nakhon Phanom's traditional alcohol called 'Lao U'."

Tips: "Firstly, you have to understand the taste of the rum you'd like to use. For instance, Mekhong contains tastes of spices such as cinnamon, star anise, vanilla, honey, etc. You can build on this with other Thai spices. Also, Thailand has many tropical fruits you can use to add sweetness. Then, for sourness, we have plenty of options – be it lemon, tamarind, etc. I suggest creating something from what you have around so that you create something that's your signature."



Khongpol Meesook and "Koon Suek", an award-winning cocktail.
Khongpol Meesook
Bar Manager, Baan Suriyasai

He says: "To me, Mekhong is highly unique. This Thai spiced rum contains an array of local Thai herbs and undergoes quality distilling processes. Thai people may take Mekhong for granted as we are familiar with it. But to foreigners, they really appreciate it."

Favourite cocktail: "I won Mekhong Thai Spirit Cocktails 2017 with 'Koon Suek'. The inspiration comes from an ancient warrior tradition. They would drink juice from the fruit of sandalwood trees to embolden themselves before battles. Apart from Mekhong, the concoction includes red wine to signify blood and dry vermouth for boldness. Of course, the traditional herbs like lemongrass and basil leaves are not to be missed."

Tips: "Always choose fine ingredients. Whatever cocktail you are making, it's best to understand the characters of each ingredient first. For example, Mekhong is a premium Thai spiced rum which blends well with Thai herbs. So simply pick herbs with alike flavour profiles that will bring the flavours of the rum to its finest."

#Mekhong #PremiumThaiSpicedRum #Cocktails #ค็อกเทล

This article is sponsored by Mekhong, an official partner of the MICHELIN Guide Thailand 2020. For more information on Mekhong, visit Facebook: Mekhong Global.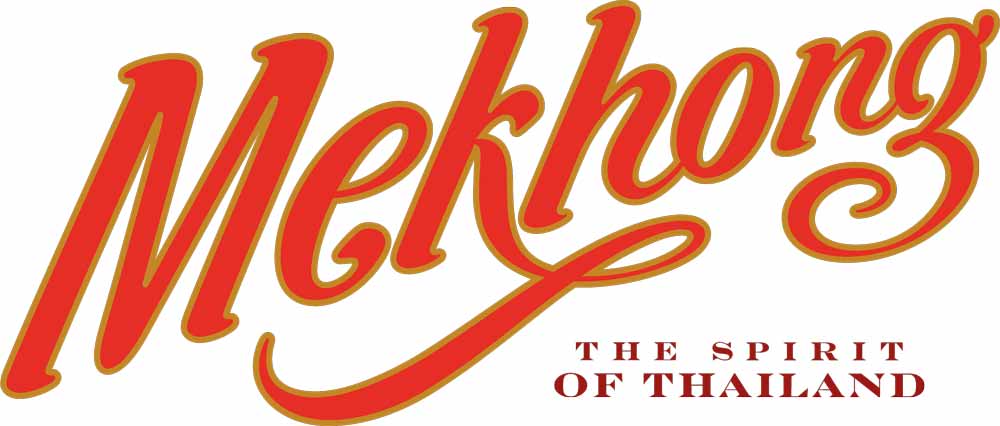 This post is brought to you in partnership with Mekhong