One-MICHELIN-starred Alma was opened in Singapore in 2016 by renowned German chef Juan Amador of three-starred restaurant Amador in Vienna. The chef is of Spanish descent and is known for his modern take on Spanish cuisine, full of intense multi-layered flavours and contrasts.
Though Amador sets the direction for the cuisine at Alma, executive chef Haikal Johari helms the Singapore restaurant, influencing its menu with an Asian charm. "We work very closely with Juan Amador to make sure that the cuisine is in line with his philosophy, but the food has certainly evolved towards having a much more Asian influence, particularly Japanese and Thai," he says.
A4 Ohmi Beef (Pic: Alma)
Johari's Thai culinary influences stem from his 13 years working in Bangkok for the Water Library's group of restaurants, where he became well-known as a celebrity chef in Thailand. However, Johari moved back to Singapore after a motorcycle accident in 2015 which left him paralysed from the shoulders down. With steely determination and the help of rehabilitative physiotherapy, the chef has made leaps and strides in his recovery, gaining mobility in his hands and can now even walk around the kitchen by balancing against walls.

Despite being wheelchair-bound after the accident, the plucky chef was back in the kitchen within a year and was part of the team that helped Alma earn its first MICHELIN star when the MICHELIN Guide Singapore was launched in 2016. He then took over as executive chef when chef de cuisine Christophe Lerouy left later that year.
The Whiskey Library, a private room in Alma (Pic: Alma)
Since then, Johari has led the team to clinch the MICHELIN star for a second year in 2017 and maintained the star in 2018. He shares what it was like when Alma was able to retain its MICHELIN star under his watch and what the recognition means to him.

What was your first encounter with the Michelin Guide?
During my days in SHATEC (Singapore Hotel and Tourism Education Centre) when I was still a student, I learnt about MICHELIN-starred restaurants. That is when I realised professional chefs are rewarded for their hard work and the prestige that comes with this recognition. I was about 18 years old at that time.

What was it like for you when Alma received a Michelin Star again in 2017 under your leadership?
In 2017, when we retained the star, I knew it was a job done by the whole team. I was very happy and I felt that it was not only about me, it was the whole team that received the star, because we all wanted so much to maintain it.

It was a very close call, we only got the call two days before the ceremony. We learnt later that there was some confusion and the organiser actually made the call to Goodwood Park Hotel to inform them of this good news but because we are not under the hotel, just tenants of the hotel, we didn't get the news. When we didn't receive any call that week, I thought we didn't manage to retain the star and I was feeling very down. But when the organiser finally called me to confirm my attendance, I was so shocked and happy. It was one of the most important calls in my life.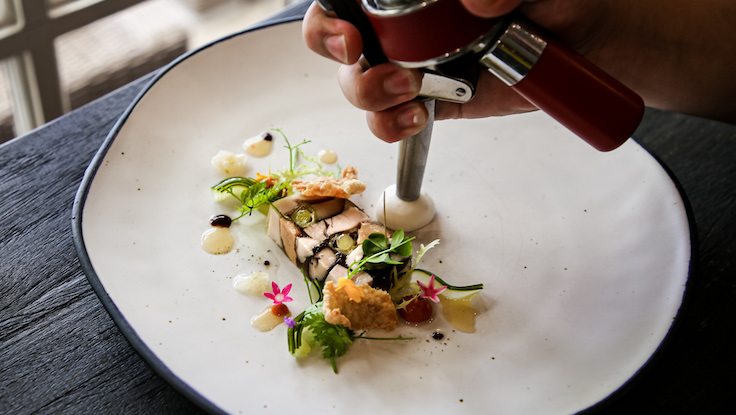 A locally inspired dish of "Chicken Rice" (Pic: Alma)
How did you celebrate?
We celebrated with the whole team. We closed the restaurant for a day to celebrate. Our friends, family and close customers were invited to join in the celebration. The owner of the restaurant came all the way from Thailand to attend the ceremony and celebrated with us.

As a chef, what does having a MICHELIN star mean to you?
Having a MICHELIN Star is like icing on the cake. It's a very honourable and respectful recognition from an organisation which all of us in the F&B industry look up to. For me, it also means good teamwork has been involved. If it is only the chef of the restaurant thinking of maintaining the star, it's impossible. It has to be the intention of the whole team, even the dish washer.

What advice do you have for young chefs?
Just a simple piece of advice: success doesn't come so easily. It has to be earned and you will have to work hard for it. For the past 20 years or so, I have worked and done guest stints at MICHELIN-starred restaurants and top restaurants, but never have I thought that after being wheelchair-bound that I could have the honour of receiving a star. Even in my disabled position, my passion for cooking has never faded — It's now even stronger than before to produce better things for the future.