For decades, European countries like France, Italy and Spain have dominated the global wine trade, but New World rising stars such as Chile are leaving an indelible mark on the international wine scene. In key markets like Japan, Chile has even overtaken France to become the No. 1 country of origin of imported wine.
Based in Singapore, British native Guy Nussey joined
Concha y Toro
in 2007 as its regional director, traveling across Japan, Korea and South-east Asia to promote and distribute the company's portfolio of Chilean wines.
In his extensive travels across the region, he's developed a fondness for Asian food, naming Thai cuisine as his favourite in South-east Asia. "I love the aromatic flavours and combinations of sweet, sour and spice paired with a large glass of my preferred white varietal, Riesling," Nussey shares.
"Due to its importance as a market, I travel to Japan more than any country in Asia, which is fantastic because it is also one of my favourite countries in terms of cuisine," he says. He describes the time a Japanese chef had a sushi specially created to match one of his favourite wines from Concha y Toro, Don Melchor. "It was something I would not have thought possible until I tasted the chef's creation, which used smoked eel as its key ingredient."
Concha y Toro's portfolio of Chilean wines include the 130 year old Don Melchor.
Here, he shares his favourite wine pairings for classic Asian dishes like laksa and Hainanese chicken rice, as well as sashimi and sushi in Japan. Nussey showcases some great wine pairing ideas for fiery pad thai and tom yum goong, and even Korean barbecue with all its spicy, fermented accoutrements.
From left: Casillero Del Diablo Viognier, Marques de Casa Concha Chardonnay, Maycas del Limari Reserva Especial Pinot Noir, Cono Sur Single Vineyard 'Rulos del Alto' Block 23 Riesling, La Chamiza Martin Alsina Malbec.
Hainanese Chicken Rice

Get your fix at these Bib Gourmand chicken rice establishments:
Tian Tian Hainanese Chicken Rice
Sin Kee Famous Cantonese Chicken Rice
Tiong Bahru Hainanese Boneless Chicken Rice

"The style of chicken rice can vary and it really depends on how much chilli and soya sauce you like. I like mine with more soya sauce and so I would go with a cool climate Pinot Noir from the New World with generous fruit flavours, rather than the more savoury Burgundian style. Limari in Chile with its Pacific Ocean exposure and mineral soils produces some great value examples such as the Maycas del Limari Reserva Especial Pinot Noir."

Laksa
Our inspectors favourite spots for laksa include:
Famous Sungei Road Trishaw Laksa
Depot Road Zhen Shan Mei Claypot Laksa

"I would consider going for an aromatic white wine with some sweetness, potentially a Casillero Del Diablo Viognier with its fresh and intense aromas with notes of fruits like apricots and cherimoya (Chilean custard apples), a soft touch of vanilla and a sweet and long finish. If you really like to turn up the heat, then an off-dry Riesling such as Leitz Berg Kaisersteinfels Rudesheimer Riesling Kabinett from the Rheingau is a perfect match with its balance of acidity and sweetness against the rich spicy coconut broth."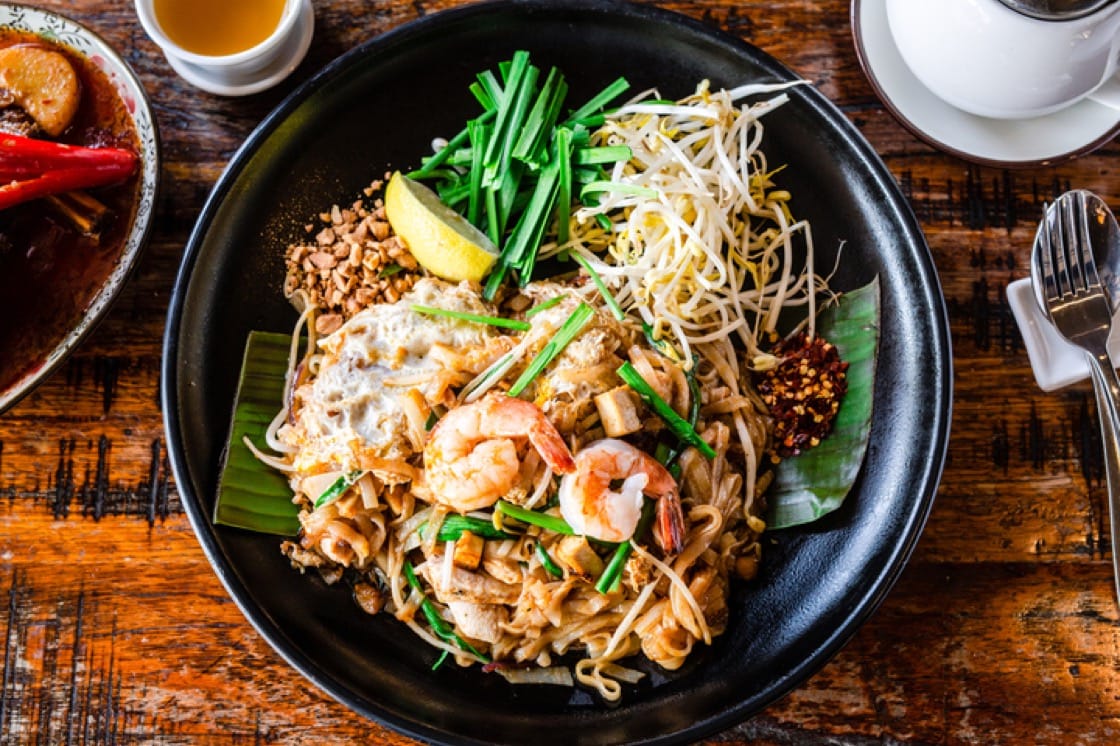 Riesling and Chenin Blanc make good pairings for spicy pad thai.
Tom Yum Goong

"Spicy, sour, savoury and addictive, my favorite Asian soup combines the flavors of lemongrass, galangal, kaffir lime leaves, fresh Thai chillies, and lime juice to create a broth that lights up your taste buds, so we need a wine does the same. One of my perennial favourites is Cono Sur Single Vineyard "Rulos del Alto" Block 23 Riesling which has a beautiful combination of zippy citrus fruits and floral aromas to match the lime and lemongrass, and enough sweetness to balance the spice of the soup, all held together by a lovely mineral backbone."

Pad Thai

"Riesling would also be a good match, but a great alternative would be a New Zealand Pinot Gris such as The Ned with its pear and stone fruit characters, subtle spices and rich mouth filling palate is a great match against the flavours of Pad Thai particularly with the addition of a squeeze of lime and chopped peanuts sprinkled on top. If you want something a little lighter on the palate, then a South African Chenin Blanc like Ken Forrester's The FMC which is rich and layered with dried apricot, vanilla and a hint of honey."
Here are some of Thai joints our inspectors recommend:
Yhingthai Palace
Issan Thai Food


Sushi And Sashimi
For some MICHELIN-starred sushi, hit up:
Shoukouwa
Sushi Kimura
Sushi Ichi
Shinji (Tanglin Road)
Shinji (Bras Basah)
"With such clean and subtle flavours, you could go for the local match of a Japanese Koshu such as Chateau Mercian Koshu Kirioka, but with richer seafood like fatty toro, I would look for a wine that exhibits the same characters. The Marques de Casa Concha Chardonnay, now produced in the cooler climate of Limari on the edge of the Atacama Desert, has given rise to a Chardonnay that even the ABC (anything-but-Chardonnay) crowd would appreciate: the gentle use of oak-ageing gives richness to this ripe and vibrant wine, which offers flavourful aromas of white pear, toasted hazelnut and mineral notes."
Fatty cuts of sashimi like toro go well with Chilean chardonnay.
Korean Barbecue
"The difficulty in pairing Korean barbecue is not so much the grilled meats but its accompaniments such as kimchi. I would look for a wine with good acidity and softer tannins as firm tannins and spice are not a good combination. Syrah/Shiraz has the natural spice to counter the spice in kimchi — Australia's Barossa produces some great wines but now Chile is also producing some exceptional Syrah such as
Matetic EQ
from the San Antonio Valley with its bold black fruits, violet and spice aromas, and smoothly elegant tannins.
Otherwise, go for the
La Chamiza Martin Alsina Malbec
from the Uco region of Argentina, another country very well known for its barbecue. This wine comes from vines which are almost 100 years old and the naturally low yields produce deep concentration, perfectly ripe red fruits and silky tannins, but with a freshness from the acidity that cuts through the fat of the Korean barbecued pork or beef."