Everyone loves a good story. A good story educates, entertains and enchants its listeners — a good story can engage like nothing else. When it comes to dining out, stories can elevate a meal from an exercise in fulfilling a physiological need to a transcendental experience to remember. Increasingly so, chefs and restaurateurs are recognising the power of storytelling in the restaurant business and weaving characters and narratives into their concepts.

At restaurant Preludio, Fernando Arevalo presents what he dubs "Author's Cuisine" in a series of year-long chapters — debuting late last year with a monochromatic theme. Dishes which appear stark at first glance unfold to reveal colourful surprises and stories of Arevalo's heartwarming relationships with artisanal producers and craftsmen. With every dish, a waiter or, if you're lucky, the chef himself presents a little anecdote about the produce used or the origins of the dish.

Between courses, a delicate glass carafe is brought to the table and diners are invited to take a whiff of the balsamic vinegar within. It is the kind that pours slowly, with a molasses-like intensity that comes after decades of ageing. As you breathe in the heady aroma, you listen to the story Arevalo's travels in Italy, staying in a room above the home of an artisanal balsamic vinegar producer that smelled exactly of the same fragrance you are smelling now.
READ ALSO: Recipe: Gorbea Mountain, A Monochrome Dessert by Preludio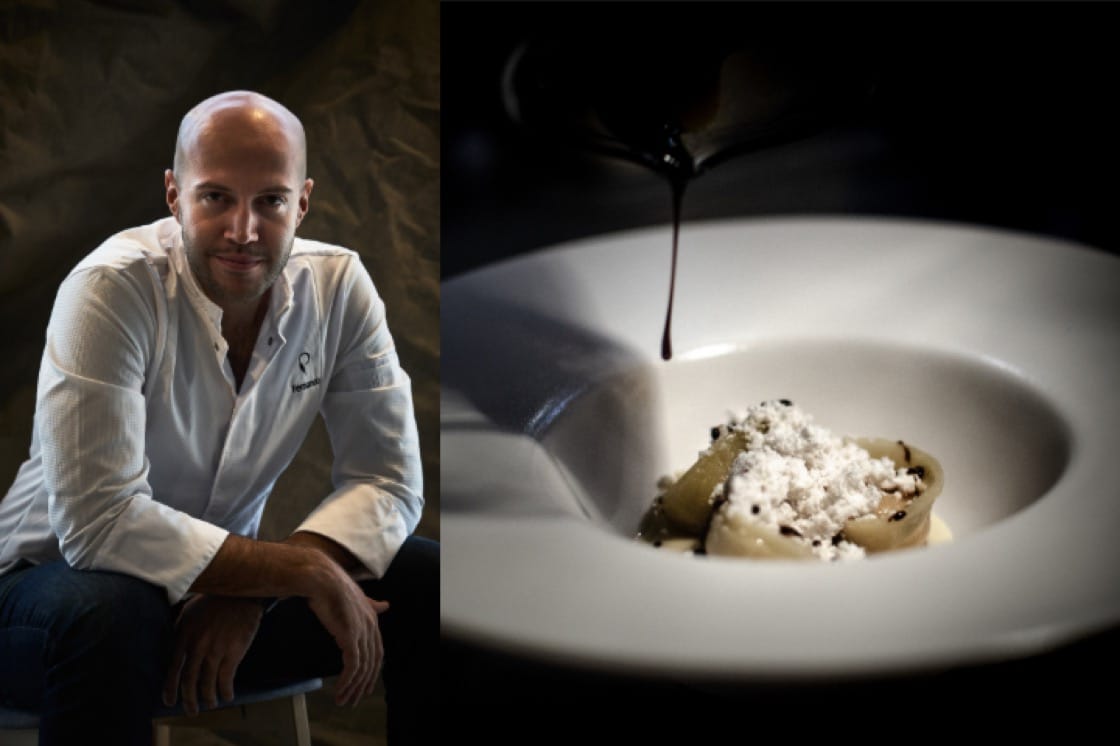 Fernando Arevalo and his La Cortina dish (Pics: Preludio)
Then, the dish La Cortina arrives, a pillowy agnolotti pasta stuffed with butternut squash and scented with vanilla and amaretto, finished with a drizzle of that caramelly balsamico. It's named after the very room that it was inspired by.

"And that's what I mean by 'Author's Cuisine'. Anyone can make a pasta with squash, but nobody can replicate the inspiration that I had walking into the attic with a candle in hand and that smell of balsamic vinegar just overcoming me and making me feel like I wanted to share it with the world," says Arevalo. "When you taste that dish, you forget that it's squash, vanilla, amaretto and parmesan cheese; it transports you right to that attic."

"The new fine dining is not just about being perfect technique-wise but making people relate to what I am making," he adds.

Engaging Diners On Another Level

This is a notion that resonates with chef Damian D'Silva as well. D'Silva has long been an outspoken champion of Singapore's heritage cuisine. At his restaurant Folklore, he plumbs time-honoured family recipes to yield deep and soulful flavours from his food, and his heritage Eurasian and Peranakan dishes often come with a side of, well, folklore.
Damian D'Silva's heritage dishes at Folklore come with a side of stories. (Pic: Folklore)
He serves a home-style stir-fry of brinjal and succulent prawns smothered in Sambal Juliana, a typical Eurasian chilli paste made with shallots, shrimp paste, chillies, lime juice and gula melaka. "For the longest time people kept asking me: "Who's Juliana? Is she your girlfriend?'," the chef says, laughing. For him, this presents the opportunity to share about the dish's roots, and how it was said to be created in Portuguese Malacca in the 16th century by the wife of a local foreman who wanted to recreate a traditional Portuguese dish for his homesick captain. Sambal Juliana was born and, as a heritage dish, it reflects a certain time in history.

He says: "I believe it makes the dining experience a lot more meaningful when you know the story behind the dish. The diner takes something back that he or she has never known before. It's not that it makes someone clever; it makes someone aware. When there is awareness, there will be a new inquisitiveness to know more about the cuisine or culture."

But while these chefs are telling stories from the past or their lives through their dishes, a clutch of creative restaurant and bar owners are going a step further, creating fictional characters around their concepts.
Stories come to life at Coterie Concepts' bars and restaurants (Pic: Coterie Concepts)
When Tay Eu-Yen and business partner Sandra Sim founded
Coterie Concepts
in 2014, they were pioneers in bringing quality Asian food into a trendy bar setting. As they brainstormed over the first concept, a character that personified the bar began to form. "We wanted the character to be something people could identify with. She had to convey youth, trendiness and that gangster 1980s Hong Kong vibe."
And so Mona was born. The Coterie narrative begins with
Sum Yi Tai
, the influential third wife of a Hong Kong mobster, and her namesake
Mona Lounge
tucked in the back of the glitzy Hong Kong triad-inspired bar and weaves its way through her rebellious stepdaughter's eponymous Shanghai-themed cocktail club
Eliza
. The third and latest character is Mona's Japanese love rival
Chi Kinjo
and her modern sushi restaurant and basement bar in Stanley Street.
Their interconnected stories are told through each outlet's website, in realistic blog posts, Instagram accounts and even cocktail descriptions. The narrative is further embellished by restaurant staff who take great pleasure in sharing the stories of their "employers".
"My bartenders tell stories about Mona; they make up their own stories about how they were recruited. There's a certain empowerment. My staff are having fun and it gives them an interactive tool to engage customers," says Tay, who wrote the stories.
Storytelling As A Business Tool
More than pretentious drivel or a romantic notion, Arevalo truly believes that the storytelling aspect of food contributes to the efficiency of running a restaurant. "Behind the artistic endeavour is the problem-solving. I have a very logical head, and I think using storytelling as a tool is the most effective way to run a restaurant."
Arevalo and the team at Preludio (Pic: MICHELIN Guide Digital)
For him, storytelling solves more than one common restaurant industry problem, the first being engaging and keeping staff. "In the restaurant industry, a lot of it is transitory labour. Most cooks are in it to feed their families; people never expect to be waiters all their lives," says Arevalo. He feels that including his staff in the creative process as the restaurant evolves with each chapter gives them a sense of belonging and ownership. "I want to give them something to fight for that's more real than money. This concept, this story has made them want to be here and that kind of loyalty is invaluable."

Arevalo points out that his thematic storytelling concept is also an effective marketing strategy. "With this concept, I have the opportunity to talk again to my customers when I want, to be interesting again whenever I choose to be. I don't have to wait for Mother's Day or Christmas or Chinese New Year to promote something new."
For Tay, Coterie Concepts' creative narrative is an overall branding strategy. "We believe branding is very important to any concept. Each of our concepts is independent, yet linked by the story. This gives us possibilities for expansion, pop-ups and even merchandise." She has noticed that with every new opening in the group's stable of bars, the branding is further reinforced and more interest generated. "It builds its own momentum. There's curiosity even about upcoming characters," says Tay.

Inspiring Chefs In The Kitchen

"Teaching staff by telling a story is easier than teaching them how to cook by memory," Arevalo says, giving an example of how his staff gain a new appreciation for the products that they work with in the kitchen.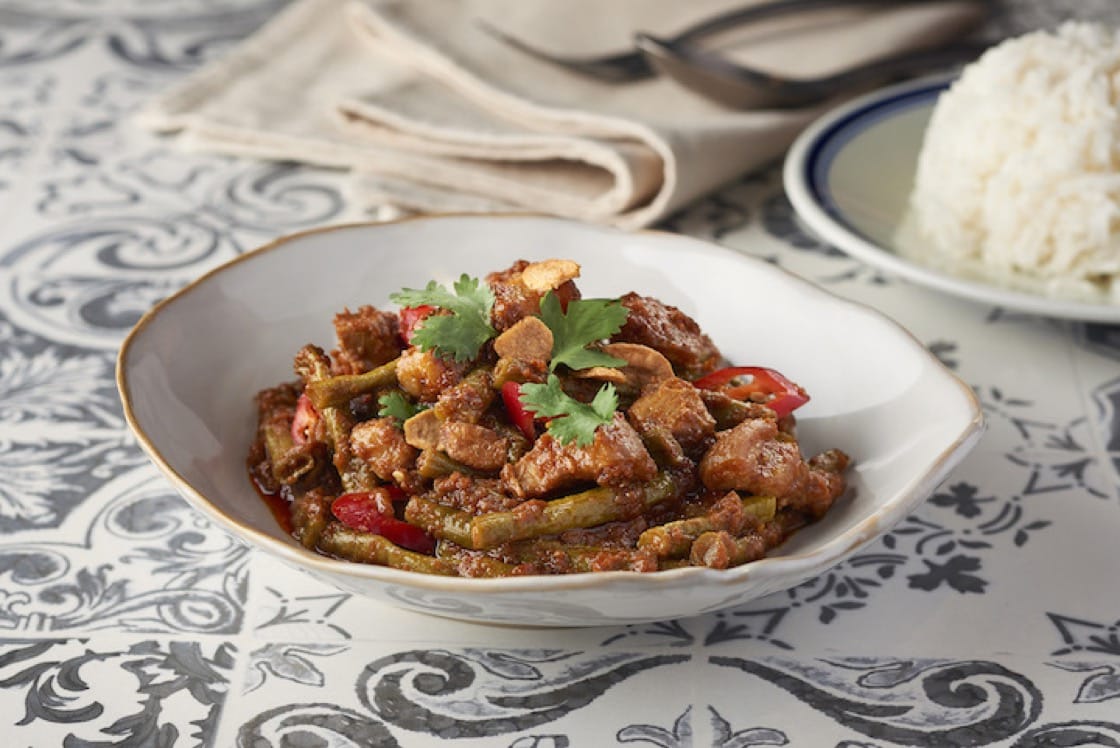 Cooking heritage dishes to perfection requires soul (Pic: Folklore)
"When it comes to adding value to things, the story is the most important," he explains. "If you tell a cook that the butter is the most expensive in the world, it doesn't mean anything to them. But when you tell them the story about the guy who makes the butter — how he shovels nine tonnes of butter twice a week by hand and you show them a picture with the shovel and tell them about his father and grandfather who have all done the same — the cook now looks at the butter in a new light and he goes: 'Oh my god, I need to protect this butter'. Because now it means so much more than how much it costs."

In this way too, stories play a teaching role for D'Silva's complex and painstaking Peranakan cuisine, where many techniques are time-consuming and have to be done by hand. "You're only one person, so in a restaurant kitchen you need to find people who think like you. You can give a recipe to your staff and they can cook it to maybe 90% perfection, but that's it. When you want your dishes to have that 10% more, it requires soul. That's where the story come in."

"The story isn't only for the guest," he says with conviction. "The main storytelling happens in the kitchen when you talk to your staff and inspire them."