Chinese liquor, or
jiu
, has a rich history and though it is commonly called Chinese wine, the beverage is not an alcohol made from grapes as its Western counterpart is. Rather, Chinese wine is made from various grains such as sorghum, rice, wheat or barley.
Chinese wine is not only enjoyed as a beverage, it is also an integral part of Chinese cuisine. At
Shang Palace
, executive chef Mok Kit Keung uses a variety of Chinese wines in his cooking. "The use of wine in Chinese cuisine goes far back in history. When I first entered the industry, my
shifu
(mentor) would incorporate wine in his cooking all the time."
In Chinese cuisine, wine is used to marinate meats and mask the fishy or gamey smells of seafood and meats. In the olden days, wine was also used as a preservative for waxed meats which were sun-dried. "Adding wines to Chinese dishes elevates their fragrance and makes the
wok hei
(smoky wok's breath) even more aromatic," adds Mok.
Bai Jiu And Huang Jiu

There are two main categories of Chinese wine: bai jiu (white wine) and huang jiu (yellow wine). Bai jiu is a clear grain alcohol distilled from fermented sorghum, glutinous rice, wheat or barley. It is a strong distilled spirit between 40 and 60% Alcohol by Volume (ABV). On the other hand, huang jiu or yellow wine is fermented, not distilled, so it maintains the grain's colour and is less alcoholic at under 20% ABV.

Both types of Chinese wines are used in Cantonese cuisine. "Different kinds of Chinese wine are used for different cooking applications," explains the chef. "For stir-fries, we usually use hua diao jiu (Shaoxing wine). For soups, we might use hua diao jiu or jia fan rice wine (another type of Shaoxing wine). If we're marinating meats, we'll add a bit of Chinese rose wine and fen jiu (a type of bai jiu). For cooking or braising, we would use glutinous rice wine or rice wine."

These are some of the common Chinese wines used by chef Mok at Shang Palace.
Chinese rose wine is used to make this dish of sautéed fresh milk, crab meat and egg white accompanied with deep-fried pork rolls with preserved bean curd (Pic: MICHELIN Guide Digital)
Jia fan jiu ('add rice' wine)
Yellow wine is classified based on several factors, one of which is its production method. Brewing yellow wine involves steaming the rice, adding the starter culture and mixing the seed mash with more prepared grain and aging the wine. As the name suggests, jia fan jiu, which translates to "adding rice", is made by continually feeding the wine with steamed rice during the fermenting process. This produces a sweeter, semi-dry yellow wine.

Shaoxing jiu (Shaoxing wine)
This is the Chinese cooking wine that would be most familiar to people. Shaoxing wine is a type of huang jiu (yellow wine) made by fermenting glutinous rice and red yeast which contributes to its distinct amber hue. It originates from Shaoxing in the Zhejiang province of China from which it derives its name. Shaoxing wine is added to stir-fries and enhances the fragrance of wok-fried dishes.

Hua diao jiu
Hua diao jiu, also known as nu er hong, is an aged Shaoxing jia fan wine made of glutinous rice and wheat. In Shaoxing tradition, a pot of jia fan wine is buried underground when a daughter is born and it is dug up again for her wedding banquet. The vessel would be brightly decorated and engraved with flowers (hua diao) to be presented as a wedding gift. "We usually use hua diao jiu for stir-fries or soups to make it more fragrant," says Mok. At the restaurant, he serves a dish of boneless quail stuffed with bird's nest in a rich broth that incorporates hua diao jiu.
Mok combines jiu niang and mi jiu for his dish of pan-fried chicken fillet with pickled ginger and fermented rice. (Pic: MICHELIN Guide Digital)
Mi jiu (rice wine)
Also known as nuo mi jiu (glutinous rice wine), mi jiu is the Chinese version of Japanese sake. As it is made by fermenting glutinous rice, it is considered a variety of huang jiu (yellow wine). Mi jiu is clear and sweet with an alcohol content that ranges from 12 to 20%.

In the early stages of fermenting mi jiu, the partially broken-down rice grains and sweet, slightly alcoholic liquid can be harvested to make jiu niang (fermented sweet rice). Jiu niang is widely used for desserts and for flavouring as a sweetener. Mok combines jiu niang and mi jiu for his dish of pan-fried chicken fillet with pickled ginger and fermented rice. "Jiu niang is a little sweet in nature, while rice wine has a refreshing light fragrance. That's why this dish is so aromatic," he says.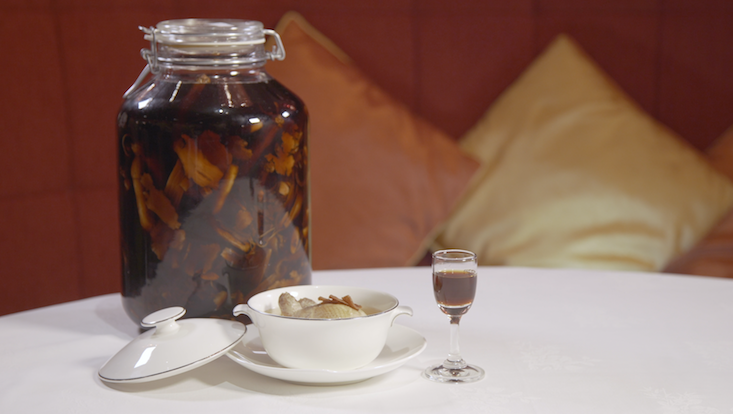 Chef Mok makes his own tonic wine to go with a bowl of boneless quail filled with bird's nest in supreme broth (Pic: MICHELIN Guide Digital)
Tonic wine
Chinese wines are sold commercially but many Chinese households still brew their own with time-honoured recipes that sometimes include ingredients like Chinese herbs which alter the color, taste and medicinal properties of the final product. "I have my own recipe for a nourishing Chinese wine as well," says Mok, listing some of the ingredients that go into it: ginseng, radix codonopsis, poria, root of the white peony, licorice, angelica, Szechwan lovage rhizome, rehmannia, cassia cinnamon, wolfberry and milkvetch. "These medicinal herbs are mild and not that intense. It goes well with the boneless quail soup. Take a sip of the soup, then a bit of wine, or pour the whole glass of wine into the soup to enjoy it."
This post is brought to you in partnership with evian & Badoit