It may have a reputation for being one of the poorest areas in Hong Kong, but the historically working-class neighbourhood of Sham Shui Po — just a few paces north of the tourist-favourite districts of Prince Edward and Mongkok — is also known among Hong Kong residents for having the city's best local eats. A recent wave of gentrification has brought in artists, artisans, ambitious young cafe owners and new creative energy into the area, while time-honoured eateries continue to draw patrons from across the city with their tastes of tradition.
From homemade puddings to freshly steamed rice rolls and the second-ever outlet of regional Hong Kong dim sum chain Tim Ho Wan, Sham Shui Po's always bustling streets offer up cheap and delicious humble pleasures — if you look down the right alleys.
We highlight some of our MICHELIN inspectors' favourites below.
The interiors of Tim Ho Wan (Sham Shui Po)
Tim Ho Wan (Sham Shui Po)
One MICHELIN Star, MICHELIN Guide Hong Kong Macau 2020
9-11 Fuk Wing Street

What our MICHELIN inspectors said: "The second branch of this famous dim sum chain is roomier than the original, but don't be surprised to still find a queue of expectant diners at the entrance. Over 20 different dim sum are on offer, all skilfully made and reasonably priced. Some items rotate every two to three months to keep the menu fresh. Don't miss their shrimp dumplings, baked buns with barbecue pork filling and steamed beef balls. Two rooms on the first floor offer more privacy."
RELATED: 5 MICHELIN Guide Hong Kong Macau Restaurants For Dim Sum
Hop Yik Tai
MICHELIN Plate, MICHELIN Guide Hong Kong Macau 2020
121 Kweilin Street
This cosy and narrow street food stall offers cheong fun so popular that the stall owners can supposedly sell over 5,000 portions of the steamed rice rolls per day. The cheong fun come in three sizes — small, medium and large — and are best enjoyed with your choice of condiments, ranging from dark soy sauce to sesame sauce, sweet sauce and a sprinkling of white sesame seeds. Besides cheong fun and porridge, Hop Yik Tail also offers various other tasty nibbles such as siu mai, dumplings, braised radish and curry fish balls (pictured).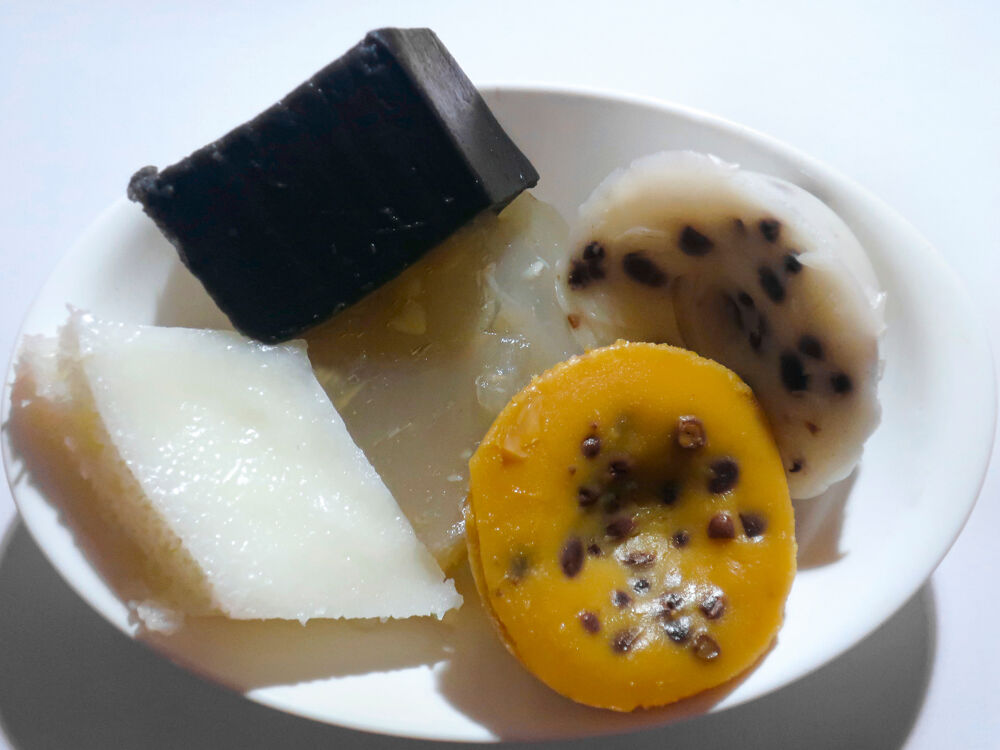 A variety of local puddings, including the iconic put jai go, from Kwan Kee Store.
Kwan Kee Store
MICHELIN Plate, MICHELIN Guide Hong Kong Macau 2020
115-117 Fuk Wa Street
Started in the 1960s as a street stall, Kwan Kee Store has become a Sham Shui Po institution for its homemade traditional Chinese desserts, such as white sugar cake, black sesame rolls and the quintessentially Hong Kong snack, put jai go, or red bean and brown sugar pudding steamed in a cup and served on skewers. Locals make a pilgrimage from across the city to this humble corner eatery seeking a taste of nostalgia for just a few Hong Kong dollars apiece. But don't take their word for it, try it for yourself — the proof is, well, in the pudding.
Kung Wo Beancurd Factory
MICHELIN Plate, MICHELIN Guide Hong Kong Macau 2020
118 Pei Ho Street
Founded at the turn of the 20th century by a Guangdong migrant, this famous soybean shop relocated from Canton Road to Sham Shui Po in 1958, and has turned neighbours and even celebrities into loyal regulars ever since. The 127-year-old brand is known and loved for its sweet tofu pudding, and soy milk and soy products such as fresh soy milk, deep-fried tofu, tofu puff, and golden fish and soya cake, which it serves at a consistently high quality.
Lau Sum Kee (Fuk Wing Street)
Bib Gourmand, MICHELIN Guide Hong Kong Macau 2020
82 Fuk Wing Street
What our MICHELIN inspectors said: "Since 1956, this branch (and the original shop around the corner) has been packed with customers buzzing in and out. The third-generation family business still kneads noodle dough with a bamboo pole like it used to be done. Wontons are made on the spot with whole prawns and pork and even the crunchy radish pickles on the table are homemade. Recommendations include wonton noodles, and tossed noodles with dry shrimp roe or pork knuckle."
Man Kee Cart Noodle
MICHELIN Plate, MICHELIN Guide Hong Kong Macau 2020
121 Fuk Wing Street
The long queues outside this cart noodle eatery — and its rapid expansion to now occupying four units along the same street — are testament to Man Kee's well-deserved popularity. The eatery established over a decade ago is known for noodles served in a rich beef brisket broth, enriched by a wide range of toppings that will please every palate. Among them, the Chinese chive dumpling and Swiss chicken wings are recommended, say our MICHELIN inspectors.
The air-conditioned dining room of Glorious Cuisine provides respite from Sham Shui Po's busy streets.
Glorious Cuisine
Bib Gourmand, MICHELIN Guide Hong Kong Macau 2020
31-33 Shek Kip Mei Street
What our MICHELIN inspectors said: "The owner shops for seafood daily to ensure freshness and quality. Picking out your favourite live critters from the tank is part of the fun – Hokkaido scallops, Thai marble goby, and even Hanasaki crab if you're lucky. Apart from the signature braised chicken stuffed with abalone and sea cucumber, try also their salt-baked sea whelks or virgin crabs. Double-boiled chicken soup with conpoy and Yunnan ham is available in limited quantities every night."
READ MORE: 15 MICHELIN Restaurants In Hong Kong Worth A Drive To