At celebrity chef Sam Leong's acclaimed restaurant
Forest
, he serves up a refined contemporary Chinese cuisine with indulgent ingredients like lobster and morel mushrooms. At home though, the family man's meals look a little different.
"Since most of the family works in the f&b industry, meals at home are simple affairs. We'll usually have an uncomplicated but comforting bowl of soup, veggies and variety of fruits," says the chef. "My wife, Forest, often cooks home-style Thai dishes she grew up with or simply steams seafood like fresh fish or prawns with herbs. Sometimes our son, Joe, also experiments in the kitchen and we'll come home to comforting bowls of risotto!"
Chef Sam Leong (2nd from left) with his wife, Forest, son, Joe and mother, Mama Leong.
Recently, the health-conscious chef and his family helped launch Quorn, an innovative meat-free product made with mycoprotein. "Of late, we've been experimenting with
Quorn
, a meatless protein that looks and tastes like the real thing! It's high in protein as well as fiber which makes it super healthy."
Here, he shares two easy recipes that will make up a wholesome weekday dinner to be served with steamed white rice. His dish of poached spinach with three types of eggs—egg white, salted egg and century egg—is a favorite with his household, while his vegetarian Mapo Tofu substitutes minced meat with vegetarian-friendly Quorn pieces for an added meaty texture.
Trio of Eggs with Poached Spinach
Serves 4

Ingredients

2-3 Tablespoons oil
500 milliliters vegetable stock
12 whole pieces of garlic, fried
100 grams Quorn Meat Free Mince (optional)
1 century egg, diced
3 salted egg yolks, steamed for 10-15 minutes and diced
250 grams Chinese spinach, cut into 2-inch lengths
Whites from 1 whole egg
10g wolfberries, soaked in lukewarm water till plump

For the corn starch slurry:
1⁄2 teaspoon salt
1⁄4 teaspoon sugar
4 teaspoons of Shao Xing Hua Tiao wine
1⁄4 teaspoon white pepper powder
1-2 Tablespoons of corn starch slurry

Method

1. In a wok, add oil and vegetable stock and bring to a boil.

2. Add the fried garlic, Quorn Meat Free Mince, century egg and salted egg yolk and mix well before seasoning to taste.

3. Thicken with a dash of corn starch slurry then add spinach.

4. Bring to a boil before slowly pouring in the beaten egg white. Mix well.

5. Garnish with wolfberries before serving.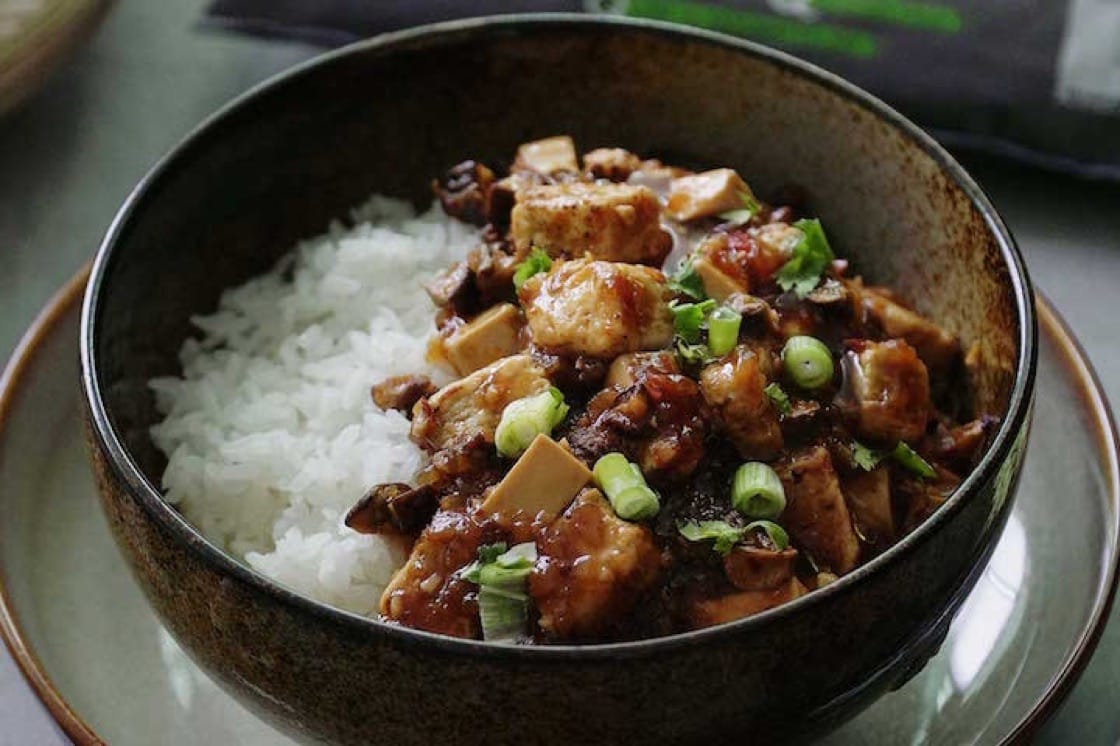 Mapo Tofu
Serves 4

Ingredients

150 grams Quorn Meat Free Pieces
3 Tablespoons of oil
1⁄4 teaspoon minced garlic
1⁄2 teaspoon minced shallot
5 pieces shiitake mushrooms, minced and poached
200 milliliters vegetable stock
1-2 Tablespoons of corn starch slurry
600 grams white tofu, diced
2 teaspoons spicy bean sauce

1 teaspoon vegetarian oyster sauce

1⁄2 teaspoon sugar

A dash dark soy sauce

A dash Si Chuan pepper oil

Spring onions, chopped, for garnish
Coriander, chopped, for garnish

Method

1. Fry Quorn Meat Free Pieces till crispy and golden brown and set aside.

2. In a wok, add oil, garlic and shallots and fry till fragrant; add in shiitake mushrooms.

3. Pour in the vegetable stock and bring the mixture to a boil for a few minutes; add in seasonings and season to taste.

4. Thicken with corn starch slurry then stir in the fried Quorn Meat Free Pieces and tofu cubes.

5. To serve, ladle Mapo Tofu over steamed rice and garnish with spring onion and coriander.