A good prawn cocktail is made of a few key elements: good quality prawns, crisp salad greens and a classic Marie Rose sauce, according to Zach Elliott-Crenn. The Australian chef recently took over the helm of Gemmill Lane favourite, Maggie Joan's, in Singapore, fresh from a four-year stint at MICHELIN-starred Portland in London.
He confesses to having a sentimental fondness for prawn cocktails, which were the starter de rigueur at high-end restaurants and dinner parties throughout the 1970s and 1980s. "Prawn cocktail was my favourite dish as a child. I would order it whenever we went out to a restaurant, and it was such a special treat. I still have a soft spot for it — to my wife's dismay," he laughs. "These days, it's usually considered an old-fashioned dish, and doesn't enjoy much prestige among foodies, except for the occasional playful nod to retro cooking. Which is a shame, as a well-executed prawn cocktail can be truly delicious."

Elliott-Crenn recommends buying the prawns fresh from local wet markets — any variety of small school prawns will do — and blanching them for exactly 45 seconds before plunging them into iced water and peeling them. This allows their flesh to stay sweet and firm.

Next, he makes a classic Marie Rose sauce, also known as Thousand Island dressing in the US. Elliott-Crenn's version is made from scratch with homemade mayonnaise, tomato ketchup and lemon juice. "A good Marie Rose sauce is all about balance," he explains. "I tried to enhance each individual flavour by making my own tomato ketchup, adding a generous splash of good quality cognac and using grape seed oil, which has a very clean flavour. This is avoid making the sauce too rich or heavy."

A chiffonade of romaine lettuce, dill and crunchy green apple cubes round out the salad with a crisp freshness. "The dish can be rich, so I wouldn't hesitate to use plenty of green apple to help keep things fresh. And, I find that the sauce always requires a touch more cognac than you think," he laughs.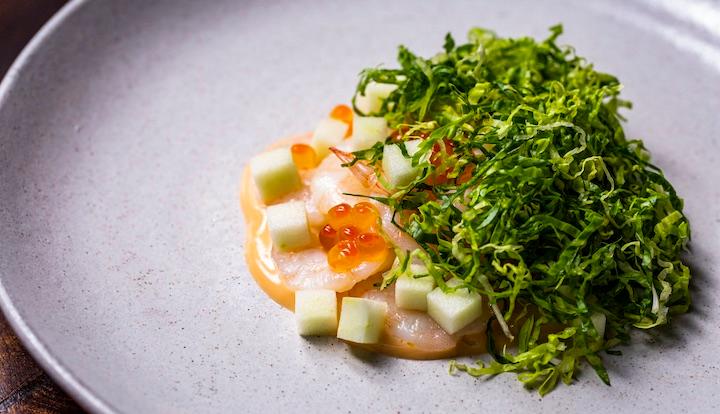 Homemade Tomato Sauce
500g cherry tomatoes
25g sugar
7g sherry vinegar
Olive oil
Salt

Method:
1. Place the cherry tomatoes in a large pan and add olive oil until they are just covered. Slowly confit the tomatoes at 60 degrees Celsius for about one hour until they are softened.
2. In a separate pan over high heat, add the softened tomatoes and sugar to caramelise them, stirring constantly. This should take no more than 10 minutes.
3. Transfer the caramelised tomatoes to a food processor and pulse until smooth. Add sherry vinegar and salt to taste, adjusting the seasoning if necessary to find the desired balance between sweet, sour and savoury.

Marie Rose Sauce
1 egg yolk
7.5g Dijon mustard
12.5g lemon juice
24g tomato sauce (recipe above)
3.5g Worcestershire sauce
260ml grape seed oil
1.5g Maldon salt flakes
5ml cognac

Method:
1. Make the mayonnaise by whisking together the egg yolk, Dijon mustard and lemon juice, before slowly adding the grape seed oil, whisking constantly.
2. Once thickened, fold through the tomato sauce, Worcestershire sauce, cognac and Maldon salt.

Prawn Cocktail
300g prawns, shells on
Juice of 1 lemon
1 green apple, diced, skin on
1 head of romaine lettuce, sliced into fine ribbons
Marie Rose sauce
3 tsp salmon eggs (ikura)
¼ bunch of dill
Olive oil
Salt

Method:
1. Blanch the prawns in boiling water before plunging them in an iced water bath and peeling them.
2. To assemble, drop a generous dollop of Marie Rose sauce on the bottom of the plate and spread it with the back of a spoon in a circular motion.
3. Next, dress the prawns with lemon juice, olive oil and a pinch of salt before adding them to the plate.
4. Top with a generous tablespoon of diced green apple and a few salmon eggs. Cover with a cloud of lettuce ribbons. Add some dill to the lettuce and finish with a little drizzle of olive oil.