Hilton Singapore
's wellness-centric restaurant,
Verde Kitchen
, prides itself in embracing a holistic and wholesome attitude toward healthy eating that doesn't skimp on flavour.
While the menu features a variety of wellness-centric dishes, including gluten-free, dairy- free, vegetarian and raw food options, you'll also find comforting—albeit, healthier—versions of local dishes like Penang asam laksa and Malay-style organic lacto chicken curry, which executive chef Vijayakant Shanmugam has generously shared his recipe here.
The Malay-style chicken curry packs a punch in the flavour department, making use of a myriad of spices. At the restaurant, it is served with Thai brown rice and spicy okra, making it a well-rounded, hearty meal. But the chef has taken pains to maximise the nutritional value of this well-loved dish.
"Firstly, we use Lacto chicken which is healthier than other type of chickens on the market as it has no antibiotics and no hormones," he says. "We also use a lot of turmeric in the dish, an ingredient known for its healing properties from boosting appetites to lowering blood pressure, reducing pain and other powerful anti-inflammatory, anti-biotic, anti-viral and antioxidant properties."
On why he has chosen Thai brown rice and okra to go with the curry, the chef says: "It is one of the healthiest type of rice with many vitamins and nutrients and organic okra—loaded with nutrients and rich in vitamins A, C and K which helps to fortify bones while improving your eyesight."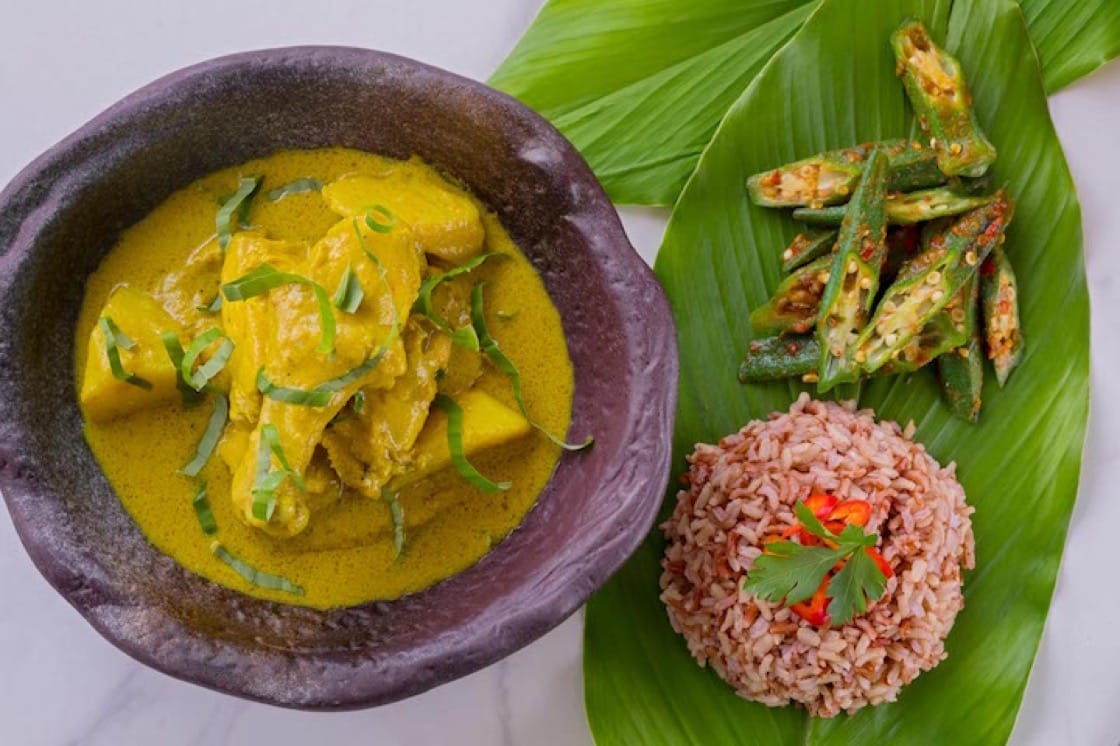 Malay-style Organic Lacto Chicken Curry

1 small red onion, chopped
2-3 garlic cloves, chopped
1 2-inch ginger, chopped
1 stalk lemongrass, thinly-sliced
1 2-inch fresh turmeric root, chopped
10 fresh turmeric leaves, chopped
2-4 chili padi (or to taste)
300 grams boneless Lacto chicken meat, cut into 2-inch chunks
250 milimeters coconut milk
250 milimeters water
1 small potato, peeled and cut into wedges
5 grams shrimp paste
120 grams okra, trimmed and boiled until soft
2 teaspoons olive oil
Salt and pepper, to taste
Brown rice, for serving

Method

1. Using a stone mortar and pestle, crush and grind the first six ingredients and half of the chili padi together into a fine rough paste and set aside.

2. Place a medium all-purpose pan over medium-high heat. Once heated, add 1 tbsp of olive oil.

3. Add the spice paste to the pan and stir-fry until fragrant and golden brown. Add the chicken and potatoes then cook for 5 minutes. Add the coconut milk and water, then simmer until fully cooked.
4. In a separate frying pan, fry the shrimp paste until cooked. Pound the fried shrimp paste together with the remaining chili padi in the mortar and pestle.

5. Heat up the frying pan again, add 1 tsp of olive oil and fry the shrimp paste and okra together.

6. Season curry to taste with salt and pepper. Serve together with okra and brown rice.
RELATED: Click here for more recipes