Mooncakes are usually savoured with a pot of Chinese tea and a view of the full moon during the Mid-Autumn Festival, but who's to say you can't enjoy those rich treats with a glass of good tipple instead?
When it comes to mooncake pairings, the wide array of flavour profiles, aromas and textures of wines available can rival any oolong, pu'er or tieguanyin. Sommelier Helen Chong, who curates the wine menu and pairings at one-MICHELIN-starred Chinese restaurant Summer Pavilion, shares her top picks for wine pairings with five popular types of mooncakes.

Chong, who is a Certified Specialist of Wine (CSW) and a Certified Sake Professional (CSP), has also achieved the WSET (Wine & Spirit Education Trust) Level 3 Award, and is currently preparing to obtain Level 2 certification from the prestigious Court of Master Sommeliers. She was previously a sommelier at restaurants like La Terra and two-MICHELIN-starred Les Amis but now lends her expertise to the speciality of pairing wines with Chinese cuisine.
1. Traditional baked Cantonese mooncake with lotus seed paste
Wine: 2017 Pinot Noir, Stonier, Mornington Peninsula, Australia
Pairing Notes: Mooncakes with sweet white lotus seed paste are rich and can get cloying rather quickly. They would go well with a young Pinot Noir which has prominent cherry aspects, bright juicy flavours, silky soft tannins and a refreshing palate to cut through the sweetness. The alluring vibrant fruit profile adds a refined finish to this baked mooncake.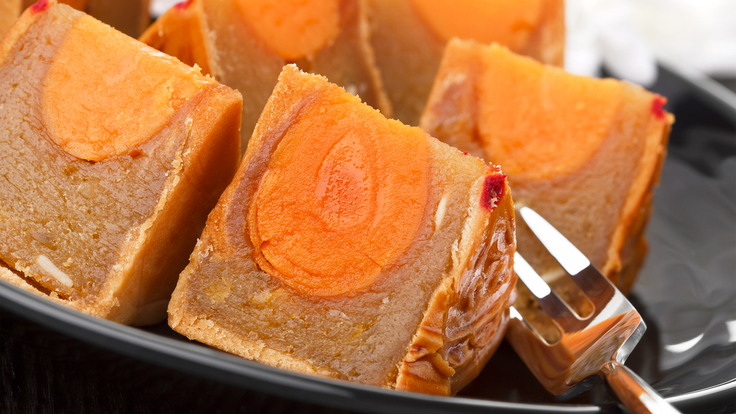 Champagne makes a refreshing pairing for baked mooncake with savoury salted yolk centres (Pic: Shutterstock)
2. Mooncake with savoury salted egg yolk
Wine: Non-Vintage Barons de Rothschild, Réserve Ritz, Champagne Brut, France
Pairing Notes: Whole salted egg yolks are often baked into Cantonese mooncakes to represent the full moon as well as provide a savoury counterpoint to the sweet lotus seed paste. A typical pairing for such mooncakes would be with a sweet still wine. However, Chong suggests pairing it with a fizzy champagne like the Reserve Ritz Brut Champagne from Barons de Rothschild, which boasts a toasty brioche scent that goes perfectly with the aromatic baked mooncake skin. The acidity of the champagne balances the mild sweetness of the white lotus seed paste, while the effervescence refreshes the palate from the savoury egg yolk. The subtle aroma of the fresh pome fruit and notes of white flowers in the wine will also be enhanced by the white lotus seed paste.
3. Nutty black sesame mooncake
Wine: 2015 Noble One Botrytis Sémillon, De Bortoli, New South Wales, Australia
Pairing Notes: White lotus seed and black sesame are fillings that yield a rounded and mellow flavour. Chong recommends pairing nutty, earthy black sesame mooncakes with wines made from "
noble rot
" grapes such as the 2015 Noble One Botrytis Sémillon, De Bortoli from Australia. Noble rot is a beneficial form of grey fungus that, under the right conditions, produces sweet botrytised wines. The Noble One Botrytis Sémillon gives off an enticing aroma of ripe, tropical notes such as passionfruit, mango, apricot, peach, cinnamon or nutmeg, complementing the nutty flavour of the black sesame.
Mini Snowskin Green Tea Mooncakes (Pic: The Ritz-Carlton Millenia)
4. Delicate tea-infused mooncake

Wine: 1995 Chenin Blanc, Cuvee de Novembre, Domaine Francois Pinon, Loire, France

Pairing Notes: Unlike the traditional golden brown mooncakes, snowskin mooncakes are a more modern variety popular with the younger generation. Made of glutinous rice flour, the skin of these mooncakes is elastic, soft and mochi-like. They are eaten cold. Common fillings include those flavoured with fruit or infused with tea. Tea-infused mooncakes like Summer Pavilion's green tea mooncakes are best enjoyed with a semi-sweet Chenin blanc. The 1995 Cuvee de Novembre, Vouvray from Domaine Francois Pinon has a distinctive floral, honey and nutty fragrance, and its refreshing tangy, citrus flavour accentuates the delicate scent of the green tea in the mooncake.
Snowskin Mao Shan Wang Durian Mooncake (Pic: The Ritz-Carlton Millenia)
5. Daring durian-flavoured mooncake

Wines: 2014 Montes Late Harvest Gewürztraminer, Chile; or the 2014 Domaine François Pinon Vouvray Brut, France

Pairing Notes: Snowskin mooncakes filled with creamy, custardy durian are very popular in Singapore. Chong recommends pairing durian mooncakes with Montes Late Harvest Gewürztraminer, made from Chilean hand-picked botrytis-affected grapes from the Curicó Valley. It has pronounced aromatics of lychee, orange, honey and chamomile with refreshing acidity that balances the creamy texture and bittersweet flavour of the Mao Shan Wang durian.

For the more adventurous, she recommends pairing this snowskin durian mooncake with a dry sparkling wine such as the Domaine François Pinon Vouvray Brut from the Loire region of France. The wine's dry and lingering bitterness complements the unique, bittersweet taste profile of Mao Shan Wang durian.