Growing up in a Korean household, Steve Lee's passion for cooking stems from watching his mother cook from a young age. "When I saw the joy her food brought to people, I told myself, I want to be a chef one day," he says. Following his instinct, he chose culinary arts as his major at Kyonggi University—the same university chef Mingoo Kang graduated from.
"I have a lot of respect for chef Mingoo. He was already an acclaimed chef and a role model in our university when I was still a freshman," shares Lee. "It was my dream to work with him."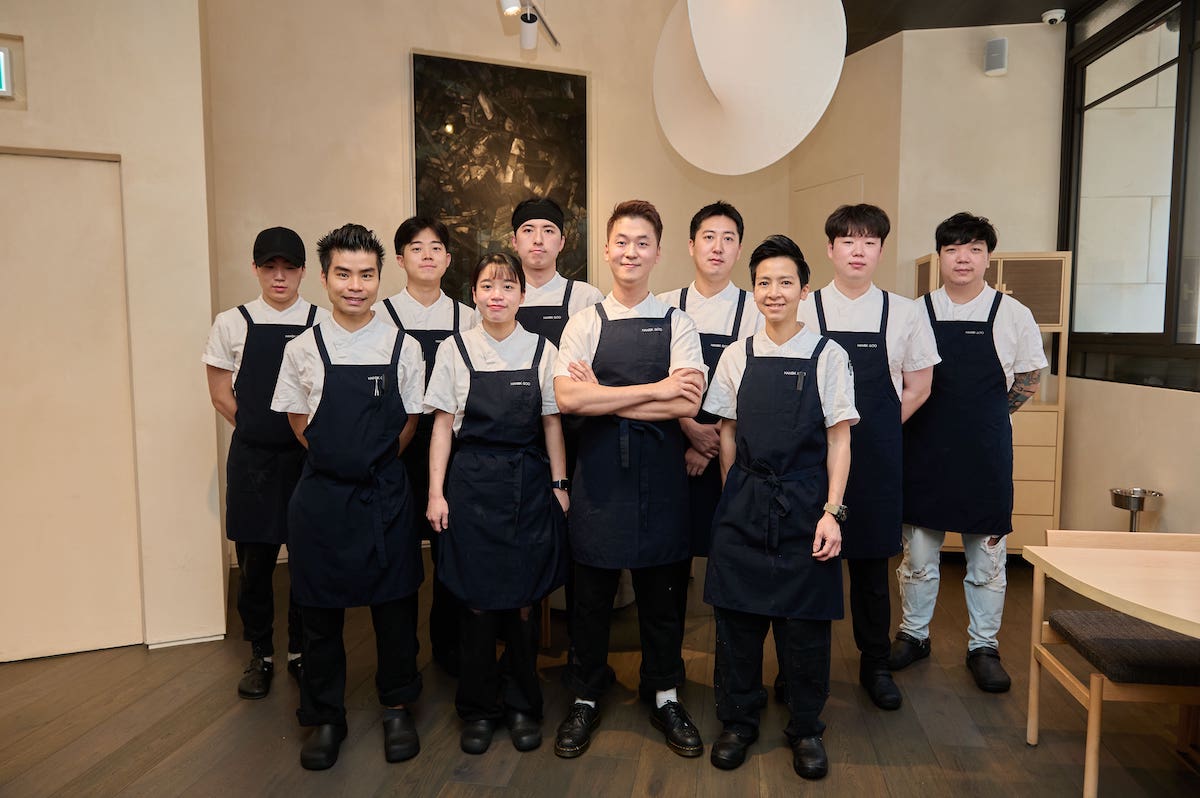 Hansik Goo kitchen team (Photo: ©Michelin)
One call away
After graduation, Lee started an apprenticeship at Mingles, Kang's two-MICHELIN-starred restaurant in Seoul, but the mentor-protégé relationship truly began to develop after Lee left for Sydney, where he stayed for seven years.

"Chef Kang was always there when I needed advice," recalls Lee. "Everytime I went back to Korea, I would message him for a catch up and he would invite me to meet him at Mingles."
Kang and Lee kept in touch while Lee honed his craft at restaurants under The Bentley Restaurant Group in Sydney, cooking mostly "western cuisine with Japanese ingredients."
When Lee decided to come back to Korea after being granted permanent residency in Australia, he told Kang that he wanted to work alongside him at Mingles. Kang, who was planning his first overseas restaurant in Hong Kong at the time, offered Lee a head chef position at Hansik Goo.
"Hansik Goo was technically my first time cooking Korean cuisine professionally," says Lee. "It was a very big challenge for myself but I just needed to trust my palate."
RELATED: Chef Mingoo Kang Returns To Hong Kong For The Reopening Of Hansik Goo
Hansik Goo interior (Photo: Hansik Goo)
Hansik reimagined
Since the opening of Hansik Goo in early 2020, Lee has been working closely with Kang to introduce authentic hansik, or Korean cuisine to Hong Kong diners. With traditional Korean cooking at its core' Hansik Goo impressed the MICHELIN inspectors with reimagined classics such as the samgye risotto, a deconstructed version of samgye-tang, or ginseng chicken soup.

Take the Hanwoo Duo, a classic Korean dish elevated with a modern twist. Lee describes it as his favourite dish on the menu, for good reason. "I think Korean beef is underrated in the Hong Kong market," says Lee. "This dish is the most authentic expression of the Korean food culture as it's something Koreans usually have for dinner or even lunch."
The Korean beef, marinated in fermented jang (sauces), is served with Korean rice and condiments to showcase the Korean way of serving food where all the elements come in one go rather than course by course.
We speak to Lee about his thoughts when Hansik Goo received its first MICHELIN Star in the MICHELIN Guide Hong Kong Macau 2022.
"The MICHELIN Guide is like a textbook that gives me directions throughout my career."
How has the MICHELIN Guide influenced your career?
The MICHELIN Guide is a very good reference, not only for diners but also for chefs. The MICHELIN-starred restaurants in Hong Kong have inspired me with next-level dining experiences, which gave me motivation to do better.
How did you feel when your restaurant first received a Michelin star?
Really happy. Honestly, I didn't expect that I had a chance to receive the Star because I didn't have this opportunity back in Australia.
Who's the person you called?
The first person I called was chef Mingoo and he said: "Well done guys, thank you so much for your hard work. I love you."
What does the MICHELIN Star mean to you?
It's one of the biggest honours for the chefs and also is a motivation for myself. It's a recognition of our efforts and hard work.
What's your advice for young chefs who want to get a MICHELIN Star?
When you start working in a restaurant, stay there for at least one year to learn everything you can and see how the head chef develops a philosophy before moving to another restaurant. Keep pushing yourself and be humble.