"Let me tell you, Keung Kee didn't use to make sticky rice with Cantonese-style cured meat. We started off selling shaved ice and pancakes!" says Ng Siu-Fung, owner of MICHELIN-selected street food eatery Keung Kee. He's a great conversationalist, and after a bit of chit-chat, he dives straight into the details of his late father Ng Chi-Keung's "cart-pushing days" in great enthusiasm.
The "cart-pushing days" were how Keung Kee operated 71 years ago. Fast forward to 2022, Keung Kee has moved shop twice, and Ng is ready to pass the business to his two sons, Elvis and Ryan. "I hope we can continue running the shop until it becomes a century-old institution for Hong Kong-style snacks!" Ryan, the younger son who now manages the front of house, proclaims with ambition.

Keung Kee's most famous dish: sticky rice with mixed lap cheong and assorted preserved meat (lap mei).
For the past few decades, the Ngs were able to make a name for themselves selling only snacks, which was no easy feat. Perhaps having taken after his father's meticulousness, Ng is obsessed with all the details of making dishes like lap mei glutinous rice and pork bone congee. "He was a very capable man. He raised five children with his cart." Ng recalls his father setting up the stall in Wan Chai's Marsh Road, which was lined with cinemas, bars and nightclubs at the time. At night, the street was filled with people, and naturally, snack stalls also started popping up. "You could find anything from steamed rice dumplings to beef offal congee," Ng remembers. The street transformed into a mini night market, and the competition was fierce. Later, Ng Chi-Keung was fortunate to have the chef of Yixin Restaurant share his secret of making steamed glutinous rice. He then further experimented and developed his own recipe that was different from the common stir-frying method, which had gained him recognition and a loyal following of customers.
RELATED: Behind the Bib: Both Street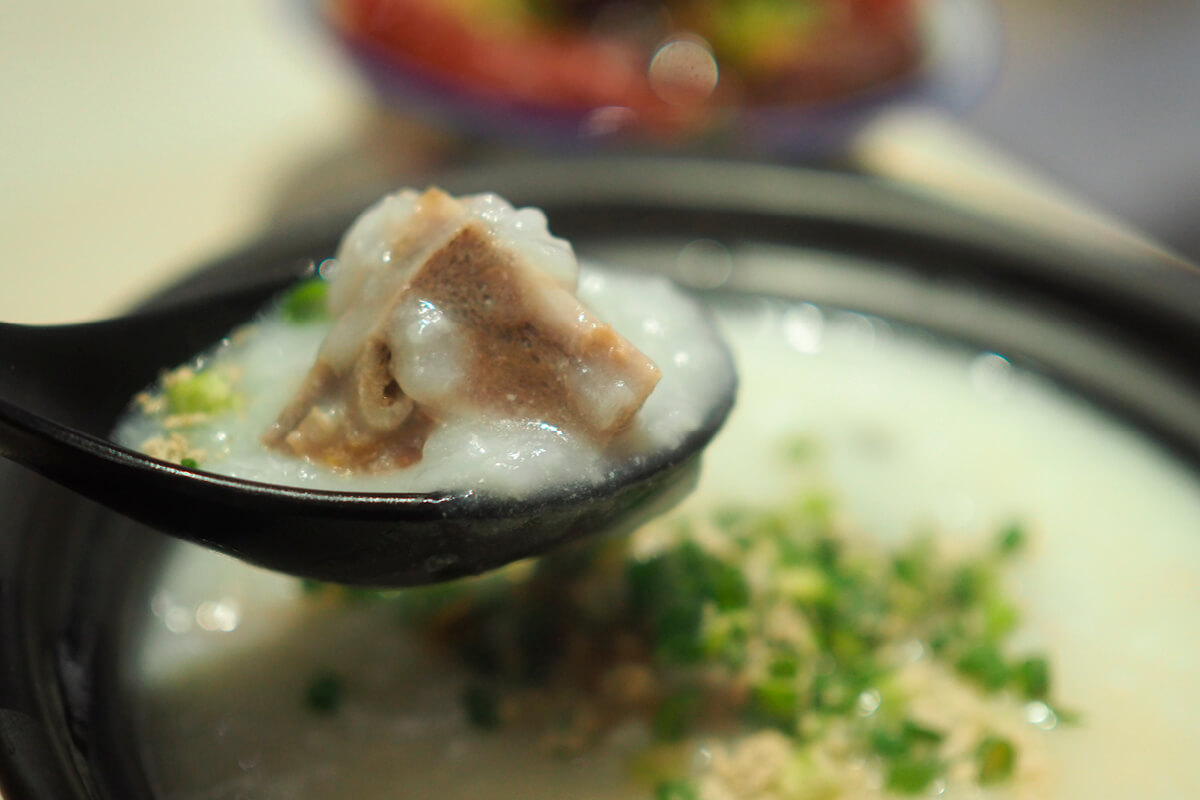 The pork congee with peanuts and Chinese cabbage is a popular dish. The congee base is made with sautéed mussels.
Each piece of pan-fried cheong fun with dried shrimp has a nice crisp on the outside. The recommended way to enjoy this dish is to mix in all the condiments and toppings: soy sauce, sesame sauce, sweet sauce, chilli sauce and white sesame. You can also opt to have the cheong fun pan-fried with egg.
Keung Kee's Malaysian-style mixed bean sweet soup is one of Ng's mother's recipes from Macau. The dessert contains sago, black eyed peas, red beans, pelted wheat, taro, coconut milk and more.
When Ng sees customers visiting Keung Kee with their kids and grandkids, he feels the weight on his shoulders to carry on the family business and do even better. "I wouldn't want to disappoint our customers." Ng didn't inherit the business until his father decided to retire. He added new dishes such as pork congee with peanuts and Chinese cabbage and Malaysian-style mixed bean sweet soup to the menu. He does everything himself with scrupulous attention to detail, which has helped to maintain quality while setting a great example for his sons. In 2016, MICHELIN Guide Hong Kong Macau added a street snack section, and with Ng at the helm, Keung Kee was one of the first small shops to have made it onto the list.

Keung Kee is family operated. Ng Siu-Fung (second from the right) and the eldest son Elvis (third from the left) are in charge of the kitchen, while younger son Ryan (third from the right) manages the front of house. The family makes a great team.
With MICHELIN's recognition, the store has gotten more customers, but their expectations have also gotten higher. Ng says that customers have given more feedback in the past few years, and they'd listen to the customers' needs and make improvements. Their signature dishes rarely receive any complaints, and Ng continues to work with his eldest son Elvis to maintain the quality. Take the lap mei sticky rice as an example. They only ever use premium Thai Golden Phoenix glutinous rice in a mixture where half the rice is new and the other half is old. The soaking and double-boiling time is also determined by the day's weather in order to create a fluffy yet chewy texture. They also pay special attention to where they source their lap cheong and liver sausages. Currently they use the ones from Yu Wo Grocery, a time-honoured store in Sai Ying Pun. "I strive for as much 'made in Hong Kong' as possible," Ng remarks, but then immediately points out that it's not an easy task. "But sadly, many old stores are facing possible closure." He believes a possible solution is to help each other out, cross-promote, and take the initiative to seek out good businesses.
RELATED: Kung Wo Beancurd Factory: Soy Products to Take You Down Memory Lane

Last year, Keung Kee moved to a bigger space at a new location, so the Ngs can expand their Hong Kong-style snacks menu. The restaurant has introduced new dishes such as lettuce and dace fish paste in soup, faux shark fin soup and squid in curry sauce in hopes of further promoting the Hong Kong snack culture. "Before the official launch of every dish, we experiment by putting them on the 'limited edition' menu, so customers can try them and give us feedback." As the third-generation successors, Elvis and Ryan have lots of thoughts and ideas for the future, but are taking a more cautious approach. "We hope to stay as a small store, so we can maintain the quality."
(Pictured left: the older generation is all about having a "golden-lettered signboard", a Chinese metaphor for good reputation. When Ng Chi-Keung ditched the cart for a shop in 1997, he got a signboard with golden letters made. In Keung Kee's most recent relocation, the signboard was taken down and brought to the new space.)

Keung Kee offers a snack of fish balls and siu mai that comes in fermented red bean curd soup. Elvis of the family's third generation wanted to change things up, so he developed a snack that features squid and sliced beef omasum in a bath of curry sauce.
Lettuce and dace fish paste in soup is a new dish that was introduced after they moved to the new shop.
Keung Kee is a part of the city's living history that documents Hong Kong snacks and the prosperity of Wan Chai district. As one generation takes over the business from the last, the whole family is determined to keep Keung Kee's trusted name alive.

---
Photos and text by 孔牧, translated by Iris Wong. Read original article here.