Evening dine-in services are expected to resume from April 21, but until we get back to face-to-face feasting after 6pm, these MICHELIN-starred restaurants are offering takeaway and delivery services for those who want to get their fine-dining fix at home.

Cantonese
Barbecued Iberian pork loin with longan honey from Man Wah (Photo: Man Wah)
One MICHELIN Star, MICHELIN Guide Hong Kong Macau 2022
The evening dine-in ban can't stop us from enjoying the best of Man Wah, including some of the restaurant's popular dishes—barbecued Iberian pork loin with longan honey, hot and sour soup with fish maw, stir-fried Australian scallop with broccoli, and fried rice vermicelli with crab meat and egg—all available for pick-up or delivery. Top it all off with a curated list of premium wines handpicked by Man Wah's sommelier.
An exclusive selection of a la carte items are available for order, with complimentary delivery service offered throughout the Hong Kong island for orders over HK$2,000.
Order from Man Wah here.

European Contemporary
Simon Rogan at Home by Roganic (Photo: Roganic)
One MICHELIN Star and MICHELIN Green Star, MICHELIN Guide Hong Kong Macau 2022
Simon Rogan at Home, a "restaurant at home" experience curated by Simon Rogan of the UK's newly minted three-MICHELIN-starred L'Enclume, is back by popular demand with a signature three-course meal kit prepared by the team at Roganic, delivered straight to your door.
With a rotating menu that changes weekly, Simon Rogan's meal kit (HK$700 for two persons) includes three seasons courses and a complimentary soda bread with whipped brown butter, with add-ons such as Roganic's signature apple tart and suggested wine and tea pairings available to complete the experience.
This Easter, Simon Rogan at Home is partnering with MICHELIN selected restaurant Estro to deliver a special eight-course menu (HK$1,300 for two persons), which includes mouth-watering dishes such as homemade fettuccine with Japanese rapini, aged fish sauce and grey mullet bottarga, and Roganic's beloved three yellow chicken breast with asparagus and creamed morel. For this collaboration only, the meal will arrive with a step-by-step video brought to you by Roganic's head chef Ashley Salmon and Estro's executive chef Antimo Maria Merone.
Check the latest Simon Rogan at Home menu.
RELATED: How MICHELIN Green Star Restaurants In Asia Are Doing Their Part With Sustainable Practices
Whey's Signature Set for Two (Photo: Whey)
One MICHELIN Star, MICHELIN Guide Hong Kong Macau 2022
There's so much to love about the food at Whey, but chef Barry Quek makes it easy for us with Whey's Signature Set for Two (HK$688), so you will get to sample the restaurant's iconic "Bak Kut Teh" made with New Territories pork rib and "Curry Laksa Konjac Rice" in one order, with the option of adding the much sought-after cereal fried chicken wings (four pieces) with sambal mayo for HK$158.
Designed for two to share, Whey's Singaporean Sharing Set for Two (HK$588) delivers a taste of Singapore to your home, including a rojak salad for two, two main courses (grilled black cod sambal with rice and beef rendang with rice) and two pieces of kaya profiterole. The drinks list is equally as impressive with a selection of Champagne, wines and sparkling tea on offer.
Order from Whey here.
RELATED: MICHELIN-Starred Restaurant Chefs Reveal Their Favourite Comfort Foods From Home And Their Own Versions
Japanese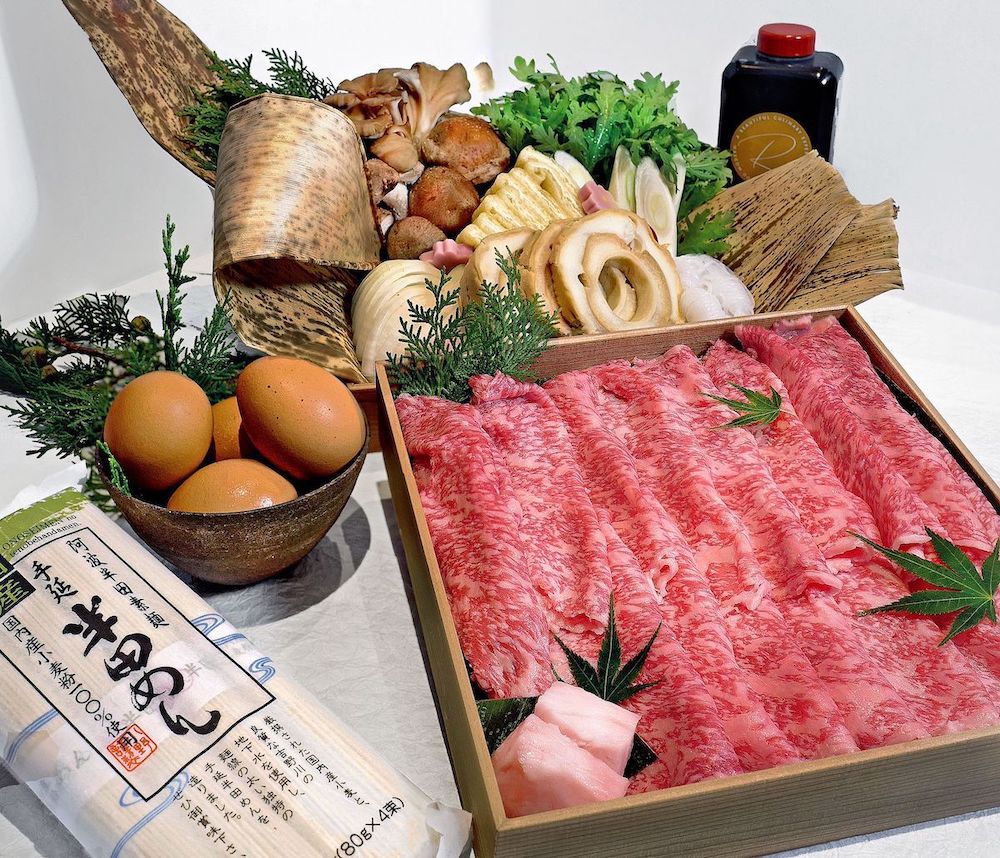 Sukiyaki set from Ryota Kappo Modern (Photo: Ryota Kappo Modern)
One MICHELIN Star, MICHELIN Guide Hong Kong Macau 2022
Craving Japanese food? Ryota Kappo Modern's RKM Grab & Go is the one to go for and it includes the restaurant's signature sukiyaki set (HK$1,580 for two persons; HK$2,680 for three to four persons) that comes with hand cut Kyoto princess wagyu, Japanese seasonal vegetables, Nagasaki Taiyou eggs, Japanese somen or udon, and RKM-style "secret" sukiyaki sauce.
Another unmissable choice is the RKM miso chicken (HK$980 for 2-3 persons), which comprises pre-grilled miso marinated Loong Kong chicken, dangerously addictive sweet corn black truffle rice and mixed seasonal vegetables. Order the kit and you get instructions on how to reheat the meal, it's incredibly quick to prepare.
Order RKM Grab & Go here.

Korean
Hansik Goo's Korean BBQ Trio Home Cooking Set (Photo: Hansik Goo)
One MICHELIN Star, MICHELIN Guide Hong Kong Macau 2022
There's never a bad time for Korean food, especially when it comes to Hansik Goo's famed Korean Fried Chicken with yuza jang. But if you're looking for a true at-home feast, the has got you covered.
For sharing, choose the Korean BBQ Trio Home Cooking Set (HK$488), which comes with three types of meat marinated with different jang (Korean fermented sauces)—ganjang marinated galbi, gochujang marinated pork neck and doenjang marinated chicken thigh—wrapped with lettuce and ssamjang to make a ssam (Korean lettuce wrap). The set comes with two bowls of steamed rice, bossam kimchi and "Jang Trio" choux.
Traditional Korean classics are reimagined with premium ingredients, such as abalone samgye-tang (HK$888) made with a whole local chicken boiled with ginseng, abalone, dates and goji berry, and tteok-guk made with homemade seolleongtang (ox bone soup), rice cake, beef brisket and kimchi.
Order from Hansik Goo here.

RELATED: First Day We Got Our Stars: Steve Lee of Hansik Goo
Indian
Old Delhi butter chicken from Chaat (Photo: Chaat)
One MICHELIN Star, MICHELIN Guide Hong Kong Macau 2022
There's no denying it—Chaat is the place to be for finger-lickin' good Indian delights. While securing a table can seem near impossible nowadays, you can now get your hands on Chaat's beloved dishes in the luxury of your own home.
The takeaway menu comprises dishes that travel well but promise a sense of indulgence, including Old Delhi butter chicken, salem fish curry, pork cheek vindaloo, prawn pulao, tandoori wagyu beef cheek, burnt chilli chicken tikka and lamb chop.
For the ultimate fuss-free experience, opt for the Chaat set menu (HK$549) which highlights popular dishes from the restaurant, including tandoori beef cheek, Old Delhi butter chicken and caramel shahi tudka. Top it all off with a mango lassi, and you're in for a treat.
Order from Chaat here.
Murgh Tikka Angar (spice-marinated chicken) from New Punjab Club (Photo: New Punjab Club)
One MICHELIN Star, MICHELIN Guide Hong Kong Macau 2022
Few things are better in life than a delightful meal, and New Punjab Club is where the magic happens. Take your pick from the a la carte menu featuring an extensive selection of Punjabi favourites, from which the restaurant suggests choosing from salaad aur achar for starters, tandoor or deg aur sabzi for mains, and a generous portion of rice, naan or roti to round off the meal.
When in doubt, opt for Tandoor for Two (HK1,188), which comes with everything—samosa chaat, keema pau, tandoori grouper, Mughal Room makhani, dal fry, butter naan and pyaz aur mirchi salaad—you need for a satisfying feast.
Exclusively available for pick-up and delivery on GO, Black Sheep Restaurants' in-house delivery service, the hearty karhai gosht, a braised mutton rib and shoulder dish with tomato and ginger sauce, is best enjoyed with warm tandoor-baked naan.
Order from New Punjab Club via GO.

Innovative
Modern Bento Box by one-MICHELIN-starred Ando (Photo: Ando)
One MICHELIN Star, MICHELIN Guide Hong Kong Macau 2022
It may sound too good to be true, but you can now indulge in Ando's signature dish, "Sin Lola", in the comfort of your own home. The blue lobster caldoso rice dish, named after chef Agustin Balbi's late Spanish grandmother, features Hokkaido yumepirika rice with Brittany blue lobster, Spanish cured beef (cecina), fresh parsley and dashi made with lobster shells. Priced at HK$1,488, the lobster rice set comes with a clay pot and holder to make sure it tastes like how you like it at Ando.
Want to replicate Ando's multi-course experience at home? The Modern Bento Box will make your wish come true with a starter consists of cured hamachi, prawn and aji amarillo sauce, a main course of Kumamoto wagyu with caramelised onions, Japanese egg, furikake rice and beef sauce, and a dessert of dulce de leche cookies, Japanese kumquat, yuzu curd and grapefruit mint mousse.
Ando at Home can be ordered via JIA Everywhere.
RELATED: Best Artisan Bread And Butter At Hong Kong MICHELIN-Starred Restaurants
Date by Tate's Gastronomy Gourmet Box (Photo: Tate)
Two MICHELIN Stars, MICHELIN Guide Hong Kong Macau 2022
In need of date night ideas ? Look no further than Date by Tate's artfully curated Gastronomy Gourmet Box (HK$1,580 per box, with a minimum order of two boxes), delivered from the professional kitchen of two-MICHELIN-starred Tate directly to your door.
You can look forward to a three-tiered Gastronomy Gourmet Box that comes with a signature bread basket, a quartet of four small dishes, a choice of main course, a dessert and mignardise set for one. The food delivery is well-thought-out with a zero-waste approach to make sure the wooden tiffin box and vessels are reusable and collected upon completion of the meal.
Also available for add-ons are half a bottle of rosé Champagne with two Lehmann Champagne glasses (HK$680) and patisserie sets for the sweetest of sweet tooths.
Order from Date by Tate here.