"The Coronavirus epidemic is a call to action," Vicky Lau, chef-proprietor of one-MICHELIN-starred Tate Dining Room, wrote in a May 1 blog post. "We're challenged to adapt to the rapidly changing F&B landscape with an unknown future. How can we continue sharing our craft and hospitality without the former dining scene?"
Hers is a question that has been weighing on the minds of Hong Kong chefs and restaurant managers since the start of the Covid-19 pandemic. Months ago, restaurants had begun adapting their normal practices to accommodate government mandates to reduce capacity and increase distancing between tables while also trying to ensure the safety of their staff and to keep their business afloat. But when the city's "third wave" outbreak in July compelled a tightening of social-distancing restrictions to include, for the first time in Hong Kong, the banning of dine-in services between 6pm and 5am, it was the proverbial straw that broke the camel's back.

The Black Sheep Restaurants group, which operates more than 25 restaurants in Hong Kong, started their own in-house delivery app GO for their stable of venues. (Photo: Black Sheep Restaurants)
MICHELIN-starred restaurants that had previously never offered takeaway and delivery services were suddenly forced to reconsider whether or not their style of food service could be adapted for a takeaway format.
For some, like two-MICHELIN-starred Arbor, the answer has simply been a regretful "no" to compromising on the way they prepare and present their food to their guests. While they have been doing their best to provide guests with greater flexibility through extended lunch service hours, they anxiously await the opportunity to welcome guests back for regular dinner service, the restaurant says.
But luckily for Hong Kong diners, many chefs have found innovative and imaginative ways to translate their MICHELIN-lauded high standards for at-home dining.
Down to logistics
The Roganic Hong Kong team were fortunate to be able to follow a tried-and-true, award-winning formula that had already been developed from scratch by Simon Rogan's U.K. team in response to their earlier restaurant closures. Within days of Hong Kong's ban on in-person dining after 6pm, they introduced Simon Rogan At Home, a three-course takeaway menu with delivery service within Hong Kong island. To make the experience even more personable, they recorded and released a step-by-step video tutorial by head chef Ashley Salmon on how to reheat and plate the various elements of the meal for a restaurant-like finish.
The Hong Kong debut of the "Simon Rogan at home" featured a three-course menu of pea soup salad, three yellow chicken, and white chocolate pudding, with a side of soda bread. (Photo: Roganic Hong Kong Facebook)
"The biggest problems we faced in the U.K. and Hong Kong were all down to the logistics," says executive chef Oli Marlow. "Trying to deliver 80 meals per night within the space of three hours is tough but something we needed to overcome quickly."
The questions of how to ensure quality control through the delivery process and how to provide the extra touch have been the greatest concern for restaurants. For the most part, the solution has been to retain in-house control of the delivery service.
Though Roganic has teamed up with a delivery company, they themselves organize the timing and the routes, and a uniformed team member rides along to hand deliver every meal. "It's our way of extending our hospitality to your home," says Marlow.
A bespoke build
Syed Asim Hussain, co-founder of Black Sheep Restaurants whose lineup includes Belon and New Punjab Club, says of the restaurant group's decision to set up their in-house delivery platform GO: "We firmly believe that a third party will never care about our product, the food, as much as our own team do, so all GO riders are full-time team members and receive extensive training."
By creating a delivery app through the lens of hospitality team, he believes they can turn "what was previously a solely transactional experience into a journey built with the same care and consideration that goes into every restaurant." The group also launched Supper Cult, a weekday meal plan through which diners can sign up for a curated menu of five daily dinners delivered to their door.
Likewise, JIA Group have been inspired to launched a new initiative, JIA Everywhere, which includes a takeout and delivery platform, after having previously been content to list some of their more casual restaurants with third-party delivery services. It was only after bringing the services in-house that their MICHELIN-starred restaurants, Duddell's and Louise, began offering takeaway items.

Duddell's executive chef Li Man-Lung has found that customers are looking more for comfort food, like the Peking duck set, from their takeaway and delivery menu. (Photo: Duddell's)
"Our major concerns are the food quality and customer experience. It is important for our guests to receive the delivery when it is still hot and tasty, just like what they will have in the restaurant. Since everything came with short notice, we needed to react fast. It definitely was not easy," says Duddell's executive chef Li Man-Lung. "We have a lot of great and positive responses with JIA Everywhere. Our guests are very supportive, and we get a lot of return customers."
Same but different
"I saw many chef friends in the world doing takeaway during their closure," says chef and co-owner Hideaki Sato of one-MICHELIN-starred Ta Vie, "and I anticipated we would have to do that one day in Hong Kong too." Within days of the government announcement, his team of "food tigers" (as they have playfully nicknamed themselves, donning logoed shirts complete with a masked tiger mascot) was ready with a roster of new dishes, which they began promoting to their followers on social media.

For Sato, the reasons for creating an entirely separate takeaway menu are two-fold. Firstly, his dishes are normally prepared à la minute and served immediately to the table. It is a standard that by definition cannot be achieved by any takeout or delivery service, no matter how efficiently organized, and it is one that Sato prefers not to ask customers to replicate at home. Secondly, he has found that his customers prefer a more casual style of comfort food for home dining, and he enjoys the opportunity to show another side to his cooking.
"At our restaurant, I want to offer an unusual, special food experience. At home, people expect comfortable but high quality food. So the menu should be different," says Sato.
What remains the same are the quality of ingredients, the caliber of cooking skills, and the intangible essence of Ta Vie. An early fan favorite, the restaurant's charcoal grilled wagyu rice bowl features tender cubes of wagyu beef and kernels of sweet corn served over Koshihikari rice and finished with black truffle sweet soy sauce and freshly shaved black truffle. "I think some of the regular customers prefer our takeaway menu over our normal menu," Sato jokes.
READ MORE: Why Japanese Chef Hideaki Sato Wants To Master Chinese Cuisine
Two-starred Écriture's executive chef, Maxime Gilbert has also adopted a same-but-different approach with Écriture a la Maison, though his takeaway meals maintain closer ties to their original dine-in counterparts. Takeaway versions of the Calligraphy and Library of Flavors tasting menus share the same flow of courses as the dine-in menu when possible and also reflect tweaks and substitutions when necessary. "We use the same products but cook them in a different way," Gilbert. "I would like to keep the standard and the high quality of my food. And at the same time, I want to optimize my ingredients in the best possible way."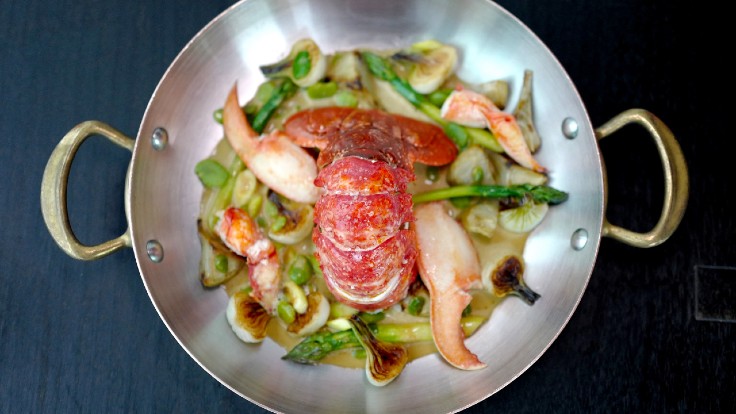 The Écriture a la Maison takeaway menu offers the same products featured in the restaurant's tasting menus, but presented in ways that are optimized for home delivery. (Photo: Écriture – Facebook)
In the restaurant, the wagyu beef course is served as a millefeuille with indulgent layers of cooked wagyu, raw wagyu, and uni, topped by a delicately pieced-together blossom of freshly shaved black truffle, and finished with uni and truffle marmalade. Neither the presentation nor the scent of the truffles could survive transit beyond the dining room. So for Écriture a la Maison, the wagyu course is prepared and delivered in the form of a beautifully grilled steak with French fries cooked in beef fat.
Gilbert recognizes that the at-home dining experience will be an inherently different experience than in-person dining at a MICHELIN-starred restaurant, but he ensures that personal touches abound with Écriture a la Maison. Most of his dishes come with a recipe card with instructions on how to properly reheat and plate the dish. The Bresse chicken even comes with a bonus spice packet for making consommé with the leftover carcass. His team also handles everything from start to finish, including the delivery process, to ensure quality control and efficient delivery times. "It's a nice surprise for the guests to see us when they open the door," says Gilbert, who makes many of the hand deliveries, himself. "And it's nice to see a smile from my guests."
Rediscovering the joys of dining at home
"We believe that people would still be looking for good dining experiences at home when dining at restaurants is not preferred or not possible," says Duddell's executive chef Li Man-Lung. In direct response to the tightened social distancing regulations and as part of the JIA Everywhere initiative, JIA Group also launched the Chefs at Home concept to offer tailored private dining experiences that bring the head chefs, like Li of Duddell's or Franckelie Laloum of Louise, to their guests' home kitchens. Though engaging chefs of Michelin-starred restaurants for private catering events has always been possible, it isn't often that they market the service so publicly and make the booking process so easy and accessible.

As chef-proprietor of both Tate and its catering service arm, Butler, Vicky Lau has spent a great deal of time contemplating how, short of a bespoke catering engagement, she could bring a MICHELIN-starred dining experience into her guests' home.
Her new concept, Date by Tate, aims to "encourage celebrations and togetherness at home" with a carefully executed solution that brings nearly every element of the restaurant to her guests' homes, from a multi-course tasting menu of dishes beautifully presented in a sleek, three-tiered, gourmet bento box (pcitured), to the complete table settings inclusive of the chinaware, glassware, cutlery, and linens, to a suggested music playlist.

Guests can also add extra side dishes or desserts, sommelier-recommended wine pairings, or DIY bartender kits with bottled cocktails and a mini glass shaker, jigger and strainer to complement the meal and complete the occasion. The Date by Tate menu shares the same French x Chinese culinary style as that of Tate Dining Room, but with a balanced reflection of culinary innovation and comfort that is better suited for home dining. Most of the courses are delivered ready-to-eat, and only minimal reheating is required of the main course, allowing guests to relax and focus on enjoying the overall dining experience. "The simple luxury Gastronomy Box at home possesses an intimacy and charm that no restaurant can match," Lau says.
RELATED: Tate Chef Vicky Lau On Being 'Girly' In The Kitchen
Easing into the joys of cooking
"I promise you this one is really simple," Roganic Hong Kong head chef Ashley Salmon smiles reassuringly into the camera as he introduces their visually striking Earl Grey chocolate cherry cake. Earlier in the video, he had already walked viewers through the process of reheating and plating the starter course of roasted pumpkin soup with cheese dumplings and the main course of crispy duck leg and grilled salad. The dessert looks a little more intimidating. But sure enough, guests are able to follow along with his step-by-step video instructions of reheating the cakes, piping on the mousse, and garnishing the top with colorful blossoms of edible flowers for a surprisingly easy, Instagram-worthy finish. In crafting a takeaway meal that stays in line with Simon Rogan's style and brand, the team takes into consideration not only the transport and packaging but also what equipment and, frankly, what skill level their guests have to work with.
RECOMMENDED: Essential Pantry Ingredients For Every Home Cook
The videos are a key component to the success of the "Simon Rogan at home" concept, the restaurants says. Despite the time and effort it takes to produce a weekly video to accompany each new "at home" menu, they help remove some of the fear factor for those less confident in the kitchen. "We wanted it to be simple but fun," says executive chef Oli Marlow. "We wanted to take all of the hard work away from the home chef but to leave enough to make them feel they are cooking meal themselves to a MICHELIN star standard."

Similarly, executive chef Andrea Zamboni of Aria, a veteran of MICHELIN-starred kitchens including 8 ½ Otto e Mezzo Bombana and former head chef of the MICHELIN-recommended Limoni at the Ritz-Carlton, Guangzhou, sees his ready-to-make LKF Chef Kits as an opportunity for guests with only basic cooking skills to produce a fine meal at home. Nearly everything in his open ravioli kit is pre-cooked apart from the pasta sheets, which simply call for a pot of boiling water. Sister outlet, Porterhouse, offers a steak that has already been cooked sous vide so guests can give it a quick sear to finish.
"We've heard some funny stories from our regulars who have ordered our Chef Kits without friends and family knowing and taken all the credit for whipping them up an outstanding meal," he laughs.

Zamboni has a lot of sympathy for aspiring home cooks and has carefully selected easy dishes for them to recreate. But he'll be soliciting feedback from customers to see if they are ready for more challenging dishes moving forward.
An uncertain future
Starting on Friday, August 28, in-person dining hours in Hong Kong will be extended to 9pm. As dining restrictions continue to be eased, it will be interesting to see which restaurants will revert back from their temporary adaptations to business-as-normal and which restaurants have embraced the idea of premium home-dining products as a new revenue stream that is here to stay. Hussain of Black Sheep Restaurants doesn't believe that premium dining is suitable for delivery over the long term. "The magic happens within the dining room, and it is just not replicable for delivery." He adds, "right now, it is a lifeline that we are clinging to, but it will not sustain us."
For some, like Sato of Ta Vie, the decision to offer a takeaway menu was not just for the business; it was a way to maintain regular contact with his guests through face-to-face handing over of the food. But it would be too great a burden on his team to continue to offer the special takeaway menu even after dinner service is resumed. "As a chef and restaurant owner, I need to be concerned not only for the business, but also for the team," he says. But they stand ready to restart the takeaway service if necessitated by future restrictions. "It's the only way to survive."
Others also appreciate and value these added channels for customer outreach, but see the innovations as examples of evolution in the industry.
"Doing the takeaway was not just to create revenue, but a way of keeping the brand out there and keeping people talking about us, so that when we reopened, we were fresh on people's minds," says Roganic's Marlow. He continues, "I think the hospitality industry has changed so much, and all the restaurants that are offering a takeaway service will seriously consider continuing it. We have continued to do it in the UK on weekends and we are planning to hit the special occasions where we believe there will be a big market for it, such as Christmas time."
FURTHER READING: Boon Or Bane: Restaurant Reservation Deposits