French culture is inextricably linked to gastronomy. France was the first country to have its cuisine added to UNESCO's heritage list including 2022's addition of the iconic baguette.
Lyon, in France's Auvergne-Rhône-Alpes region, sits at the crossroads of the Rhône and Saône rivers. The location benefits chefs as a myriad of foods come from the region: poultry from Bresse, cow's-milk cheeses from Dauphiné, crayfish from Bugey and, of course, wines, from Beaujolais and the Rhône Valley. (Locals joke the region's third river is the Beaujolais which never runs dry). Below, we break down the origins of Lyonnaise cuisine and culture and how the city is a gourmet's top destination.

Saône bank © Tristan Deschamps/Lyon Tourisme et Congrès
This rich gastronomic culture goes back to the mid-18th century, when the Mères Lyonnaises (Mothers of Lyon) opened homestyle restaurants serving simple fare. They utilized local, inexpensive ingredients including off-cuts of meat, a practice that would carry cooks through hundreds of years and the deprivations of war to create delicious, approachable fare. It's worth noting that despite the humble origins, the Mères Lyonnaises evolved into world-class MICHELIN-Starred restaurants.
The first record of the Mères Lyonnaises is Mère Guy, who opened her outdoor restaurant along the Rhone in 1759 and served matelote d'anguilles, eel braised in red wine. In 1902, Mère Blanc (Élisa Blanc) opened La Mere Blanc in Vonnas (65km outside Lyon), which was one of the very first restaurants to receive Two MICHELIN Stars. Eugene Brazier, perhaps the most famous of the Mères Lyonnaises, was the first person to run two Three-MICHELIN-Starred kitchens. She opened her first restaurant at 26 and her second eleven years later in Col de la Luère, 35km west of Lyon. Both were called Mère Brazier and, in 1933, were awarded Three MICHELIN Stars.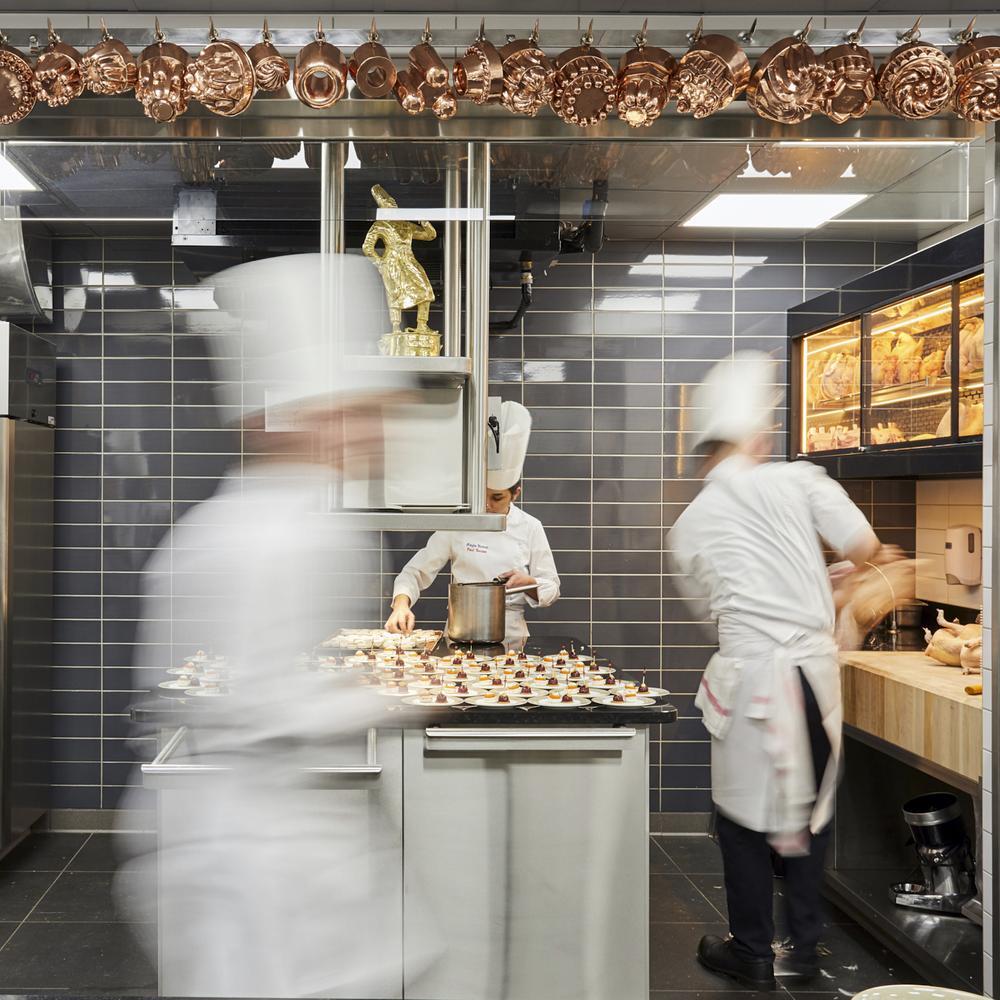 Paul Bocuse © Sébastien VERONESE/Paul Bocuse
It was at her Col de la Luère restaurant where Chef Brazier took on a very special apprentice— a 20-year-old Paul Bocuse. Bocuse would rise to become Lyon's prodigal son ushering in France's era of nouvelle cuisine—lighter, more seasonal fare—at his eponymous Two MICHELIN Star restaurant. Bocuse's influence is still felt presently as his modern reworking of oft-heavy classical French cuisine brought post-war France into a new era of gastronomy.
Similarly, the Mères Lyonnaises left an indelible mark on their city. The precursors to bouchons, the type of eatery for which Lyon is known, the bouchon gained popularity due to its homey, moderately-priced, family-run eatery serving hearty fare. A lively atmosphere greets diners with wooden tables draped in red and white checked tablecloths topped with butcher's paper. Think of bouchons as being rich and rustic: a typical meal might be pot-au-feu or a quenelle de brochet accompanied by a carafe of inexpensive wine from Beaujolais.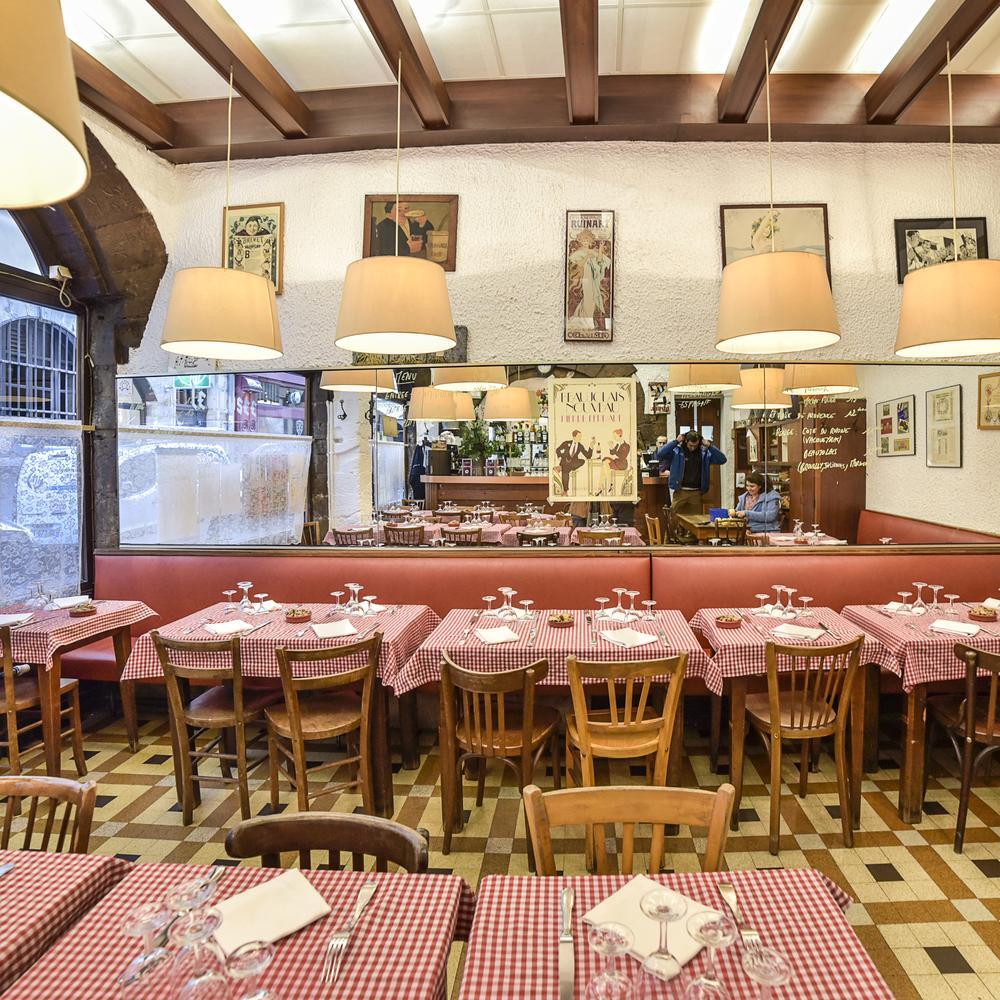 Le Musée © Brigitte Cavanagh/pour Michelin
There are
91 MICHELIN Guide restaurants
in Lyon, from Bib Gourmand to Two Stars. For a more traditional bouchon experience (generally heavy and meaty), try:
Le Bouchon Sully: This small bistro serves dishes such as chicken liver gâteau, veal liver en persillade (with parsley and garlic) and calf's head with sauce ravigote.

Le Museé: A homey bouchon with checked tablecloths, closely packed tables, and a buzzing atmosphere, this kitchen turns out old school classics such as Lyonnaise pork, foie de veau persillé (calf's liver), and trotters.

Le Poêlon d'or: It's hard to say whether or not the chef does actually use a golden saucepan (the restaurant's name translated), but they definitely have a secret weapon. The food is tasty and perfectly put together, from the gâteau de foie de volaille (chicken liver) with tomato coulis to the pike quenelle gratin with béchamel sauce.
For lighter and/or vegetarian options, try:
M Restaurant: A talented chef,Mathieu Viannay formerly of Léon de Lyon, rustles up an appetizing, market-sourced menu, combining flawless technique and know-how in a bid to pamper guests' tastebuds with delicate flavors.
Sinabro: Bibimbap and other authentic Korean dishes are the hallmark of this delectable spot. The food is healthy and flavorful, down to desserts like a sticky rice cake with red bean paste.
Prairial: The name means "relating to prairies or meadows" and is decidedly emblematic of the culinary approach of this restaurant. Chef Gaëtan Gentil pays tribute to all things that grow— fruit, herbs, vegetables—and sources meat from local farms and fish from the region's lakes and rivers.
Renaissance courtyard in Vieux Lyon © Tristan Deschamps/Lyon Tourisme et Congrès
However, Lyon's appeal goes beyond the plate. It's a vibrant college town with 140,000-plus students across more than 30 universities. The city's compact enough to be walkable or by metro, or opt for one of the dockless bikes and scooters that dot the sidewalks. Its historic core, Vieux Lyon, has charmingly narrow, winding streets. The city is diverse architecturally: Roman ruins, Renaissance apartment buildings, avant-garde acid-green and neon-orange offices.
Museums
Lyon has as many
museums
as a city three times its size, among them
Cité Internationale de la Gastronomie de Lyon
. Housed in a renovated
hôtel-Dieu
, this former hospital run by the Catholic Church was designed by Jacques-Germain Soufflot, also the architect of the Pantheon in Paris. The permanent exhibition, "Bonnes tables, belles tables", was put together by chef Régis Marcon of Three Star
Régis et Jacques Marcon
in Saint-Bonnet-le-Froid, 100km southwest of Lyon. It covers the art of table service at home and in restaurants, and showcases beautiful dishware from French brands like Christofle. Other installations may take you through Lyon's gastronomic history, showcasing antique stoves and cookware and even vintage MICHELIN Guides. There's also a section for budding kid chefs with bright and interactive play kitchens and grocery stores. On the top floor is a kitchen for demonstrations and tastings of food from around the globe.
The excellent Musée d'art contemporain de Lyon, is a bold statement as the Renzo Piano-designed building, showcases global art of all media, sometimes experimental, from the 1960s onward, as well as the Lyon Biennale.
Lyon sits at the intersection of two rivers—the Saône and the Rhône—and science and anthropology museum Musée des Confluences looks at the history of the earth everyone who lives on it, from dinosaurs to Siberian tigers to humans.

Cité Internationale de la Gastronomie de Lyon © Thierry FOURNIER/Cité Internationale de la Gastronomie de Lyon-Métropole de Lyon
Where to Shop in Lyon
Bright, light, and plant-filled
Hyppairs
sells men's and women's clothing and accessories. From beanies and backpacks, to dresses and graphic T-shirts, this spot also features local items including drawings of Lyon, jewelry, candles, and paper goods. For those needing a quick refresh post-shopping, pop by the inviting cafe at the back.
Homebodies will adore the ceramics filling the shelves at Maison Mathûvû. You'll also find jewelry, notebooks and cards, along with women's jackets and sweaters. Next door is menswear shop Heureux comme un Prince, which sells everything to equip the modern gent from pocket squares to shaving brushes.
Those wanting to bring a taste of Lyon with them should head to indoor food hall Les Halles de Lyon Paul Bocuse. Nearly 60 butchers, bakers, chocolatiers, cheesemongers, and vendors of produce, wine, spirits, and spices are here, along with a few bars and restaurants where, at weekends, you'll see Lyonnais families tucking into shellfish and white wine.

Hyppairs © Hyppairs
Views
Capture the picture perfect moment and take in all of Lyon from atop Fourvière Hill, outside the late-19th-century
Basilique Notre Dame de Fourvière
. An impressive Romanesque-Byzantine structure with a florid exterior, take a stroll through Parc des Hauteurs leading to the ruins of Lyon's Roman theater (15BCE), which is still presently used for concerts and performances.
Lyon viewed from Basilique Notre-Dame on the Fourvière Hill © Gaël FONTAINE/Lyon Tourisme et Congrès
Okko Hotels Lyon Pont Lafayette
While its surroundings may be ancient (and its architecture Haussmannian), Okko's interiors are as contemporary as they come. Modernist-classic furniture sits alongside saturated gem-toned colors for a vibrant finish. The hotel, right by the banks of the Rhône, serves breakfast and a daily apéro at no cost, and the light spread can easily stand in for dinner—baguette and cheese, green salad with vinaigrette, pickles, charcuterie, and other bits and bobs.
Hôtel Le Royal
It's hard to imagine a classic grand hotel that's much more elegant than this—a floodlit Haussmanian classic with a Renaissance-style dome, the Hôtel Le Royal absolutely dominates its corner on the city's central Place Bellecoeur. Thanks to an inspired renovation, the spirit of the place remains— the classic patterned fabrics and the rich palette of reds and blues set a suitably regal tone, while the furnishings and fixtures span a spectrum of historical eras, from period reconstructions to subtly contemporary pieces.

Okko Hotels Lyon Pont Lafayette © Okko Hotels Lyon Pont Lafayette
Hero image: Place St-Jean, Basilique Notre-Dame on the Fourvière Hill in the background, Lyon, France
© Pierre Jacques/hemis.fr