"We were making chocolates for a retirement home"
Vonnas. London. Ibiza. Australia. Canada. Zwolle. As a young chef, Edwin Soumang travelled around the world in order to hone his cooking skills. He developed his love of good food in his childhood home. His father was a pastry chef who had developed an allergy to flour and started making chocolates at home. The young Edwin would invariably spend his Easters sticking together chocolate eggs destined to be sent, along with a few other things, to the local retirement home. But he had no aspirations to be a baker or chocolatier. Cooking was to become his true passion. It also sparked his ambition to explore the world. After Der Bloasbalg in Wahlwiller he left to work for Georges Blanc. Following that he spent a year and a half at Le Gavroche. There was also a touristy Italian restaurant in Australia. And a stint in the kitchen of a luxurious private island near Ibiza and in a high-end chalet in Vancouver. The world was Edwin Soumang's playground.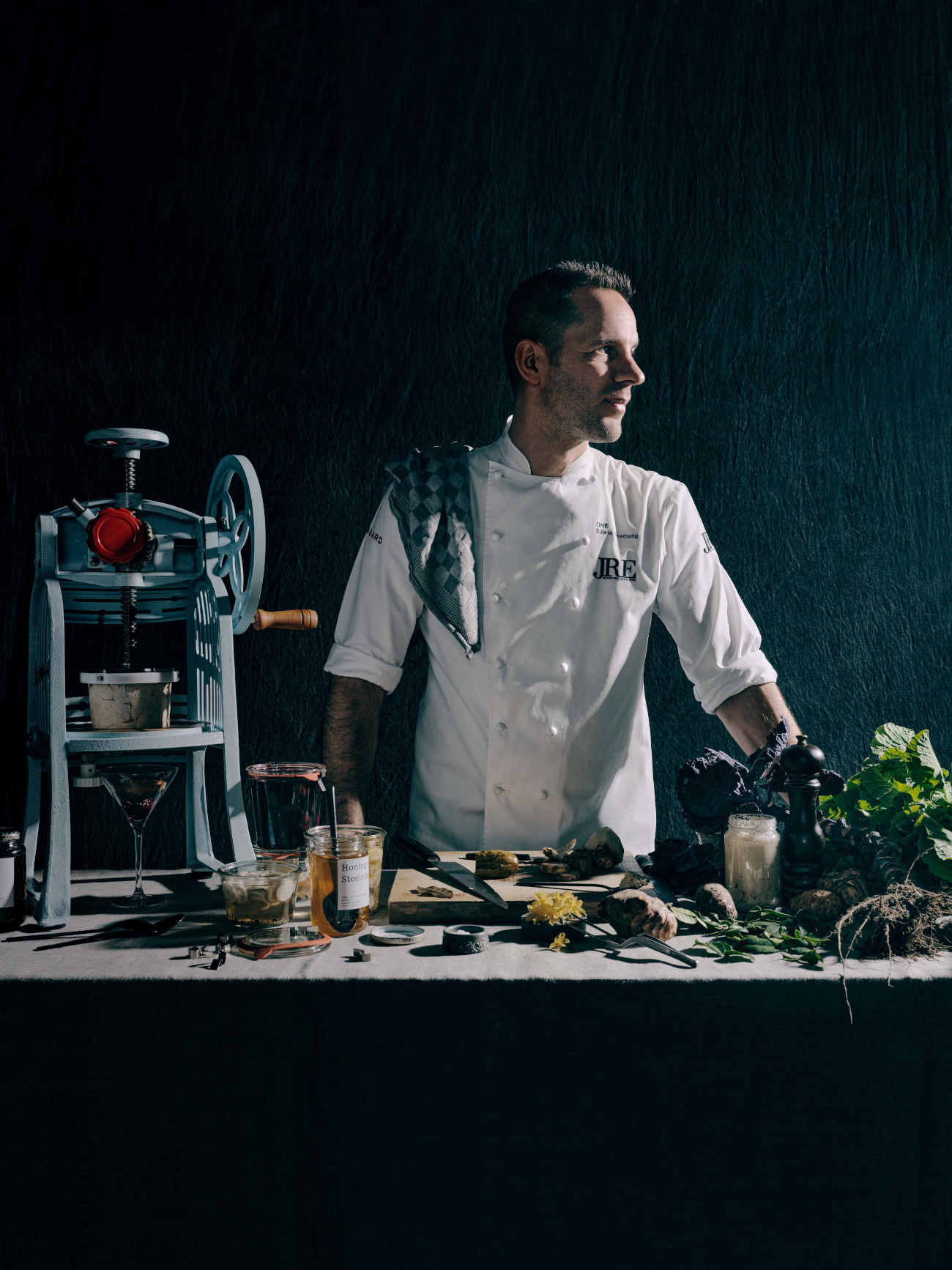 Edwin Soumang ©Hugo Thomassen
"You don't just learn at the big places"
This Limburg chef does not forget any establishment he has worked at. The Italian passion of his boss in Australia, the military discipline and classical rigour of Le Gavroche, the open and innovative spirit of Jonnie Boer at De Librije. Everywhere he went, there fell into place a piece of the puzzle that represents his cuisine today. In 2007, chef Soumang opened Restaurant ONE with his partner and sommelier Bethany DeLong. He first met her – how could it be otherwise? – on one of his many travels. In 2012, they moved to their current premises, the former ECI factory on the edge of Roermond city centre. The planting of a few herb boxes appeared to sow the seeds of a sustainable vision that today determines ONE's direction.


©Martijn Kersten / Josefien Bouw
"What was planted one day was eaten by rabbits the next night"
Those herbs were succeeded by a proper vegetable garden, which is located behind the former factory building. Renowned vegetable gardener Jacques Nijskens helped to establish the first plants in 2014. The first two years, however, were something of a fiasco. Rabbits were devouring everything. The water wasn't draining away properly. You name it. But once the garden was up and running, it really set ONE in motion. Edwin Soumang has always used his past as a globetrotter to nurture his creativity, without forgetting the classical knowledge he gained from places like Le Gavroche. He allows himself time to discover new techniques, which may or may not be incorporated into the narrative. What matters is that he decides what ends up on the plate. The produce always comes first. In recent years that produce increasingly comes in the form of a vegetable or fruit taken from his own garden.

©Martijn Kersten
"We were throwing away a lot in order to offer choice"
The idea of ONE is simple: what is grown in the vegetable garden should end up on the plate. That is why, over the years, they have switched from set menus and à la carte dishes to a single set menu with a flexible number of courses. A set menu that is always in a state of flux, because every week there is an amuse-bouche, confection or dish that changes. Waste is kept to a minimum, with the chefs taking a more mindful approach to harvesting and cooking their ingredients. Chef Soumang and his team are now able to focus on the flavours in their menu. Behind the scenes, people are working hard to refine the signature style of the kitchen and the evolving story of ONE. The further they pursue their chosen path, the more complex the project becomes. For example, bees were introduced into the vegetable garden. There is a gardener who, together with a team of volunteers, is responsible for maintaining it. The kitchen and wait staff go out into the garden every day to pick out produce. Sustainability is also about well-being. For this reason, the restaurant is now open four days a week instead of five.

©Martijn Kersten / Josefien Bouw
"Today we have carried the idea behind our garden into the restaurant"
Experience. It is a word that virtually every chef uses. As does Edwin Soumang. To make ONE's philosophy tangible, the restaurant was completely refurbished with natural materials. Tables were made by a local craftsman. Linen was taken off the tables and replaced with recycled leather. In the centre of the listed building is a "Vertical Garden" by world-renowned artist Claudy Jongstra, made with materials gathered from her garden and the forest. Sustainability is in every fibre of ONE. They are continuing on that path and have found support in their community. Neighbours bring their surplus fruit for them to put to use. People with plans to create a forest garden knock on the door to propose working together. As chef Soumang himself puts it, this process is ongoing and certainly far from over.

©Martijn Kersten / Josefien Bouw
"It's about quality, not quantity"
Edwin Soumang has a fixed routine when he arrives at the restaurant in the morning: he starts off the dough for his sourdough bread and immediately makes a cup of coffee. When the dough is ready, a second cup follows. As with meat, fish or wine, his rule is: whatever you eat or drink, go for quality. That is why he has chosen illycaffè as his regular coffee supplier. One should not underestimate the importance of a comforting cup of coffee after a high-quality meal. But chef Soumang's relationship with coffee goes beyond that. You will find it both in cocktails – think a fantastic Espresso Martini – and occasionally in desserts (he's been known to prepare a coffee soufflé). At Bistro TWO, where he acts as consulting chef, the menu includes a tiramisu-filled profiterole and a coffee ice cream.

©Josefien Bouw
"Coffee works best with winter flavours – in savoury dishes"
Chef Soumang likes to draw a comparison between coffee beans and cocoa beans. He buys the latter to make his own chocolate. Last winter, he combined venison with a jus enriched with cocoa. Such hearty winter dishes, he says, can incorporate the earthy flavour of coffee as well. Perhaps in combination with celeriac or Jerusalem artichoke.
"Let the coffee beans soak into your jus," suggests Edwin Soumang. "You can determine whether or not roasting the beans gives them a more powerful taste. If you're making a dessert, you can soak the beans in cream to infuse it with a coffee aroma. By the way, you get a lot of flavour from the outer skins of the coffee beans. This is a by-product that is often thrown away unnecessarily. There is still a lot of flavour in them. And in order to get as much out of the produce as possible, keep the grounds for the vegetable garden. Our gardener regularly comes and asks us for coffee grounds to use against the slugs."

Header image ©Martijn Kersten / Josefien Bouw

This post is brought to you in partnership with Illy