Pesticide-free restaurant gardens. Preserves in the cellar. Sourdough bread, homemade with love. Orange wines. Eating the pig from the nose to the tail… If this makes you think of a hipster gastropub's statement - you're in for a surprise. That's actually how Slovenians have been thinking, farming and cooking for ages. While the traditions seemed to have disappeared for many years, today, they are finding an echo in the kitchens of a whole new generation of Slovenian chefs.

With her two Michelin Stars and a Michelin Green Star, Ana Roš is arguably one of the most stunning examples of the renewed tradition of sourcing local products. Deeply anchored in the Soča Valley, a bucolic region of Western Slovenia, Ana Roš's revolutionary cuisine is a testament to the natural beauty of her surroundings. Fourteen years ago, when the young woman took over her partner's family restaurant in Kobarid - the now internationally famous Hiša Franko - local farmers didn't dare work with her. « Do you really think my cottage cheese is good enough for a restaurant ? » wondered an old goat-raising lady, who is now one of Hiša Franko's main suppliers. For Ana Roš, building a strong network of local farms was an absolute necessity, as well as relying on humble, traditional Slovenian ingredients.
« When I first started cooking trout, people thought it wasn't an appropriate fish for a restaurant. Now, our trout starter is probably the most respected dish on the menu », she insists. And what a trout ! The huge iridescent fish (a marble trout is notably bigger than its peers from the trout family) swim in a pond at the back of the restaurant - a real treat on the zero-mile scale. In addition to her own traditional backyard garden, Ana Roš gets her vegetables from a small farm held by Jeanne and Matteo, a young couple who work manually, growing most of their strictly organic produce without watering; the renowned chef also collaborates with several local foragers who bring her wonderful gems from the forests around Kobarid : mushrooms, juniper berries and wild herbs.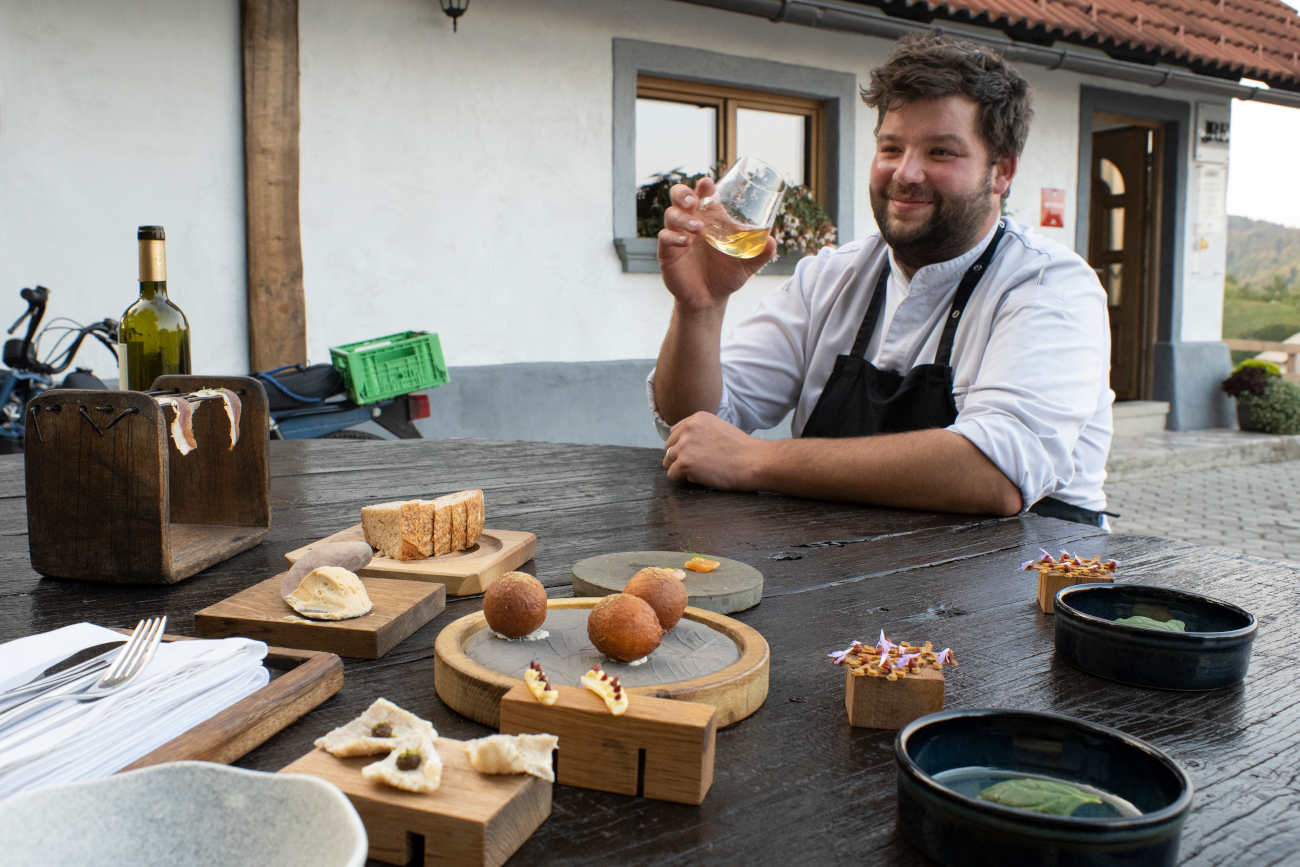 Luka Košir © Aaron Chervenak
The ingredient - its taste, its seasonality, its terroir - is everything. Every chef around the world will tell you so. But with cooks like Luka Košir, the pretty much worn-out sentence takes a deeper meaning. The young chef, whose charming country-style inn is perched atop a small, green hill forty minutes away from Ljubljana, talks passionately about the wonderful aroma of the steam emanating from tomatoes in a greenhouse, or the powerful scent of hummus on a porcini freshly picked in the forest. « If you buy the porcini, it cannot taste the same. As a chef, I simply try to mimic what nature does so well », Chef Luka explains in his soft voice, while Nejc, his sommelier, pours us numerous glasses of formidable natural wines.
Grič, the Bib Gourmand and Green Star restaurant in Horjul, is one of the most brilliant examples of what Slovenian gastronomy seems to do best: upcycling old-age traditions into fine-dining experiences. Its kitchen is loud, full of the laughters of the young brigade, and its plates are tender, subtle and energizing. « I don't like deconstructed dishes », Chef Luka tells us, while showing us around his cellar full of homemade preserves and fermentation projects. Endless rows of jars containing pickles, kimchi, miso, vinegars and liquors populate the shelves. « I want to create conceptual plates that work on their own. I make a database of tastes. It's a lot of trial and error. » His mother used to own the inn, and Chef Luka decided to open his own free-range duck farm to add one more link to a fuller control of the restaurant's supply chain. His father, who built most of the furniture in the restaurant, also makes spirits.
While Grič is truly a family affair, permeated by old Slovenian farming traditions, it is propelled by a strong belief in a greener, simpler future. After the duck farm, Košir plans to open a pig farm. Yet, he adds, « I always favor a vegetarian diet. My inspiration comes from the heritage of the poor Slovenian farmers. Back in the days, they ate veggies and beans and the meat was sold to pay the bills. » The restaurant's vegetable supply is self-sufficient, thanks to its traditional backyard garden.

Ksenija Krajšek © Aaron Chervenak
Bib Gourmand and Michelin Green Star awarded Gostilna Mahorčič, Ksenija Krajšek Mahorčič's restaurant, also owns a beautiful organic garden. In the pleasingly temperate town of Kozina, in the Karst region, not far from the Italian border, Chef Ksenija walks us around the luscious rows of orange pumpkins and sun-drenched plump tomatoes, where weed and wild flowers happily find their place. « I'm very much impressed and inspired by the hard-working women of this region. They sold their products in baskets, walking along train tracks for hours, in order to be able to buy the salt, soap and fish they couldn't find here », she tells us over a plate of local, meltingly soft prosciutto. In their memory, she created a very simple dish of sardines with salt and vinegar, served on an ice cube. « My grandma, who was a cook, didn't own a fridge. Working in the restaurant was difficult. But she still made great food ! As a child, I always ate very well. »
Chef Ksenija's cuisine is a real homage to these brave women farmers, influenced by the traditional ways to preserve and ferment fresh produce. Her plates are strictly local and seasonal. Thanks to her new Michelin Green Star, she hopes to convince more and more food industry professionals, including hygiene inspectors, that there are alternatives to plastic and aluminum in a restaurant's kitchen. As an example, she proudly holds up a glass jar containing a potica, the traditional -and probably most famous - Slovenian cake, made out of rolled dough, which is usually presented as a round, elevated piece of pastry. The jar helps preserve the flavor of the cake for months, while a classic potica needs to be consumed within a day or two. Chef Ksenija is famous for her desserts - and rightly so. Her signature sorbet, made with pear from the Brkini orchards region, rests on a surprising block of ice containing juniper berries. It is subtle and tender, and elegantly finishes off an excellent meal dominated by the Jamar cheese flan, another one of her specialties, a divinely melt-in-the-mouth dish with truffles and a crispy egg yolk, based on an old, local and slightly spicy type of cheese.

A lobster at Gostilna Za Gradom © Aaron Chervenak
Leaving Kozina to reach the seaside city of Koper, the climate takes on a Mediterranean feel. Jettied over the houses and the pine trees of the small town, Gostilna Za Gradom is a family restaurant owned by Rodica Darko, the second generation of local restaurateurs. His grandfather was the head chef at one of the biggest hotel restaurants during the socialist times, and he regularly cooked gargantuan, sauce-drenched meals for Tito and his clique.
Today, Darko and his young Italian chef, Davide Crisci, offer much lighter dishes to their patrons, mostly based on local fish and seafood, and follow a no-waste policy. « Eat things as they are, keep them whole. Molecular cuisine is wasteful. Eating whole products is a big part of being sustainable », Darko insists as he brandishes a gorgeous live lobster, freshly delivered by one of his local fishermen.
Chef Bine Volčič at the market © Aaron Chervenak
Another zero-waste hardliner is Bine Volčič, the very media-friendly young chef at Monstera Bistro in Ljubljana. « It's impossible to reach zero-waste, but you have to try », he explains as he's shopping groceries at the farmer's market, located at the center of the joyful capital city. At Monstera, you will get tap water instead of bottled water, your knives and forks will not get changed between courses and you won't find a straw, even if you ask for one. As a young man, Chef Bine was obsessed with classic French cuisine. He sold his apartment and his car and left to study at the famed Cordon Bleu cooking school in Paris, but the huge waste in the kitchen made his stomach turn. Meeting Sasu Laukkonen, the Finnish chef known for his early sustainable approach, was decisive when it came to the ethics of gastronomy.
Now, Chef Bine is one of the loudest advocates of the « nose-to-tail » philosophy, as his signature dish, a pork snout with pumpkin seed pesto, creamy eggs and pickled chanterelles, proves it. « We use all the awful parts of our ingredients », he says with a laugh. « Celery salt with dehydrated root skin… ripe tomatoes that the farmers cannot sell at the market to make preserves ». Although he was inspired by French, Scandinavian and Japanese techniques, after twenty-years in the kitchen, Volčič has decided to cook like the person he really is : A bold, outdoorsy Slovenian man who loves crazy dishes and sees Slovenia as « one big, organic garden »… which won't prevent him from adding a pinch of ginger or matcha here and there !

Gostilna Krištof © Aaron Chervenak
To finish off a wonderful and sustainable foodie trip to Slovenia, let us take you to Gostilna Krištof, owned by the Bolka brothers. In this picturesque wooden inn, located north of Ljubljana, time seems to have stood still. Could a restaurant still be that authentic, that generous, that bucolic? If you're lucky enough, you'll land here on a local farmers' market day, when the brothers, Krištof and Tomaž Bolka, invite their friends and their customers to a tasting of their local suppliers' products.
Among them, we meet David Lesar, the young and dynamic owner of BioSing, a small dried meat company which makes of the finest salamis in the country, Anita Šumer, the sourdough bread Instagram star who encouraged thousands of people to bake at home during lockdown, and Aci Urbajs, the mischievous biodynamic winemaker of Organic Anarchy. All of these fine people sell sustainable products, supporting the restaurant's philosophy in a very joyful atmosphere. In the kitchen, Chef Uroš Gorjanc runs his team with a strong sense of humor… and a strong approach to sustainability, once again influenced by Slovenian traditions.

« There's inspiration in beef soup, in goulash », he exclaims, « Our grandparents respected nature and water. The preserved summer produce, planning for winter. My grandma stored everything she could get from the garden. The younger generations forgot about it all. It's a real problem ». Chef Uroš is very happy about his Michelin Green Star. « It's the future ». He always pays a visit to his suppliers, to see how they take care of their plants and their animals. Even after twenty-eight years of experience, the seasoned cook gets emotional when he thinks of industrial slaughterhouses. « Can I be creative with a piece of meat I want to cry over ? » he wonders as he tells us that he prefers working with lake trouts and Slovenian sea bass fed with ecological food, or simply with potatoes and vegetables. As we finish our generous plates of risotto with wild local mushrooms foraged earlier that day, Chef Uroš comes back to our table. « One last thing », he says hurriedly. « It's very important. Everybody needs to use less plastic in the kitchen. Write it down ! ».
MICHELIN Guide Slovenia : full list of awarded restaurants here.
Hero Image : Chef Uroš Gorjanc/Aaron Chervenak