Singapore foodies can munch and swell with a tinge of pride when they are overseas. This year has seen a wave of home-grown food brands venturing into foreign markets. More than 10 well-loved food establishments, from hawker stalls, cafes to restaurant chains, have ventured to cities such as Hong Kong, London, Dubai and even Almaty in Kazakhstan.
They include
Song Fa Bak Kut Teh
's first Shanghai restaurant that opened in January,
Bib Gourmand-lauded hawker stalls Tian Tian Hainanese Chicken Rice and A Noodle Story, which launched in Hong Kong in May
, and
snack chain Old Chang Kee's debut British outlet that opened in June
. Chinese restaurant group
Imperial Treasure
, which has Michelin-starred outlets in Singapore, Hong Kong and Shanghai, will open in London on 18 December before venturing to France next year. Here are six Singapore food brands that have broadened their mileage overseas recently.
Din Tai Fung's debut London outlet in Covent Garden is designed by Taiwanese designer, Song Yih. (Credit: Din Tai Fung)
1. Din Tai Fung
Popular Chinese restaurant chain
Din Tai Fung
may have started out in Taiwan but Singapore-based food and beverage giant BreadTalk Group has revved up the appetite for its xiaolongbao (steamed pork dumplings) and egg fried rice by opening 22 outlets in Singapore over the past 15 years. Now, it has brought the chain to London.
Din Tai Fung made
its European debut in Covent Garden in London's West End
on 5 December. Besides Chinese food, the 250-seat restaurant in Covent Garden's West Piazza has a cocktail bar — a first for the brand. The bar serves Taiwan-inspired cocktails, its popular Taiwan Pearl Milk Tea with tapioca pearls and traditional Chinese teas, such as the floral Taiwan Mountain Oolong Tea from Nantou in Taiwan and the Rainforest Jasmine Tea that is sourced exclusively from Rainforest Alliance-certified tea farms in Taiwan. A second outlet in London will open in Centre Point in central London next year. The chain has more than 150 outlets around the world.
Wolf Burgers' food truck in wintry Niseko, a popular ski town in Hokkaido. (Credit: Wolf Burgers)
2. Wolf Burgers
Craving a burger during a ski trip in Niseko in Japan? Don't be surprised if you find home-grown burger joint
Wolf Burgers
, known for its voluptuously creative burgers. Launched earlier this month, Wolf Burgers occupies a food truck in the popular Hokkaido ski enclave and is operating till March next year. Wolf Burgers' co-owner Soh Wenming says: "Niseko is an excellent place to expand our footprint as it has a large number of international tourists. We also wanted to start in a place where we could take advantage of the high quality of local produce."
On the menu are new burgers such as Umami Unagi, a rice burger packed with locally sourced grilled unagi and the Krispy Katsu Kutlet burger that features a fried breaded pork loin cutlet with a house-made tonkatsu sauce and vegetables. Not in a mood for burgers? Opt for the Alpha Dog, a gourmet hotdog with diced onions and salsa, and wasabi seaweed fries and mulled wine. Soh hopes to run the food truck every ski season and adds that Wolf Burgers plans to run a full-fledged restaurant in a soon-to-be-opened hotel in Niseko next year.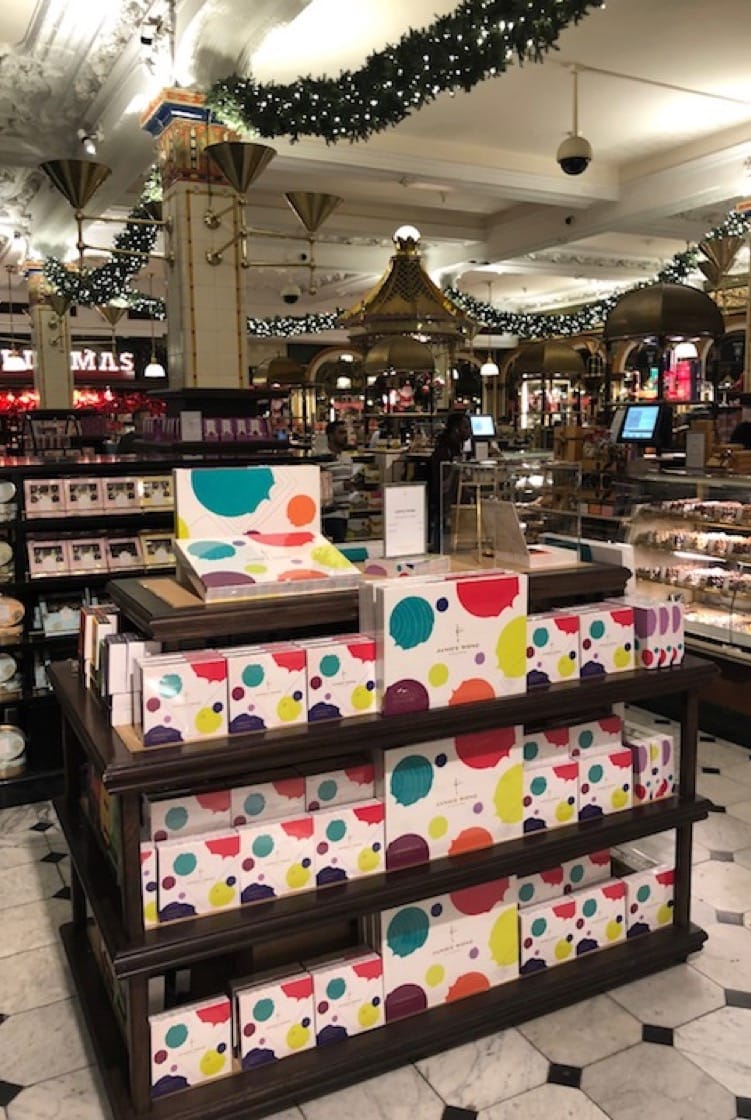 3. Janice Wong Singapore

Singapore's pastry queen Janice Wong is making inroads on the London food scene. Last month, her confectionery line, Janice Wong Singapore, debuted at the renowned food hall of Harrods in London.
Manoj M Murjani, chairman of Janice Wong Singapore, says: "Harrods is the perfect launch pad for Singapore's creative chocolatier brand as it attracts a sophisticated International clientele."
For now, the Janice Wong Singapore booth features one product — the Crayon Box, a set of edible chocolate crayons made of chocolate.
Upcoming confections include the Chocolate Paint Jar, an edible art set of coloured chocolate, paint brushes and an acrylic board, and chocolate bonbons.

Liao Fan Hawker Chan opened in Kazakhstan in October this year. (Credit: Liao Fan Hawker Chan)
4. Liao Fan Hawker Chan
Two years after Liao Fan Soya Sauce Chicken Rice & Noodle became the world's first hawker stall to clinch a Michelin star, the humble hawker stall from Chinatown has blossomed into an international chain,
Liao Fan Hawker Chan
. The casual eatery chain, which is run by investment company Hersing, opened its first overseas outlet in Taipei in 2017. It now has 12 outlets around the world. Raising the most eyebrows is its outlet in Kazakhstan, which started in October. A Liao Fan Hawker Chan spokesperson says: "Many foodies from Kazakhstan have dined at our flagship outlet in Chinatown in Singapore."
Dishes such as soya sauce chicken and, chicken noodles with chicken are a hit with diners in Kazakhstan. The outlet has also introduced a new dish, beef char siew noodles. Besides Taiwan and Thailand, Liao Fan Hawker Chan also debuted in Melbourne last December and in the Philippines last month. The chain plans to open in Ipoh, which is the hometown of its founder, chef Chan Hon Meng. Other locations in the pipeline include London, South Korea and Dubai.
TWG Tea's Leicester Square outlet in London features its first tea museum. (Credit: TWG Tea)
5. TWG Tea
The Brits have always taken comfort in tea so it is fitting that one of Singapore's most well-known tea brands is making a splash in the London. In May,
TWG Tea
made its European debut with two tea salons and boutiques in the bustling shopping districts of Knightsbridge and Leicester Square. The sprawling 7,030-square-feet Leicester Square outlet houses a 120-seat tea salon as well as the world's first TWG tea museum that showcases antique tea wares from around the world. The 18th century Knightsbridge terrace house location features an intimate 40-seat salon illuminated by a beautiful skylight. To mark TWG Tea's foray to London, two new teas, Leicester Square Tea and Bond Street Tea, were rolled out.
Response to TWG Tea has been thriving since it was first sold in Harrods in 2009. A spokesperson says: "We have observed an increasing demand year-on-year for gourmet tea and a willingness to spend on premium goods. Europe's luxury market is growing by 6% and reached €87 billion (S$136 billion) in retail sales in 2017." Next year, TWG Tea will venture to Japan, with a spectacular flagship shop slated to open in Ginza, followed by openings in Osaka and Kyoto.
Ng Ah Sio Bak Kut Teh opened its first overseas outlet in Taipei in July this year. (Credit: Ng Ah Sio Bak Kut Teh)
6. Ng Ah Sio Bak Kut Teh
Ng Ah Sio Bak Kut Teh, which is known for its Teochew-style peppery pork bone broth soup, has come a long way from its beginnings as a stall in the New World Amusement Park in Kitchener Road in 1977. After it was bought over by JUMBO Group in 2010, the home-grown restaurant group has opened a couple of outlets in Singapore and expanded the Ng Ah Sio brand to Taiwan. It opened its first overseas outlet in Shin Kong Mitsukoshi Mall in Taipei on 26 July.
On choosing to launch in Taipei, JUMBO Group's CEO Ang Kiam Meng says: "We found like-minded business partners and local suppliers in Taipei that can stay true to the authenticity of the heritage dish." The 86-seat restaurant in Taipei offers set menus centred on dishes such as braised pig's trotters and bak kut teh that include sides such as you tiao (fried dough fritters) and tau kwa (pressed tofu). Ng Ah Sio Bak Kut Teh also plans to expand to China soon.